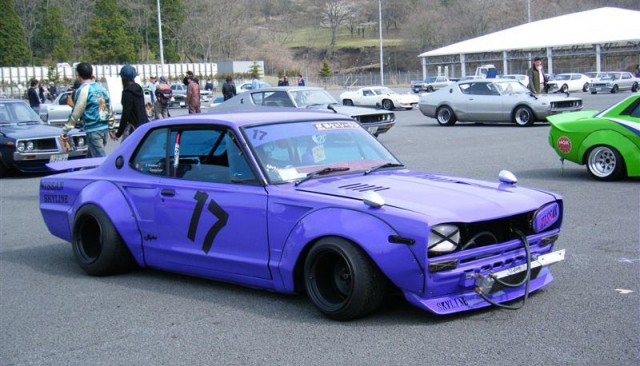 We've been on a new car tear, reporting on neo-hachirokus, retro Honda kei cars, and even classic bikes from the Tokyo Motor Show. And that's left you handcuffed to a bedpost with the shakes, hankering for some old school smack. Well this lavender hako flies in the face of all that modern nonsense, washing away that new car smell like a dunk tank full of industrial-grade bleach. And look, there's the sublime Celica in the background that we posted on a few weeks back, so let's once again enumerate the ways this Skyline epitomizes vintage Japan. 
giant bubble flares
racing mirrors
oil cooler hanging off the front end
angled rectangular headlight conversion asymmetrically adorned with racing tape and an aero cover with a serif-font decal over it
a feminine color that scares gaijin but oozes testosterone in context
barrels so deep you could drown a small animal in them
and obnoxiously skewed number decals
Bam, your hair is now instantly pompadour'ed. You're welcome.