We have so much coverage from JCCS that we've skipped the Friday Video this week and spilling the final installment into the weekend. So like a fleet of ported rotaries roaring down the 710, let's tear right in!
As we mentioned before, this year's JCCS drew record attendance, and a Datsun 510 with an S15 SR20DET swap is always a crowd pleaser.
It's hard to believe there were only four years separating Leo del Cid's 1964 Bluebird with the iconic 510, but the pace of Japan's industrialization was steaming forth at record pace. This is actually a PL312 from the Bluebird 310 series.
But don't confuse it with the Datsun 310, an early Nissan Pulsar with the N10 chassis code. This front-wheel-drive car is actually ancestor to the modern-day Nissan Versa.
The 510 is one of the few cars in which the wagon body style is as stylish and popular among enthusiasts as coupe and sedan versions. Hey, Snoop Dogg owned one.
We spotted this amazingly clean Datsun 521 in the parking lot. Though the two are unrelated, one can see the styling resemblance to the 510 in the front end. Companies would kill for this kind of cross-platform branding nowadays.
Vic Laury's Datsun 2000 Roadster looks fantastic wearing SSR MkIIIs and a solid vintage pale yellow.
Though this Datsun 280ZX appears plain in appliance white from afar, a second glance reveals details like smoked scoop covers, purple wheels and rainbow Frankenstein stitches in the air dam.
Some may call it sacrilege, but this Mazda RX-4 had a 2JZ swap and its stock leaf springs swapped for a full Lexus IS300 independent rear.
The Mazda RX-7 GSL-SE differentiated itself from other first-gen Sevens with special wheels, different interior trim and a fuel injected 13B. Despite their popularity, it's still fairly uncommon to see an example this clean nowadays.
Some Civic owners are downright quirky, and three of them with matching trailers drove in like ducks in a row.
The crew from Norm Reeves Honda had this rare second-gen JDM Honda City on display at their booth. Though kitted out with questionable aero bits, it's a rare sight in the US, a predecessor to the modern-day Honda Fit.
Long before deep dish SSRs and hippari stretched tires migrated across the Pacific, the "proper" way to modify a Datsun 240Z was with polished slot mags so this is period correct, right down to the root beer metallic hue.
Nowadays, one can guess the age of a Z owner with fairly decent accuracy based on wheel choice. In descending order, it would go slot mags, Panasports, then SSR MkIIIs.
Like SSRs, black Watanabes and flares suggest a Nintendo-era owner as well.
Gotta love the 1970s, the era of metallic brown and dealer-installed vinyl roofs on your Mazda RX-2.
Remember when these were everywhere? Most of these solid-front-axle pickups have probably been driven into the ground by now, so this Toyota Hilux in classic light brown with period-correct stripe decals was a rare treat indeed.
Will the 1967 Toyota 2000GT ever be dethroned as king of Japanese classics? Perhaps a Fairlady Z432 or genuine GT-R could take the crown as they gain more traction in the US.
If you're looking for JDM decals, T-shirts and accessories like fender mirrors for your Toyota Crown, the crew at Mooneyes are the ones you need to talk to.
Last time we saw this Celica liftback, it was on stock steelies. Now it's set off by a set of rare Hoshino Impuls.
JNC super reader Toyotageek is a JCCS regular with his bone stock Celica liftback. Believe it or not, it he got it because someone walked into Cabe Toyota one day and traded it in!
2TC/3TC inline fours can be modified to create insane power, a favorite among drag racers. If it wasn't for the roll cage and fat slicks on the rear, this TE71 Corolla would be a total sleeper.
The Japanese call them ninanas. Filipinos call them mangos. We simply call a TE27 on TOM'S Igetas classic.
Even a two or three years ago, MX73 Cressidas were still a common sight on the west coast. Sadly, Toyota's pre-Lexus flagship is slowly going becoming an endangered species. They exhibit a subtle beauty from every angle easily emphasized with a modest drop and SSR meshies.
The Honda CR-X was too popular for its own good. Just like drifters have made a good AE86 nearly impossible to find, 90s tuners have pushed bone-stock CR-Xs to the brink of extinction. Many already consider them to be the next big classic.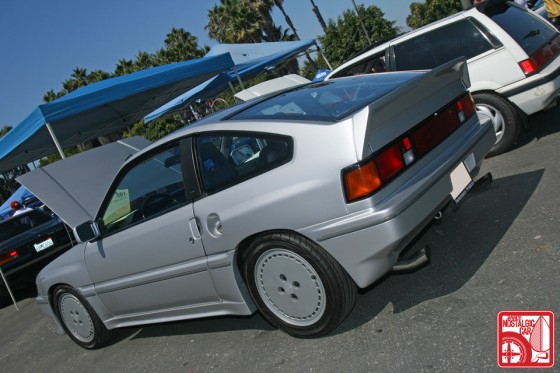 But if there's anything rarer than an all-original CR-X it's a clean, complete Mugen CR-X Pro kit. Mega JDM points for this one.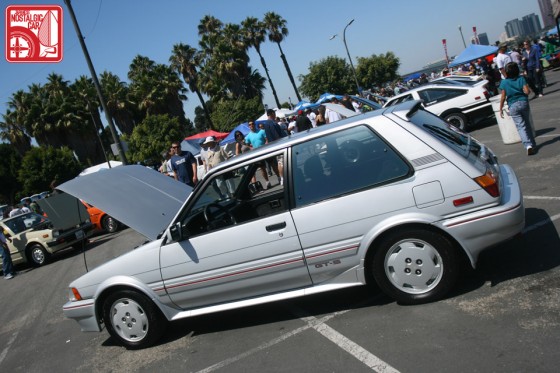 Along with this silver hot hatch from Aichi, it was like being in the middle of bubble economy Tokyo. As 80s cars continue their march into history, we're sure to see more cars like this stunningly mint Toyota Corolla FT-S FX-16 at JCCS.
Japanese rally legend Nobuhiro "Monster" Tajima can usually be found screaming up Pikes Peak behind the wheel of his 900hp Suzuki, but his very first rally car was a Mazda R360. It's hard to believe he could have fit inside! And with that we bid JCCS 201o sayonara.
For more, see our previous installments, or revisit JCCS 2009, 2008, 2007, and 2006.