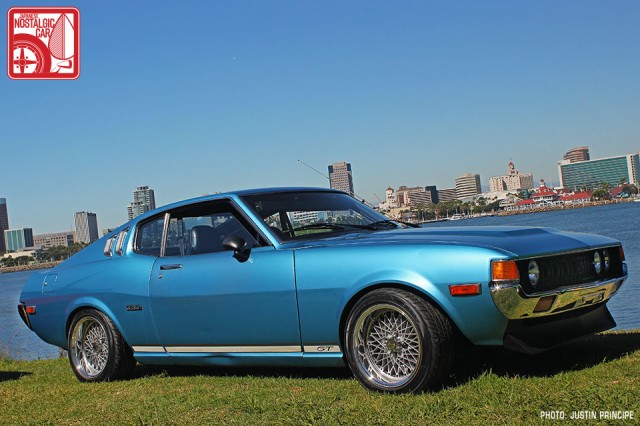 The Japanese Classic Car Show showcases a wide variety of makes and models, but perhaps even more diversity can be found in the subject of this week's QotW — the multitude of tuning styles. Not only are there differing genres originating from Japan and the Americas, but each continent has spawned their own subcultures within.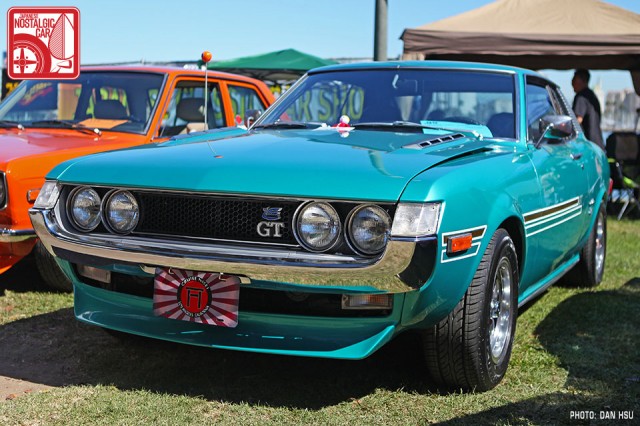 It was a debut for Paul Matsushima's 1972 Toyota Celica, one of the highlights of the show for any Celica enthusiast. It was simply gorgeous in every detail, and its turquoise hue is simultaneously a trademark for the daruma, yet somehow very rare. Judges agreed, and Paul went home with the Best Celica award.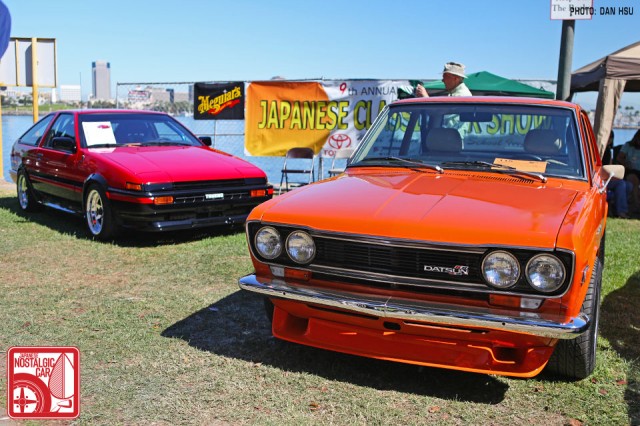 We continue with two stellar builds from different eras. Floyd Kika's 1972 Datsun 510 is a old school American build predating the JDM concept. A proper nisei build from the pre-internet and pre-SR20 days it's a BRE-inspired street car with the Brock spook and American Racing Libres powered by a proper old school L-series with a high-comp head. Most impressively, the majority of its paint and interior is 1972 original.
Janet Fujimoto's AE86, on the other hand, is all JDM, a GT-S hatch given the Sprinter Trueno conversion treatment. You might remember her immaculately restored AE86 coupe that retains its USDM stock-ness in all its glory. Sometimes it's hard to decide which direction you want to go with a car. The answer: Get one of each!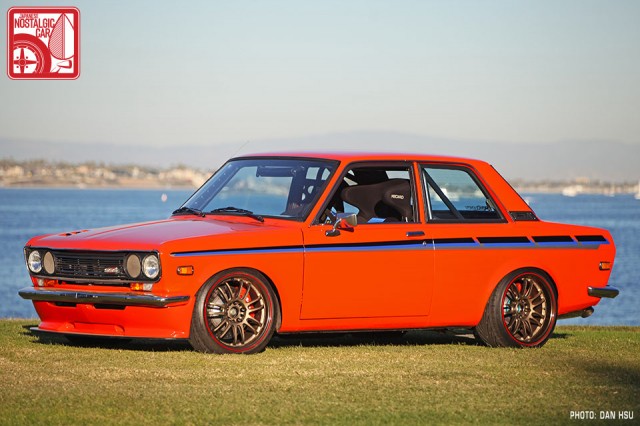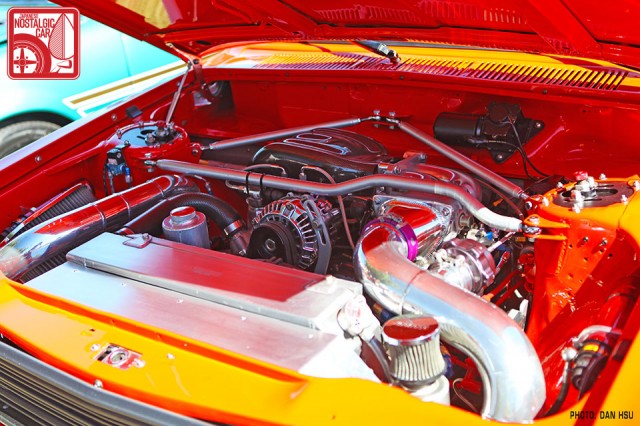 Tod Kaneko's turbo rotary 1973 Datsun 510 has been featured in many a publication, and was one of the first 510s to really make a splash in the world of "tuners," the post-Fast and Furious crowd that had no idea anything older than a EG Civic existed. He started building it long before the current nostalgic movement too, and you can see the level of craftsmanship by peeking under the hood.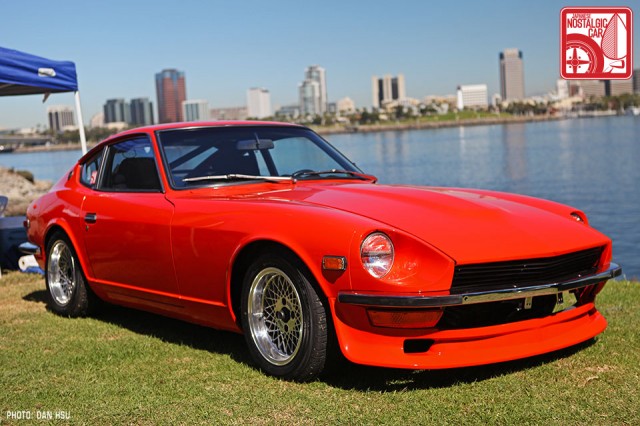 Tod also has an orange Z to go with his 510 but this isn't it. Instead it's Raymond Lui's 240Z, not to be confused with the RB-powered Fairlady Z or Tod's L28 turbo Z. Raymond's is equipped with a period nisei set of polished Auto Bahn meshies and running an L24 with triple Mikunis.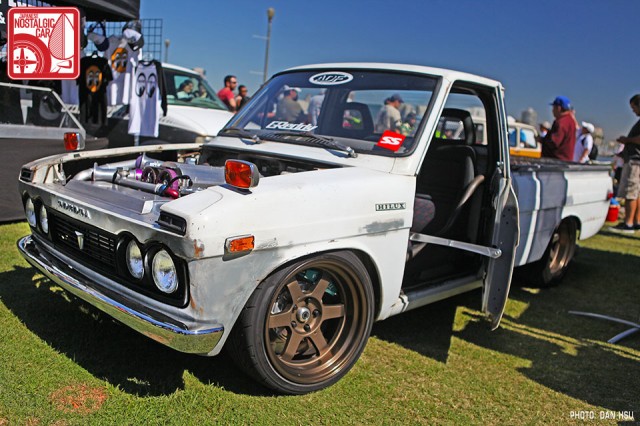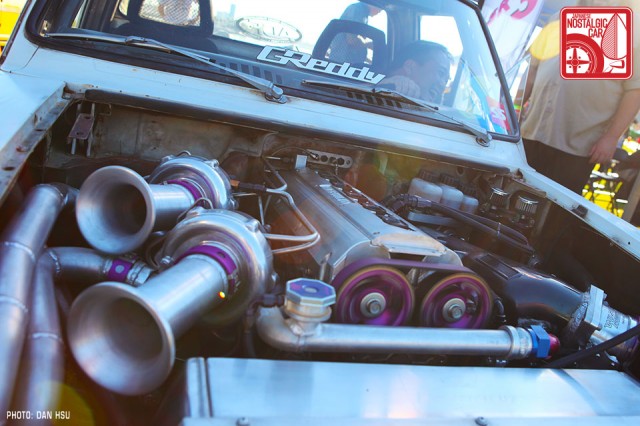 Scott Kanemura's insane Toyota Hilux gets closer to completion every time we see it. Here's his built-to-the-hilt 2JZ-GTE in action (Dan snapped this photo during roll-in, so don't get any ideas — JCCS has a strict no-start policy during the show!).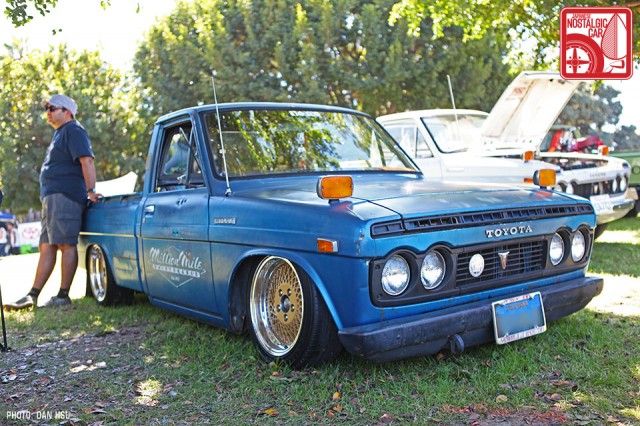 A Hilux with a different purpose, Hugo Saavedra's 1971 Toyota "Lo-Lux" features an old shop truck look, which we absolutely love. The rear has been C-notched and it sits on a Slam Specialties air suspension. And of course any list of marques requiring "Million Mile Maintenance" would have Toyota at the top.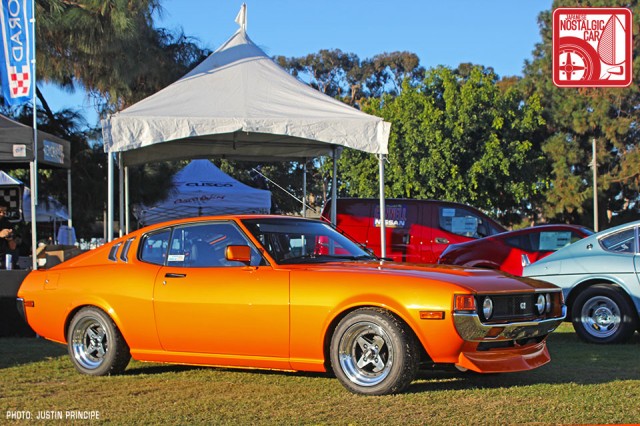 Brian Karasawa's Celica Liftback needs no introduction. We never tire of seeing it though, and if you'd like to know more about it just watch this excellent video.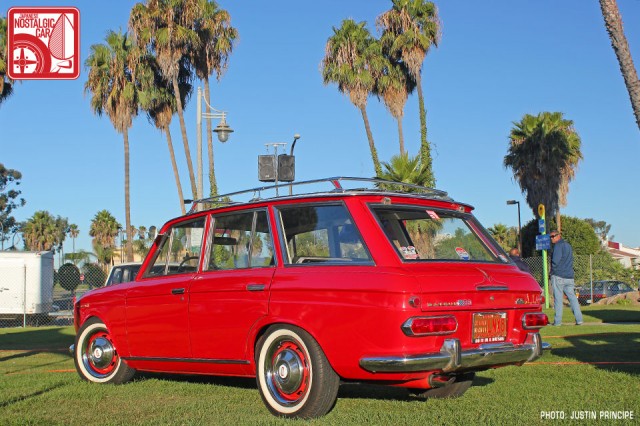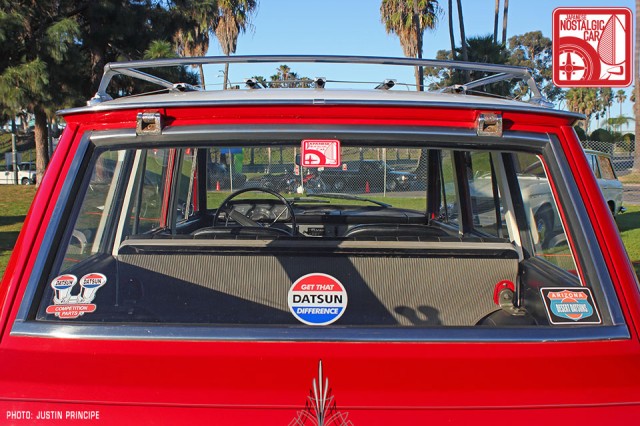 For a different take on American style, Greg Childs' Datsun 411 wagon is done up in a traditional hot rod look, complete with whitewalls on painted steelies and a Cherry Bomb exhaust. Check out the excellent visibility from its greenhouse. You won't find that on any 2013 car.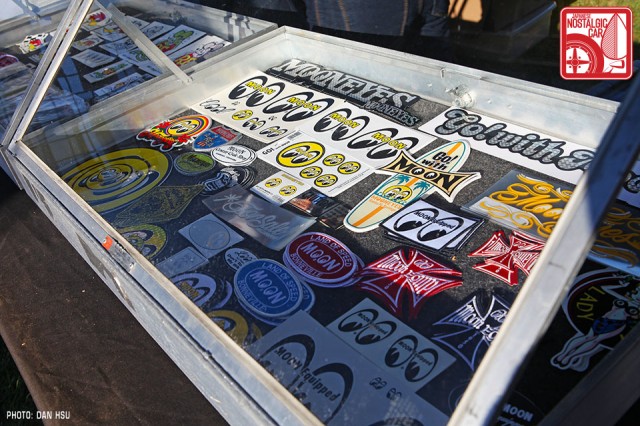 Some Mooneyes stickers would go perfectly with the American hot rod look.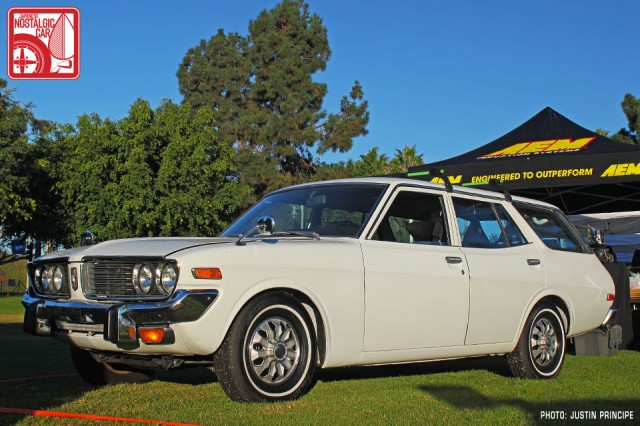 TORC president Joji Luz's Toyota Corona Mark II may look stock, but beneath that noble prow hides 1JZ power. Joji says he can chirp the tires in every gear, and it's a wagon. The ultimate sleeper?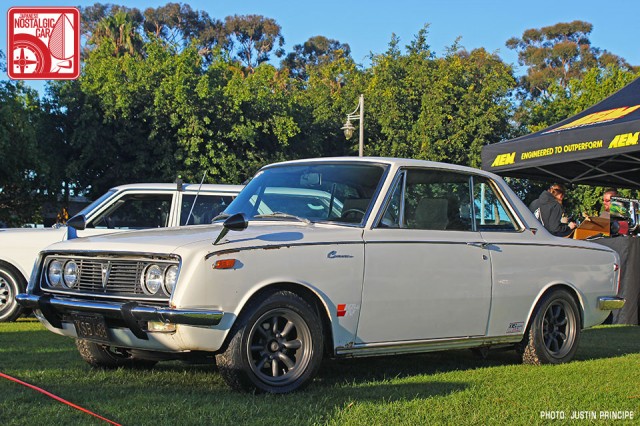 Robert New's RT52 Corona hardtop wasn't the shiniest car on the lawn, but with a 1600GT grille, gray Wats paired with the proper shade of eggshell white and just a bit o' patina it exuded a very strong old school Japan vibe.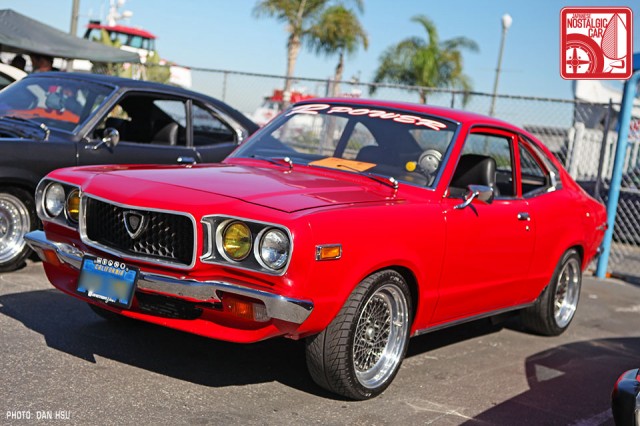 Enrique Sanchez's 1973 Mazda RX-3 was one of the cleanest examples of the breed. Its bulldog stance, staggered Epsilons and pillar-mounted tach reveal a Puerto Rican drag machine lurking underneath its cherry exterior. It won Best RX-3 and it's easy to see why.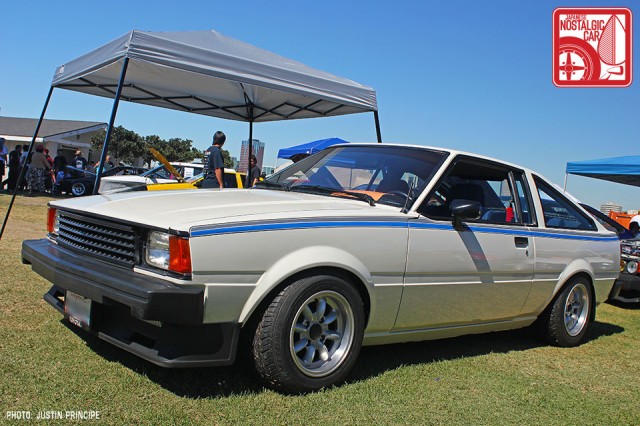 Mario Trinidad's 1980 Corolla Sport Coupe, on the other hand, was built in an old school Filipino rally style, complete with Foha front lip and rear spoiler and 13-inch Panasports.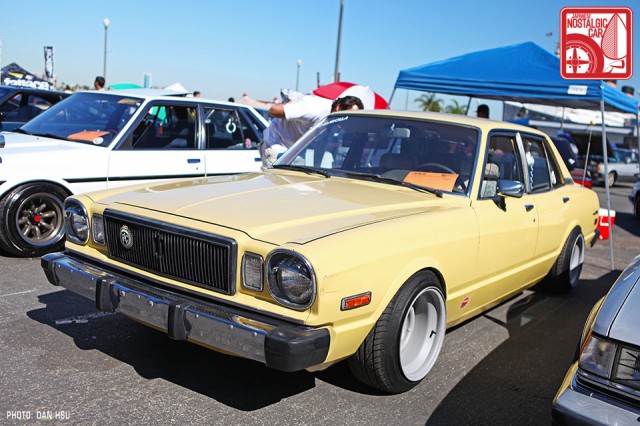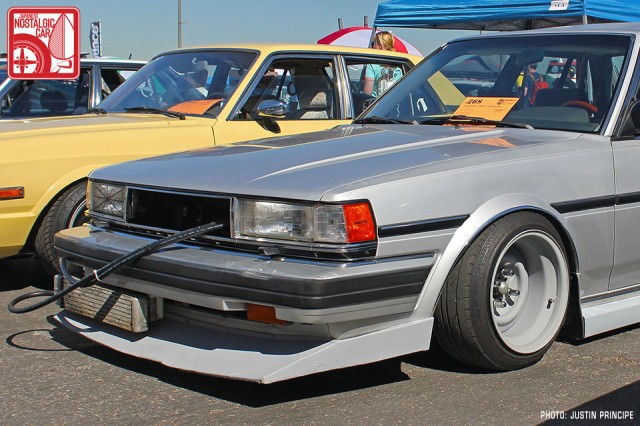 And then there's SoCal's growing cadre of zokusha. Honestly, I never thought I'd see the day when bosozoku inspired builds would come stateside, but here they are.
Lloyd Letherman's JZX30 Cressida drifter is a SoCal regular, but what does a zokusha do to dress up for a special occasion? Takeyari pipes, that's what.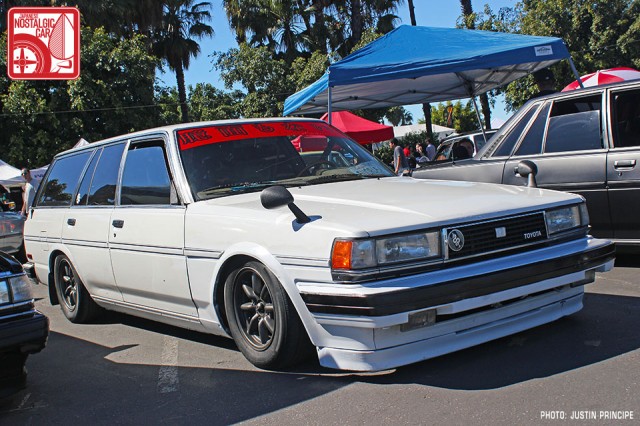 Team Audacious is another recent addition to the ever-changing SoCal scene. They run mostly large, straight-six 1980s Toyotas like this MX72 Cressida and A60 Supra.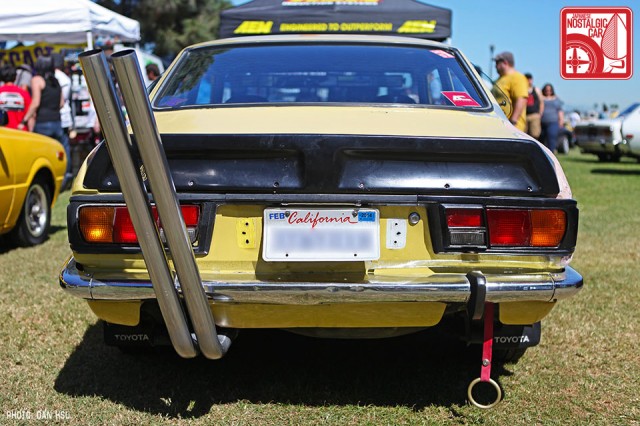 Though the TE27 isn't normally a zokusha platform, we'd probably describe Rafael Casas' 1974 mango as a combination of Japanese bosozoku and American rat rod style. It may not be mint, but it has character.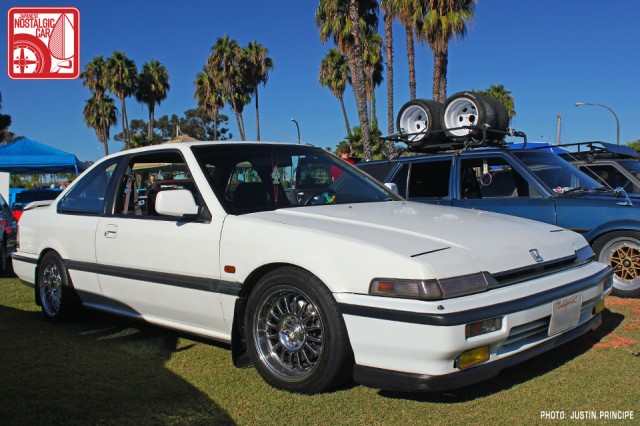 This year saw more late-80s Hondas enter the mix. People often equate the Honda scene with Civics and Integras but they forget cars like this third-gen Accord Coupe on 80s fins. This is a great snapshot of the calm before the import drag racing storm whipped the nation into a frenzy.
We have much more coverage of the 2013 JCCS coming up, but in case you missed it here's Part 01 — Debuts and Historic Cars. and Part 02 — Diversity of Marques. Stay tuned.