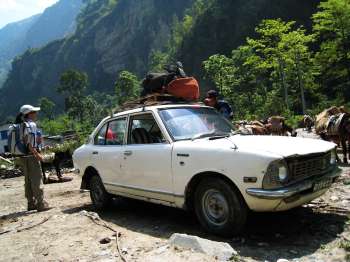 Bura's post last week about Datsun B110 Sunnys still cranking away as taxis in Pakistan reminded me of this story about an E20 Corolla used as a taxi in Nepal.
The versatility of old Japanese cars never ceases to astound us. They can be meticulously restored and taken to classic car shows, modified to be an absolute blast to drive, just plain old safe and fuel efficient transportation, or as in this case, drafted into service in the world's most hostile road conditions. Here's a quote from the Corolla taxi's hapless passengers:
I am not sure how vehicles make it over what passes for a "road" here (which is basically an uneven gravel road riddled with large rocks, potholes and frequently flooded right over, shared with trains of donkeys and lots and lots of pedestrians… all of this running along a steep cliff next to a precipituous drop into a large rushing river!!)…

We travelled in ancient Toyota Corollas older than ourselves, I am sure, with broken tail lights, broken mirrors, doors that wouldn't shut properly… and a wheezy old engine that barely made it up the steeper slopes…

Somehow we got to Pokhara in one piece, though I had reservations throughout the trip, especially when we flew through flooded roads as though we were in 4WDs instead of worn-out Toyota Corollas!
We have to wonder, what would those Nepali taxi drivers think if they saw Patrick Ng's TE27 that was on the cover of JNC Issue 2?
Also, be sure to check out Tom Carter's website for lots more information about the TE27 Corolla.