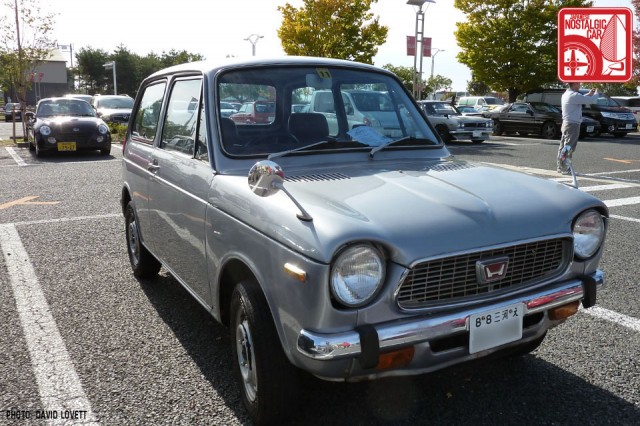 We love it when automakers dip into their bag o' heritage for a little inspiration. Such is the case with the Honda N-One kei car. It is, sadly, not sold outside Japan. Guest writer David Lovett, however, is in Japan, and was able to test drive one and report his findings. Enjoy. —Ben
The Honda N360 is a neat looking little car and that 36 horsepower, 360cc air-cooled inline-twin is so endearing that it's hard not to love. At a paltry weight of just 475 kilograms (1045 lbs), the kei displacement motor moved the whole package along a pretty good clip too. In my eyes, it is one of the all time great 360cc kei jidosha, right up there with the Suzuki Fronte Coupe, Subaru R2 SS and Mitsubishi Minica Skipper. 
Honda has apparently been thinking the same thing, because they've been teasing us with comeback concepts for a while now (my favorite being the miniscule EV-N). All of those concepts eventually led to a design deemed fit for production and on the first of November, the brand new Honda N-One went on sale.
I couldn't let this retro N360 slip by without a short test drive, so I cleared out my schedule for a few hours and made my way down to the local Honda dealer and kindly asked them if I could have the keys. They happily obliged in what was without a doubt, the best dealer experience I've ever had. We were given one smart key to the N-One you see here, which was a Premium 2WD model.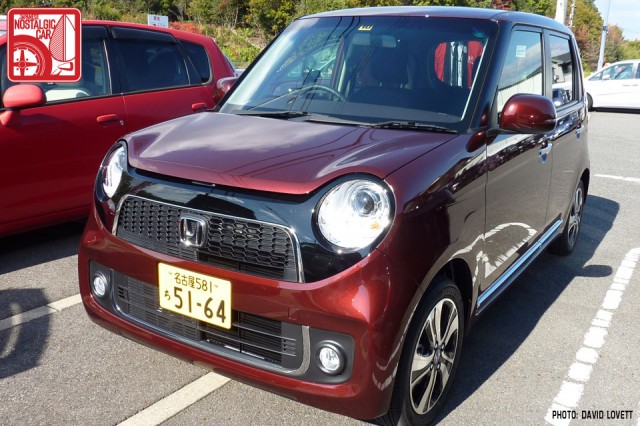 First impressions? God it's cute. Only one thing bothered me about its looks, however,  and unfortunately it's on the front. There's a small gap between the hood and black grille that functions as an air intake. It feeds a large intake duct that runs to the intercooler for the 660cc turbocharged inline-three. The problem, though, is that it looks like the hood is popped all the time.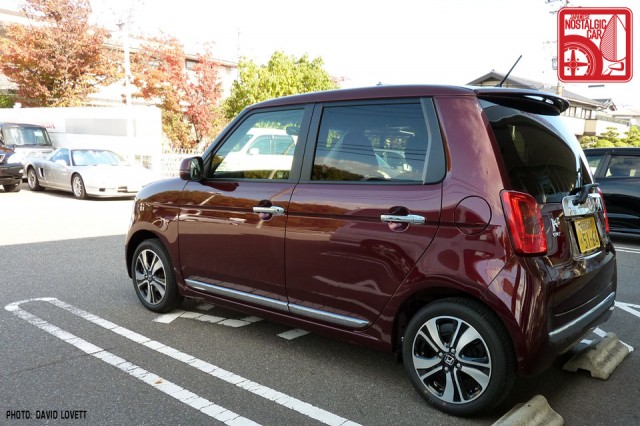 Other than that, I absolutely adore how this car looks. I adore the long wheelbase with wheels pushed to the corners. The brake lights are comprised of beautifully crafted square elemnts. Also, if you jab the brakes hard at a decent speed, the brake lights flicker to get the attention of the person behind you.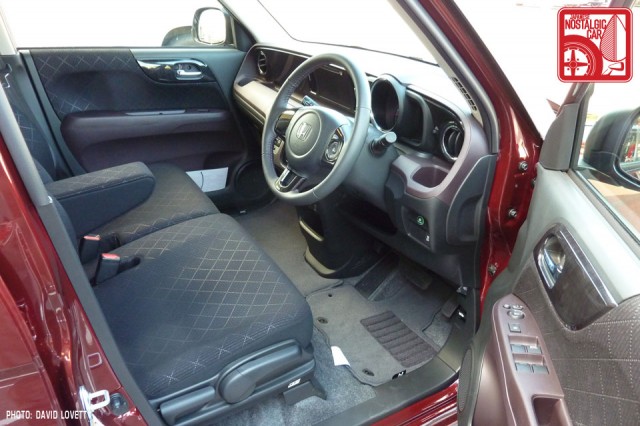 Once you crack open a door, you're presented with a minimalistic interior very reminiscent of older cars. My favorite feature is the almost bench seat. It's hard to capture in photos just how awesome this seat looks, but it really fits well and is extremely useful for your Showa girl to slide up under your arm.  A wide armrest between the two front seatbacks folds down and can be used by both driver and passenger without their elbows running into each other.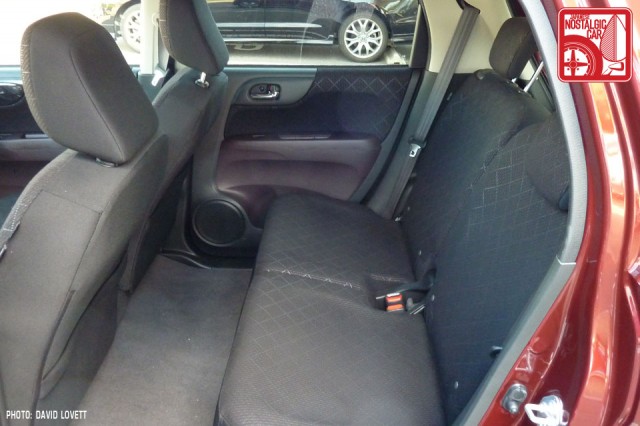 I was very surprised with how much room there was inside. This is a kei car that a full sized American can sit in and drive comfortably. What's even more mental is that there's the rear seats are equally spacious even with the front seats scooted all the way back. The salesman informed us this is because Honda decided to design the interior to fit four 95th percentile American males, or four dudes up to 190 centimeters (six feet one inch) tall.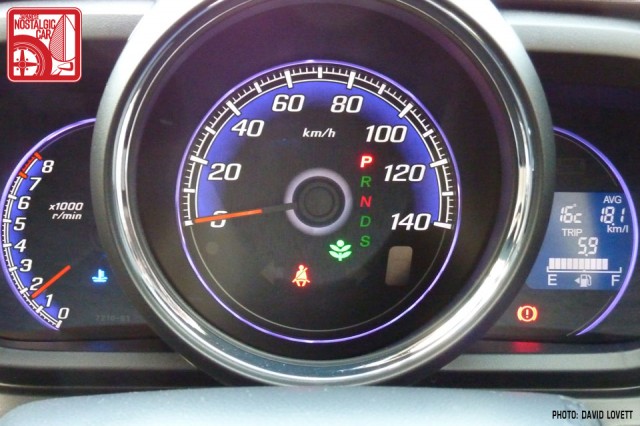 The dash is kept simple and clean and the gauges are very easy to read. You can get your N-One with an infotainment screen in the dash. What's really special about it is that you can then plug your cell phone into a USB port and use the screen to play music or even display your phone's navigation program. Genius!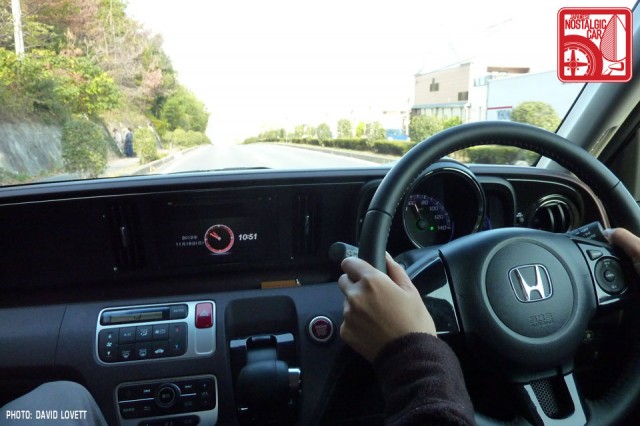 So, how does it drive?  The first thing you notice is the visibility. The seating position is quite high and so you can see quite far down the road (although I would prefer the seating position to be a bit lower). The windshield has great visibility and the A-pillars are surprisingly thin. Apparently Honda used special high-tensile strength steel to make them as thin as possible while still being strong enough in a crash. The car weighs in at around 900kg (1,985 lbs), nearly double the original N360's mass, but the engineers have found a way to make it feel surprisingly light.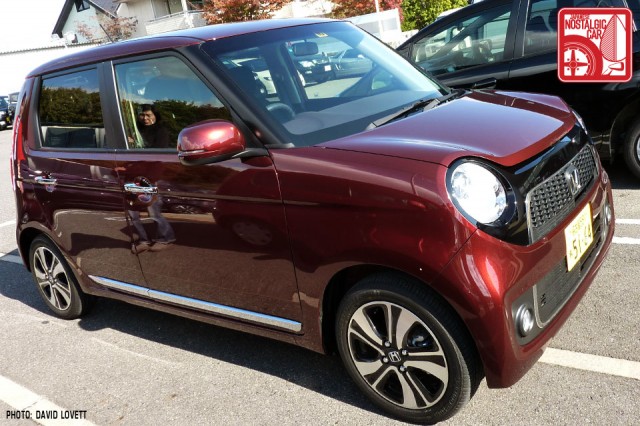 The engine in this model was the turbo version, but they also offer a naturally aspirated variant as well. Both engines are DOHC three-cylinders, with the turbo version making a kei-regulation-limited 64 horsepower and the N/A version making a slightly less 58 horses. Still, the turbo engine has plenty of torque to make the car feel quick. Push the pedal and the turbo gets into boost almost immediately. It accelerates better than most full-size one-liter cars on the market but is, unfortunately, only available with a CVT.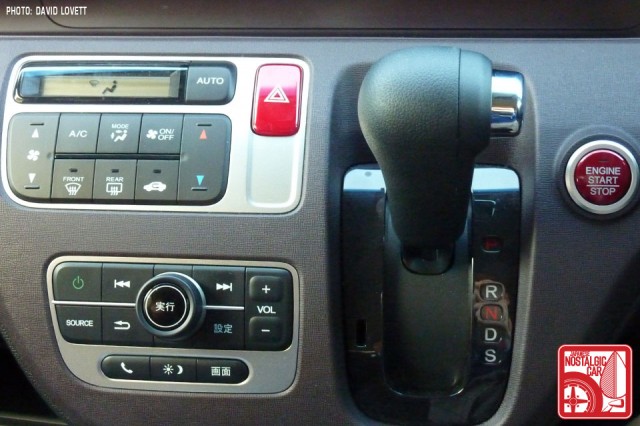 That's a real shame because this car would be properly fun with a stick. For now though, we'll just have to live with the paddle shifters behind the steering wheel and simulated gears, which don't quite make up for the lack of a clutch pedal and the satisfying clunk of slotting into the next gear.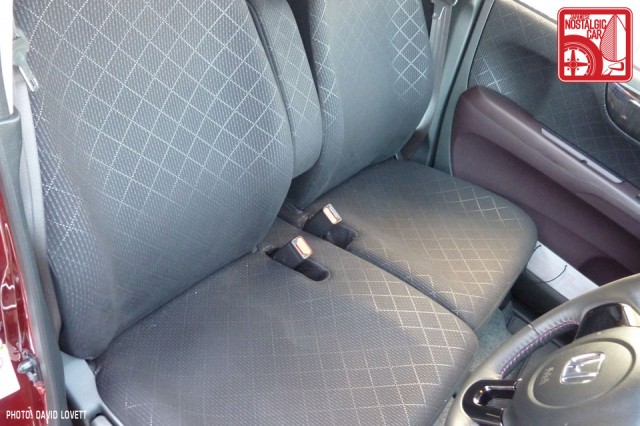 The steering is electrically assisted and after looking into the dense engine bay I can understand justification for putting the power steering on the column. It does a good enough job of emulating hydraulic assist but it's not sensational by any stretch of the word. It is, however, solid and stable at speed and light enough at slow speeds to make parking a breeze.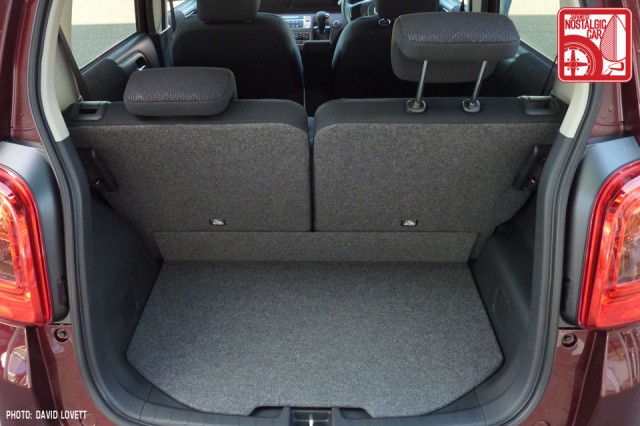 That long wheelbase resulting from the tires being at the edges gives the car a very stable feeling when driving and more trunk space than your average kei car. To give a bit of reference, the wheelbase on this kei car is 2,520mm while the wheelbase on the much larger Toyota Corolla is just 2,600mm. Most kei cars have a shorter wheelbase and feel uncomfortable on the highway, but the N-One has the wheelbase and power to make it every bit as comfortable at 120kph (75mph) as a Corolla or Nissan Versa.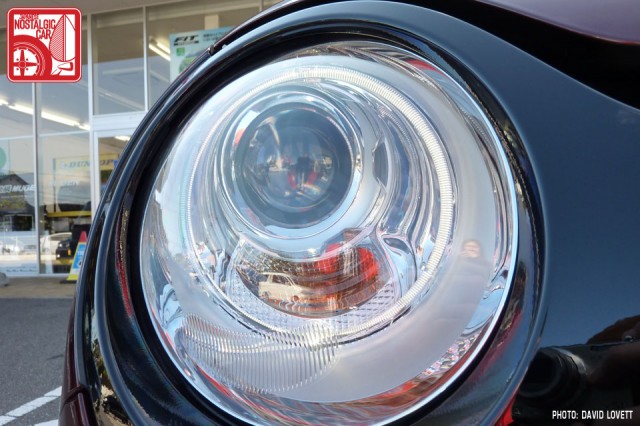 All in all, it's an excellent car. Modern kei cars generally have a "built on the cheap" feel to them, but the N-One feels very well made. Perhaps that's because the model I drove costs ¥1,400,000!  That's a heart stopping $17,000 USD. Of course, we were driving the Premium model. The non-turbo 2WD G Model comes in at just ¥1,150,000. At the other end of the scale, the turbo 4WD Premium Tourer L Package model rings up at a staggering ¥1,791,950. I spec'd out the model I'd want and it came in at just ¥1,230,000, which is very affordable for a new car, especially one this good. For fun, try building your own N-One.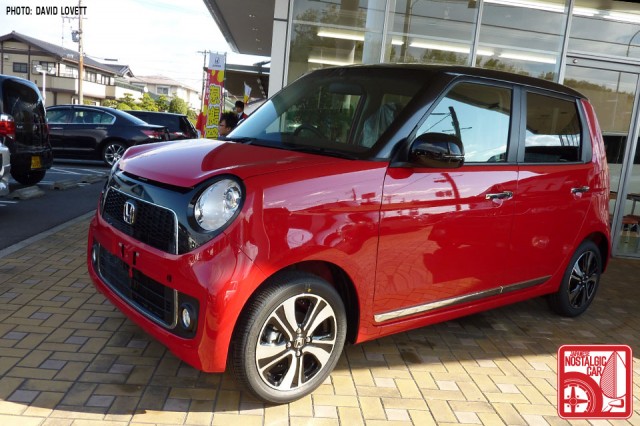 Without a doubt, if I was looking for a new automatic car that sips gas but still has the ability to make me smile, the N-One would be on my short list. A lot of Japanese consumers apparently feel the same way because they've been buying the N-One up faster than Honda can produce them. If you want the base G model, you'll have to wait two months. If you want a nice two-tone Premium model like the one above, you're looking at a 10-month wait!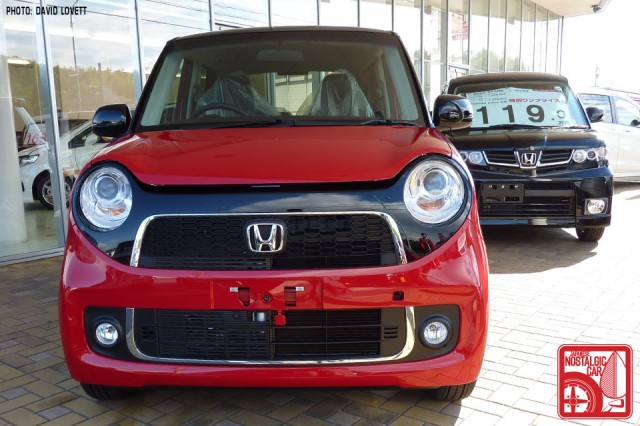 So is it a worthy successor to the N360? I'd say a resounding yes if it was available with a manual transmission. The only ray of hope is that the salesman said Honda really wanted to make the car with a stick shift originally, so if we're lucky they may be able to push a manual into the lineup later in the vehicle's life. Until then, I'd rather put the money aside and hunt down an original N360 in good condition instead. You get the same gas sipping economy but in a smaller, lighter, and hugely entertaining package.