Graphics. Livery. Warpaint. Originally meant to identify the country of origin and visually distinguish fast-moving cars on the track, they are now the domain of corporate sponsors. Either way, there have been some darn cool ones. Therefore we ask:
What's the greatest Japanese racing livery?
As tempted as we are to score another one for the Mazda and the 787B's so-garish-it's-cool Le Mans scheme, we have to go with the Honda RA272's simple red circle on white. Not only did it invoke the hinomaru, but after Honda won the Mexican Grand Prix in 1965 Championship White became the color of choice to distinguish Soichiro's foremost feats of engineering from plebeian conveyances for the masses.
What say you, dear reader? As always, the most entertaining or inspiring comment by next Monday will receive a random toy. Click through to see the winner from last week's question, "What's the best sequel?"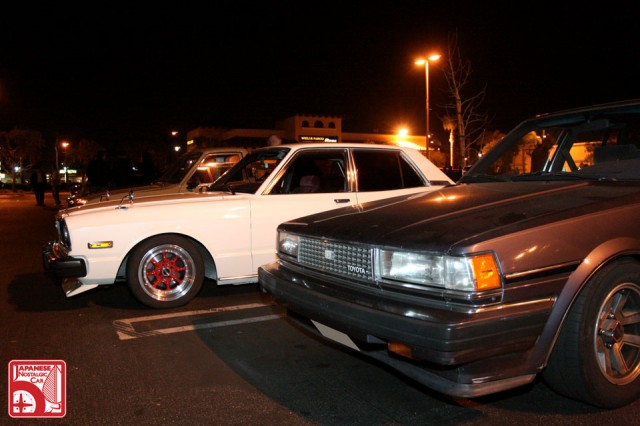 The winner this week is dickie, who nominated the Toyota X-chassis cars. From Corona Mark II to Chaser to Cressida to Mark X, these sleds have been around so long that the chassis code has outlived the model name.
But for serious, the only real answer is the Toyota X-chassis. From the x10 Mark II to the X120 Mark X, the lineage of what was once Toyota's stateside flagship has continually improved and adapted to suit the times.

The X-chassis has underpinned sedans, coupes and wagons over the decades. It has been raced in professional series and by amateurs in somewhat less-than-legal contests on Japan's expressways. Today it wouldn't be impossible to see an X3 sliding door-to-door with its descendants from any generation up to current at a drift event, or ordered by age at a parking area. You'd have a great opportunity to see how Toyota has advanced in terms of design and technology, from carbureted to DOHC and turbocharged inlines and direct-injected vee sixes. From simple solid axles to complex fully-independent suspensions. From manual toggles and radial knobs when multiple speakers were an option to fully automatic cabins loaded with every conceivable luxury and convenience amenity as standard.
Omedetou! Your prize from the JNC gashapon is a micro Choro-Q Nissan S30 Fairlady Z!