There's no event on Earth that captures the the fusion of Japano-American car culture quite like the Mooneyes Hot Rod & Custom Show. Everything from Baja Bugs to T-Buckets are represented, with the majority of cars shown are imports to the Japanese. However, this being JNC, we're going to focus on the Nihon Steel and the particular subset of showgoers who like to apply traditional American modifications to said steel.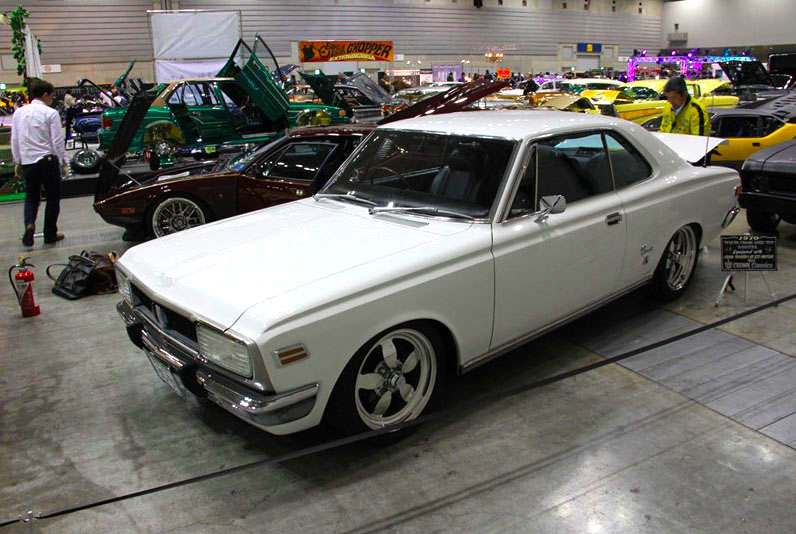 Via their Crown Classics branch, Mooneyes restores and builds some fantastic examples of the Japanese staple executive sedan, usually by swapping out tired stock 2Ms with fuel-injected 1JZ straight sixes as with this 1970 MS51 hardtop.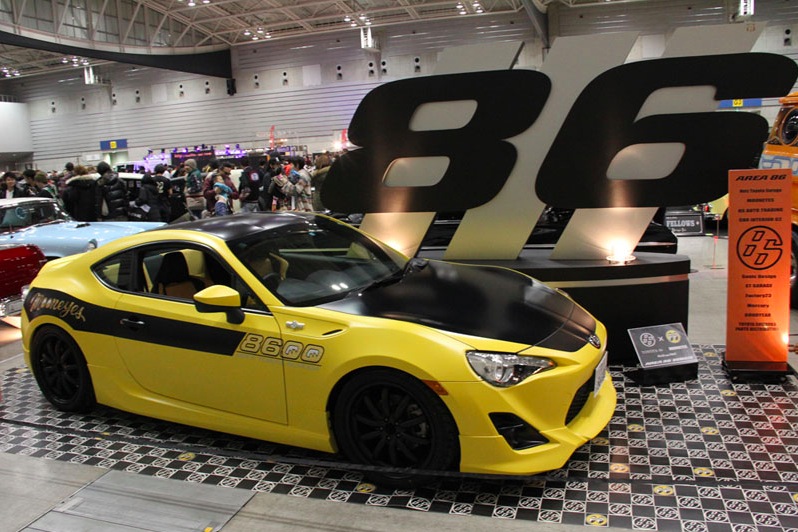 Mooneyes also took the opportunity to showcase its newest creation, the Moon 86, with their signature yellow paint scheme and brand new Moon Racing Wheels (MRW) in 18×7.5 semi-gloss black. It's a bit of a departure from the typical Mooneyes shop car, but it has just the right blend of raciness and muscleyness.
Naturally, the Mooneyes crew roped off a special section for Toyota Crowns in various guises, like this seemingly conservative gray S41 sedan. Looks can be deceiving though, and underneath its gray salaryman suit this '66 Toyopet Crown packs some modern firepower with a 1JZ.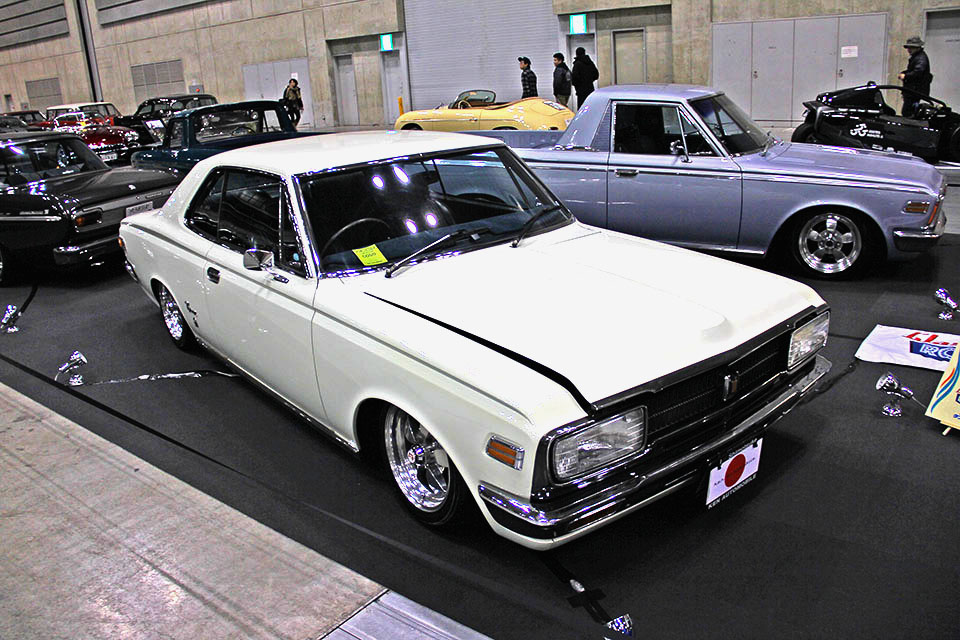 Both the sedan and this low down MS51 hailed from Ken Automobile of Tochigi Prefecture. Back in the day if you drove a white Crown coupe you were telling the world you had arrived, baby.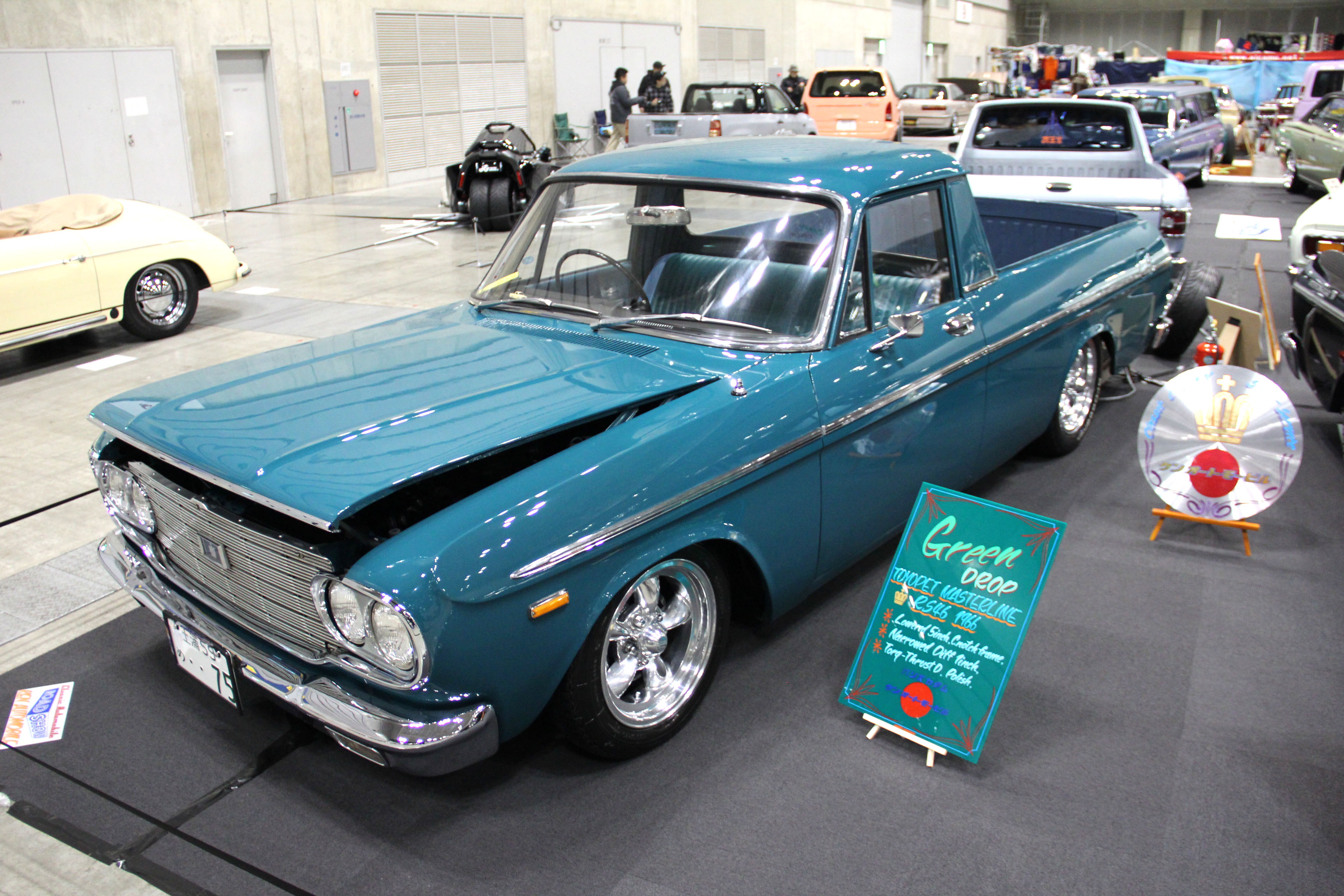 Only at a Mooneyes show can you see, all within spitting distance, an electric Porsche 356, '32 Ford Vicky and a RS46 Crown pickup with a five-inch drop on a C-notched frame. It's named, appropriately, "Green Drop." Also, the Moon Disc pinstriped with a giant Crown logo at the center of the display is a piece of art we wouldn't mind seeing hanging in the JNC garage.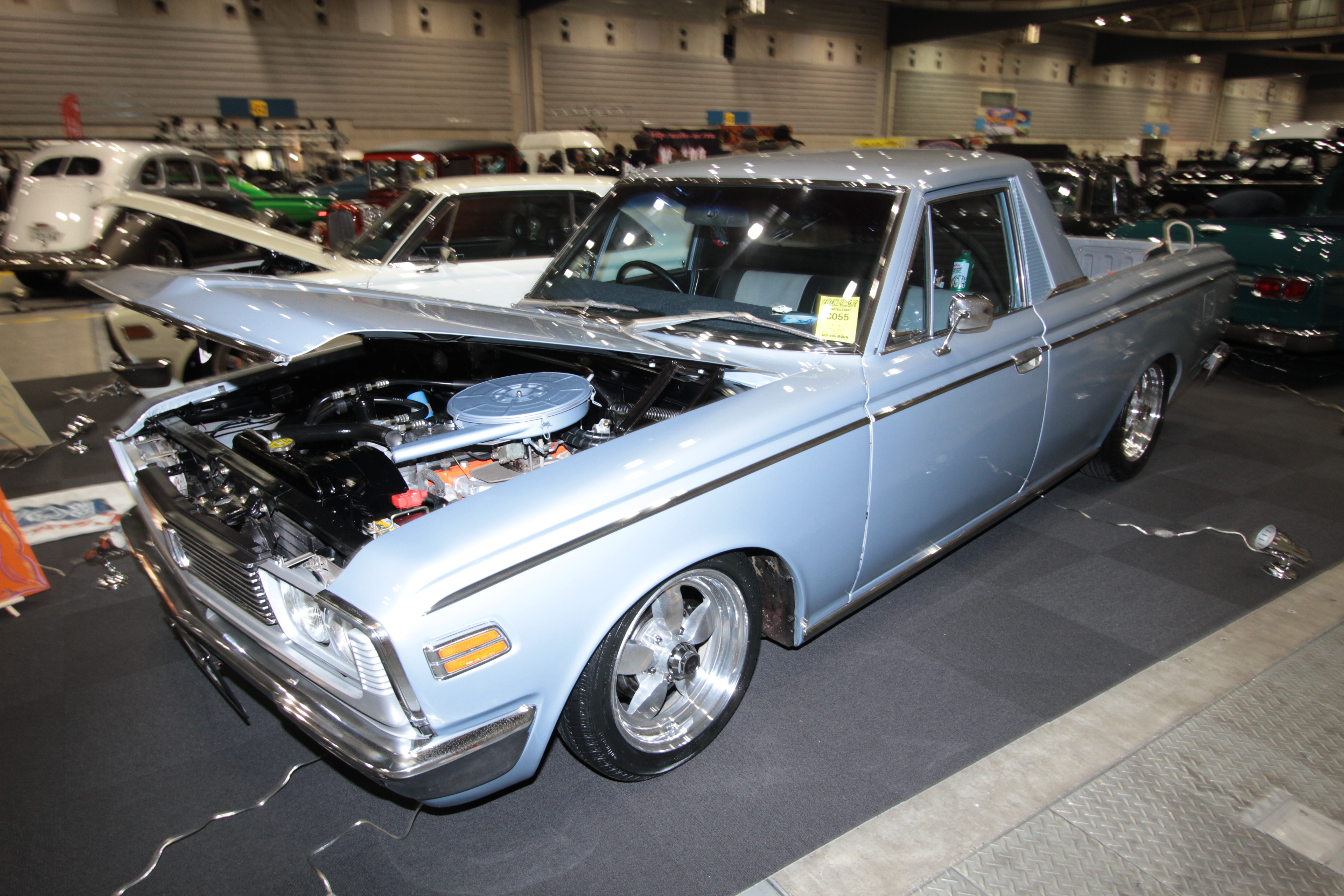 Crown pickups like this RS56 were once the domain of farmers and deliverymen, until Mooneyes came along and made them cool. Now it seems you can't go to a Mooneyes show without seeing a bunch of them, but in reality they are still exceedingly rare.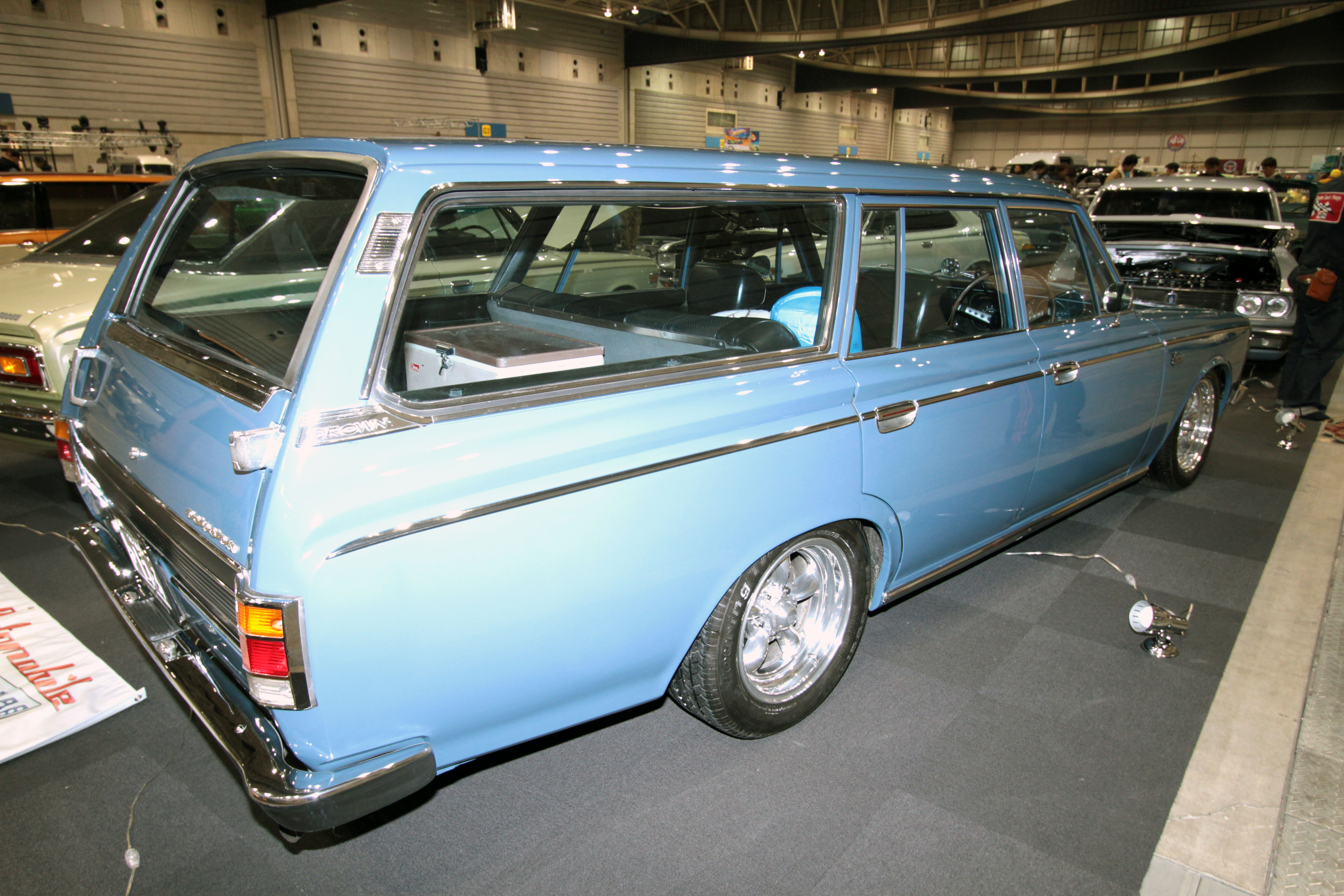 I love Crowns of all shapes and sizes, and being forced to choose between a pickup and a wagon would be like asking me to pick a favorite child. These slab-sided monstrosities are pure sex to me, and I'd gladly take one over a blinged Lamborghini without batting an eye.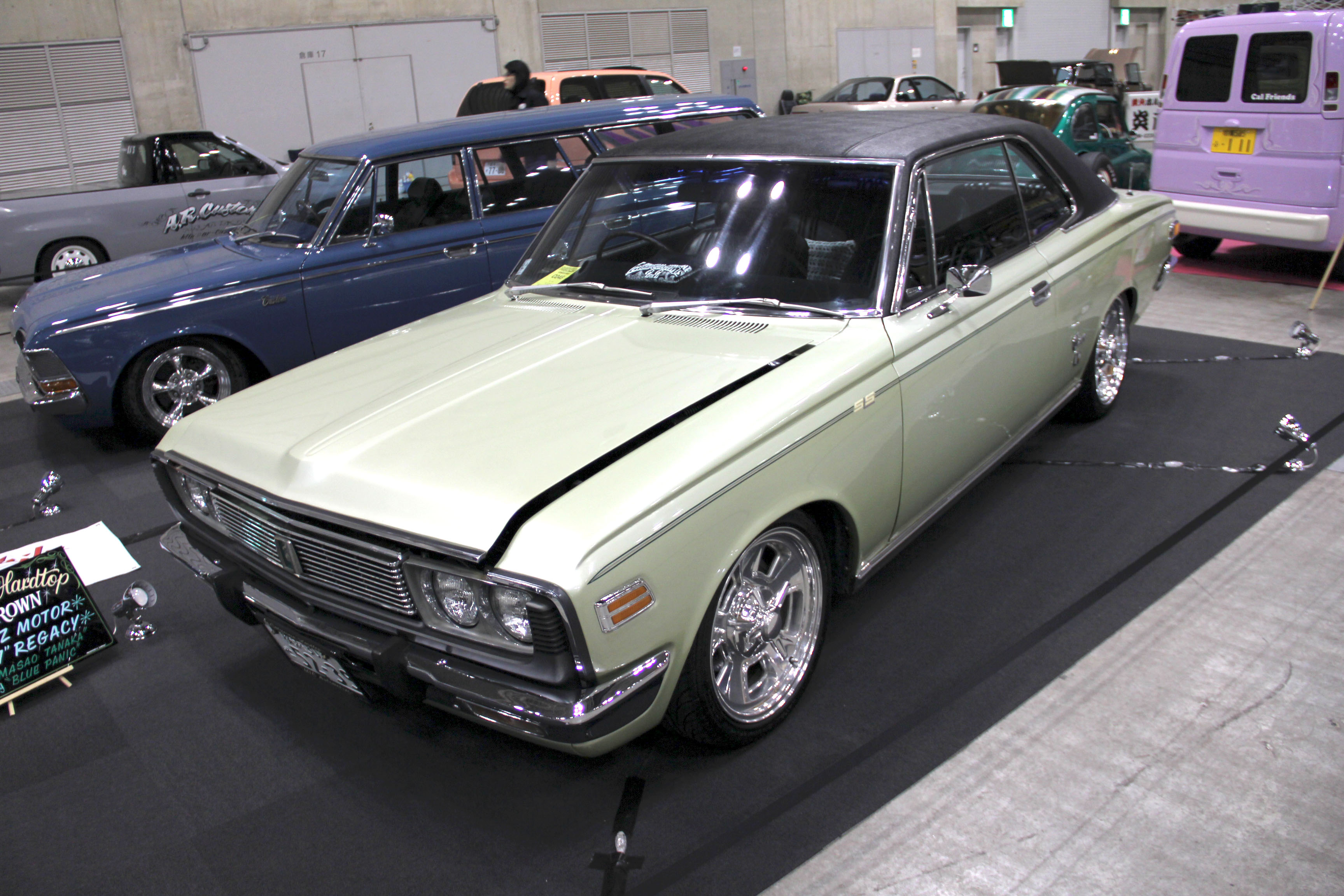 I salivate over oddball retro colors, and the silver-green of this MS51 is no exception. I can even grow to love the vinyl roof. But the thing I like most about this Crown is that its lights and grille have been converted with the nose of an S50 sedan.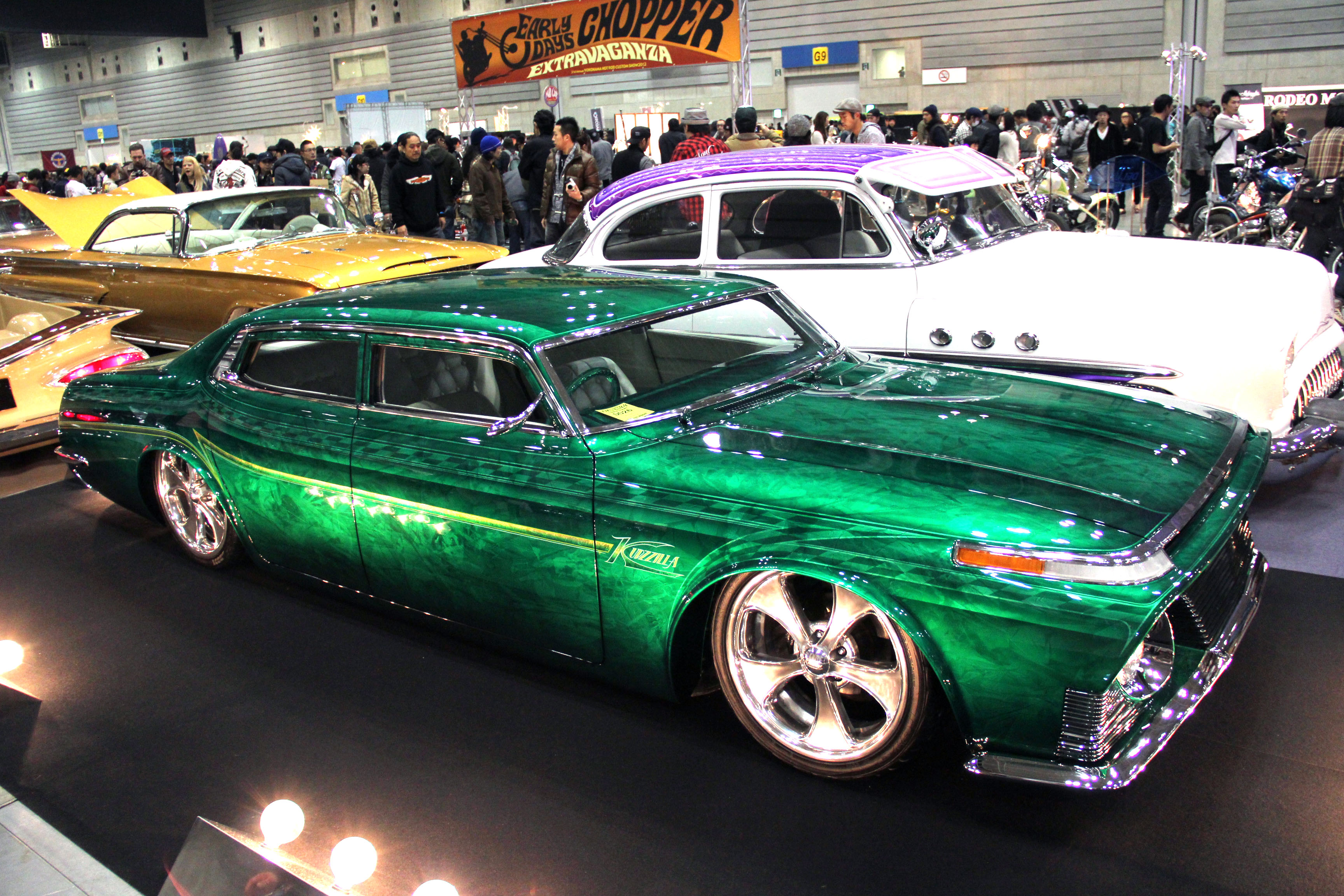 Now that we've whet our appetites on the more stock-looking cars, it's time to delve into the more outlandish works of vehicular art that are pretty standard fare at the HCS. This chopped MS65 Crown needs no introduction. We've seen "Kuzilla" many times before, but it's so off-the-rails crazy that we can't help but gaze upon it again.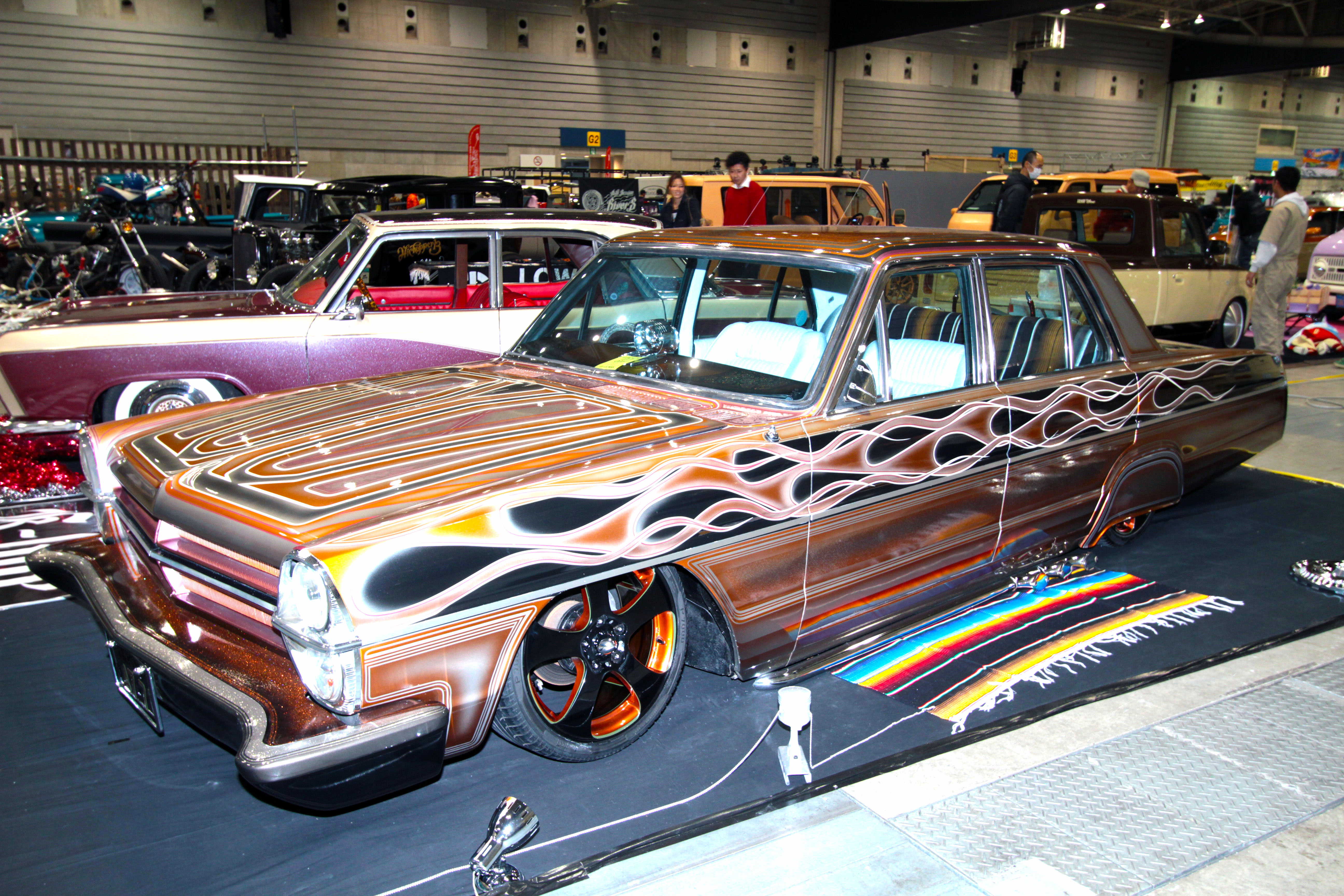 Similar in theme is this tateguro Gloria from the More is More school of design. Look away in shame as it laughs at your futile search for skinny JDM bumpers.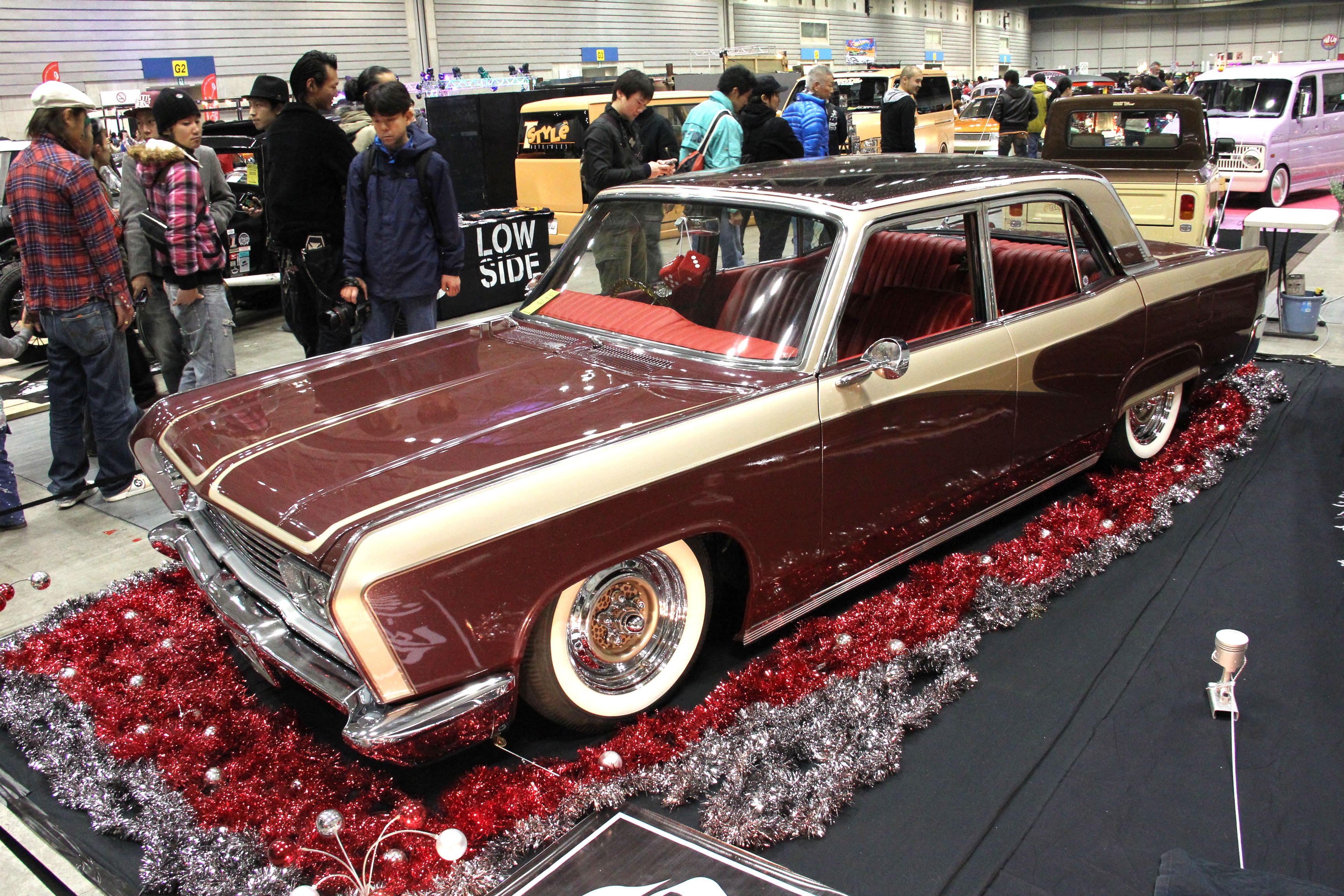 We saw this Mitsubishi Debonair at the Mooneyes Street Car Nationals, and thought, "What it really needs is a bed of Christmas tinsel." Wish granted!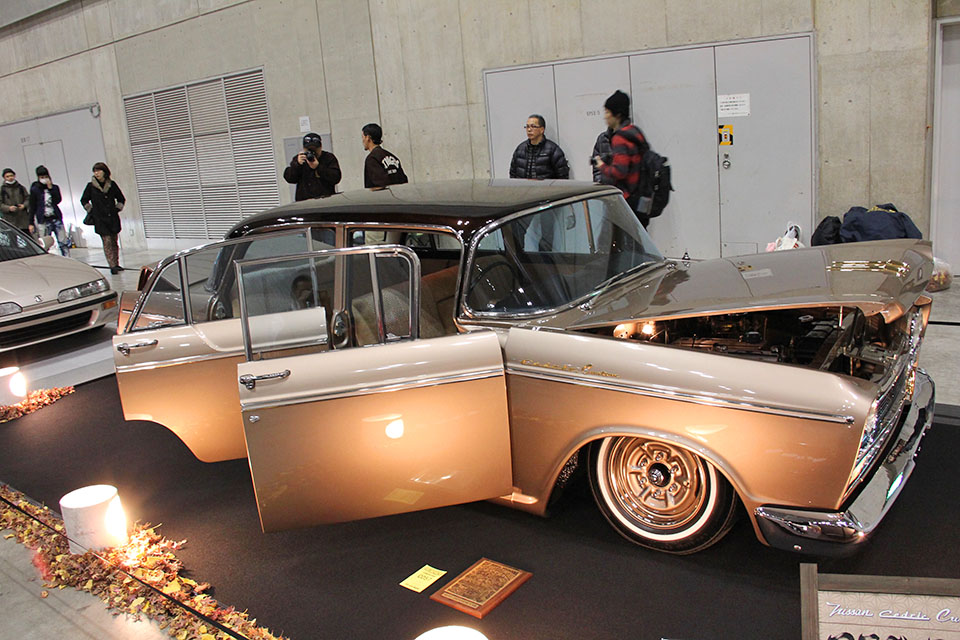 Owners of the 31-series Nissan Cedrics usually keep them stock, but this brave man put down a three-tone paint job reminiscent of something you might see on an old lead sled.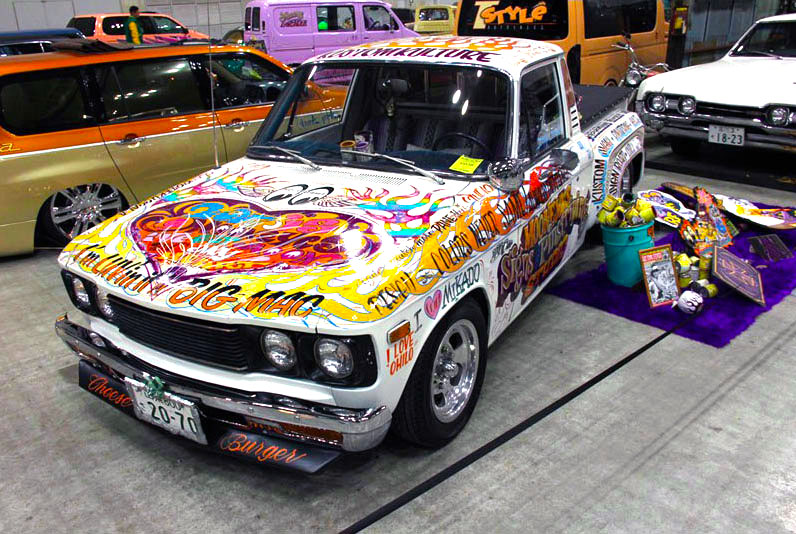 I was going to ID this truck as an Isuzu Faster, but upon closer inspection it's actually a LHD model, so it could in fact be an Isuzu rebadged as a Chevy LUV. That would make the "I'm LUVin' it" quote make more sense.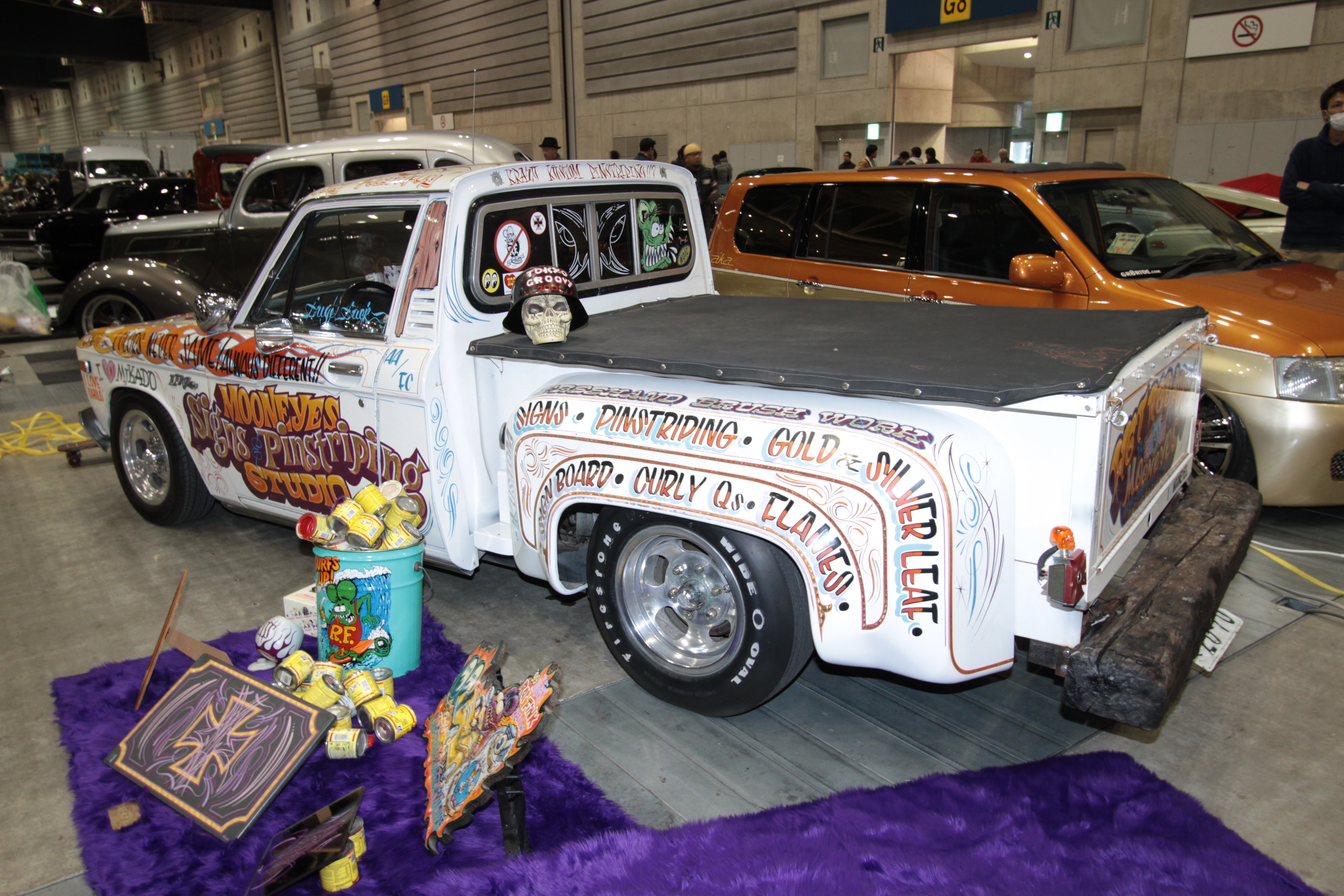 As you can see, this repatriated Chevy Stepside is being used to advertise every conceivable pinstriping and painting service available in the 1970s.
Sometimes the novelty of having a LHD Japanese car in Japan can lead to interesting vehicular choices. Absolutely no one in the US would ever think about customizing a Nissan Quest, but here it is, in Japan, with an absolutely glorious 80s Cal Custom paint scheme. Crank up the Billy Ocean.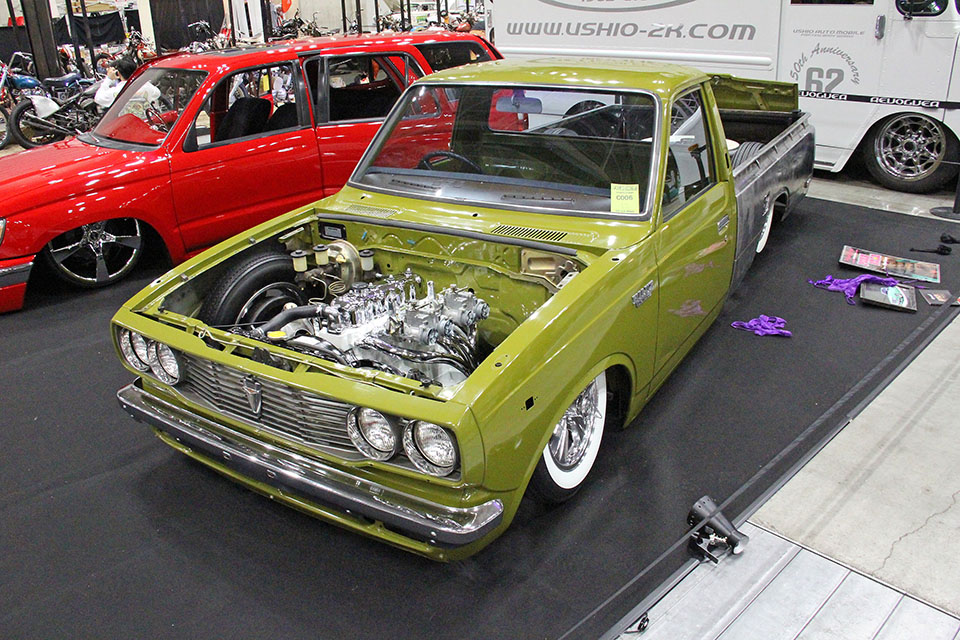 Mini-truckin' is an obsession among a certain demographic of Mooneyes showgoers, and this Toyota Hilux was a prime example of the 80s craze. It appears to be a work in progress, but so far so good.
Just like in the US, the Nissan 720 pickup was a hugely popular platform for mini-truckers. This one hews extremely faithfully to the formula, with oh-so-80s chrome fender flares and tinted camper shell. This one was built by Continental Kings, a mini-truck shop in Ibaraki.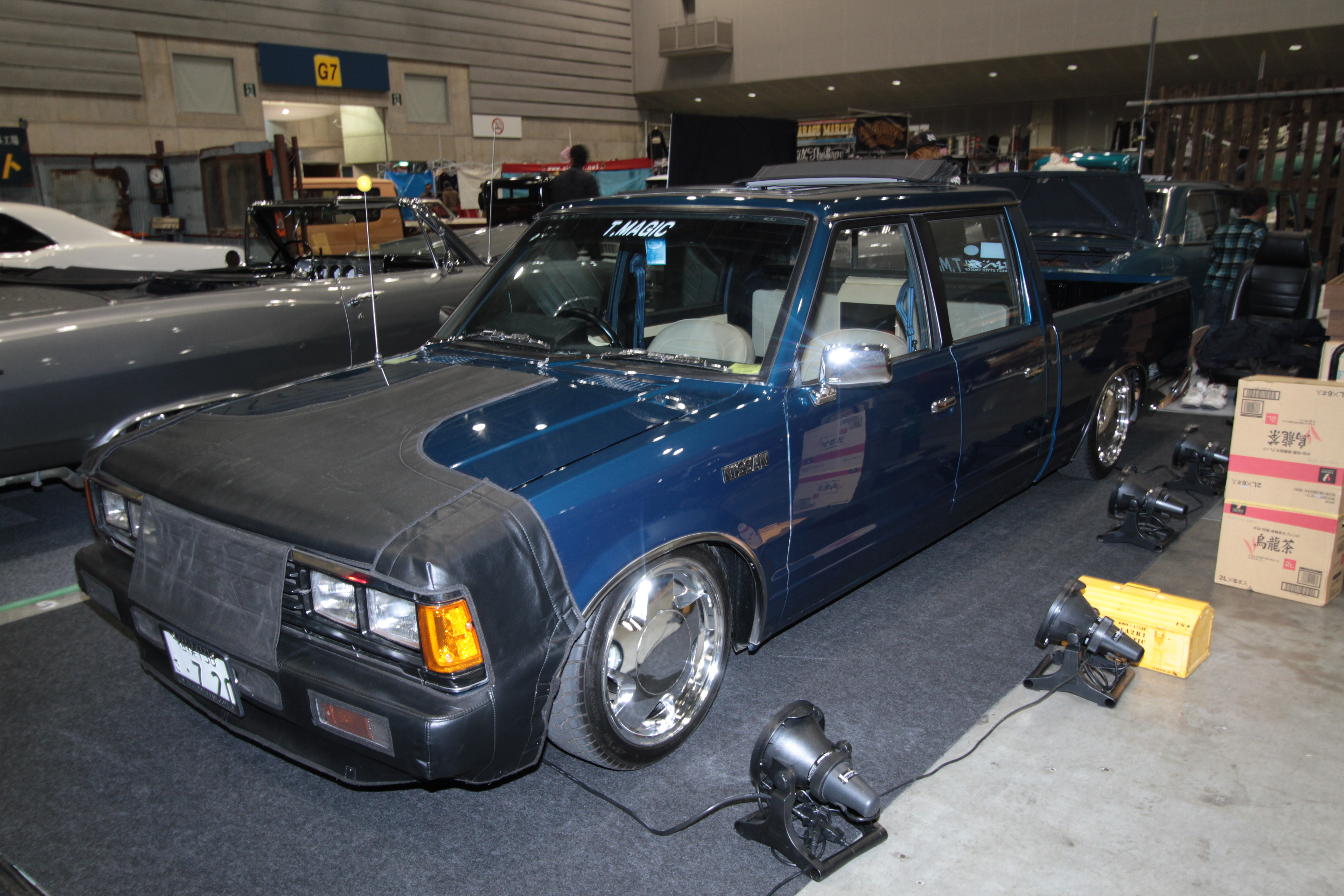 Here's a rare four-door variant of the 720 pickup. The 80s theme continues with a gigantic nose mask that doubles as a parachute or burqa.
Perhaps one of the craziest cars at the event was this Subaru 360 hot rod built by Soul Art & Rod and dubbed the Tamamushi (tama means "soul" and tentomushi was the 360's nickname, meaning ladybug). It seems appropriate, considering that the Subaru 360 was the Model T of Japan.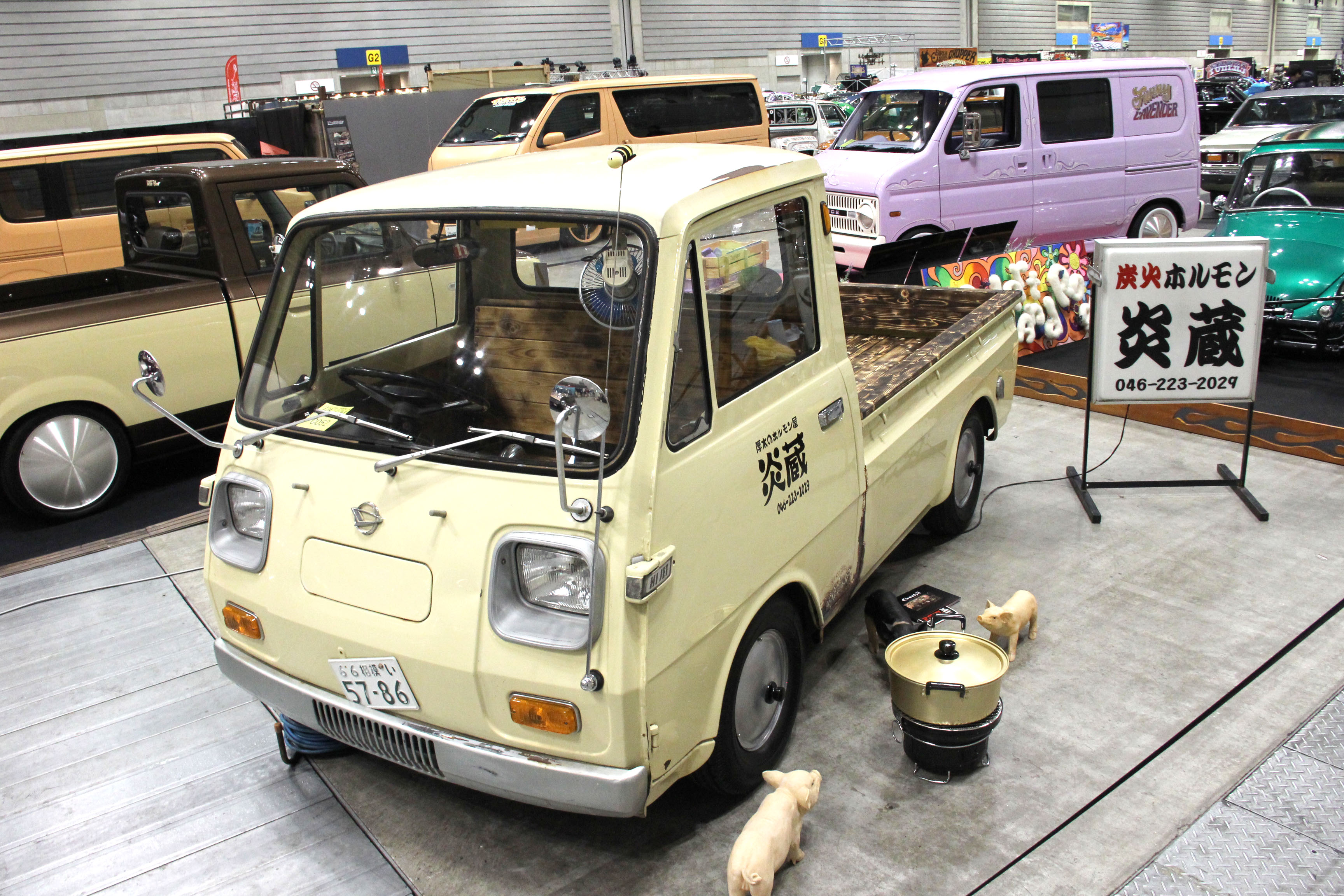 Speaking of adorable kei cars, we love this S37 Daihatsu Hijet dressed in old school rice farmer chic. The Showa era electric fan in the cabin seals the deal.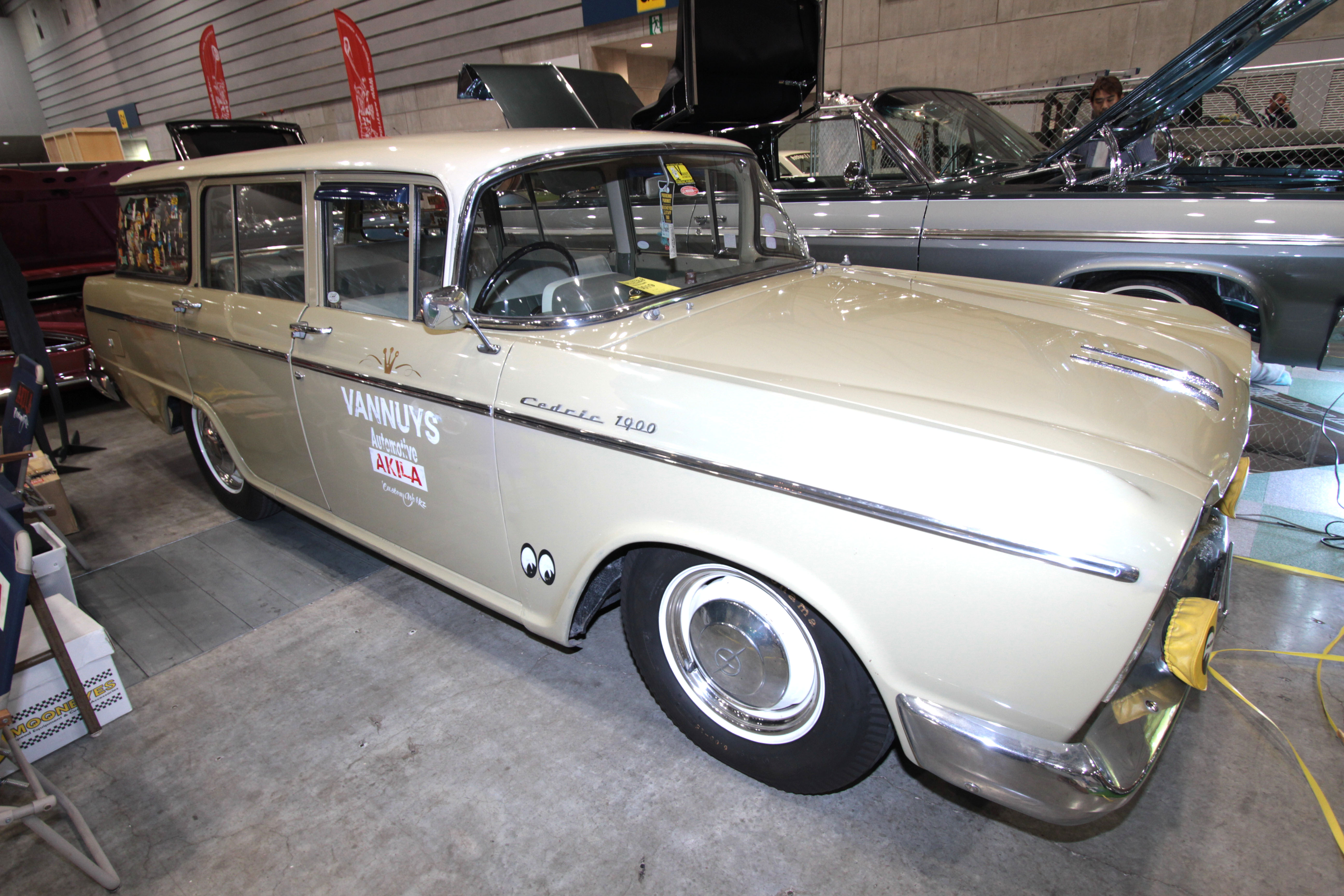 We love shop vehicles, and the big Cedric 1900 wagon from VanNuys Japan is no exception. The beige color may seem drab but it's perfect for a 1960s era work van.
Before we bid sayonara, let's go with something a bit more traditional. The Hot Rod and Custom show is one of the most eclectic gatherings of vehicles to be found anywhere in the world, but sometimes we just need a good fix of something that's mostly stock. This 230 Cedric presented by classic Nissan shop Barracuda, resplendent in its chocolate-and-vanilla paint and vinyl combo, fits the bill just fine.
Images courtesy of MQQNEYES.