Whenever once-great nameplates get axed, we feel a twinge of regret, even if it's a mercy killing. According to trade journal Automotive News, Mitsubishi will scuttle all region-specific by the end of 2013. That means North American market platforms like the Endeavor, Galant and Eclipse are on death row. Two of those have a long history in the US and were once proud torchbearers of the triple diamond logo.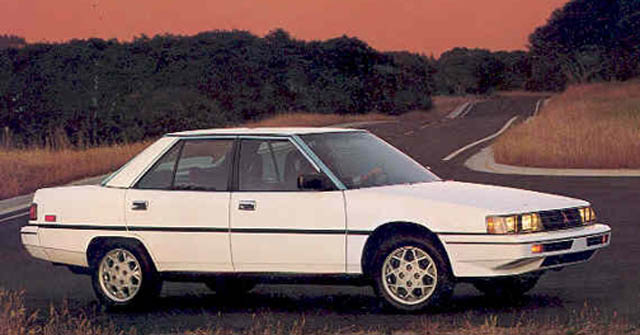 The Galant actually came to the US in late 1970 disguised as a Chrysler, hiding their foreignness with Dodge Colt and Plymouth Champ badges. Their light weight and rear-wheel-drive layout made them popular with the rally crowd, and their slick shape got them in with funny car drag racers (albeit with Mopar V8 swaps). After Mitsubishi came to the US, the Galant was re-launched as a front-wheel-drive mid-size sedan that never quite reached Accord/Camry fame, but had some great moments in AWD turbocharged VR-4 form.

Remember 1990? You could get a handsome sports coupe for starting around $11,000. The Eclipse, along with its siblings the Plymouth Laser and Eagle Talon, stepped out onto the scene and made sports compact history. Better yet, the turbo AWD version boasted unmatched performance for its class. The Eclipse GSX ran 0-60 in something like 6.7 seconds and the price was still under $17,000. If you had one in high school, you were the envy of all. Sadly, your editor owned a used Buick.
Unfortunately, both of these models have become bloated and torpid with age, and the time has come to take these Old Yellers behind the shed with a shotgun. What will take their place? Mitsubishi says they will now focus on hybrid and battery powered models that can be used as a one-size-fits-all for the global market.