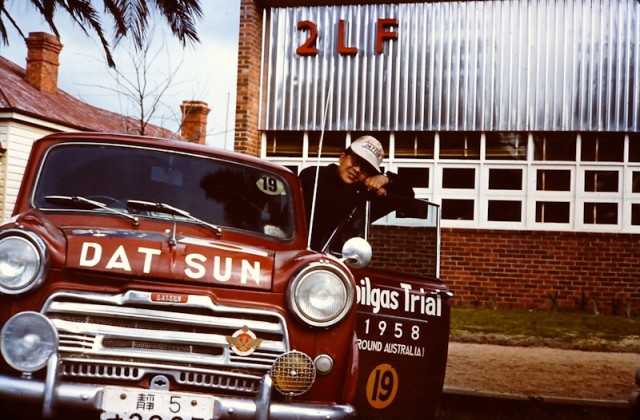 53 years ago, Nissan sent a pair of Datsun 210 sedans to compete in what was known as the "World's Cruelest Rally." The 1958 Around-Australia Mobilgas Trial was a tortuous, 19-day circumnavigation around the continent, over mostly unpaved roads. Named Fuji-go and Sakura-go, and painted with murals of Mt. Fuji and sakura (cherry blossoms), these were the first Nissans to ever compete in international motorsports.
The scheme was the brain child of Nissan marketing genius Yutaka "Mr K" Katayama, who thought that a win abroad would translate to sales at home (Also, Toyota had received a publicity bump by completing the previous year's Mobilgas Trial in an S30 Toyopet Crown.)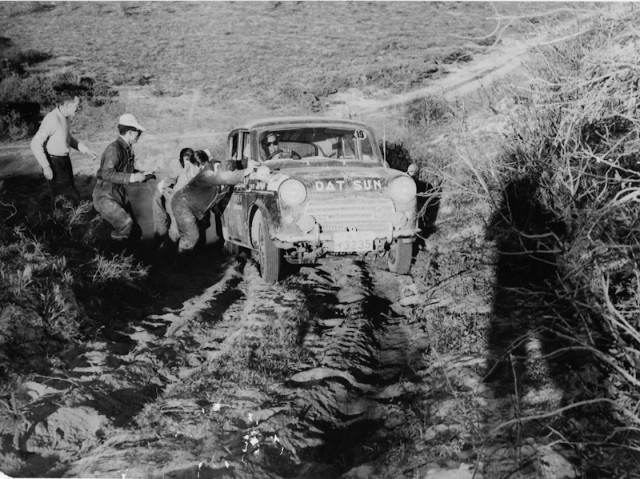 The Datsun 210 had a ladder-frame chassis with a solid I-beam front axle and a one-liter OHV motor that made about 37 horsepower. In other words, it was perfect for the rutted dirt paths that comprised Japan's roadways, as well as much of the rally route, at the time. An independent front suspension would not appear in the #10 lineup until its successor, the Bluebird 310. Can you see where this is going? That's right, your slammed, BRE-striped Datsun 510 is a direct descendant of this lumbering, truck-framed pachyderm.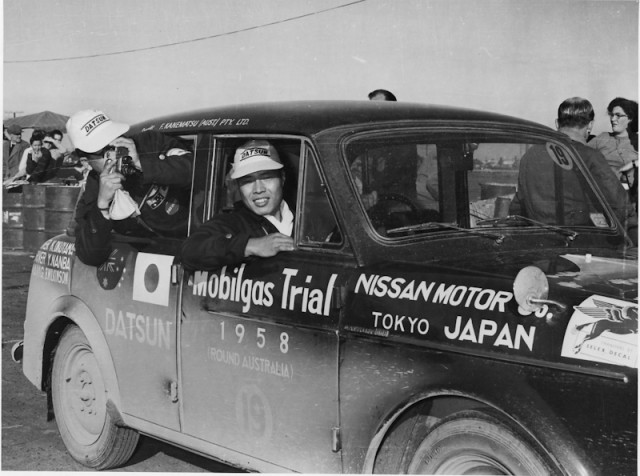 Fuji-go and Sakura-go underwent almost no modifications, except for extra fuel tanks and a curtain partition that allowed one team member to sleep on the back seat. Amazingly, after a grueling, 19-day, 10,000-mile journey Fuji-go (the red car) finished first in its class. Sakura-go finished fourth, but it was still impressive as only 36 of the 67 cars entered finished at all.
Upon their return to Japan, Fuji-go and Sakura-go were whisked away on a nation-wide tour as four-wheeled celebrities. When the tour ended, the pair was shoved into Nissan's Zama warehouse where they sat for half a century. Seven months ago, Nissan began restoring both cars to running condition. The project was undertaken by Nissan employees on a volunteer basis, and many parts were near impossible to find. During the resto, Fuji-go retained its battle scars, in particular a dent resulting from a run-in with a tree.
The restored cars were debuted at the Nismo Festival in December, driven around Fuji Speedway in a parade lap. They were probably some of the slowest cars to have graced Fuji, but they were instrumental in determining Nissan's strategy of using motorsports early on as a sales tool. It would become a defining facet of Nissan's growth in the following decades, and its reputation as being the sportiest Japanese marque lives on to this day. Part II of "The Roadmap to Destiny" series will be released soon.
Images courtesy of Nissan.