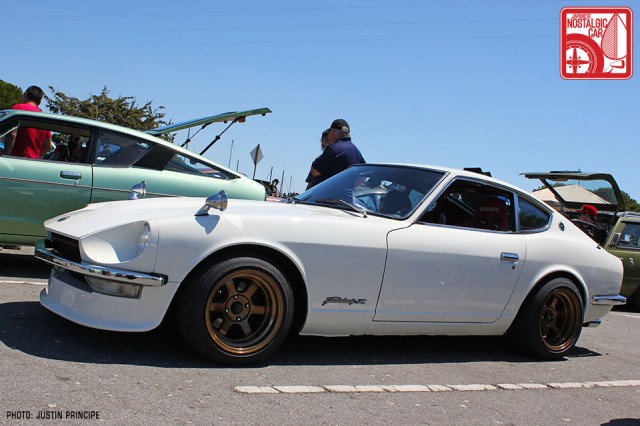 Despite holding three shows in one year's time, including one just three months ago, the variety of cars that come out of NorCal's woodwork for Historic J events never disappoints. In Part 02 (Here's Part 01 if you missed it) of our Vintage Auto Salon coverage, we examine the quintessential formula of the Japanese sports coupe — light, quick and agile cars that put a stupid grin on your face.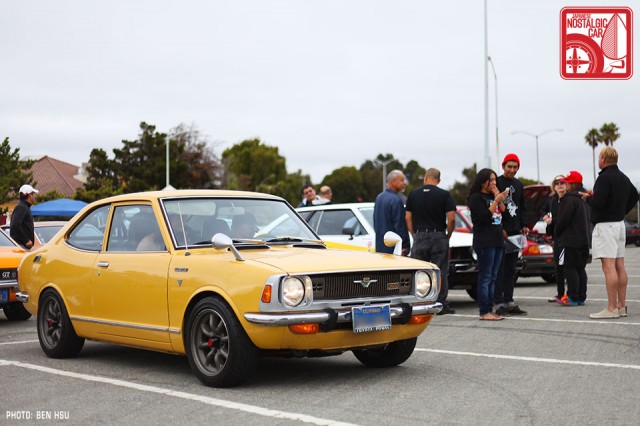 One of the earliest Toyotas to abide by that blueprint is the TE27 Corolla. Tu Tran's mustard mango proves that you don't need flares and an oil pan-scraping stance to make your vintage 'Rolla look good. It probably started life as a regular Corolla Sport Coupe, which didn't have the SR-5's factory flares, and that's okay. It exudes a strong 70s Tokyo street machine vibe all the same.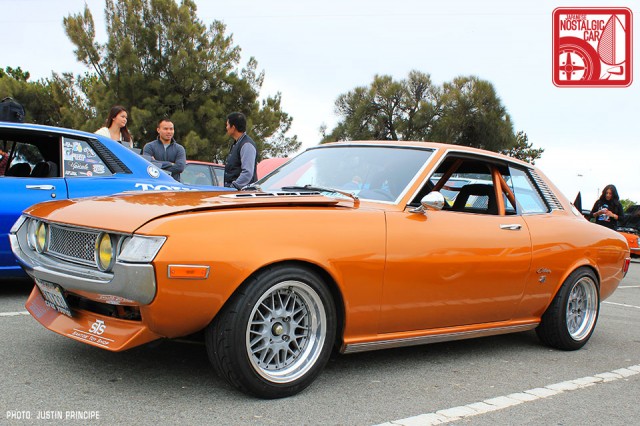 In contrast, the internet-famous F20C-powered Celica gives off a modern appearance in all its liquid bronze glory. It's not one for the purists, but the Bay Area is home to the S2000-powered Celica and the glorious mill can do no wrong, especially when paired with a 2,200-pound, RWD coupe.
The AE82 is the Rodney Dangerfield of Corollas. The front-drive hatch never got much respect, despite its high-revving 4A-GE motor. Also, Rota Shakotans aren't exactly coveted barrels, either. Somehow, though, Marvic Sanjuan does gain our respect for putting together a clean, understated example of a great car in its own right, were it not overshadowed by its sibling.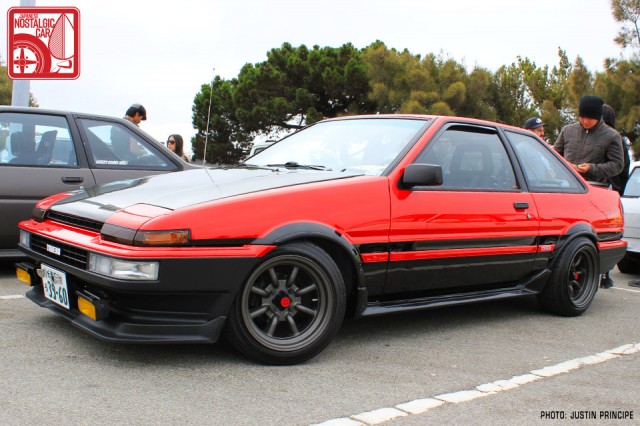 And that sibling who did the overshadowing is none other than the AE86. The 80s were a crazy time when Toyota could sell two distinct cars, one front- and one rear-wheel-drive, and call them both Corollas. Johannes Magbitang's pairing of black Wats with red Watanabe center caps on a JDM-converted red panda (or High Flash Two-Tone, officially) could not be more perfect.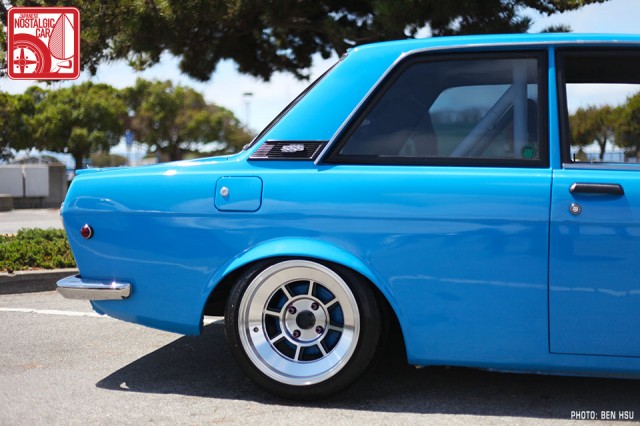 Of course, no discussion on lightweight Japanese coupes would be complete without mention of the Datsun 510. We didn't get a chance to talk to the owner of this build, but you probably don't want to mess with a 510 with a big fat roll bar in the back. Blacked-out trim mated to a very bright blue gloss and a new-ish Nissan engine provide an dash of modernity to classic lines and chrome bumpers.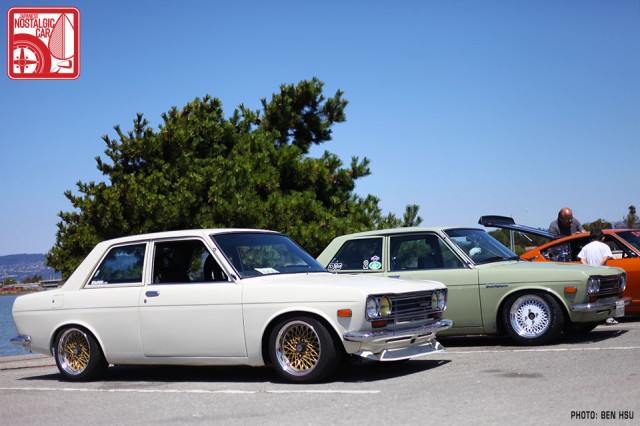 Ben Webb's white 510 is a good lesson on subtlety. With a nice set of gold SSRs and a BRE-style air dam against classic eggshell, it fits right in a J-tin show where mods are welcomed, but you could also just as easily see it cruising the Monterey Historics and turning heads.
We were also impressed with Lisa LaFranca's Cactus Green hot rod 510 and its knife-edged crank Rebello 2.2. It proves you don't need an SR, and in fact its original patina and slammage on a set of restored Enkei 92s give it a real quasi-sleeper menace. Lisa says that she grew up in a family of V8 gearheads who didn't understand her love for the Datsun initially, but we can see why they've since been swayed.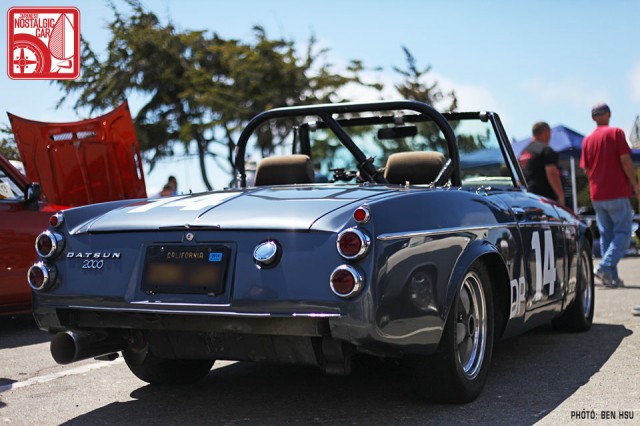 The Datsun Fairlady roadster and Honda S-chassis are the earliest examples of a true Japanese sports car. Only the Datsun was officially sold in the US, though, making it one of the few performance cars from Japan that can wear a California black plate (issued from 1963-68).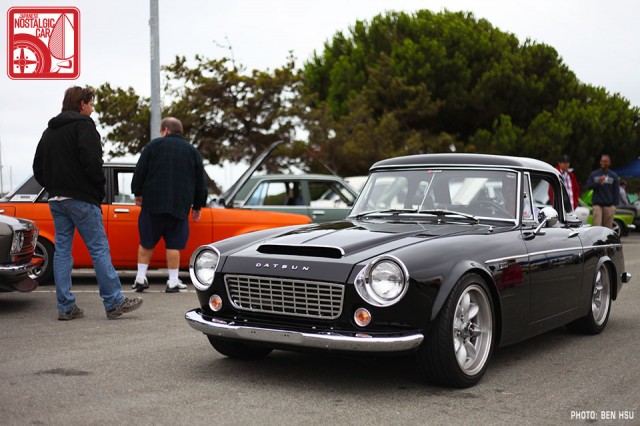 Alvin Gogineni works at San Jose's Z Car Garage, the Bay Area's premier Nissan/Datsun restoration and speed shop. His black beauty of a low-windshield 1967½ Sports 2000 roadster hides SR20 power beneath the bonnet and is a perfect example of the exacting work the shop specializes in.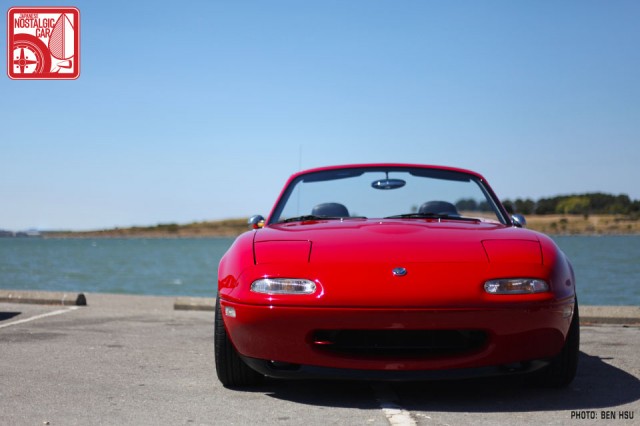 It's hard to believe, but next year the Datsun roadster's modern counterpart, the Mazda Miata, will officially be a nostalgic car. This so-ridiculously-clean-you-could-eat-off-it, 30,000-mile, Enkei RPF1 equipped NA belongs to none other than JNC senior minicar correspondent and original owner Ricky Silverio.
Back when the first-gen MX-5 was new many Japanese dealers put together special packages akin to Yenko or Baldwin Camaros. Mazda even founded an offshoot company, M2 Inc., to build limited edition variants. The theme of Ricky's Miata is that of an early to mid-90s M2 or dealer special, and it's chock full of Mazdaspeed and boutique accessories long since out of production.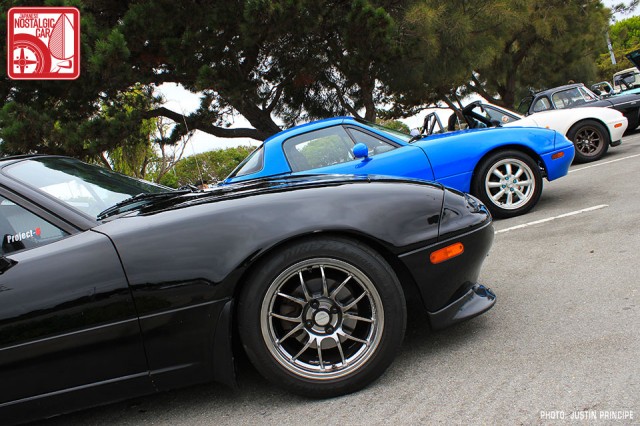 In fact, Ricky rounded up several MX-5s for early inclusion in this year's show in order to bring awareness to an easily accessible soon-to-be-nostalgic platform for those aspiring JNCers.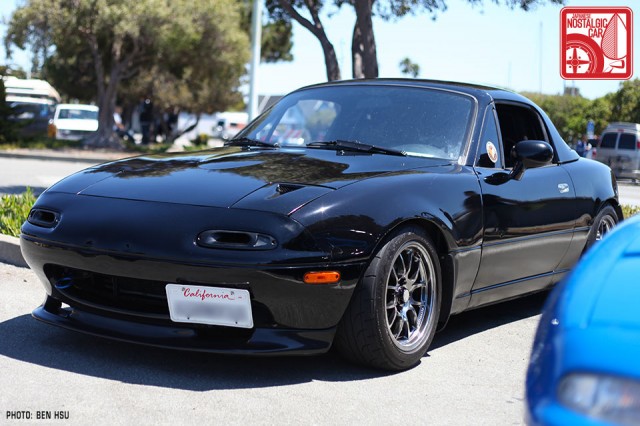 Brian Szeto's black bullet is a an example of how versatile the Miata platform truly is. With lightweight 949 6UL and a few Racing Beat goodies under the hood, a stock Miata can easily be transformed into a dual-use application suitable for both track and street.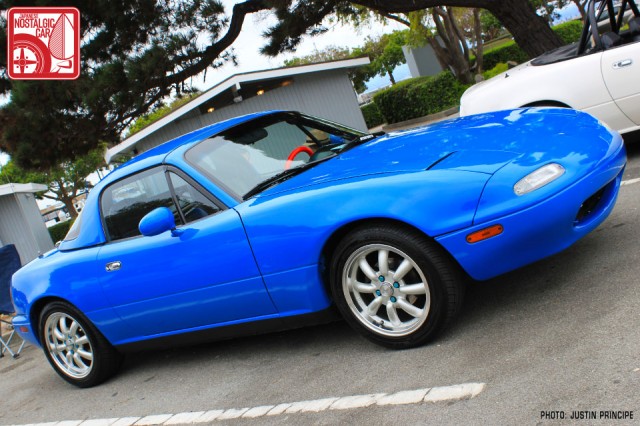 Carson Wittwer's Mariner Blue bombshell reveals how one can build a tasteful, preservation MX-5 without breaking the bank. It's neither ultra-stanced nor rat-ified, but a clean preservation car that can be enjoyed in the meantime.
Willis Wong's white Miata is an exemplary execution of a proper, Japanese-style build. It's a who's who of Nihon parts, with Nakamae seats, Garage Vary taillight panels and 14×7 RS-Watanabe wheels. There's no excess, just choice parts. The only thing that gives it away as an American model is its LHD steering wheel.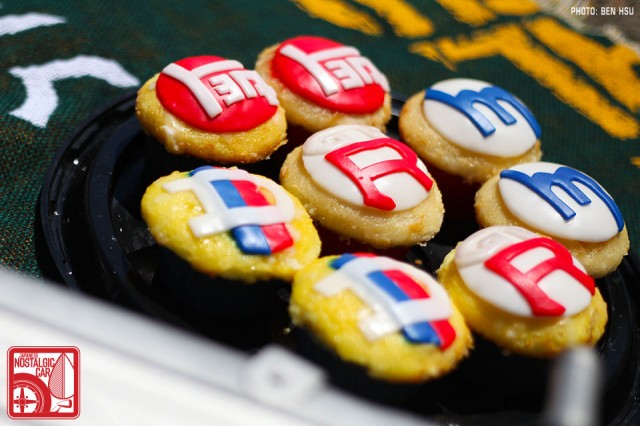 Willis's girlfriend baked an amazing batch of nostalgic cupcakes, with the classic logos of Toyota, Mazda, Datsun and the GT-R as frosting. We're sure they were delicious, but they were too beautiful to eat!
Civic owners take note. Nicholas Higgins' EF hatch proves one does not need retina burning colors and contrasting engine bays to make your hipster Honda hot rod cool. It still has the requisite low-down look but classic Honda red on white is just fine, thank you.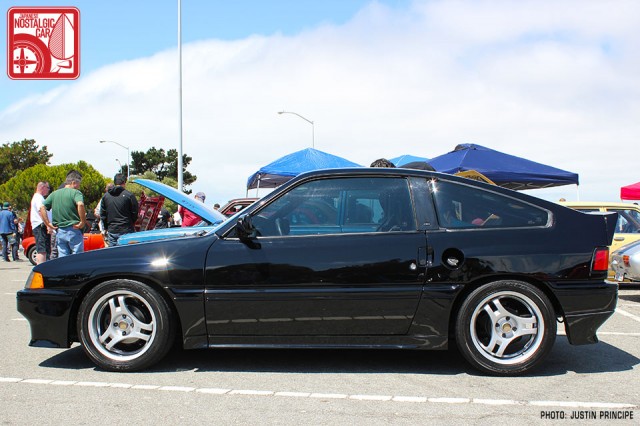 We saw this first-gen Honda CRX at the Shokuji J-Tin show a few months ago rocking a Mugen-style Houseman kit. This time it was back with Advan three-spokes, for a very late-80s techno aura.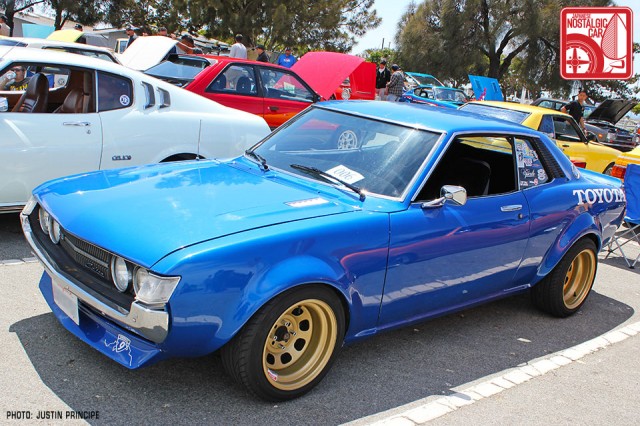 This blue Celica belongs to the JNC forum member known as Zulu, who has been slowly bringing it back from this to what you see here. Running a 22R-E and massive molded flares on 15×8 -38 front 15×8 -63 rear Bart wheels, it's got a very grassroots racer feel.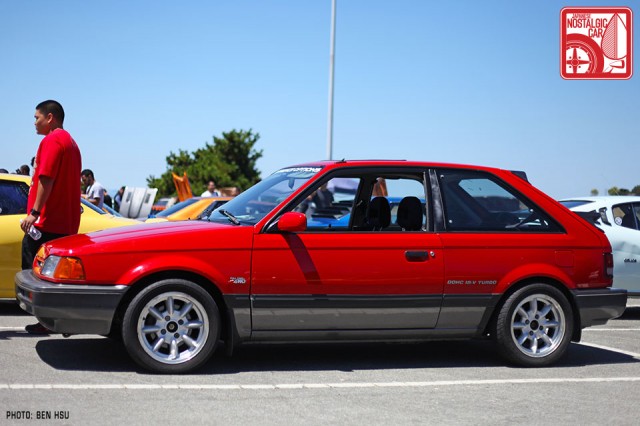 The J-tin bestiary is just overflowing with specimens both interesting and often forgotten. Take the Mazda 323 GTX for example. Here was a rally-ready hot hatch putting down 132 horses from a 1.6-liter 16-valve twin-cam turbo through an AWD drivetrain. Only 1,243 examples were sold from 1988-89 and often had the hell driven out of them. This one is owned by Performance Options of Oakland, Calif.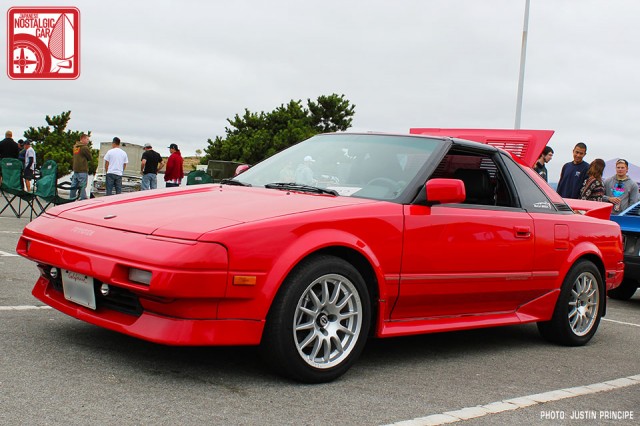 Nearly any drivetrain configuration one can imagine was put into production in Japan. Want a supercharged, mid-engined sports car that can accelerate to 30 mph faster than a Ferrari F40? Here's the Toyota MR2 SC.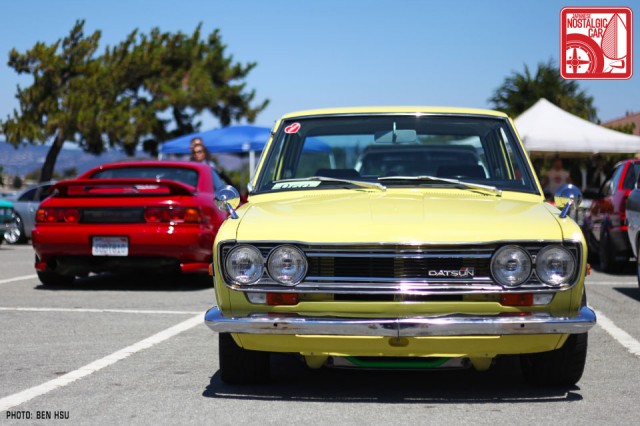 Darin Joseph's Datsun 510 is a regular at Historic J shows and a perennial favorite here at JNC. Though its suspension has been updated with S13 bits, the engine is still a classic L18 that lends the entire car a super-clean period correct look. Parked beside an SW20 MR2, you have a pretty good spectrum of the Japanese sports coupe form.
That concludes Part 02 of our Vintage Auto Salon coverage. Stay tuned for more, but in case you missed it check out Part 01 – JDM Machines.