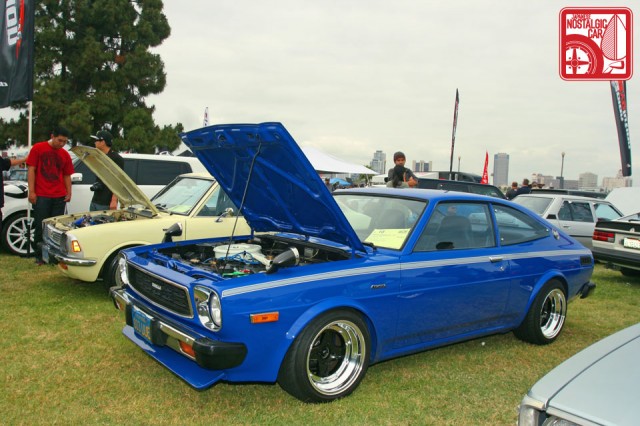 Welcome to Part 02 of our Toyotafest 2011 coverage. As Michio Kaku would say, let's jump right in and take a look at some of more extreme cars that were at the show. This TE51 Corolla has exchanged hands a few times since PJ Bonifacio first debuted it a couple of years ago, but it still looks a fresh as ever, with oooh-shiny SSR MkIIs filling out the subtly flared fenders.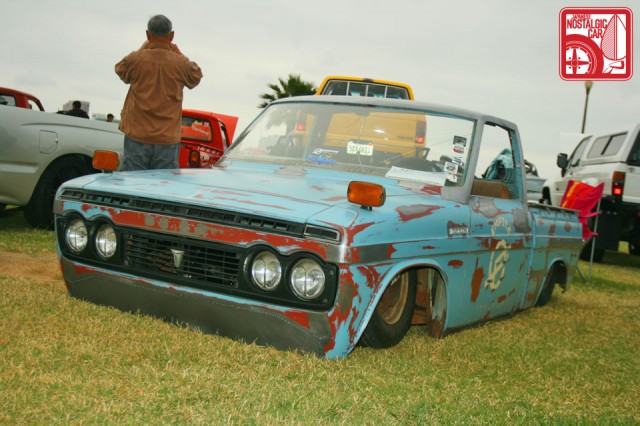 Sean Ramage calls his truck the Lolux. Awesome. It may not be obvious at first glance, but tons of custom fab work has been done to this 1970 Hilux — sectioned, channeled, bagged and chopped 1.5 inches.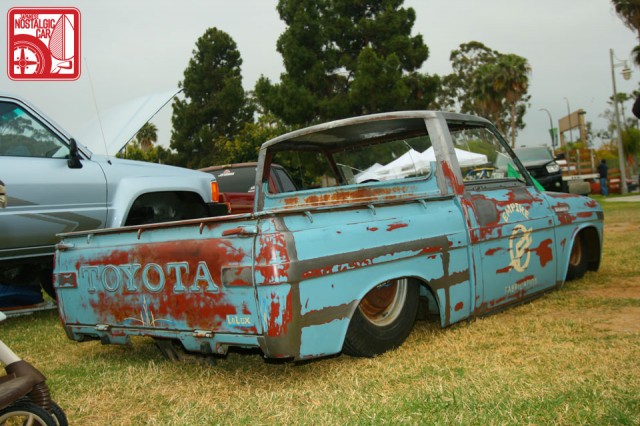 The bed was shortened 23 inches and the rockers panels have been modified as well. Seems like a lot of work for some very subtle changes, but that's the mark of a truly visionary custom.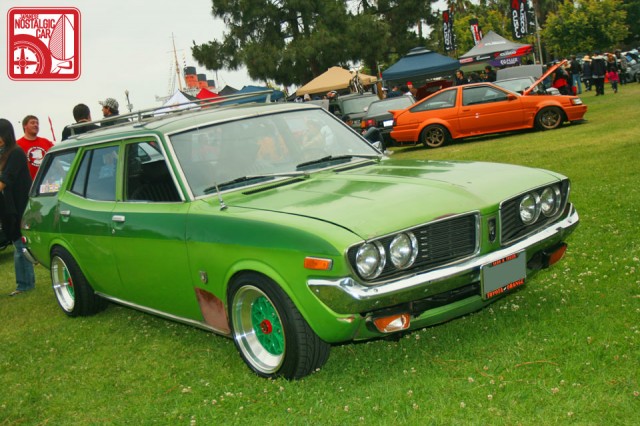 It's no secret we love wagons, and Robert Pertano's '73 Corona Mark II is one of the rarest.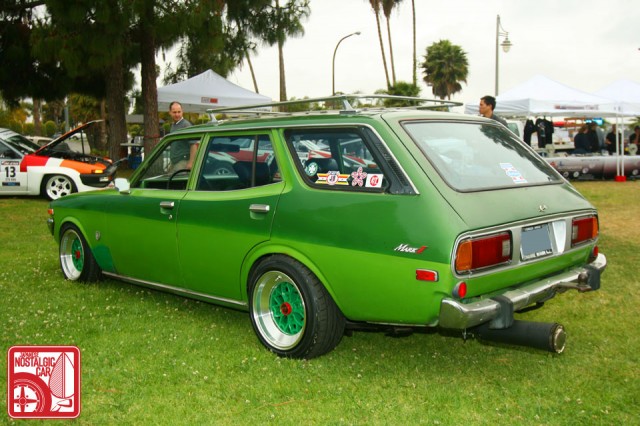 He's already sporting the JNC Racing Mate decal, a perfect green match!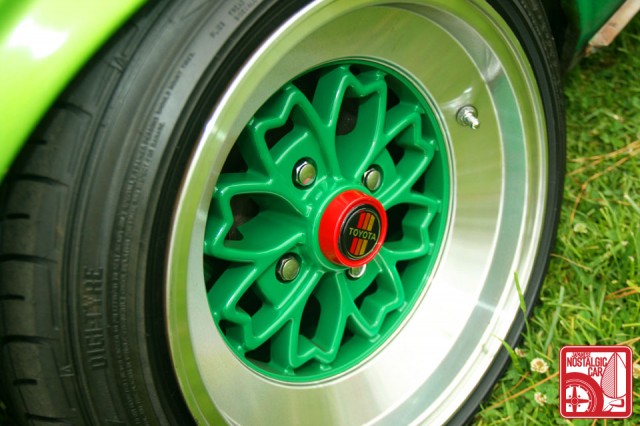 Green blossoms?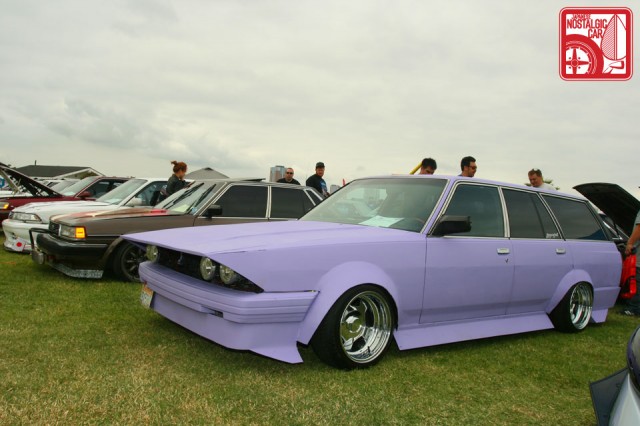 And while we're on the topic of wagons, check out this purple people hauler! There's an MX72 Cressida hiding under that sharknose somehwere. Of course, this could only be the work of SoCal's own Sparkle Garage.

You knew it'd only be a matter of time before someone showed up with a full blown star-shaped takeyari exhaust. Cressida, the American zokusha of choice!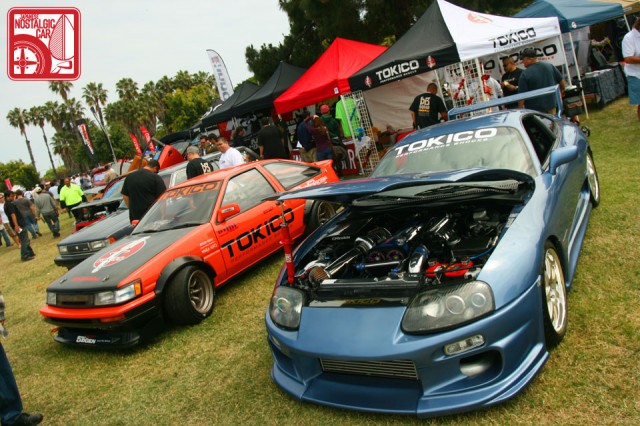 Our neighbors at the Tokico booth packed a one-two punch of of Toyota's best. An AE86 for drifting and a JZA80 Supra for wangan runs. We've seen this hachiroku before, but dig the new improvements — a gigantic spoiler delete and gold Wats. You can see the JNC wagon peeking out from behind it.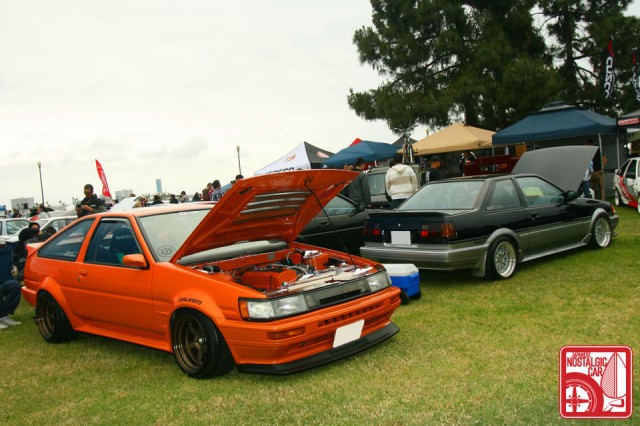 Speaking of insane, orange AE86 Levins… This one wasn't exactly nostalgic, but the craftsmanship was undeniably top notch. We'd classify this as more of a resto-mod, and bronze Volk TE37Vs are the perfect wheel for that purpose.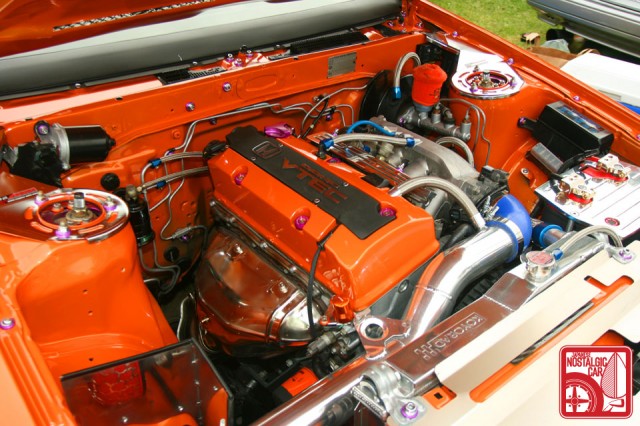 Under the hood, a beautifully swapped Honda S2000's F20C motor makes this tangerine dream a real screamer.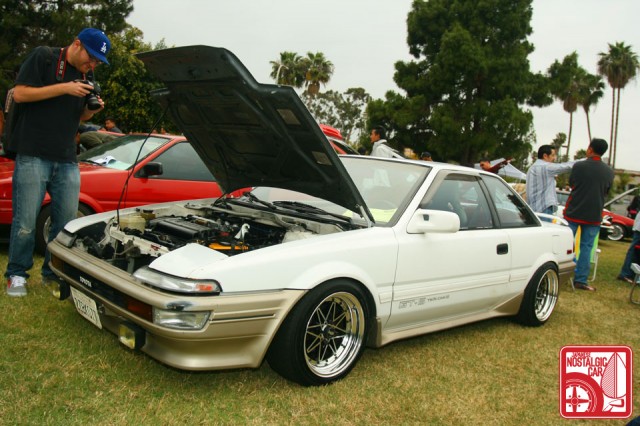 We often focus on RWD Corollas, but here's a really nice AE92 Corolla GT-S. FF chassis or not, we admire the JDM bits and those sexy Work Equip 03s. We're digging the two-tone white and gold color scheme too. Very Japanese.

Check out the throttle bodies and the 20-valve 4AGE under the hood. And by the way, any JNCers who play Forza 3 and have customized their virtual rides with the JNC inkan — you can thank Chris Torculas, the owner of this car, for uploading it!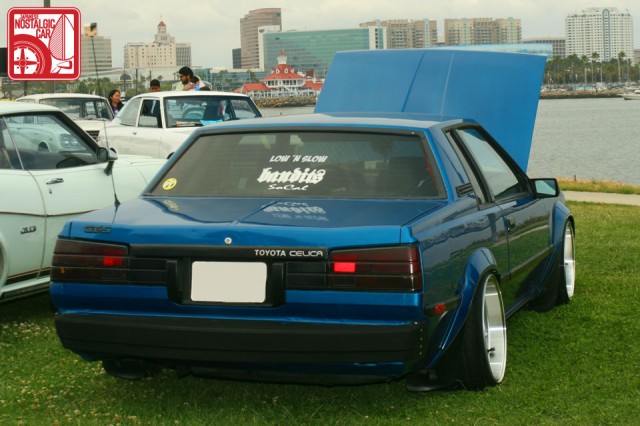 One of the interesting trends this year was that the previously uncommon RA63 and RA64 Celicas arrived in large numbers. The coupes have a certain 1980s angular aggression about them, especially when rolling on massive 17×9 Rotas! The sticker in Jesse Ortiz's rear window says "Low 'n' Slow" but walk around to the front and you'll see that he isn't being exactly honest.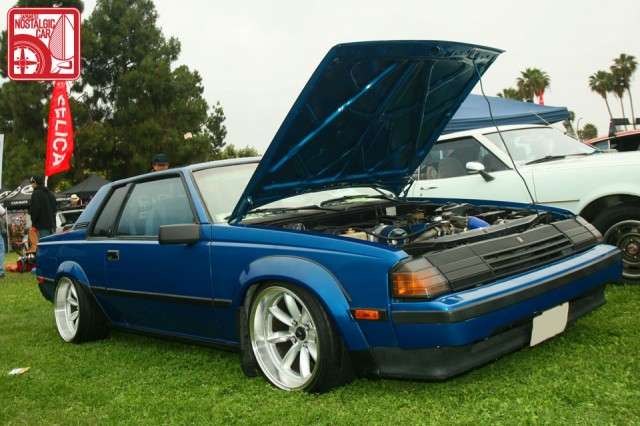 1JZGTE turbo six sitting where a four-cylinder should be! Blue really brings out the beautiful lines on this '84, and you've got to love that ziggurat-esque light bar and grille.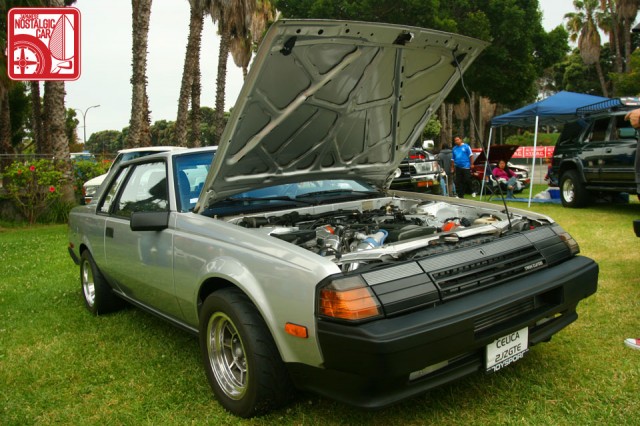 Two JZs are better than one, right? This Celica had a 2JZGTE swap going on. Impressive!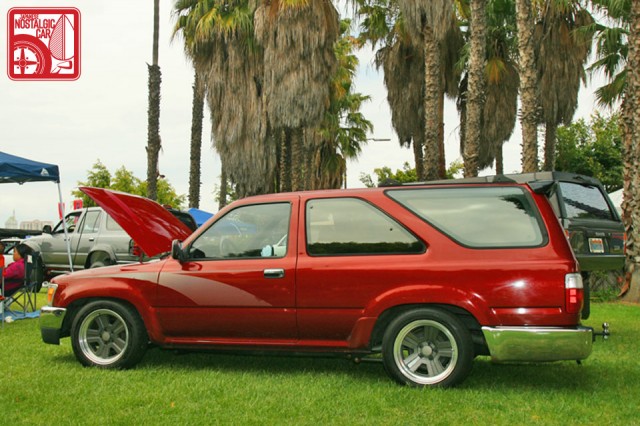 Dien Nguyen's truck was another one that makes you stop and take a second look, wondering why it looks so familiar, yet drastically different. Then you realize that a huge amount of work went into the build, while the finished product is a study subtlety . First of all, it's a two-door '91 4Runner, a rarity in itself. Note the awesome diagonal rear greenhouse. Dien then put the body on a 1993 two-wheel drive pickup frame, giving the 'Runner its low stance. The wheels are gunmetal coated five-lugs from a Mitsubishi Starion.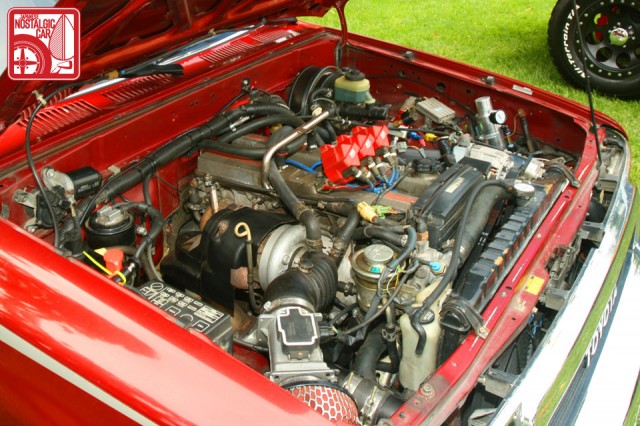 Under the hood lies a 7MGTE turbo inline-six from a MA71 Toyota Supra. The plethora of parts collected from multiple vehicles makes this build truly special, and the best part about it is that the body looks completely stock, gray swoosh and all.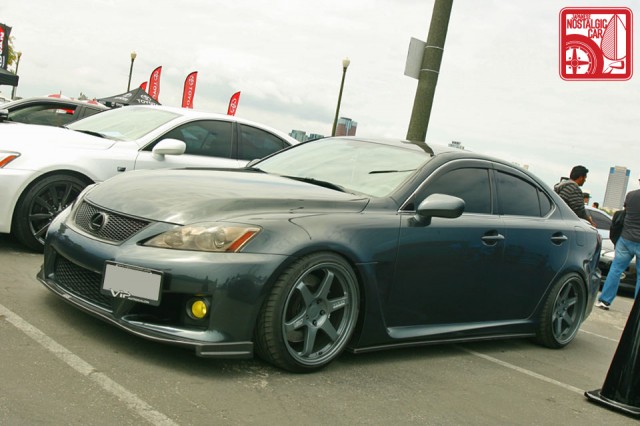 Dan has been on a VIP kick recently, so even though this Lexus IS-F on Volk TE37s is nowhere near nostalgic, he insisted on taking photos of it.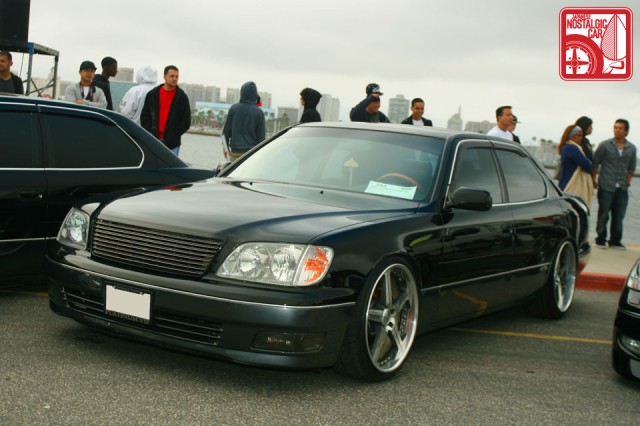 The same goes for this VIP LS400.

Ditto again, and a thumbs up for the license plate.

Look, someone managed to sneak a JDM Estima Lucida into the country. It looks like a Previa, but is actually slightly narrower and shorter in order to fall into a lower vehicle tax bracket in Japan. Toyotafest truly is a carnival of every type of Aichi-born metal you can imagine.
We have more Toyotafest 2011 coverage coming up, so stay tuned!