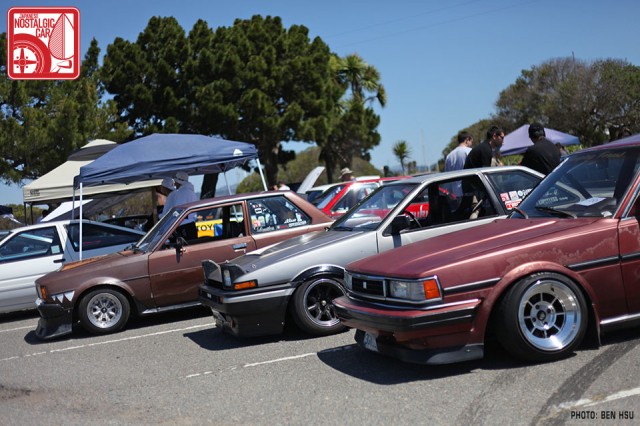 In Part 02 of our Shokuji J-Tin coverage we turn our attention to some of the excellent builds that hail from the hills of NorCal. For purists this may be a painful segment, but not every nostalgic can be a garage queen.
In fact, having these examples out there is a boon to the hobby. Some cars are meant to be driven, hard. Plus, no kid is gonna fall in love with a bone stock 510 if it's sitting at home. No, it needs to fry his brain when it blasts by at full throttle.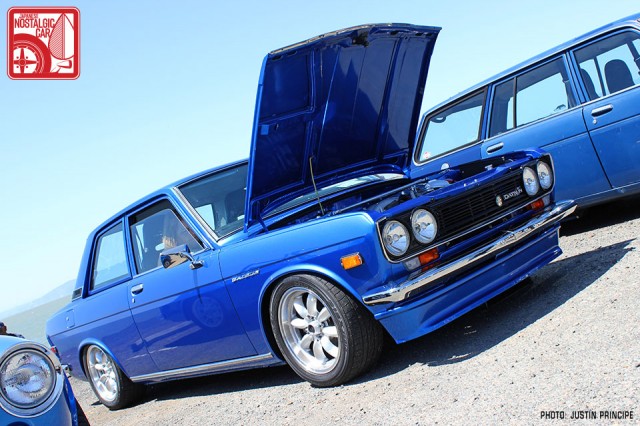 This 510 is what they'd call a resto-mod if it was in the muscle car world. The tried-and-true formula consists of a classic body, but with modern metallic paint and a newer motor to replace the stock L16. It'll never place first at a concours event, but it looks like a blast to drive.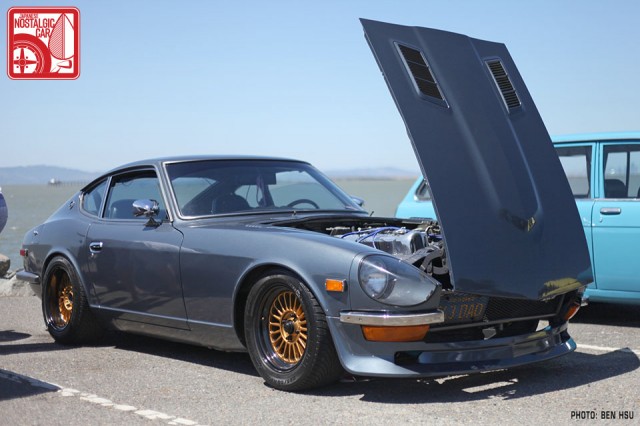 Another modern take on a classic Datsun, this 240Z was a super clean build. Dark gold fins with black rims is certainly a unique choice, and even though we weren't sure how to describe the style we respect the craftsmanship of the build.
This baby blue 510 was an interesting mix of old and new. Panasports and gorgeous non-metallic, single-stage paint are pure classic sexiness, while projector beam headlights and carbon fiber bits signal the new school.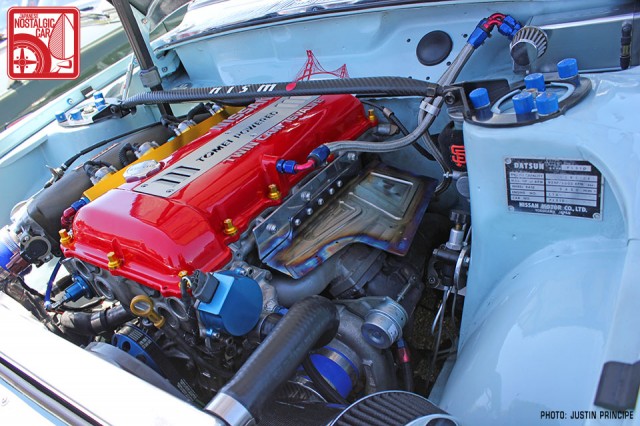 We saw it last year just as it was leaving, and we're letting our old school bias show, but we think it was perfect without the carbon fiber. This time we got a closer look inside the engine bay and found this factory fresh SR with hometown tributes to San Francisco.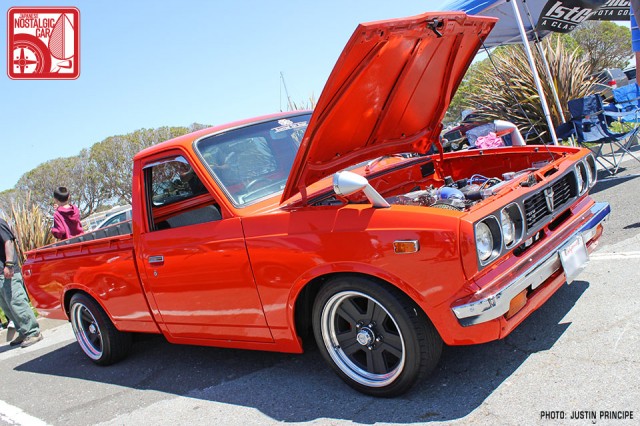 Performance Options of Oakland is is one of the Bay Area's famed tuning shops for old school cars, especially Toyotas. Owner Joey Gauthier's 22R-E-swapped Hilux on Starion wheels is a beautiful example of the work they do.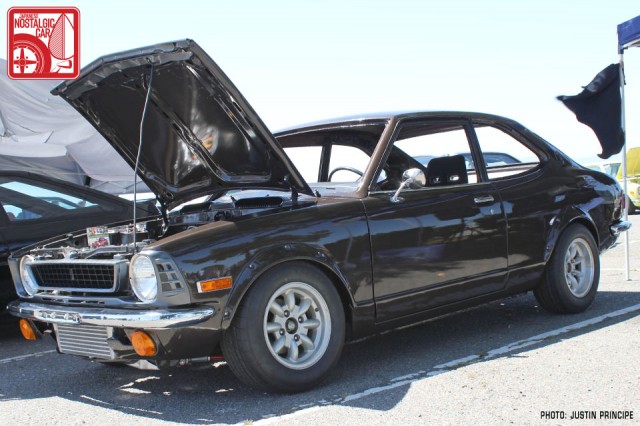 Another Performance Options-built car was this brown TE27. You can't see it in the pics but the entire front suspension is adjustable heim joints. Apparently the owner kills it in local autocross sessions.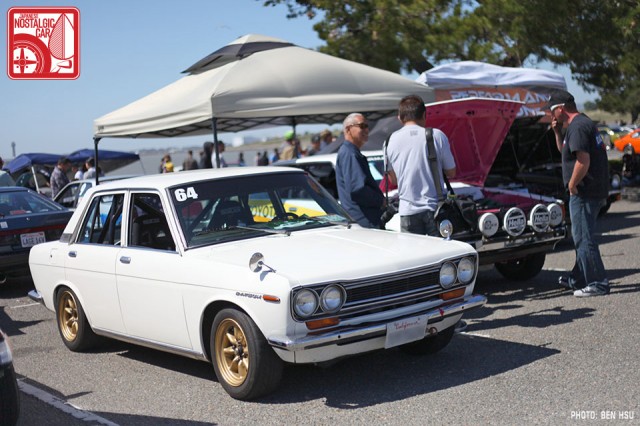 An appliance-white 510 might look innocuous, but we know by now not to judge a Bluebird by its cover. Despite its four-door status, a roll cage and gold Wats belie a purposeful weapon.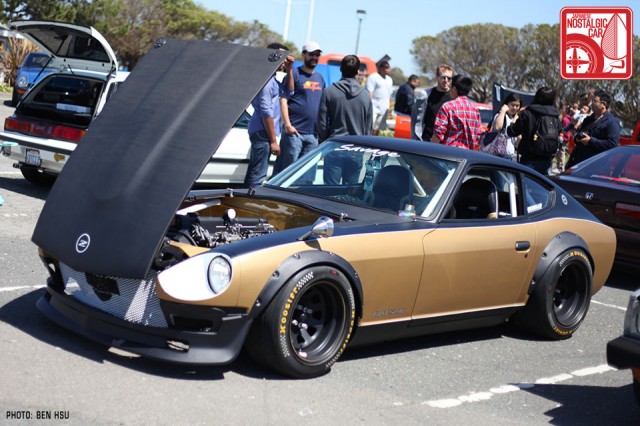 And then there's the completely insane builds that only nominally take the shape of the original car. We first saw Derrick Kemnitz's 1972 Datsun 240Z at the ZONC show last year, where it took the Best in Show award. With a completely tucked harness and tube-frame holding the Rebello 3.2 L28 stroker, it's as close as you can get to a race car for the street.
Ray Santos' Lexus V8 Celica is equally nuts, and has the bonus of looking stock. The 1UZ swap was made possible with a custom tube-frame crossmember. If our mental math is correct his car possesses the power-to-weight ratio of a Lotus Exige.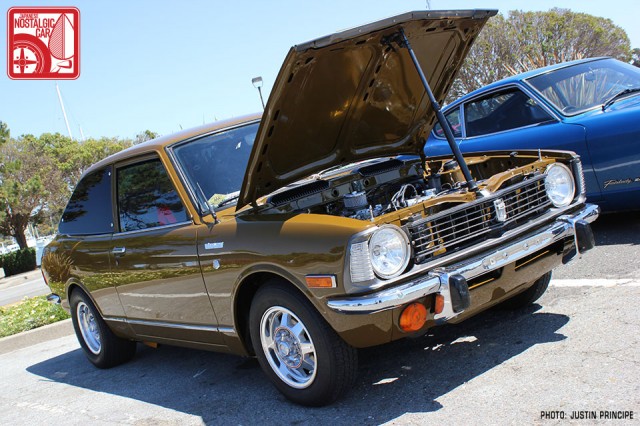 If drag racing is your thing, some great examples of boricua style doorslammers would not disappoint. This peanut Corolla had a built 2T-C and traction bars to light up the quarter mile.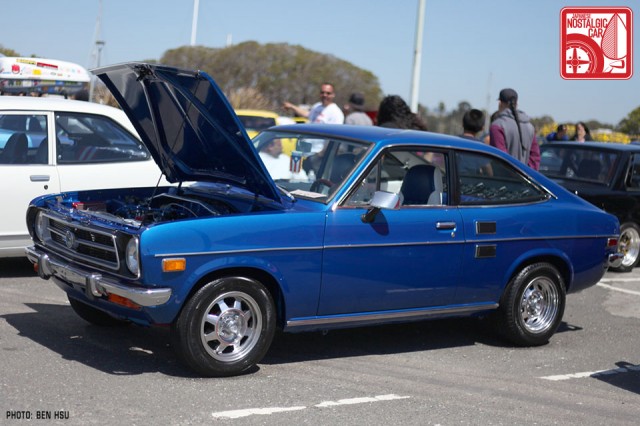 The Corolla's main rival back in the day was the Datsun Sunny, and we'd love to see a quarter-mile showdown between this 1200 and the brown 'Rolla above. Note that both cars are wearing OEM Toyota wheels in front and aftermarket drag rim on the rear that happen to look exactly like deeper versions of the Toyota stockers.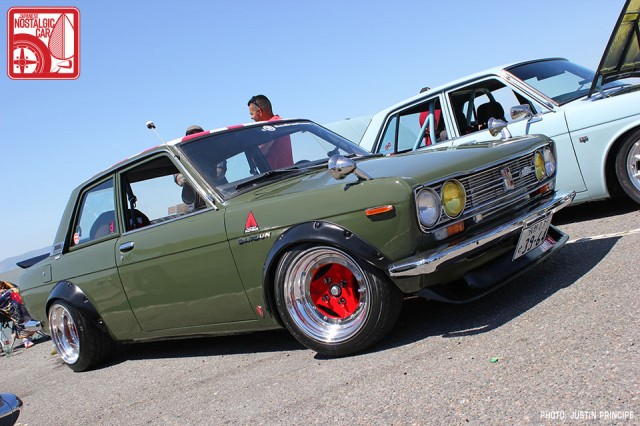 From boricua to bosozoku, each region of the world has their own unique style. Although the Bluebird isn't really a common zokusha platform, this 510 has adopted styling elements such as bolt-on flares, a hako-style wing and Advan A3As.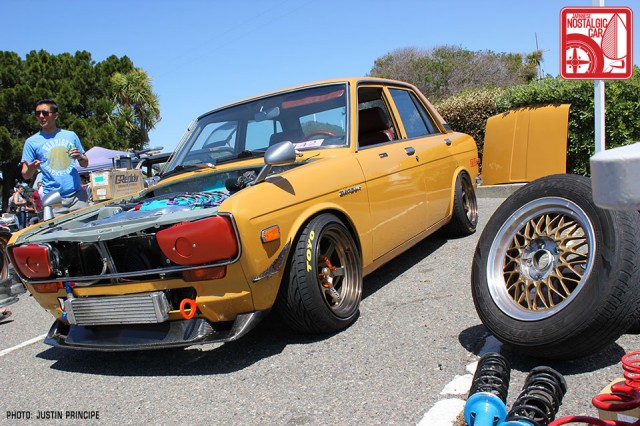 You can tell straight away that Mallen Fajardo's 510 means business. From its RX-7 oil cooler to its racing jacket to its Volk TE37Vs it has "touring car racer" written all over it.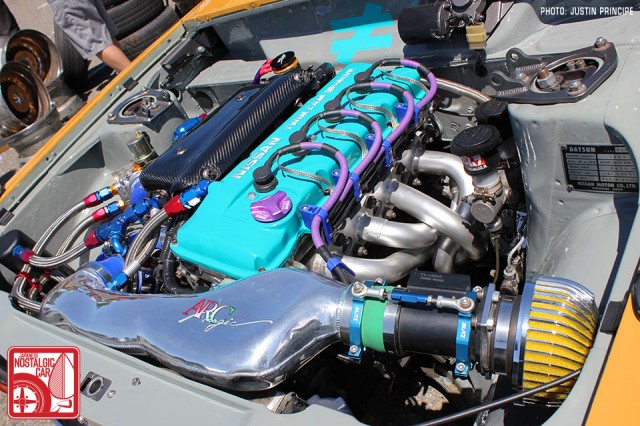 We're not huge fans of shaved and tucked bays and anodized fittings, but this home to a KA24DE is amazing. It was clearly assembled by someone who sees the engine as a work of art.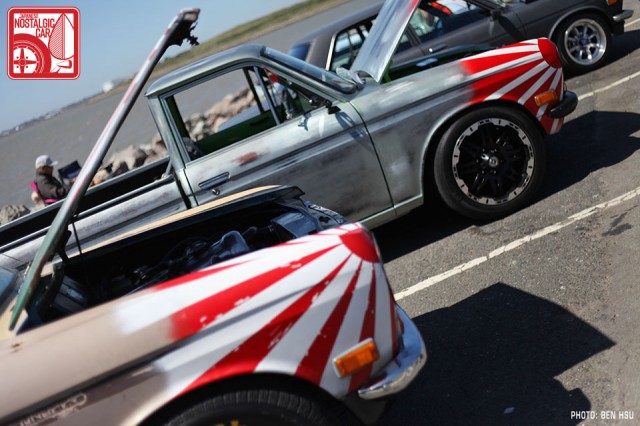 We like it when car crews go with a cohesive theme. These banzai-flag fenders we saw on a pair of rat rod Datsun 521s are an awesome bit of flair on some well-patina-ed pickups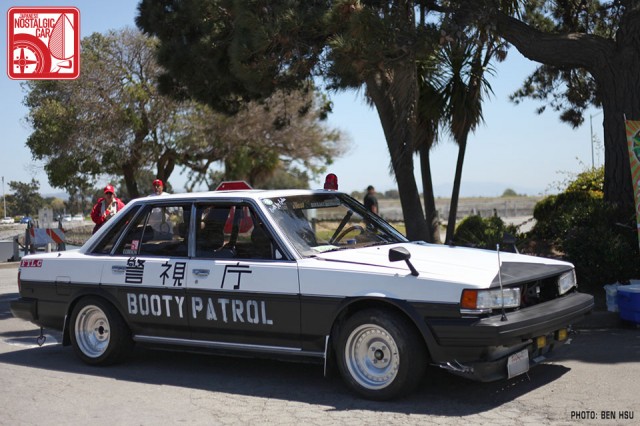 Lastly, we have a tongue-in-cheek interpretation of bosozoku style. Halt, you've been spotted by the Booty Patrol!
We have more Shokuji J-Tin coverage to come, but in case you missed it, check out Part 01 — Wangan Style.