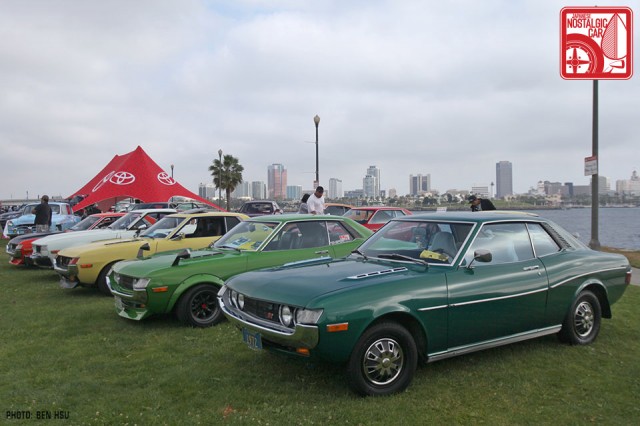 As we mentioned, there was more urethane than chrome at this year's Toyotafest. Still, it's  the strong presence of Aichi classics that anchor this must-see event and separate it from other shows. 
Ray Santos is known for his F20C-powered Celica, so we knew his latest project would hold some kind of surprise underhood. Right away you notice a more American flavor to it, with its 15-inch steelies shod with beauty rings. Could they, along with the Mooneyes sticker, offer a clue to where this build is headed?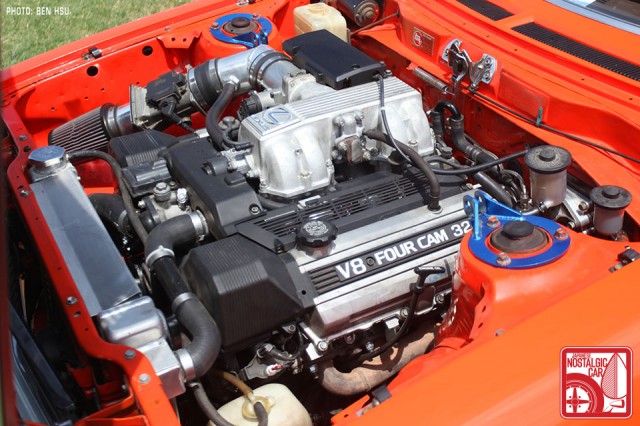 This time Ray's gone in a completely different direction: Lexus 1UZ. The quad cammer barely squeezes into the engine bay, but the V8-powaaaah means the overall look makes sense now, doesn't it?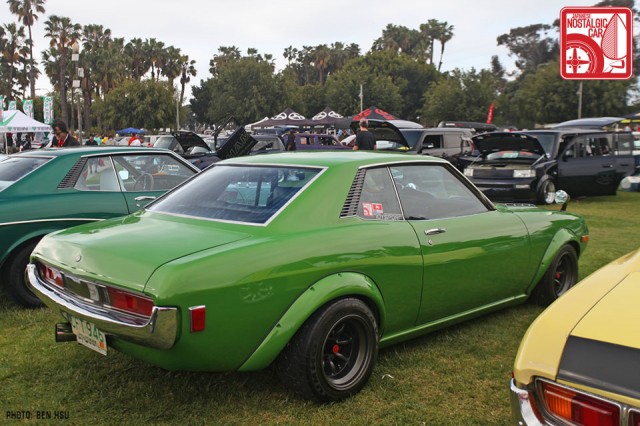 We've always liked this mean green flared Celica. Whether it was the owner's intention or not, it always reminds of Toyota's works racers of the 1970s. It's hard to pull off a vintage look while wearing a coat of modern, multi-stage metallic paint, but this car manages to do it.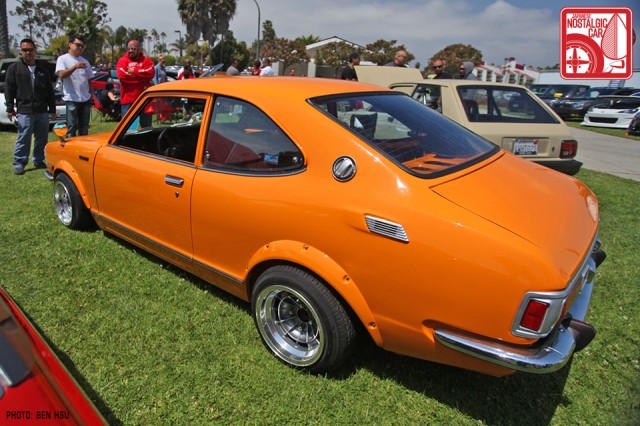 Joel Tan's TE27 is another example of an excellent period correct mango build. With 13-inch TOSCO TRD wheels and a bright-but-not-retina-searing coat of luscious orange it really captures the Toyotafest spirit.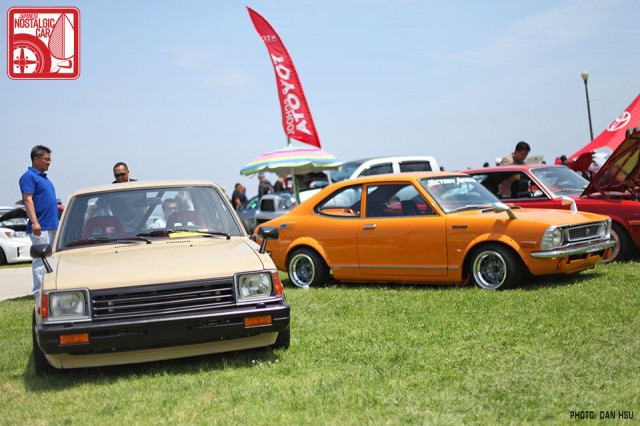 Next to Joel's Corolla sat Eugene Garcia's 1984 Starlet reppin' Racetoys. Deriding Toyotas as beige (ie, boring) has become a thing now, which is why we love the fact that Eugene has kept his innocuous little hatchback its factory color. That's especially true when you realize it's powered by a GReddy turbocharged 4A-GE making around 300 horses. Beige? Ha!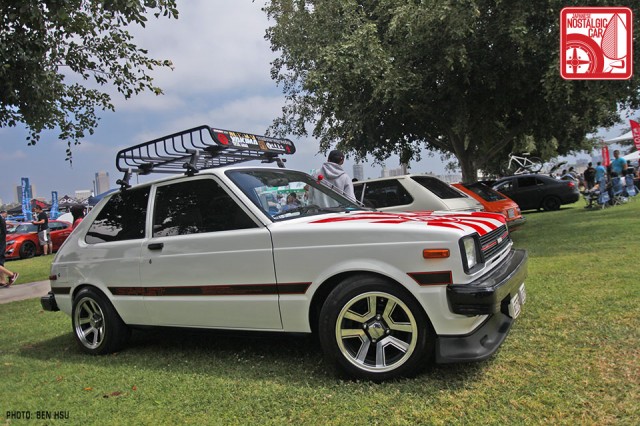 Stephen Salazar proves that you don't need to be a Datsun 510 to rock a banzai flag. He is, however, running the original 4K motor with a clean and simple set of Supra alloys. The next day, we saw Stephen and his Starlet on Interstate 10 heading home to Arizona and gave him a big thumbs up.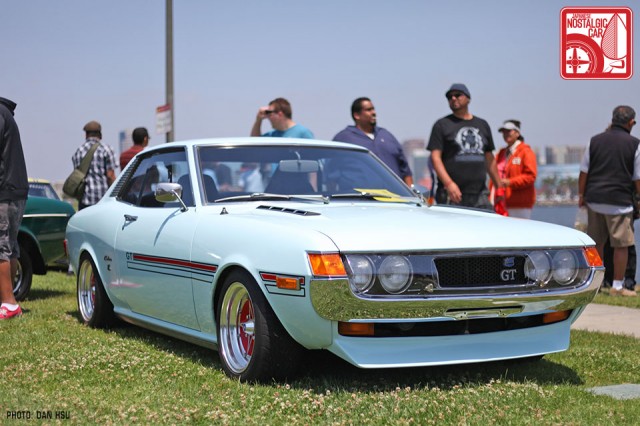 One of our favorite A20s was back, and seeing Kirk Hubbard's blue beauty on the lawn of Queen Mary Park we noticed that it looked smaller and lighter than other Celicas. We stared at it for a long time trying to figure out why that was, and came to the conclusion that its stance on 55-series tires was only part of the equation. More so, it's lack of a spoiler, fender mirrors, and flares meant that everything was contained within the silhouette of the car, and paired with the airy Scandinavian Sky color, it seemed almost ghostly.
Celicas get all the love, but the rare Toyota Carina deserves some too. Sadly, the Celica's platform sibling was sold only for two years in the US, 1972-73. A drop on 14-inch Hoshino Impuls is all this car needs to be a head turner.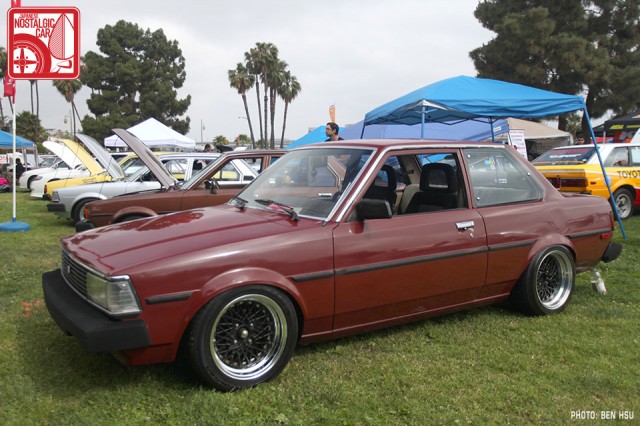 We love the simplicity of this TE72 Corolla two-door sedan. Sometimes all you need is a drop and a set of meshies. You really don't need fender mirrors on everything, especially when the factory paint is so nice.
Another TE72, this time a zenki instead of a kouki, four-door instead of a two-door, Ewings rather than SSRs, and slightly different shade of brown. We dig these E70s precisely because they're clean and not overdone. They're just solid examples of a car that's getting harder and harder to find in unmolested condition.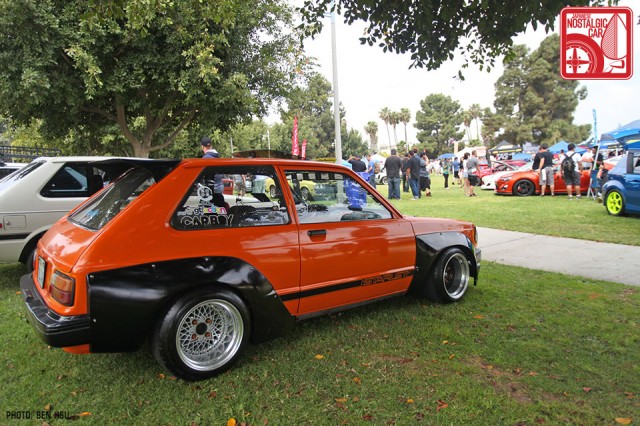 Oscar Cabatuando's Starlet takes a different tack, with replica N2 flares and a 4A-GE fed by a bank of old school Mikuni 44s. The wide body kit lets Oscar rock super-aggressive 14×9.5 front and 14×11 rear fitment on his li'l RWD hatch.
Toyotafest is organized by TORC, the Toyota Owners and Restorers Club, and its Prez Joji Luz always has something special in store for the event. This year it was a cherry TE27 Sprinter Trueno.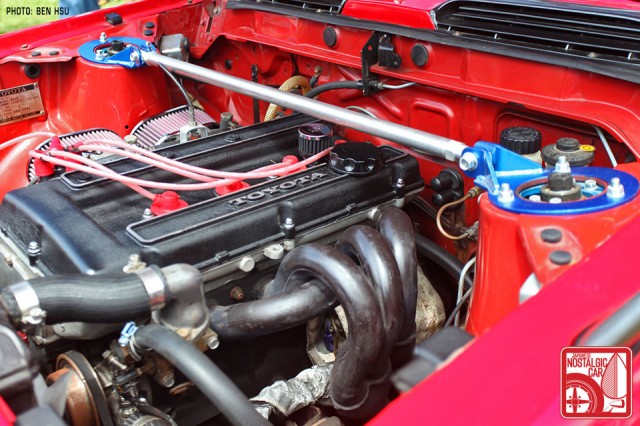 Though it started life as a USDM mango it's been converted to a 2T-G twin cam. With more and more genuine TE27s coming across the Pacific we wonder, will there ever be a day when USDM SR-5s will be worth more with the stock 2T-C?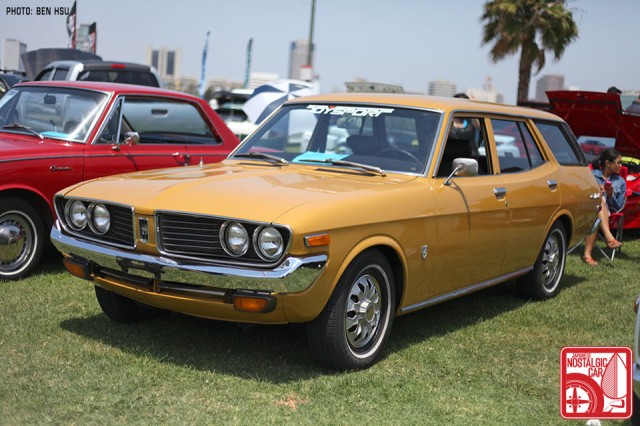 One of Joji's former cars was this butterscotch 1973 Corona Mark II, one of the few wagon specimens at this year's show. We wouldn't touch a single carpet fiber on this thing.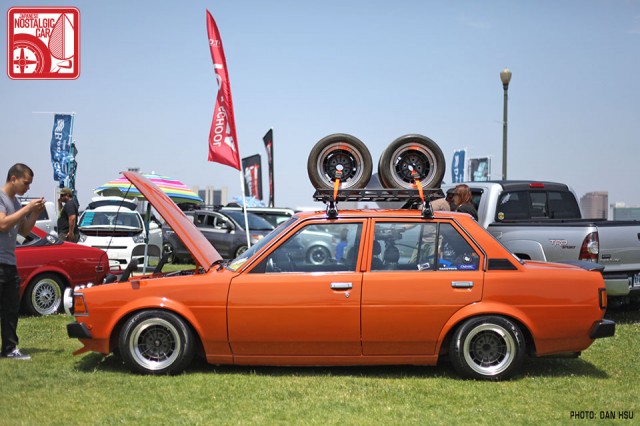 Ben Fernandez's E70 Corolla sedan is a regular at shows all over SoCal, but for Toyotafest he went with a quasi-rally look, complete with roof rack carrying a spare set of wheels.
A bank of Hella driving lights line the front, ready to cut through the darkness during nighttime driving theatrics.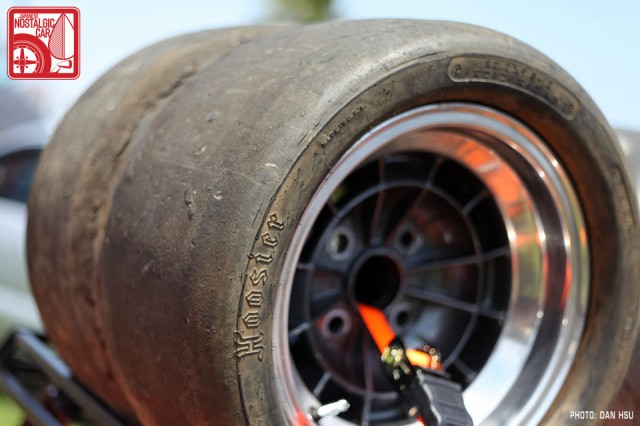 You're probably thinking it rides too low to be a rally car, and you'd be right. A closer inspection of the roof rack shows a set of Hoosier slicks wrapping those TOSCOs.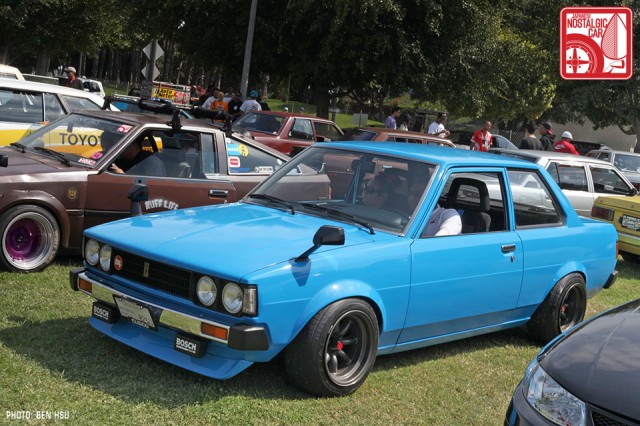 We remember Joel Lago's 3S-GE-powered TE72 from last year, but he's since added a air dam and Bosch driving lights. The motor is a work of mechanical art, and a glimpse from last year's coverage is highly recommended if you like engine porn.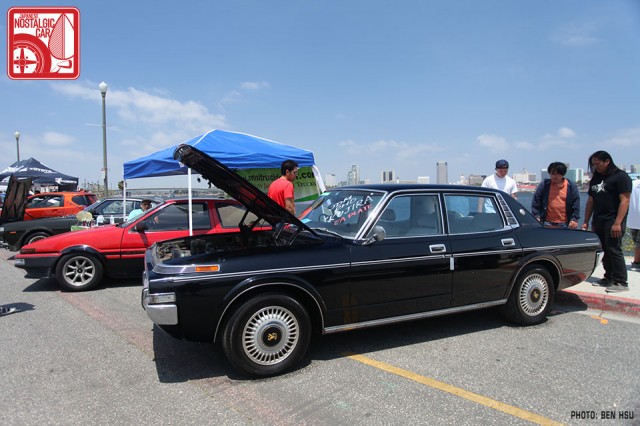 A local dealer imported this kujira Crown sedan. In black it's the ideal conveyance for a 1970s sales executive. That, or a ward-level government staff car. Interestingly, it has wheel covers from a Toyota Century.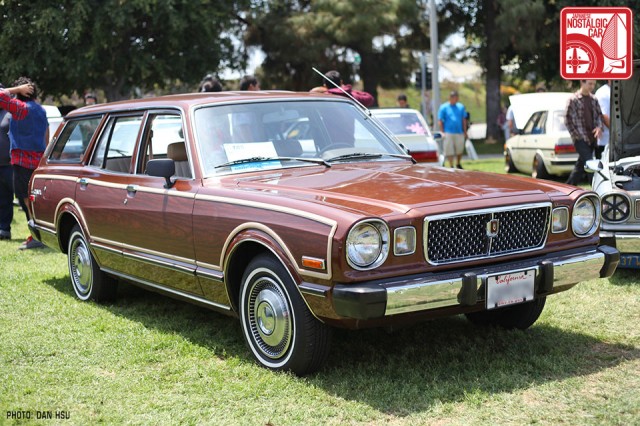 Ruston Calisch's 1978 Cressida wagon is a stunning example of originality. It has 103,000 miles on the clock, but it's state of preservation is simply astounding. This car sold for $8,400 in 1978. How much do you suppose it's worth now?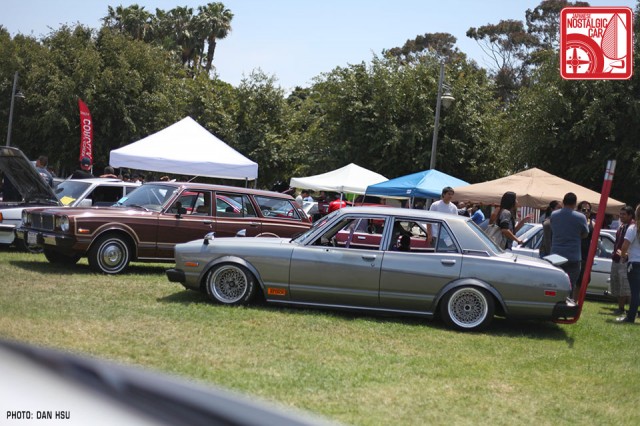 We close this installment with Lloyd Letherman's brain-frying 2JZ-powered X30. The awesome butame Cressida of Sparkle Garage fame has been a pioneer of bosozoku-style here in the states.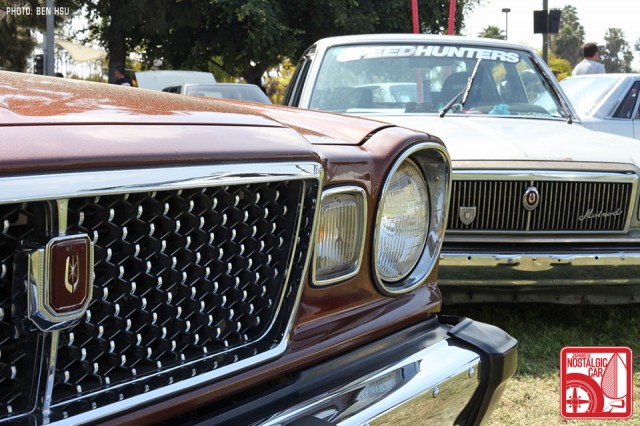 One model, two paths. We'll have much more 2013 Toyotafest coverage coming up, but for now, in case you missed it, check out Part 01.