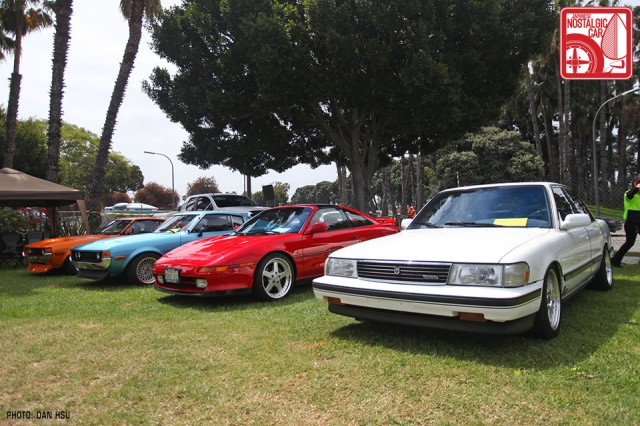 The year is 2013, and that means the official JNC 25-year-or-older rule puts the nostalgic cutoff squarely in 1988. Yes, it's hard to believe that MkIII Supras are elegible for historic tags in most states now but it's true. The realm of nostalgics now encompasses everything built up to the end of the Reagan Era, and the 18th Annual All-Toyotafest proves it!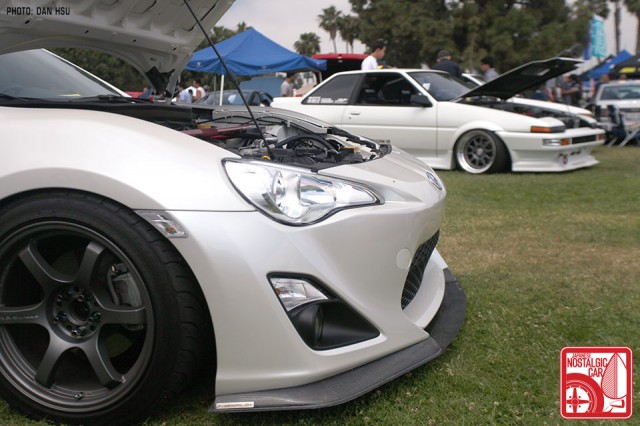 Case in point: automakers have been capitalizing on retro styling and the reuse of a once-hallowed name for a while now (New Beetle, Dodge Challenger, Mini Cooper, et al) but the Scion FR-S/Toyota 86 might just be the first homage to a car hailing from the Eighties.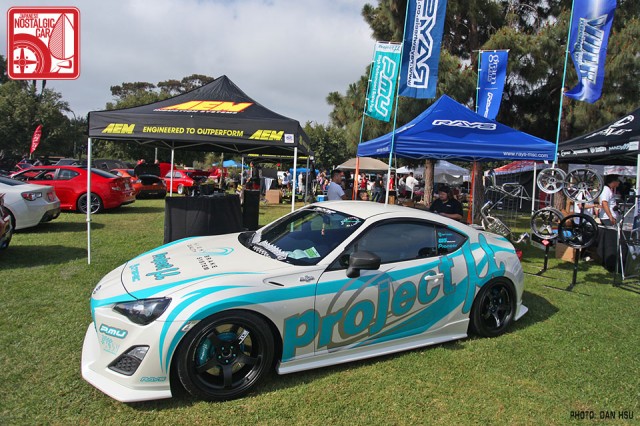 Now that the neo-86 has been on sale for a full year, it was no surprise that the event was flush with them. Every aftermarket company has been churning out FR-S parts and accessories as if was the next iPhone. Mackin's Project mu and Rays Wheels demo car knows how to JDM it up with a full smattering from its parts menu and a very Japanese teal-on-white color scheme.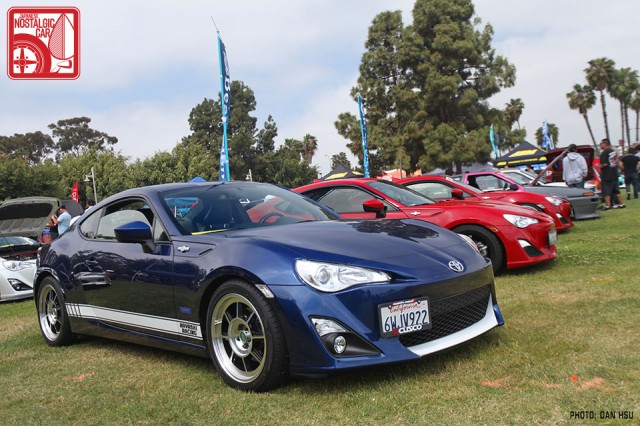 Hayashi Racing got in on the action too, and this was the first set of FR-S Streets we've seen in the flesh since the wheel was introduced last December. With the JDM 86 nose and Sixties era racing stripes it's got just the right amount of pizazz.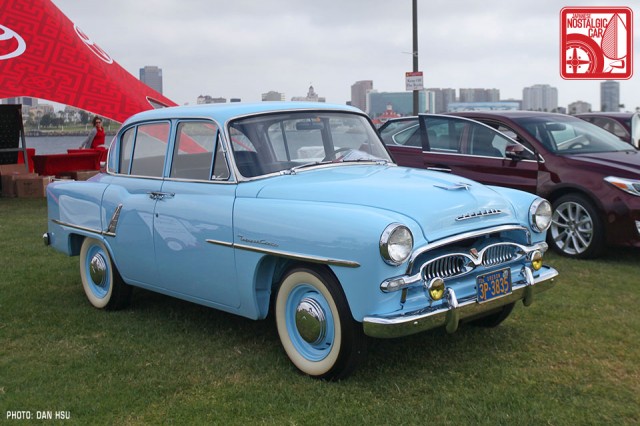 From newest Toyota we turn to the oldest. Age-wise, it's tough to beat the Toyota Museum's S30 Toyopet Crown for the title of most senior. This stately example was restored for Toyota USA's 50th anniversary in 2007. Not a great performer, but classy as F. It should be wearing a top hat and smoking a bent Rhodesian.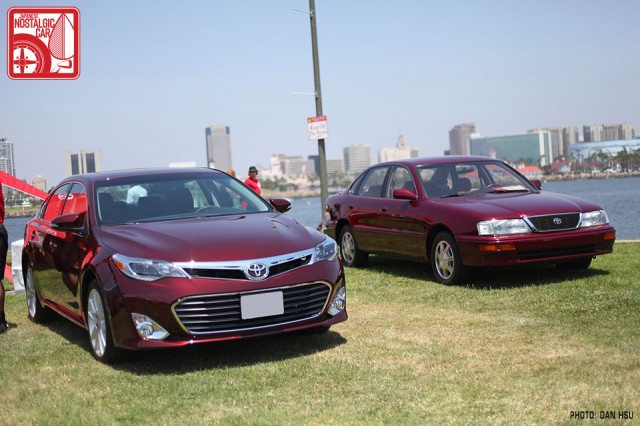 Beside it, the museum displayed a pair of matching Avalons. Having debuted in 1995, even the older one is nowhere close to nostalgic status, but it's still cool to see the burgundy bookends spanning four generations (it's also exactly the type of the thing to make USDM Jammers wet themselves).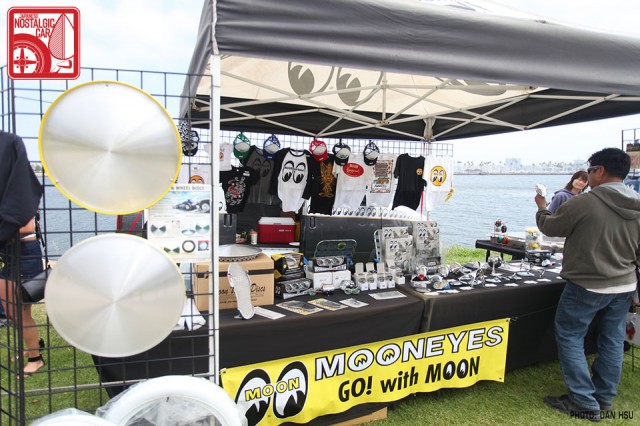 Our friends at Mooneyes had an excellent selection of goods that were somehow simultaneously Japanese and quintessentially American.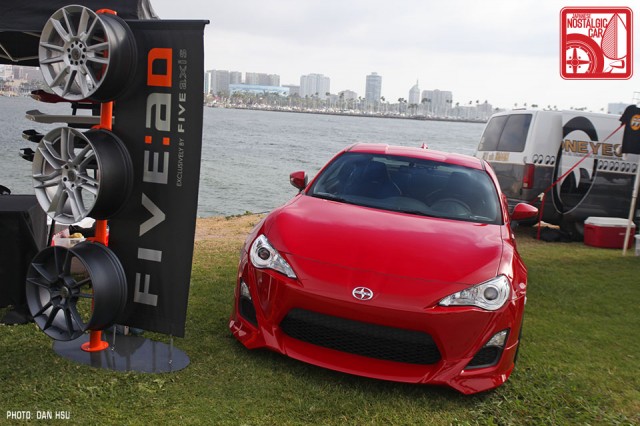 Five Axis Design was also representing with what we think is one of the most attractive body kits for the neo-hachiroku and their series of ultra sleek, CAD-on-crack wheels.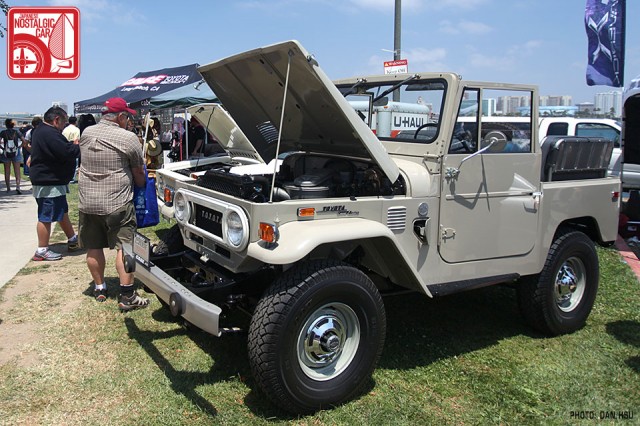 For decades, the guys at Cabe Toyota have been helping restorers find parts for their classic Toyotas, but they have a few treasures of their own too. This is an FJ40 from their own collection, and that ka-ching noise you hear is it increasing in value even as it sits there.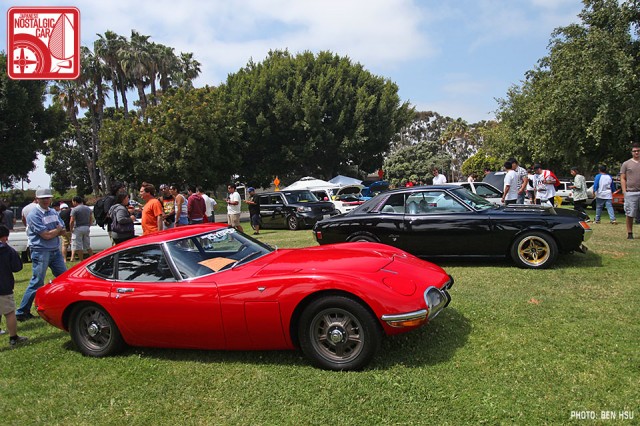 Kids, we know the 2000GT is sexy, but what was once within reach ($200,000) is now, at $1.2 million, accessible only to the one percent.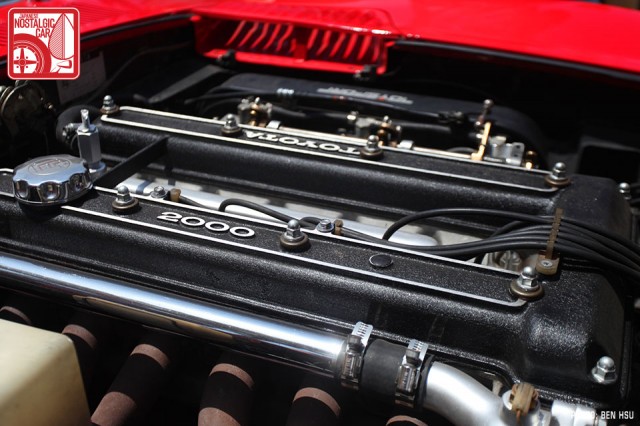 The 150-horsepower DOHC inline six is what powers the steed, the first in a long line of twin-cam straight sixes.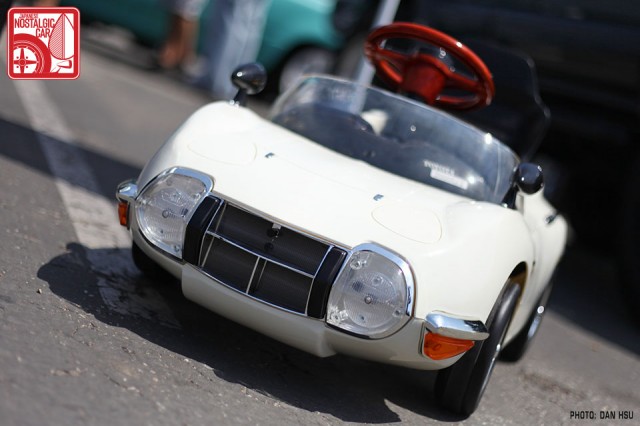 However, if you must have one, this pedal-powered dream car could be yours for significantly less.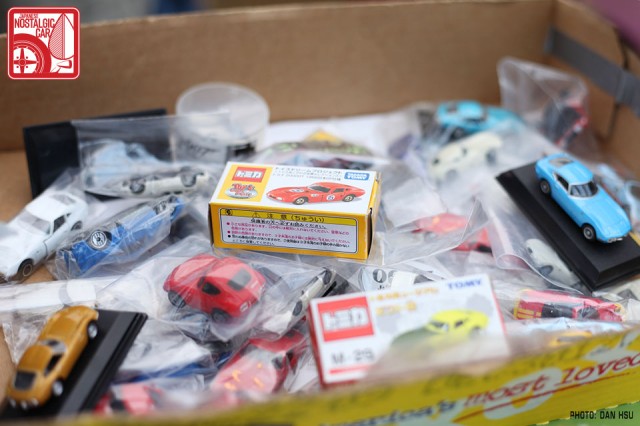 Jeff Koch's diecast car stand had yet even smaller examples, alongside toys of every Toyota your brain can conjure.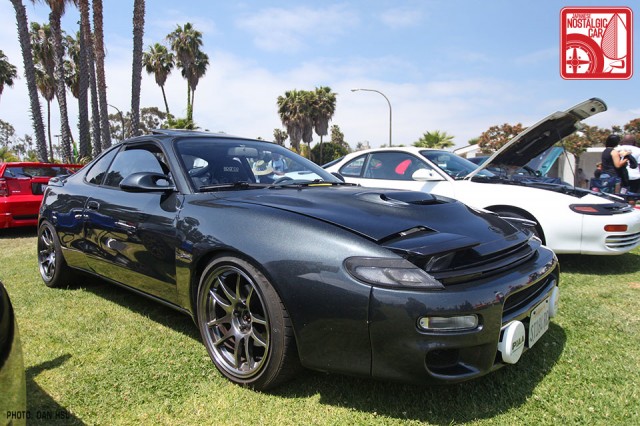 With cars of the Bubble Economy planted firmly in the nostalgic category, this year's Toyotafest was filled with owners getting a jump on the late-80s and early-90s cars that are on the cusp of classic-dom. The majority of St184 Celicas seen in the wild are of hooptie condition, so David Syhabout's bullet-like All-Trac clone gives us newfound appreciation for this generally unloved generation.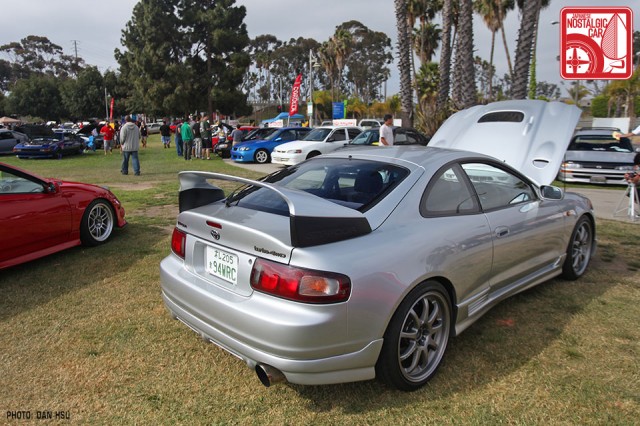 Likewise, normally there's not much love for bugeye Celicas, but someone actually went through the trouble of importing a right-hand-drive ST205 GT-Four. The turbocharged all-wheel-drive beast was both the peak (when it won the 1994 WRC title) and nadir (when it was banned in 1995 for cheating) of Toyota's rallying efforts. Now it's a homologation collectible.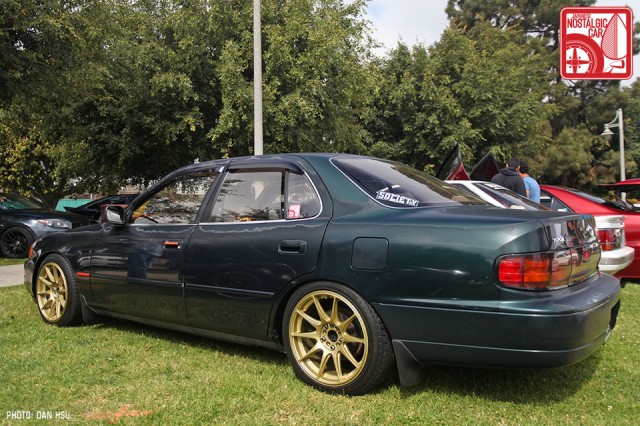 Damn, if someone told us they were putting a JNC inkan on a Camry we would've confiscated it. Just kidding! The XV10s have always been stylish, perhaps even the height of Camry design, and we love what owner Michael Laperia has done with his inconspicuous family hauler. It takes a keen eye to make something rad out of what was under everyone's noses all along.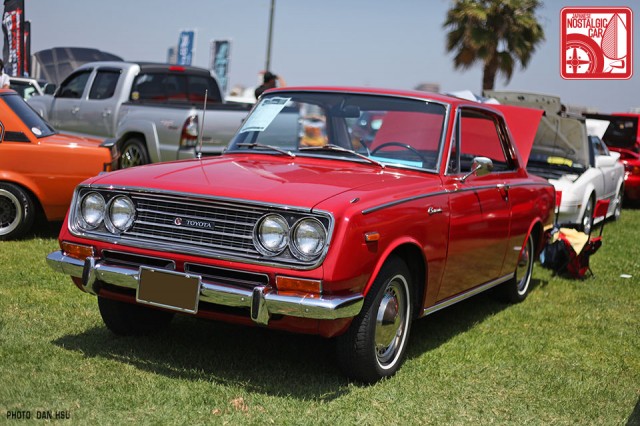 We saw Peter Rosario's stunning 1967 RT52 Corona Hardtop last year but it's still one of the best preserved examples we've seen. For those following the family tree, the RWD Corona was discontinued in the US in 1982 to make room for the Camry.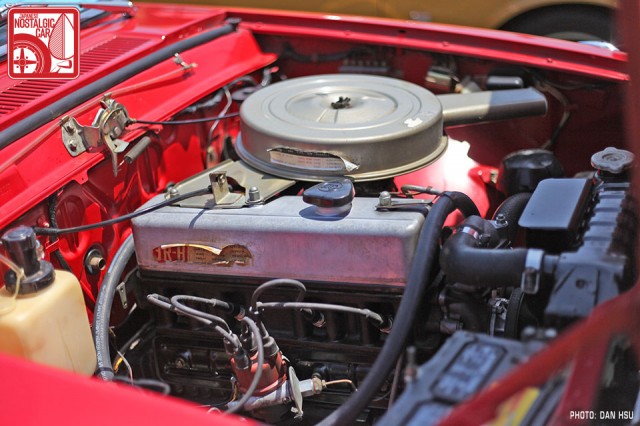 The 1.9L 3R-B motor produced 79 horses, but that was pretty stellar for an import at the time. A 1.6 VW Beetle, the Corona's main competitor, made only 65 horses.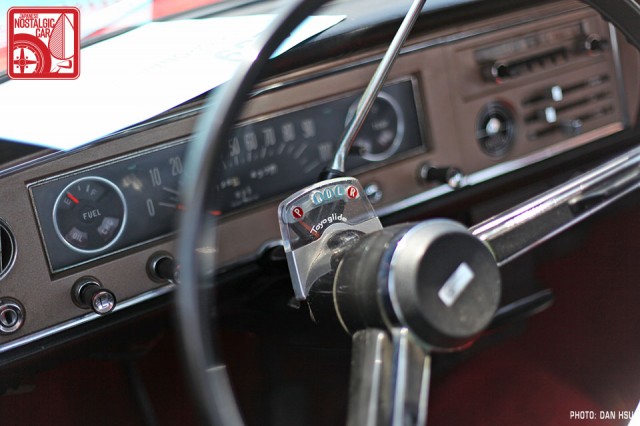 Of course, that was asking a lot of the motor when mated to a Toyoglide automatic transmission with all of its whopping two speeds. Like the Camry, these things were a dime a dozen and no one ever thought they'd ever be at a classic car show.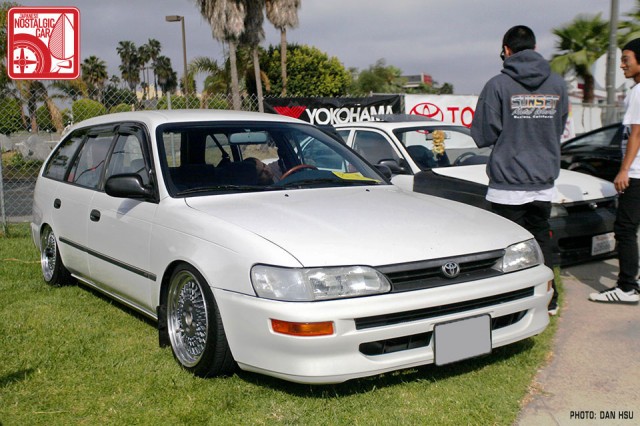 Another car that car snobs take look down upon is the AE102 Corolla wagon. It may hail from Toyota's Appliance Department, but you have to admit they clean up nicely with a wooden steering wheel and some Enkei 92s.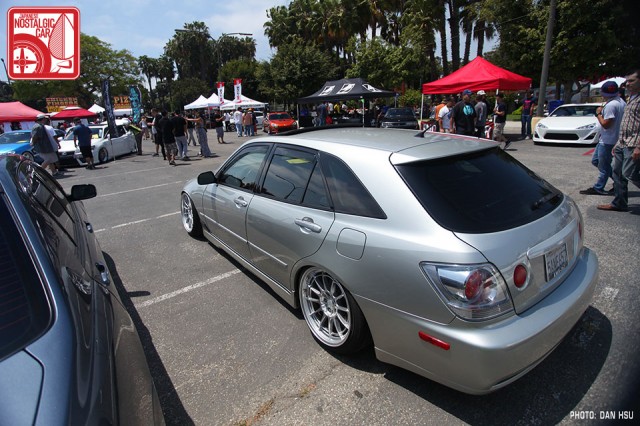 On the opposite end of the wagon spectrum is the Lexus IS 300 SportCross. Toyota didn't sell them in great numbers and it's a tragedy it wasn't offered in a 5speed, but it's pure wagon sex.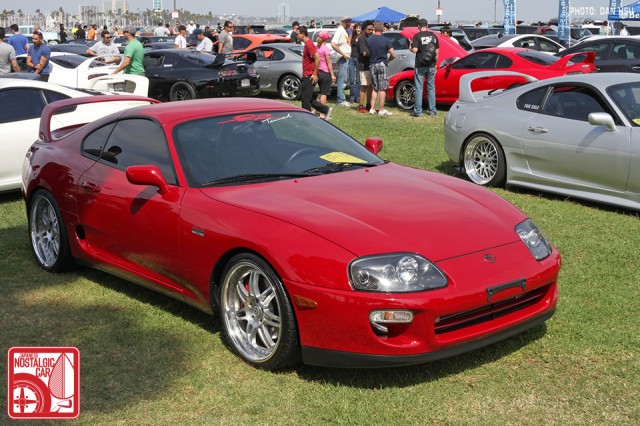 Besides the 2000GT, there's one other Toyota whose value never dropped to beater level. The JZA80 Supra Turbo became an instant classic the day it debuted. In 2000, you could have gotten one for about $30,000 but that was about the lowest they'd ever drop in price. Good luck finding one for that much now, and even better luck trying to find one that's bone stock.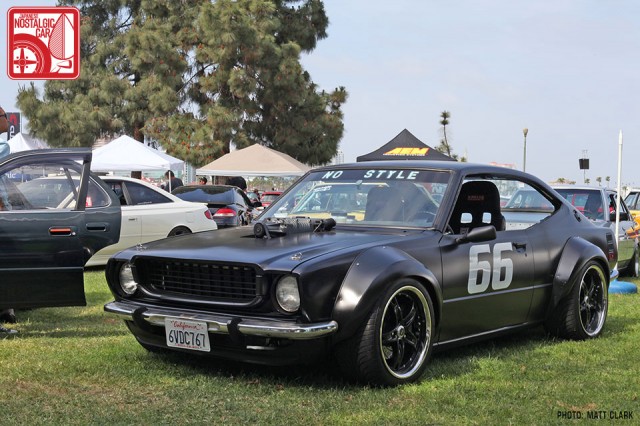 We've been talking a lot about Toyotas both old and new in this piece, so here's something that combines the two. We've seen this TE37 Corolla with a supercharged 1UZ V8 come together over the years and here it is in all its style-less glory.
What you have here is a Mad Max apocalypse-mobile built on a completely custom fabbed frame. You can see this demon hellspawn in action in this YouTube video.
In a similar vein, we have another old/new combo in Scott Kanemura's 1972 Toyota Hilux. We saw it sans bed at the JCCS last year but now it's getting closer to completion and it's even more bonkers than before.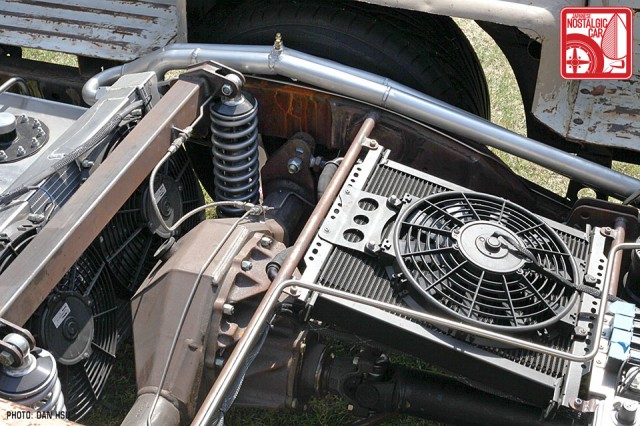 Now, custom piping brings the cooling system to where the floor of the bed once was. Everything you see in this picture is custom made, except the tire.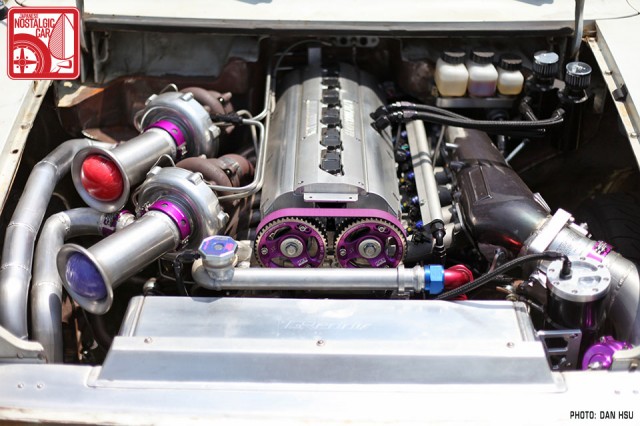 In the modified engine bay is a 2JZ-GTE with the entire GReddy parts catalog  on display. The firewall was moved back to accomodate the monster straight six, the turbos' stacks are large enough to ingest a small bird, and custom valve covers say "RidicHilux." Indeed. Scott says he's going to paint it, but we dig the patina. Should he?
We have more 2013 Toyotafest coverage coming up, so stay tuned. In the next installment, we'll explore the chrome jewels of the 1970s.