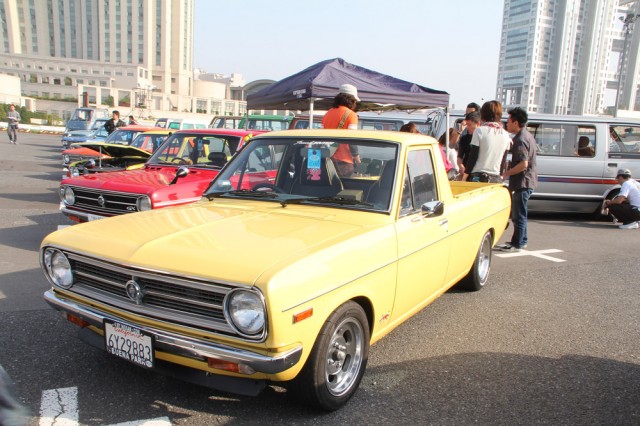 As you can guess by the name, the Street Car Nationals put on by Mooneyes each year is a festival of Amesha — American car — culture. Instead of usual Japanese fare like step-lipped SSRs and racing livery, this show is all about chromed slot mags and pin stripes.
Case in point: the sanitora was never sold in the US, but this canary yellow Sunny Truck unabashedly sports door rather than fender mirrors, ding guards circa 1982, and a genuine California license plate complete with frame from Buena Park Nissan.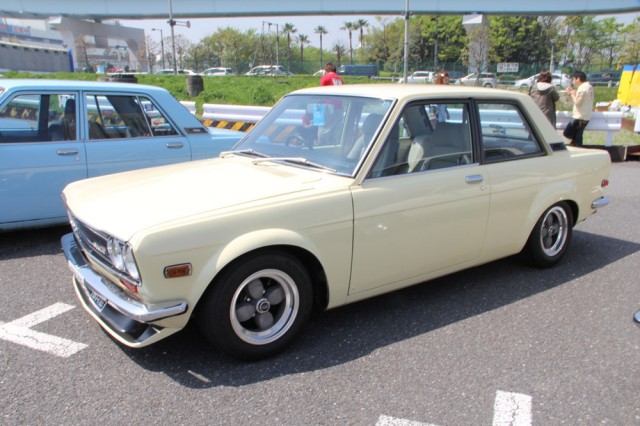 Likewise, here's an old school 510 Bluebird that could've time warped straight out of the SCCA Trans Am 2.5 Challenge series. It's got all the accoutrements a 1970s Datsun fan could want — BRE spook and flares, Libres, and even USDM side markers. As John said, "This guy's a serious USDM freak."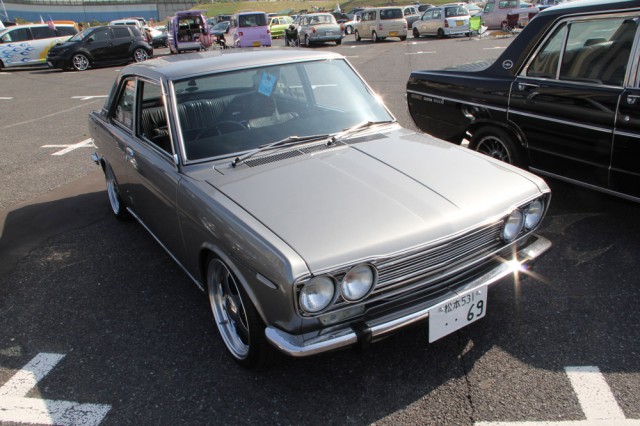 Love for USDM isn't limited to old school styles either. Here's a 510 looking very much like a modern Mario Lozano creation in terms of wheel style and fitment.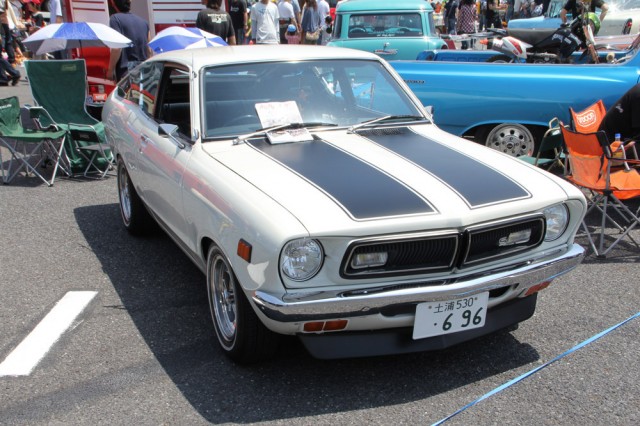 As you can see from the background, there's just as much Detroit Iron as Nihon steel, perhaps even more. Obviously we're focusing on the nostalgics, and quite often what you get is a mish-mash of styles like a B210 Sunny Excellent wearing Z/28 stripes, white-lines, and fake knock-offs.
It's unusual to see a bone-stock car at the Street Car Nationals, so what's the deal with this B110 Sunny? Upon closer inspection, it's a LHD Datsun 1200 that's returned home to roost after spending a lifetime as a California blue-plate car!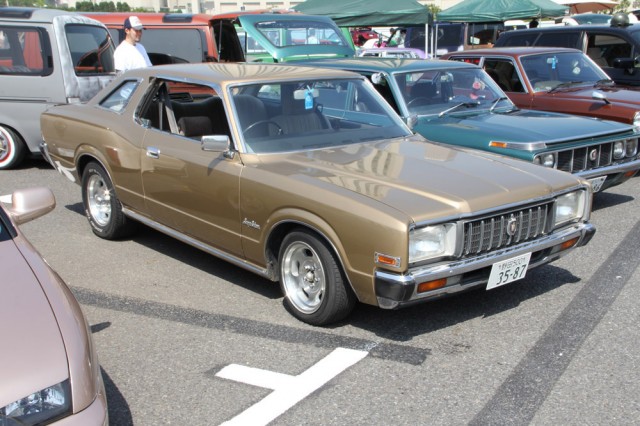 In keeping with amesha style this S80 Toyota Crown is not only anti-shakotan, but the rear end is actually raked. We remember seeing Mopars and Chevys in the early 80s stanced like this to emulate funny cars, and even though it's since fallen out of favor with the muscle car crowd it lives on in Japan!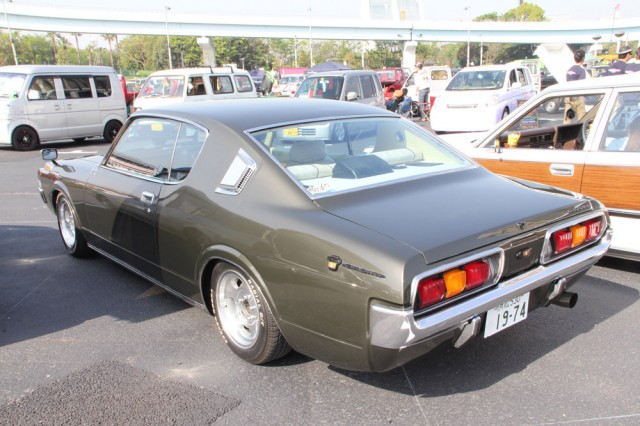 Both the S80 and this MS75 kujira appear to be riding on Enkei Dish wheels, a re-creation of the old school slot mags with a fitment for Toyota Crowns.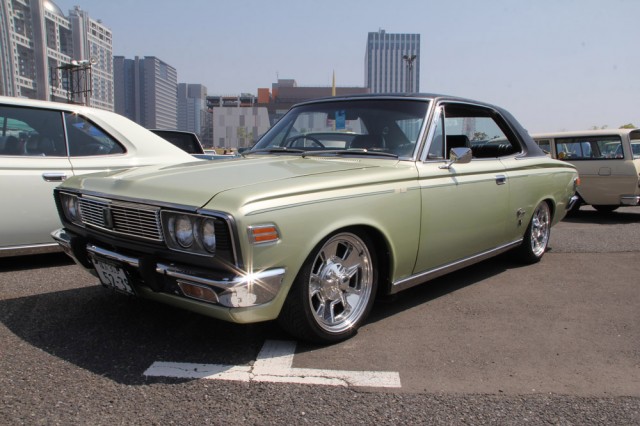 The striking MS51 Crown hardtop is one of the most elegant cars of its era, and a metallic light olive finish only exacerbates our burning desire to own one. Alas, chromed billet.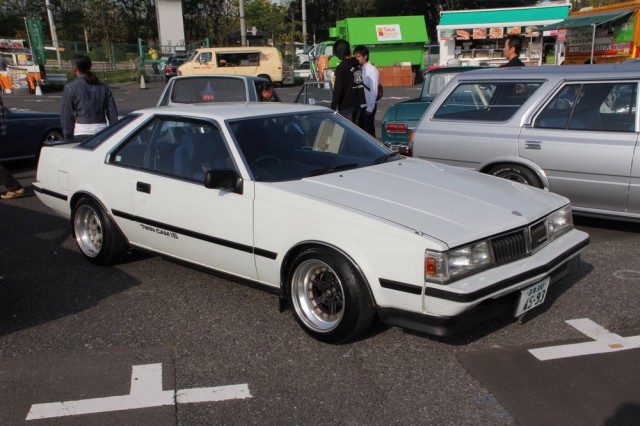 Traditional JDM style purists may prefer this T140 Corona Hardtop 1600GT with its sexy two-piece ninja stars, 80s-era geometric lines, and overall rarity. Also, as a Toyotaku I am obligated by the spirits of the Toyoda clan to love anything with "Twin Cam 16" printed on it.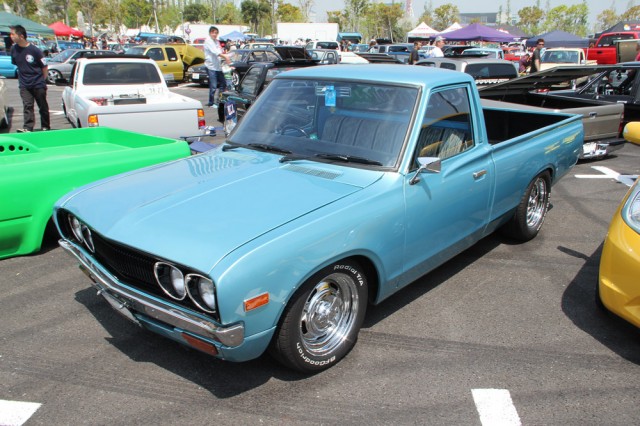 The Street Car Nationals are less about horsepower and more about style. Precious few coupes and GT cars attend, so our efforts to include a good helping of two-doors meant including utes and pickups like this Datsun 620. Naturally, BF Goodrich radials with white lettering and more chrome knock-offs complete the USDM look.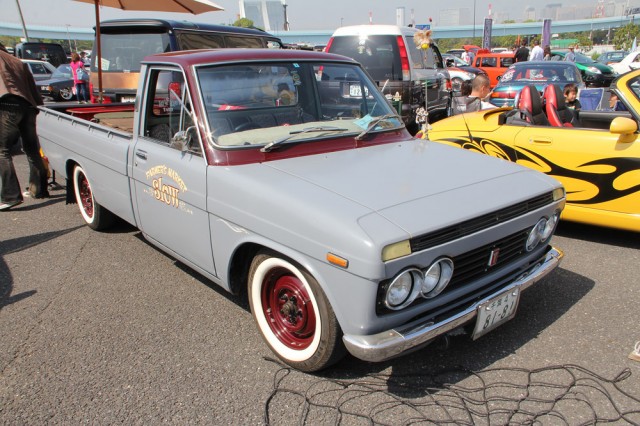 Hot rodding is universal, apparently. From its flat gray body to steelies color-matched with the cowl-roof section to its pinstriped "Slow Farmer's Market" logo, this Toyota Hilux has got the look down. Mini-trucks are just as part of the American landscape as full-sizers, and this guy did his homework. Nothing looks out of place. The tribal tattoo Daihatsu Copen beside it on the other hand….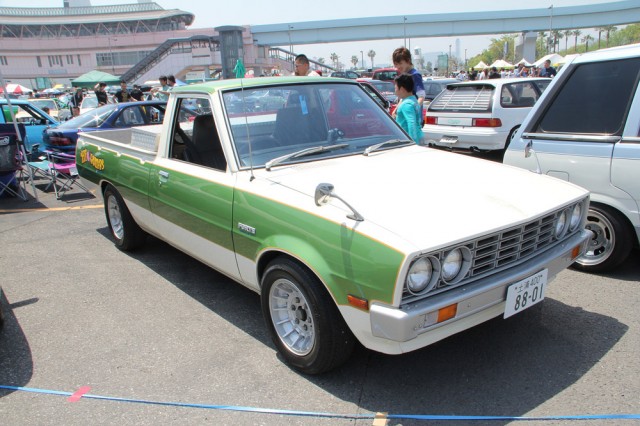 Hiluxes and Datsun X20 trucks are a common sight at car shows on either side of the Pacific, but what about this one? With its funky 1970s graphic scheme it would be easy to mistake this pickup for a Dodge D50 or Plymouth Arrow Truck. Actually, it's the original JDM pick-em-up that Chrysler rebadged, the Mitsubishi Forte.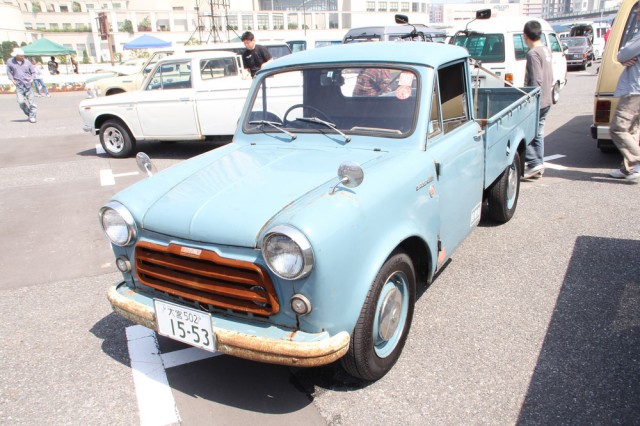 Speaking of rare trucks, there can't be very many Datsun 221 pickups left in the wild. With the same underlying mechanicals as the Datsun 210 sedans of the 1950s, these babies were built to pound the wagon-rutted dirt roads of post-war Japan. How many daikon farmers had the means or foresight to preserve a workhorse like this in those days?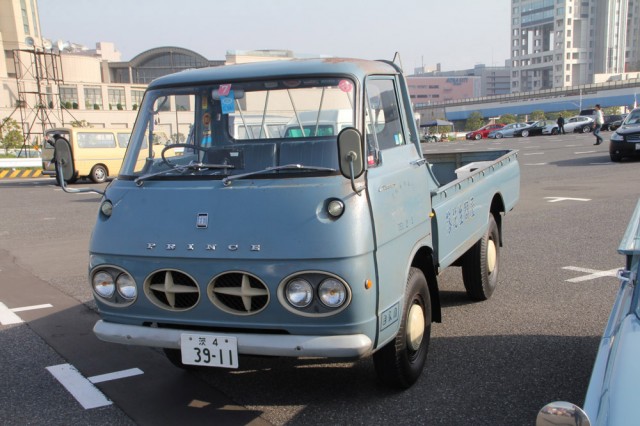 There's no mistaking the Prince Clipper. Alongside early Skylines the commercial arm of PMC was building these bizarre medium-sized trucks. The cab sits over a 2.0 liter four-cylinder engine, cooled by the two oval grilles resembling vestigial headlight openings.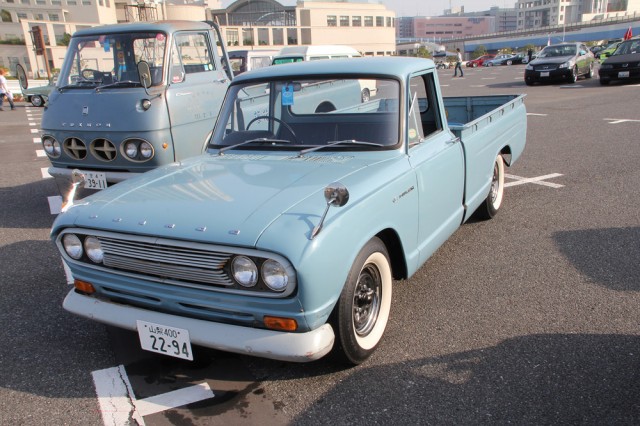 Compared to its sibling, the Prince Miler looks refreshingly normal, even sleek. There probably aren't enough of these left in the world to justify a wild custom, but a slight drop on deep steelies and big whitewalls is cool enough.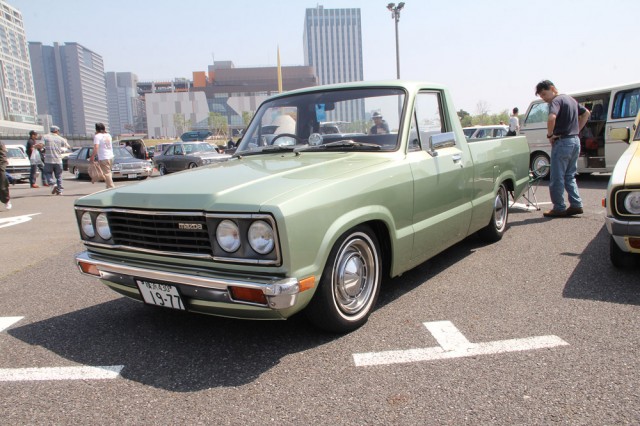 This humble little truck was one of our favorites of the show. Personally, I'm already a sucker for anything that's a strange shade of green, but slather that green on a rare and super clean Mazda Proceed and you have a real standout.
Stay tuned, there's more 2012 Mooneyes Street Car Nationals to come.
Photos courtesy of MQQNEYES.