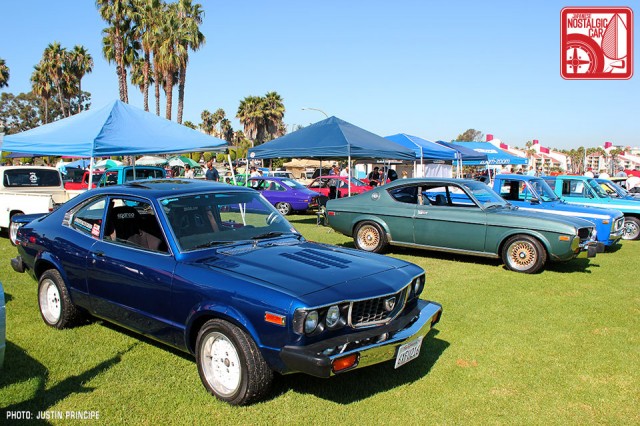 Part 03 of our 2012 Japanese Classic Car Show coverage considers the very vehicles that put Nihon cars on the map. Agile and stylish, the rise of the Japanese sport coupe gave those of us who like to do our driving in bends rather than boulevards an alternative to the muscle car, and it's what made most of us enthusiasts today.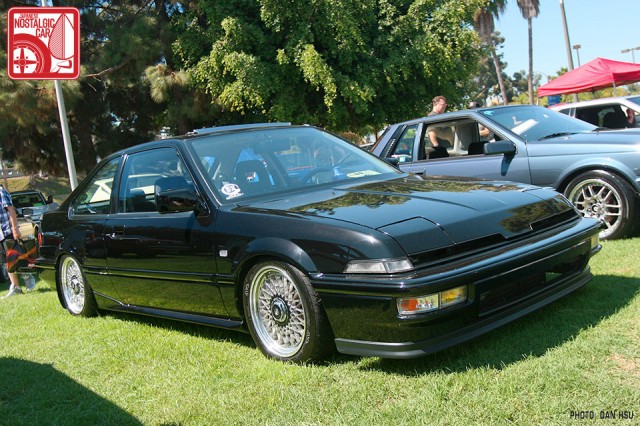 Back in the mid-90s if you'd asked the average Joe to point out a Japanese sport coupe, they'd probably point to an Acura Integra, and not one of these first-gens either. But before there was VTEC, there were cars like Ernie Uy's DA3. Ernie is the original owner and keeps it real with period correct wheels like SSC EX-C from the days of Biz Markie and Humpty Hump.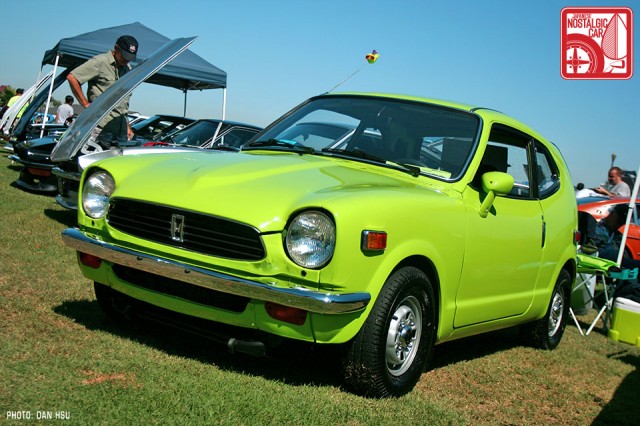 As JNCers know, however, Civics and 'Tegs aren't even close to being the first Japanese sport coupes. Heck, they're not even close to being the first Honda sport coupes. Michael and Kelly Bluman's Z600 — based on the same platform as the N-series sedan — predates the terms "sport compact" and "tuner" by about two decades.
Until someone imports a fixed head S600, these will be the earliest Honda coupes at JCCS. Tran Nguyen's trick Z600 took home the JNC Award last year thanks to its amazing build and attention to detail, and it is still as stunning as we remember.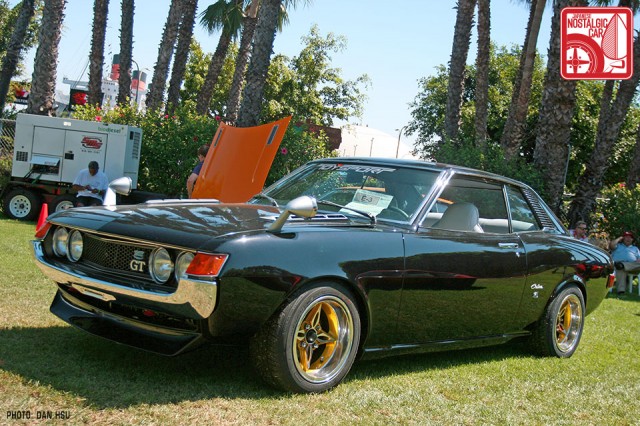 One of the quintessential Japanese sport coupes is the Toyota Celica, before it became a rally legend or Integra wannabe. In your editor's humble opinion, the first-gen Celica is one of the most perfectly proportioned cars ever made. Though it never came in hearse colors, it looks pretty mean in black, gold and chrome.
Americans seemed to gravitate more towards Celica Liftbacks, probably because it reminded them of a slimmer version of a muscle car that, by 1976, had become an absolute joke. Neil Swartz's '76 GT 5-speedwas lovingly restored to a degree usually reserved for said muscle cars, using all OEM Toyota parts and painted the original color, garnering him the Best Celica award.
For drifters a Japanese sports coupe probably means a Nissan 240SX of the S13 or S14 breed. Rewind that chassis code a few generations and you get the S10 Silvia, or Datsun 200SX. It was widely regarded as one of the ugliest cars ever sold in America as a result of our US-spec 5-mph impact bumpers, which explains why Yuri Ranum has decided to replace them with a narrowed 620 truck front bumper. It may not be a show car, but it is exceedingly rare and the only one we've ever seen at JCCS.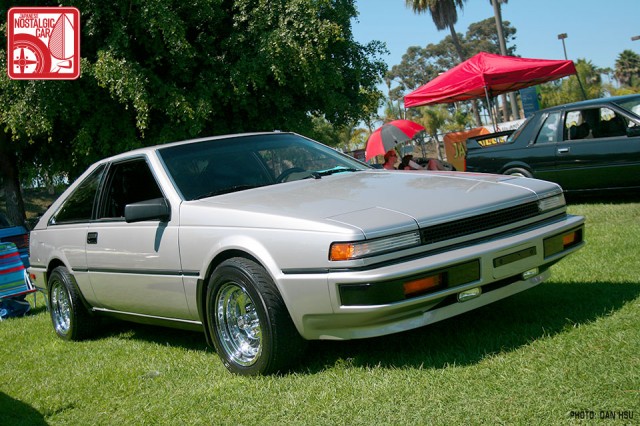 The S110 was followed by the S12 and Nissan's new two-digit chassis codes. Jaymie Gonzaga is the original owner of his 1986 200SX and aside from the 80s style wheels it's largely stock.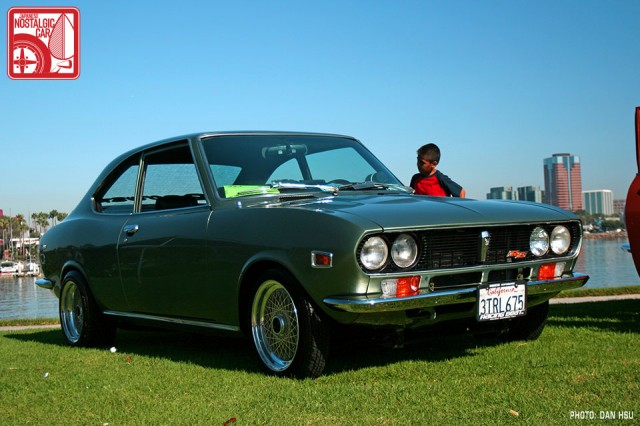 During the 70s no other manufacturer was quite as prolific as Mazda when it comes to sport coupes. Nearly every vehicle in its lineup had a sexy two-door version equipped with the firm's halo engine, the rotary.  Maggie Ibarra's beautiful 1972 RX-2 is a prime example of what we're talking about.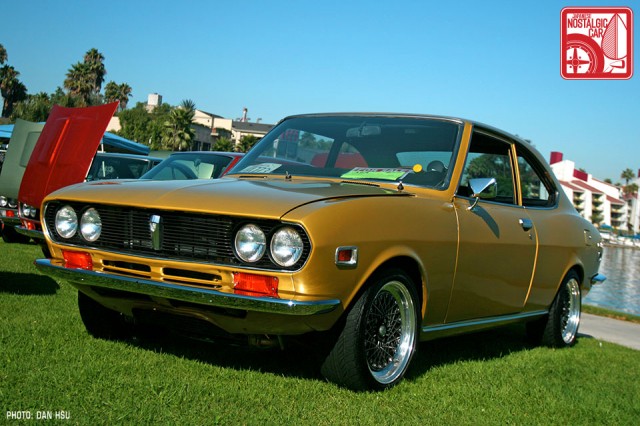 Jesse Sanchez owns this second RX-2 in a 70s-tastic mustard yellow. The Capella was intended as a luxury sedan, but that didn't stop Mazda from dropping in a high-revving Wankel under the hood and turning it into a speed demon.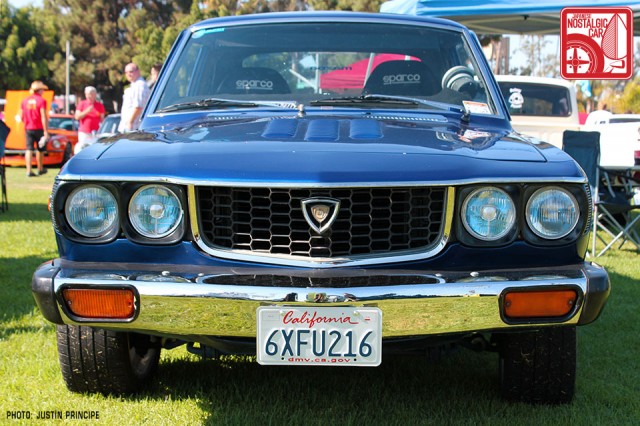 Mazda then followed up with the even lighter and meaner looking RX-3, And since Mazda engines are about as interchangeable as Legos, it's easy to drop in a 13B from a late-model RX-7 and create a real pink slip stealer.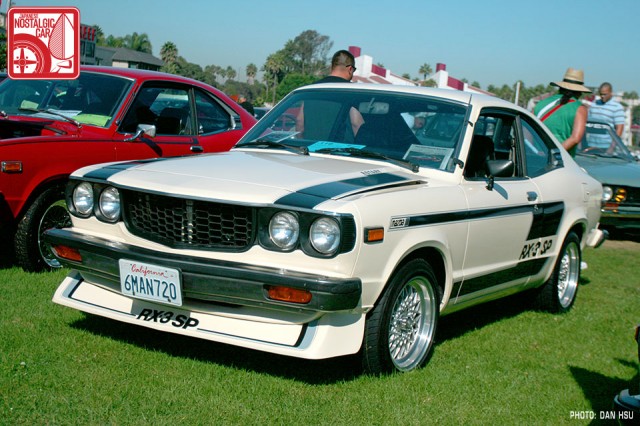 Jose Vasquez's 1977 RX-3 SP wears a US-only appearance package that is sure to make USDM freaks in Japan go nuts. Though he replaced his wheels from last year with a set of BBSs, a silver finish does look much better than chrome for a car of this era.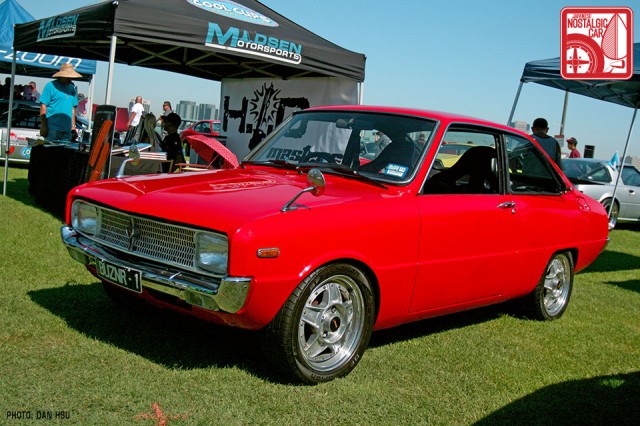 If you're an aspiring Mazdafarian the best place to find a well kept project car is not Japan but Australia. Aussies imported rotaries in large numbers, and this R100 is emblematic of the style. This is just further proof that the world of nostalgics is incredibly diverse.
If these don't satisfy your rotary thirst, remember that this weekend is Sevenstock at Willow Springs Raceway, where you'll be able to listen to the howl of ported Wankels till your eardrums burst.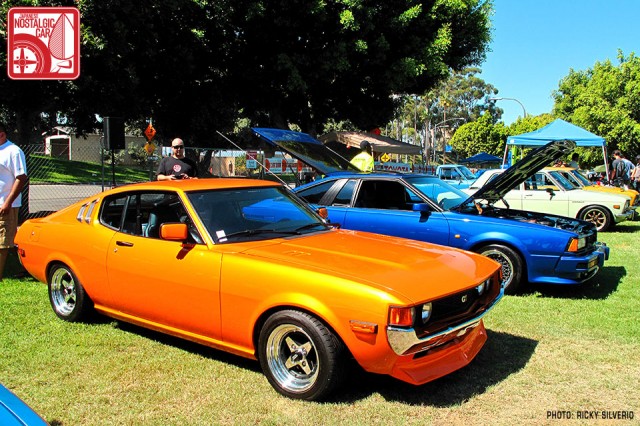 This year a bunch of the nisei guys who pioneered the notion of a modified Japanese car displayed their cars in a Cruise Nisei corral. Car cruises were a huge part of the SoCal nisei culture, and these dudes have been around since these cars were new.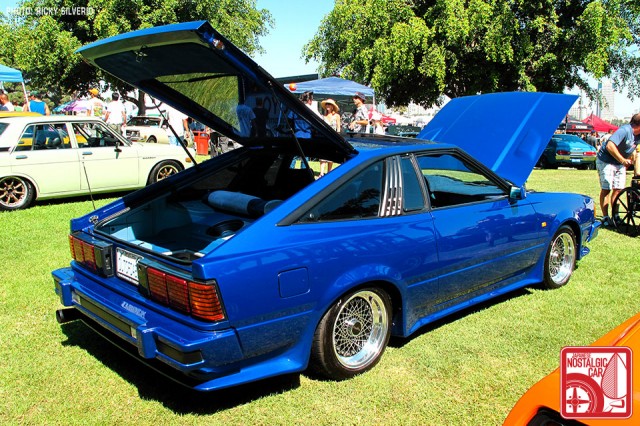 We saw Mike Sameshima's car at Nisei Week one month prior, but as the lone surviving 1980s nisei-style car we adore it all the same. It's highly unlikely anyone will modify a car in this fashion ever again, which makes this S110 200SX rarer than a stateside Skyline, which is why it walked away with the Best 200SX prize.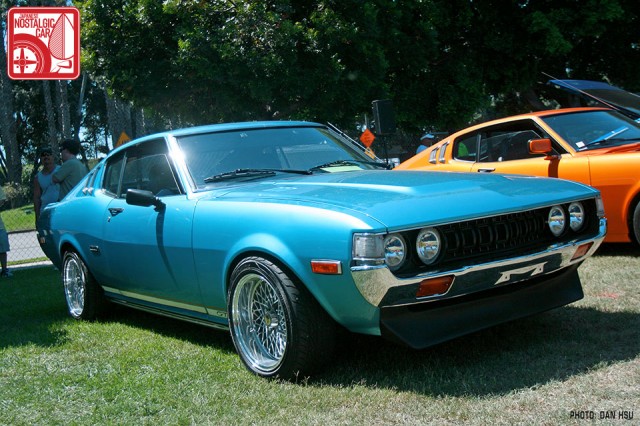 Jeff Yee's 1976 RA29 Celica is a prime example of an updated nisei style. It doesn't have a plethora of JDM goodies aside from its bumpers and banana tail lights, but mirrors remain on the door and crazy ninja star wheels are out. The Horizon Racing license plate is a cue as to what car club he belonged to back in the day.
Nowadays, modified Celicas look more like these slammed RA65s. They are cool nevertheless, but embody an entirely different era.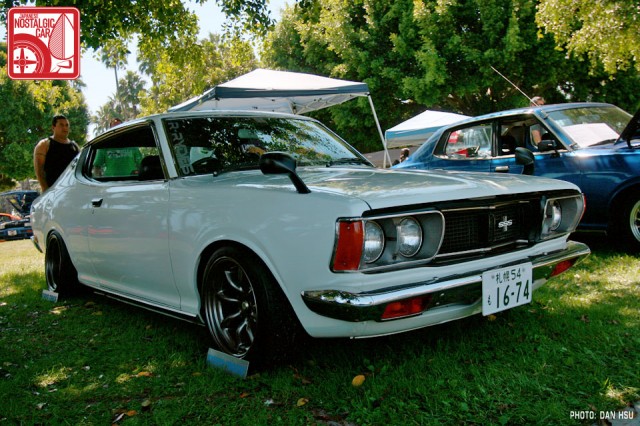 This year saw a multitude of Datsun 610s, surprisingly enough, though still nowhere near the 510 in numbers. Ryan Romaine's RHD Bluebird-U SSS-E won the the JCCS Special Recognition award for his interesting choice of RHD import.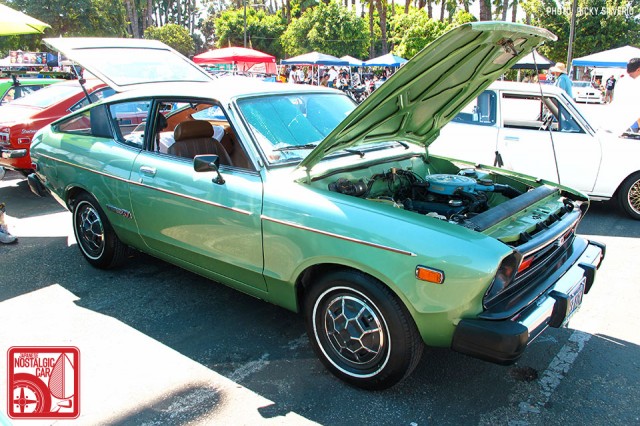 At this point we have to pause and wonder why there are so few Sunnys at JCCS. They're a hugely popular platform in Japan, but in the US it's the 510 that you can't miss when you swing a dead cat. AJ Adler's "Best Datsun 70s" winning Datsun B210 GX is a JCCS regular but we'd be remiss if we didn't highlight the only B210 around.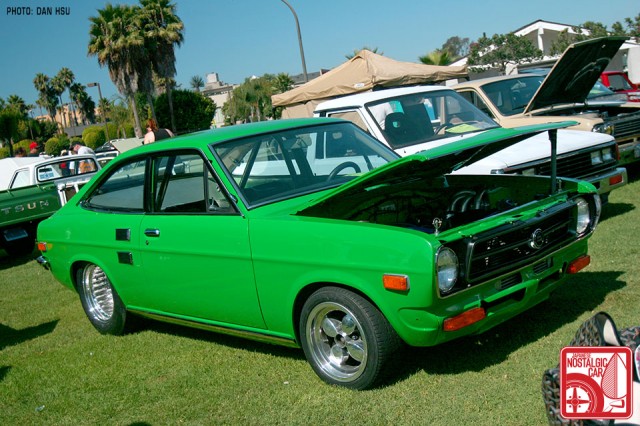 Vincent Hernandez's Datsun 1200 caught our eye, but was set up to be more of a drag car than, say, a TS Cup racer. The fact that it had a Toyota 4A-GE under the hood may immediately cause faintness among Nissan enthusiasts, but B110 coupes are rare so we had to show it.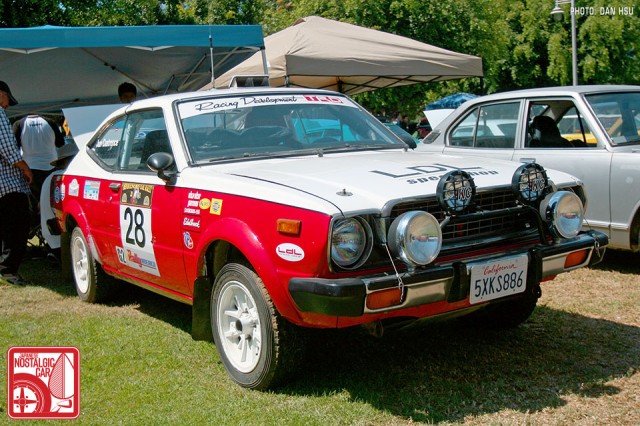 For a race car that's a Toyota both inside and out, a rally TE37 for your viewing pleasure. A third-gen Corolla might not be the first car that comes to mind when someone says "Japanese rally racer" but as any Belgian or Scandinavian knows, RWD Toyotas were a formidable force in WRC back in the 70s.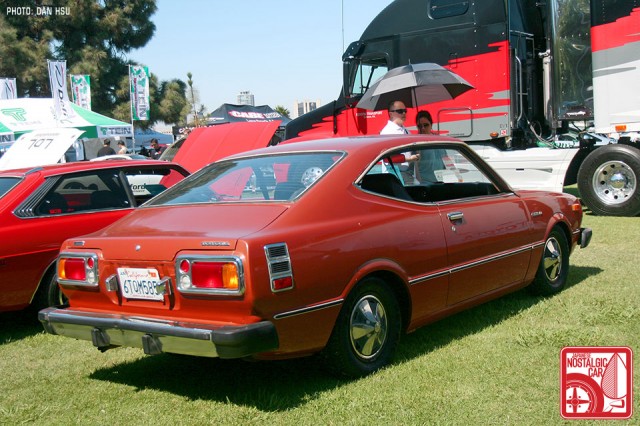 One of our favorite cars of the show was Carlos Hernandez Jr.'s brown TE37 Corolla Deluxe. See, the top-spec SR-5s came with factory fender flares (like in the rally car above), but the Deluxe had no flares and in our opinion looks fantastic. These were more common than the SR-5 when new, but the lesser trim level has rendered them rarer today. We love the fact that Carlos has kept everything stock aside from a suspension drop, flower petal hubcaps and all.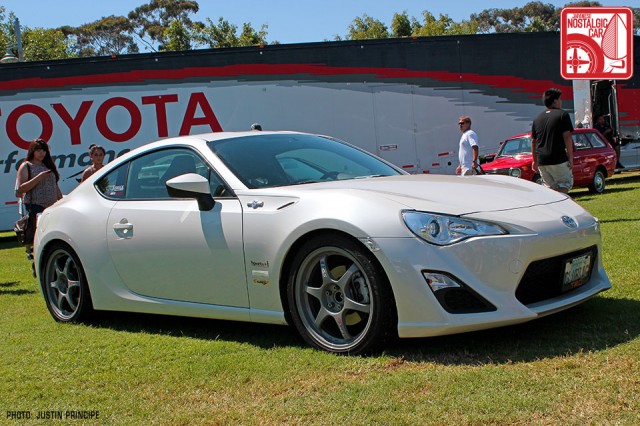 Of course, when it comes to Toyota sports coupes one can't ignore its rebirth, the Scion FR-S. Here is Club4AG co-founder Moto Miwa's.
We have much more JCCS coverage coming up, but for now check out the gallery below for more photos and in case you missed it here's our 2012 JCCS coverage for Part 01 and 02.