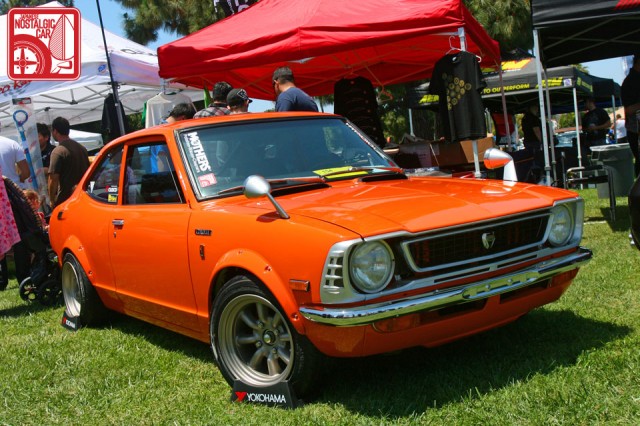 We'll let Patrick Ng's gorgeous TE27 kick off the fourth and final installment of our 17th Annual All-Toyotafest coverage. This tasty mango began life as a 1973 SR-5, an ultra-rare US-spec version of the Corolla Levin, with metal flares and all straight from the factory but minus the twin-cam 2T-G. Patrick's ground-up resto-mod addressed that particular issue and added a whole lot of period correct TRD goodies to boot. It was the perfect car to have at the JNC booth.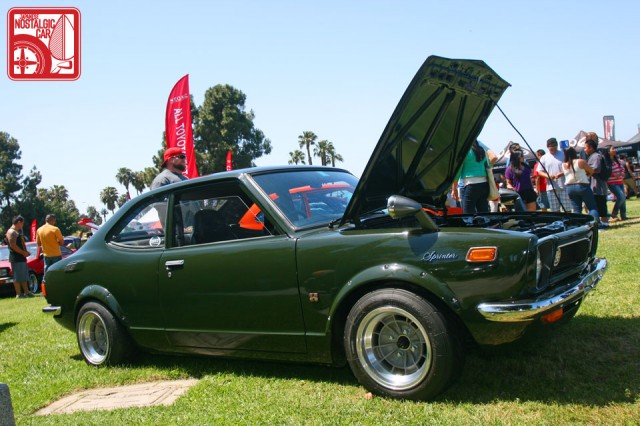 RaceToy's TE27 is Patrick's mirror-image evil twin. Put them together and you have a complete TE27 collection — Corolla Levin and Sprinter Trueno, one each from Toyota's two dealer networks; orange and dark green, its two iconic colors; and RS-Watanabe and TOSCO TRD wheels, the best suited racing barrels of the era.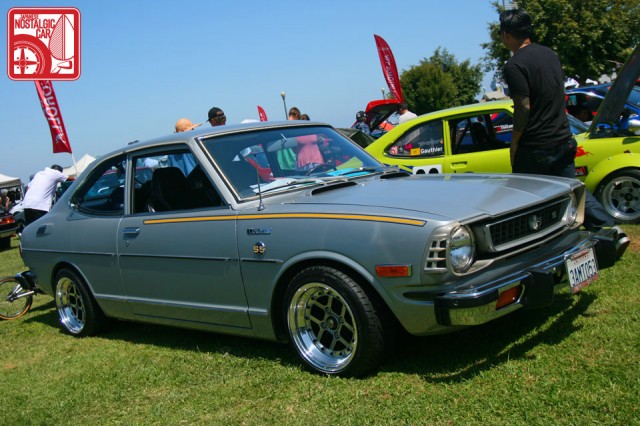 In contrast, Carlos Hernandez's 1974 Corolla S-5 is utterly US-spec aside from its August Feroce wheels. The S-5 did not have the SR-5's factory flares but these days it's just as rare. We give Carlos much respect for rocking the original decal stripe and big '74+ bumpers. As Indy would say, it belongs in a museum!
Mario Trinidad's 1980 Corolla Sport Coupe is really the successor of the TE27 and the predecessor to the AE86, and it is one of the cleanest examples we've ever seen. Period touches include the spoiler, door ding guard delete and non-ridiculous stance and tire fitment.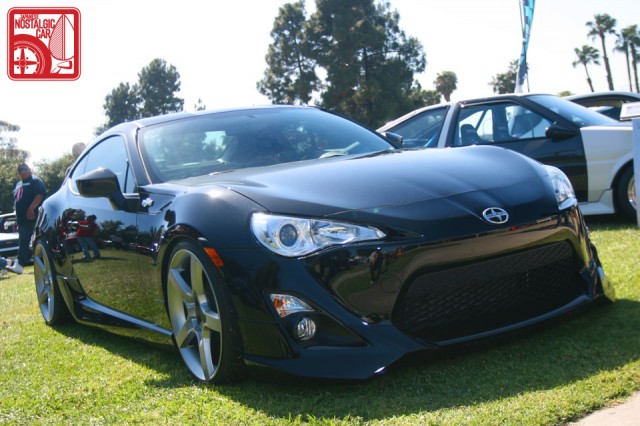 Speaking of 86s, Five Axis Design displayed their new aero kit for the Scion FR-S, and it is positively breathtaking in person. This is the kit that will form the basis for their just announced Retro Series two-tone limited editions inspired by the AE86.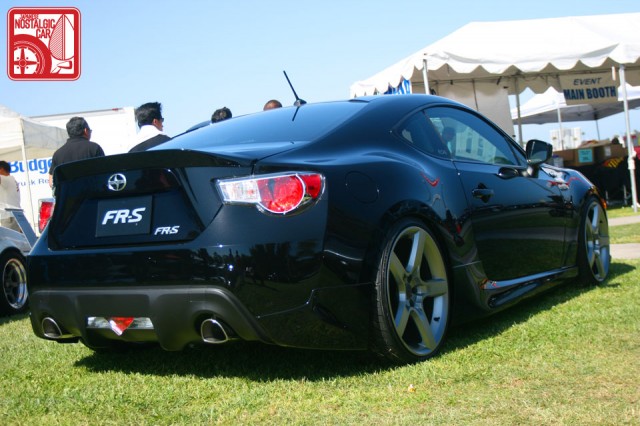 The aggressive Five:AD kit had a huge crowd around it throughout the day, and the only time we could snap a clear photo was during the Toyotafest award ceremony. It really gives the car that fearsome edge Five:AD kits are known for.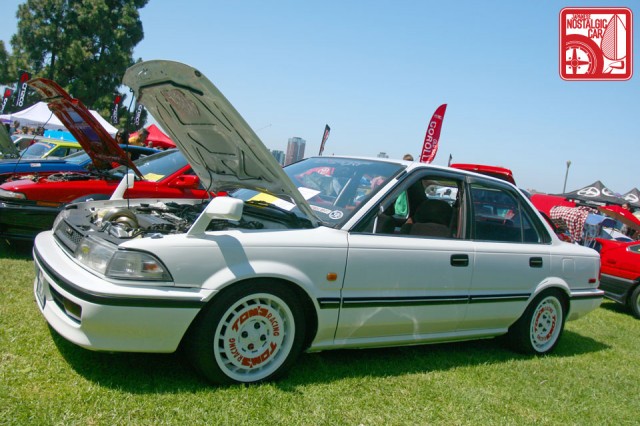 Despite all our blathering about RWD we really don't hate FF cars at all. In fact it's physically impossible to hate a car like Rodrigo Catibog's 1992 AE93 Corolla. It's got period correct JDM everything, including perfectly matched white aero-style TOM'S Racing wheels, and a 20-valve 4A-GE turbo.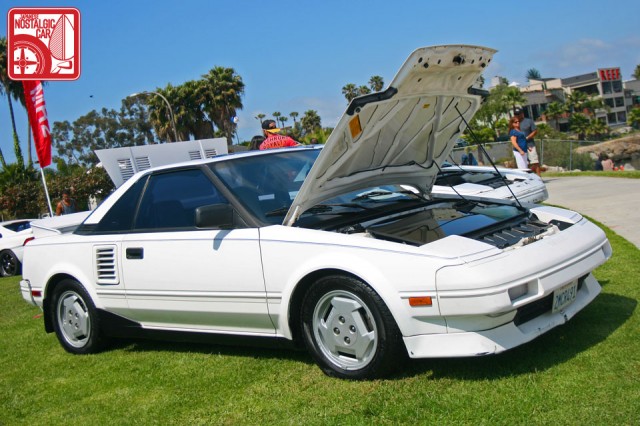 For a transversely-mounted 4AG of a different stripe, we turn to a stock 1989 AW11 MR2. The layout is pretty much like the FF Corolla above, but with everything at the opposite end of the car. Under the hood (or is it trunk?) is a perfectly shaped compartment to stow the removable sunroof.
Janet Fujimoto and Duane Tomono's 1993 SW20 MR2 Turbo was so clean you could assemble microchips inside it. Aside from the Tein suspension and Work Meister wheels it was about as bone stock as you could be, a wonderful, concours-level restoration on a car that is not often restored.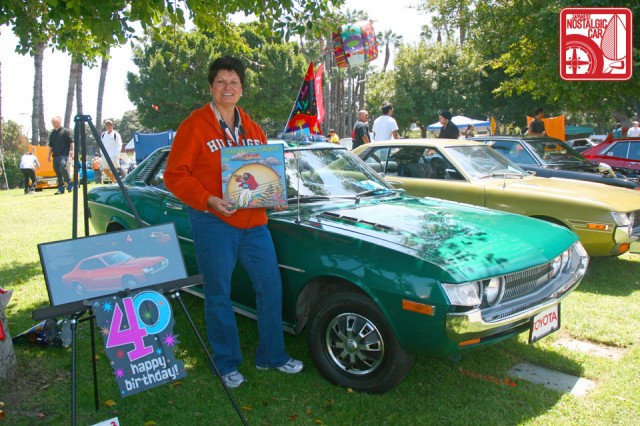 Lorraine Kaono is the original owner of this 1972 Celica ST and was happy to celebrate her car's 40th birthday at this year's Toyotafest. That thing she's holding is an original Toyota vinyl record (kids, that's like a large black frisbee that stores MP3s) given to her by the dealer when she purchased the car new.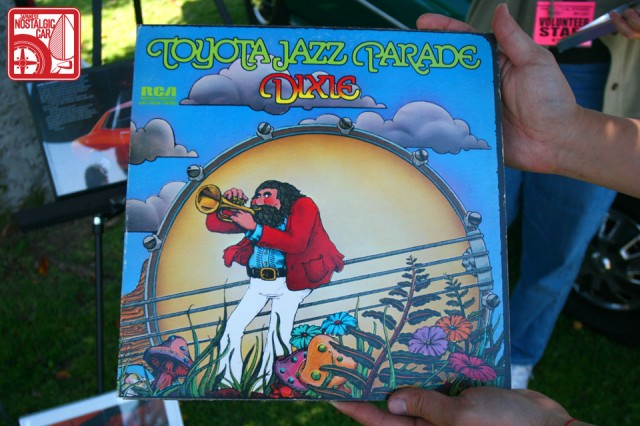 A closeup of the album cover reveals an RCA compilation called the Toyota Jazz Parade, featuring songs by Louis Armstrong, Jefferson Airplane, Guess Who, The Generation Gap and appropriately psychedelic artwork.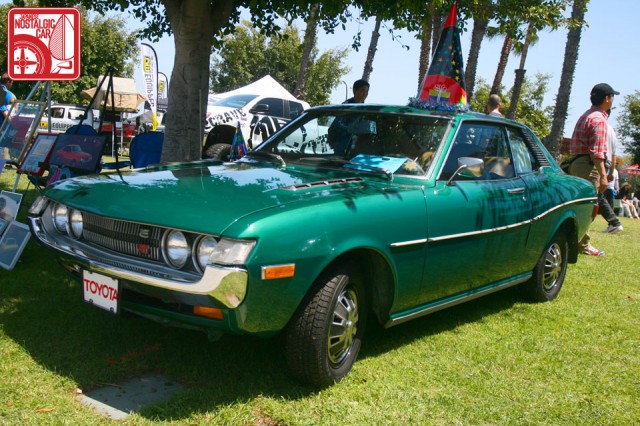 The green color is not original, but could pass for such if you didn't have access to a Toyota color chart. That's because it was painted 36 years ago, before modern paint technology and techniques made cars ever more metallicy and shiny. Also, it was the only car at the show wearing a party hat!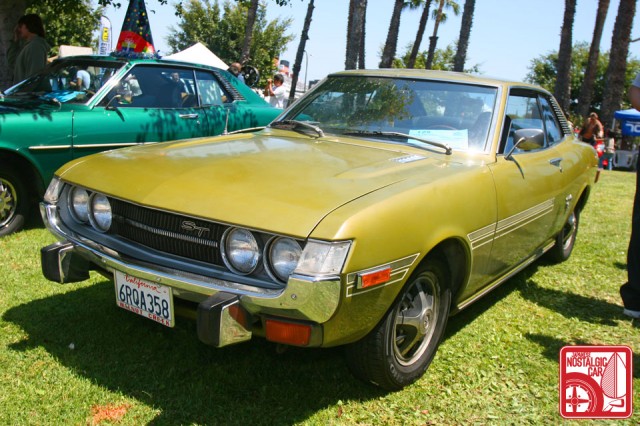 Beside it was Poe Tan's bone-stock 1974 Celica. We actually first spotted this car at the Art Center College of Design's faculty parking lot last year with JNC sticker in the back window. We left a note but never heard from him until we saw him at Toyotafest. Turns out Poe is an design instructor and commutes with his Celica from LA to San Bernadino on a weekly basis, a feat made even more amazing when you consider that health conditions limit him to driving a 3-speed automatic that must be revving its 18R-C like crazy the whole distance.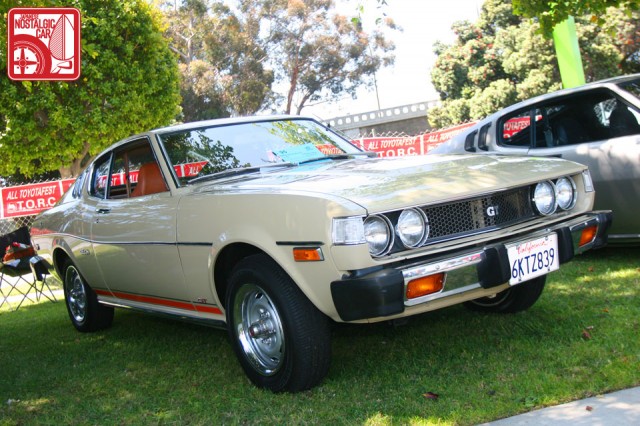 When talking about bone-stock Celicas, you can't get much more time capsuley than Neil Swartz's 1976 Liftback, which had only 54,000 miles on the odometer!
A few spaces away was John Accardi's 1977 RA29, another original owner car that has been restored to original spec. We absolutely love the fact that more original cars are coming out to Toyotafest, and really hope to see a concours section for vintage Japanese cars someday.
Russ Capulong's liftback isn't technically stock, but aside from the LHD cockpit it's what a stock JDM liftback should look like. This car looks like it could have just emerged from the spiral ramp of 1970s Shinjuku Station.
Ok fine, we'll toss in one street-style Celica for those of you craving something modified. Irwin Aquino's 1971 RA21 is one of our favorites, and those gold Riverside Riverges gleam like the jewels they are.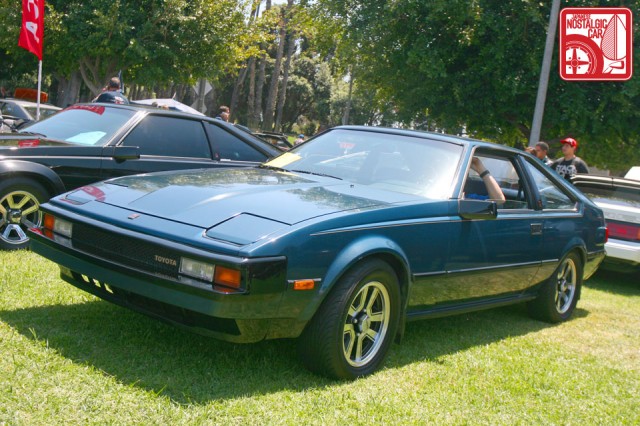 Derek Liecty's odometer on his 1983 Supra reads a whopping 484,500 miles, which means he could have driven to the moon and back and then some. It's not the original engine, but before you start groaning the 7M was swapped in at 392,000 miles.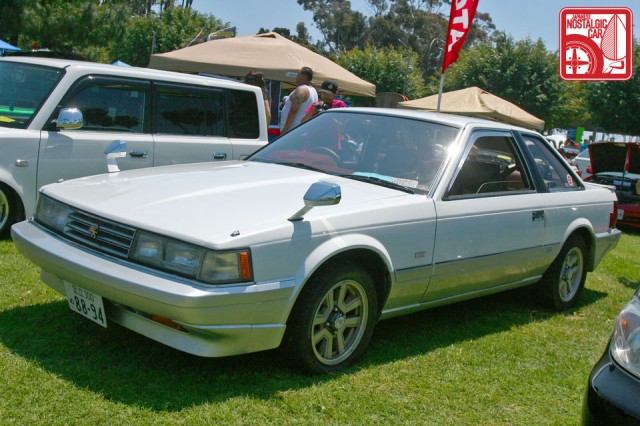 Toyota used those 8-spoke iron cross wheels on everything back then, from Supras to box Vans. Here's a genuine JDM Z10 Soarer rocking what we in the west simply call "Supras."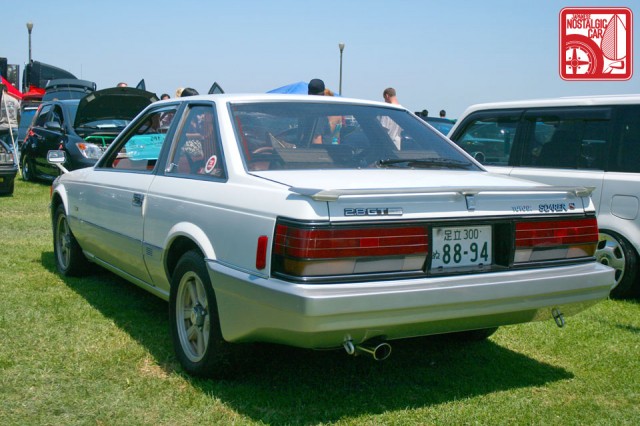 There's almost no relation to the super sleek Z30 Lexus SC that succeeded it two generations later, but it's one of the original hi-so cars. It also makes an excellent hero car for bosozoku-themed manga.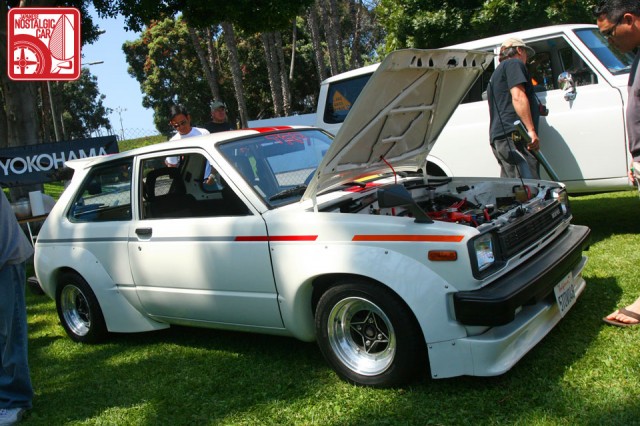 John Montepiedra's KP61 has all the accoutrements for a N1 Starlet of the 80s — Riversides, Japanese TRD colors, and a swapped 4A-GE.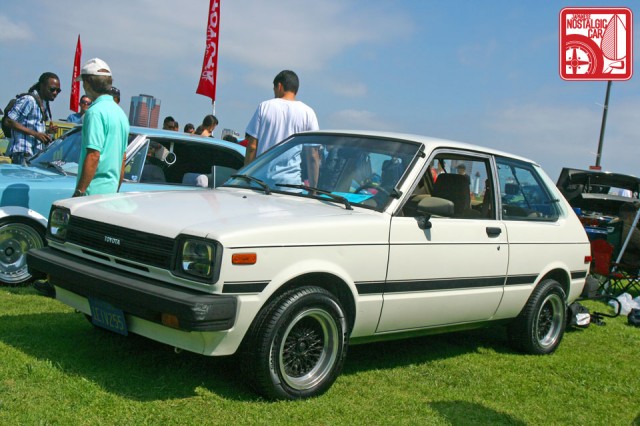 However, we were just as pleased to see a bone stock Starlet. Wildly different takes on the original Toyota RWD pocket rocket, yet both period correct.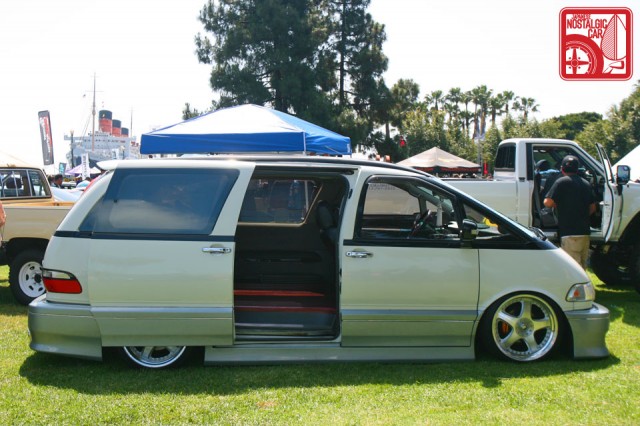 If there's one Japanese tuning trend we desperately need more of in America, it's the VIP van. Case in point: Normandie Manlapas' 1996 mind-blower Previa.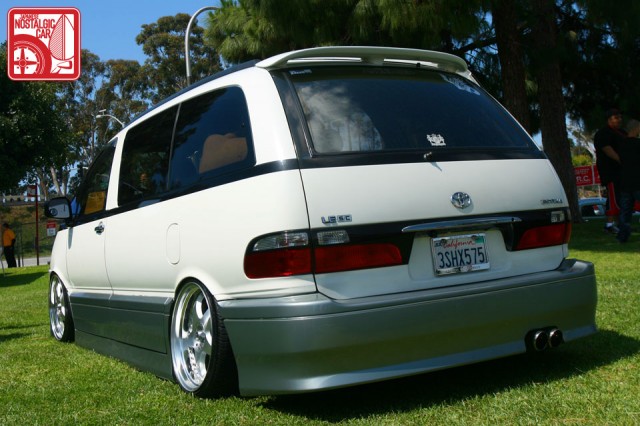 Not only does it have the JDM light lenses, trim and a slew of Junction Produce doodads, that rear camber comes courtesy of an Estima independent rear suspension.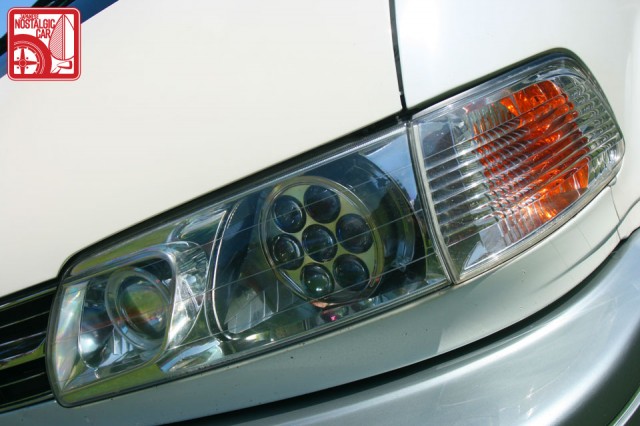 Infiniti Q45 six-gun projectors suddenly give this minivan a ton of menace.
Hardwood is the perfect luxury flooring option for the mid-level yakuza boss riding in the back.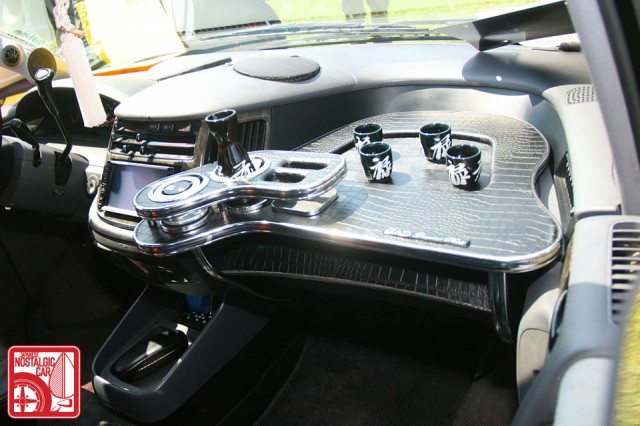 The Previa's wildly curved dash creates plenty of interior room for a VIP table and sake set. Words cannot describe how much we love this van.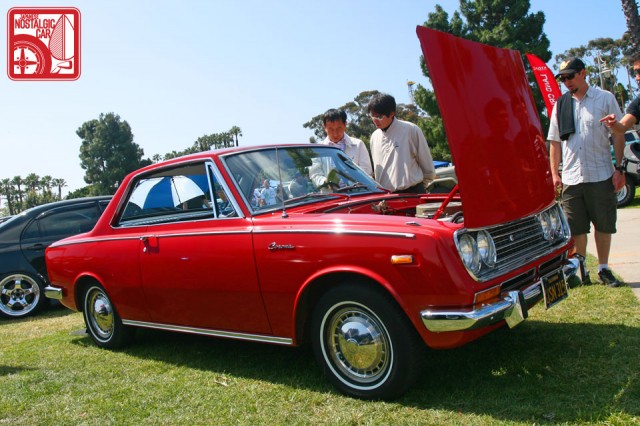 And now for something completely different, a Solar Red RT52 Corona hardtop coupe. It even came with the original window sticker, which shows a $1,985 base price, $60 for a heater/defroster, $35 for whitewall tires, $20 for two-speed wipers, $165 for an automatic tranny and a whopping $10 for front and rear seat belts.
The sticker also came with this amusing paragraph, free of charge:
Put your foot down — and watch this car GO GO GO!!! Feel the surge of power and pickup that makes this capsule-designed sports sedan take off. Here is Sportscar Action — Family Style. A car that's alive with innovations — from rakish roofline and racing grille, through "live" metal body, and young profile. Here in a unique engineering first, is a 90 hp sports-sedan that accelerates to 100 mph in seconds. Step in and try it. All systems are GO!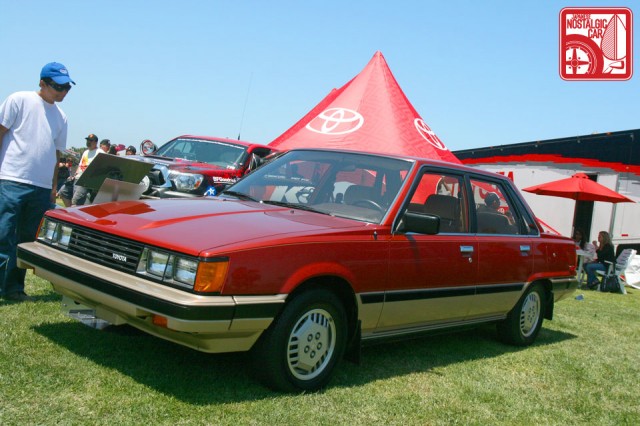 Nearby in the collection of the Toyota USA museum sat the Corona's successor, a pre-production V10 Toyota Camry LE in all its FF glory. The orangey-red and gold two-tone color scheme is particularly striking today, when 50 percent of the modern Camrys on the street are silver. We wouldn't kick it out of bed if it was wearing black Wats.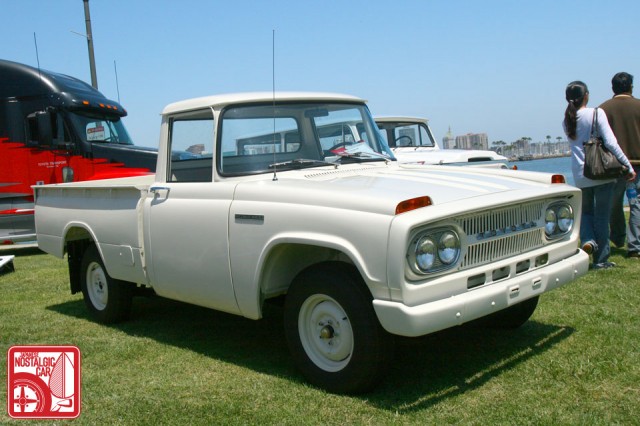 Toyota appears most proud of its truck history. We're not complaining about this 1966 Stout, but in the year of the Scion FR-S's debut you'd think they'd bring out more sports cars from their past.
Elsewhere in the Toyota corral was a 1964 Land Cruiser FJ45, an extended wheelbase wagon restored by Spector Off-Road and Gasser's Garage. Only 1,681 Land Cruisers rolled out of Toyota's Gifu plant in 1964 so this is a pretty rare beast.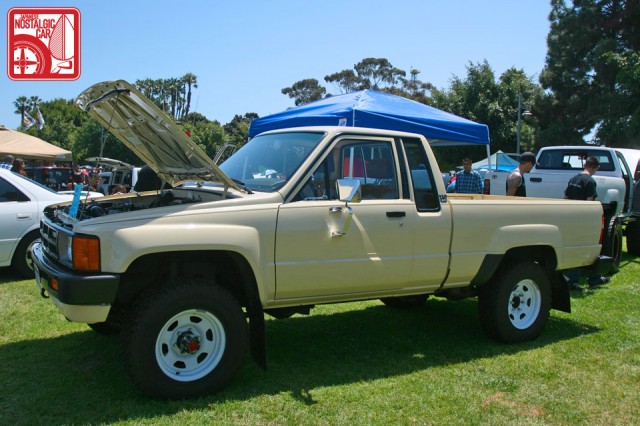 Trucks are built and bought to be workhorses so finding a mint one is like striking gold. That's clearly what Gary Foreman thought when he saw this ultra-clean Toyota Pickup on eBay. He immediately pushed the "Buy It Now" button for $15,950.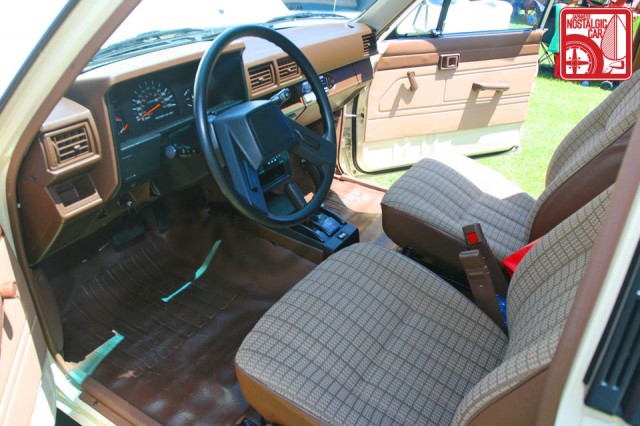 It's a 1985.5 model, which has the extremely sought-after combo of solid front axle and fuel-injected 22R-E motor that was only available for part of that model year. The odometer reads a scant 22,000 miles. Kidney, anyone?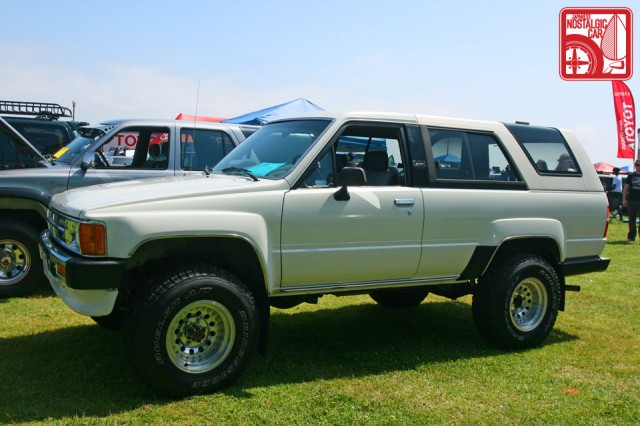 Built on the same platform was Ronald Okuda's 1989 V6 4Runner. This would have been the perfect camping truck back in the day, when you could take the rear canopy off and have a convertible SUV. It warms our hearts to see vehicles like this preserved for posterity.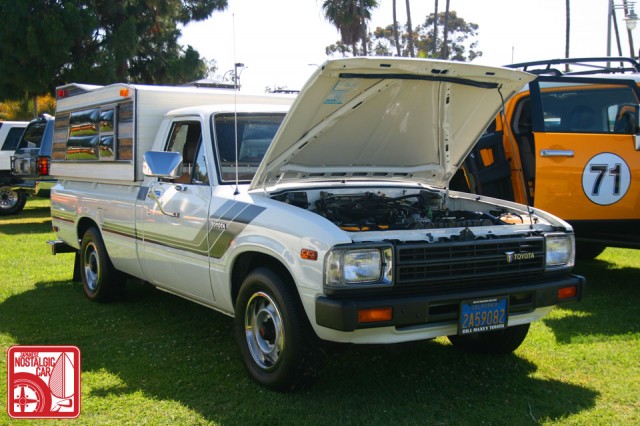 Who buys a Pizza Planet pickup, adds a camper shell, and then keeps it tucked away in a garage for 30 years? This is a time capsule of the early 80s through and through, right down to the decal package. But, with all these fantastic examples of Aichi's engineering prowess on display, which do you suppose won best in show?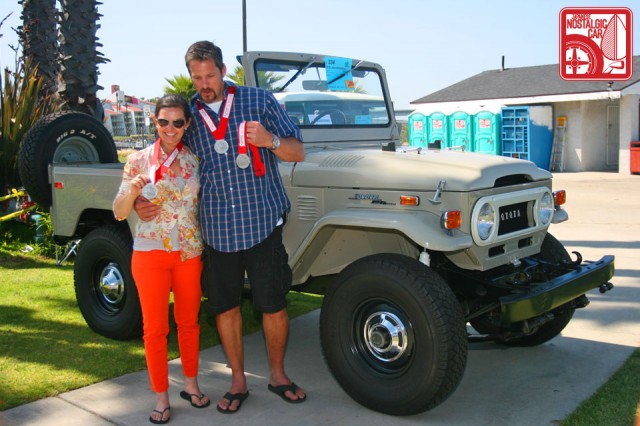 And the winner is… Chris Millard's 1972 Toyota Land Cruiser, which spent 10 years in his garage undergoing a methodical weekend-by-weekend restoration. Let's take a closer look at this amazing feat of dedication and perseverance.
Check out the classic Land Cruiser logo reflected in the  mirror-like smoothness of the paint. However, there's another detail in side market light that can only be seen upon closer inspection.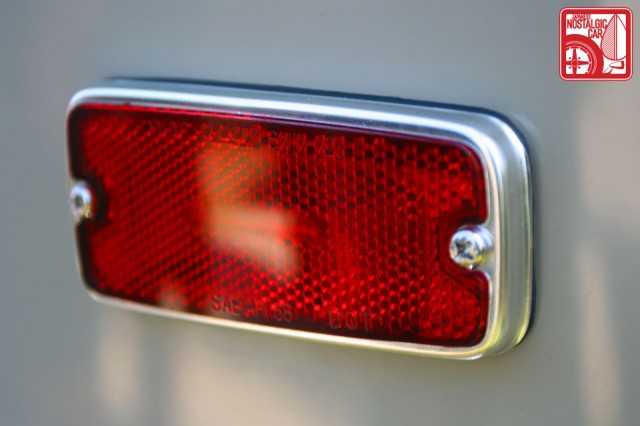 TORC president Joji Luz tells us that the OEM screws used to attach the lenses of the side marker lights are have a small indented dot. You can see it at the three o'clock position of the right screw in the photo above. The dot appears only on screws for side marker lights of the 60s and 70s, and it's unknown when the practice stopped. But if you're restoring an old Toyota, look for the dot.
The interior looks as fresh as it did the day it left Gifu.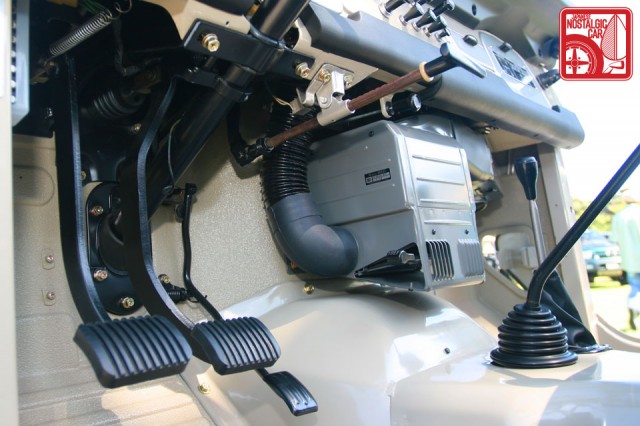 The same care and exactness is evident under the dash as well, even on areas you'd have to crane your neck to see.
For example, take a look at the underbody. Everything that was anodized or plated has been properly restored.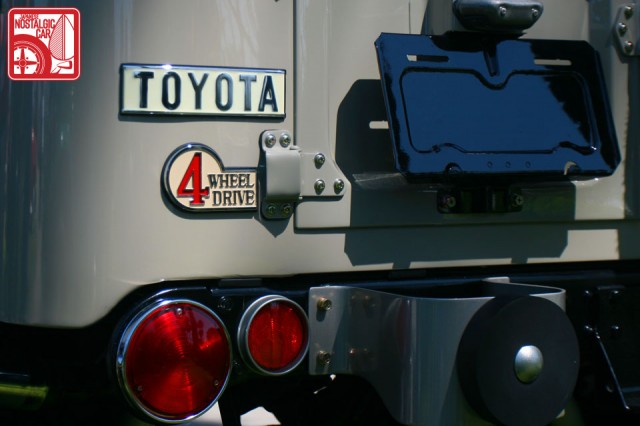 As the most revered Toyota next to the 2000GT, many FJ40 parts like these badges are still available from dealers like Cabe Toyota.
The motor is just as fresh. There was not a single speck of dust anywhere on this truck.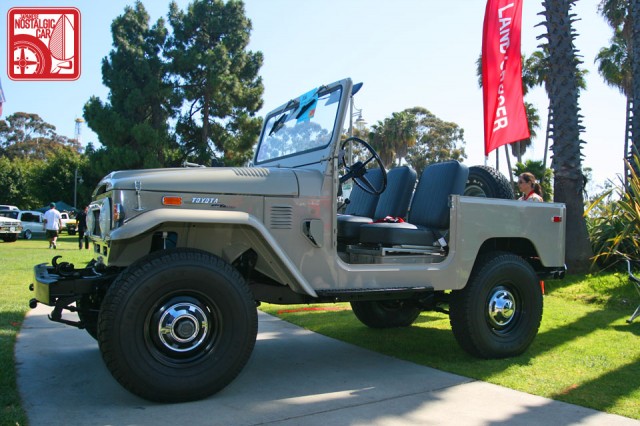 We always say that it's a good show when some guy who's been quietly toiling away for a decade suddenly emerges from the woodwork and blows everyone away. Christopher was that guy, and his Cruiser did just that.
We can't think of a better Toyota to concludes our coverage of the 2012 All-Toyotafest with, but in case you missed an earlier installment here's Part 01, Part 02, and Part 03.
Photos by Dan Hsu.