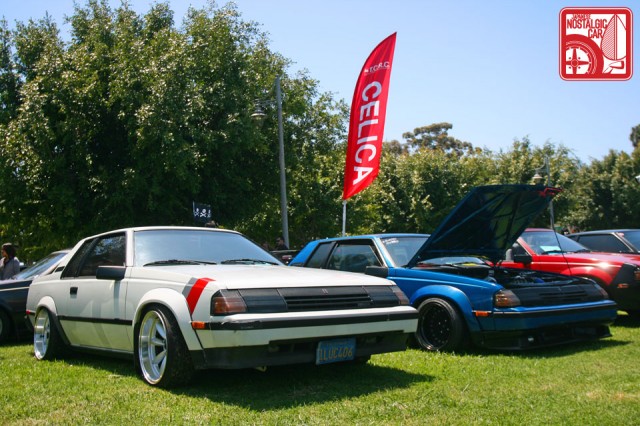 Part 02 of our 2012 All-Toyotafest coverage starts off with a pair of our favorite neoclassic Celicas. Moises Rivera (white) and Jesse Ortiz's (blue 1JZ-swapped) wedge-shaped A60s are the very definition of 1980s knife's edge styling, and the US-spec GT-S flares allow for uber-deep barrels. 
While A60 Celicas have been growing in popularity in recent years, the first-gen A20 has been a staple of old school Toyotaku. Anthony Vergara's 18R-G swapped daruma is absolutely stunning in its simplicity. No loud colors or crazy stance necessary, although we do wish in our heart of hearts that he'd rock a Japanese wheel. But we're just picking nits here, the car is simply gorgeous.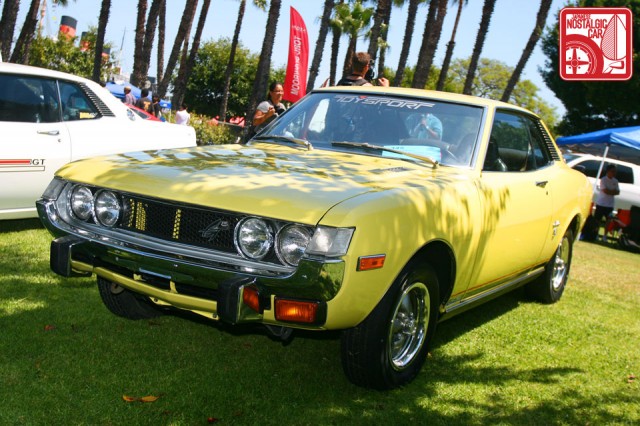 Toysport's been acquiring a lot of Celicas like this clean '73. This one's obviously been garaged because it came with a now-removed vinyl roof, and yet, no rust and clean paint underneath!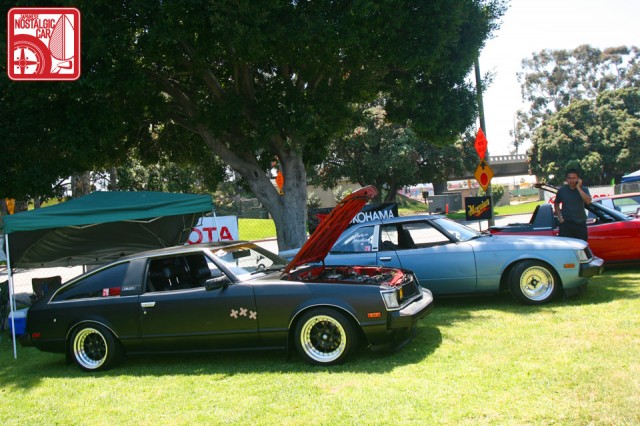 The Celica love seems to skip over the A40s for the most part, so we were glad to see Isaias Barrios's liftback and Adam Hernandez's coupe. We can't wait to see these second-gens works in progress become works of art.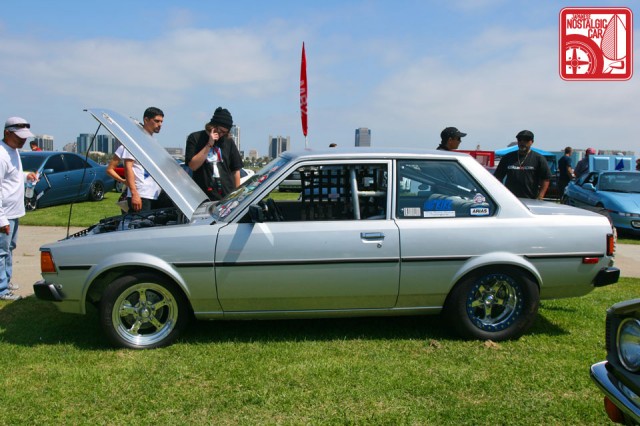 Santos Renovales' E70 gives us fevered visions of creating the ultimate sleeper, an unassuming 80s econobox that can take down an Audi R8 in the quarter mile. Santos' tubbed rear and roll cage are a dead giveaway and clocks a 9.42 seconds @ 142mph elapsed time, but for our nefarious purposes we'd only need to best the R8's 12.19 @ 121.2 mph.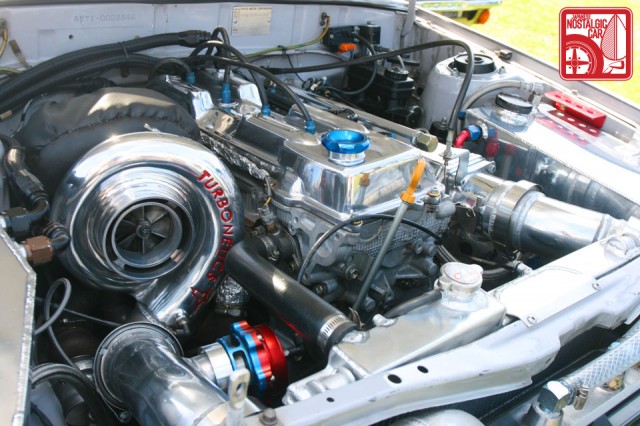 The secret to Santos' success: a built 2.4 liter Tacoma engine with a turbo the size of a soccer ball.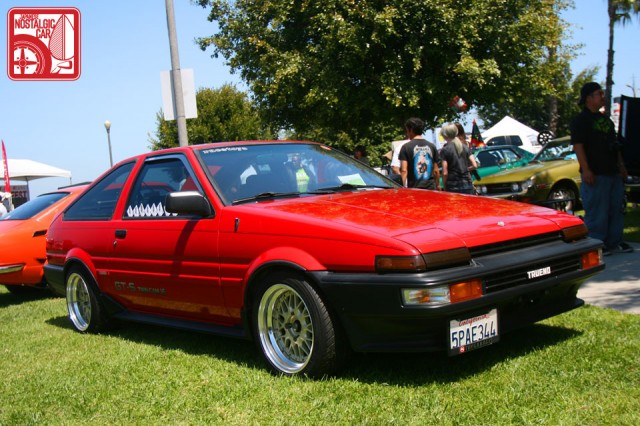 Now for some street rides straight from the Bubble Economy! RaceToy's Trueno-converted kouki 86 has that Eighties vibe in spades, thanks largely to a clean set of Dori meshies.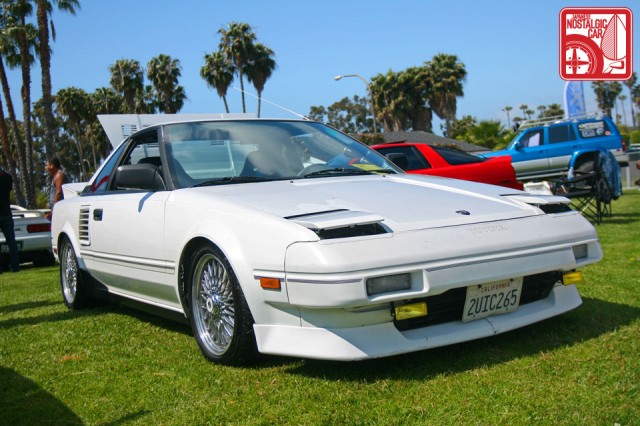 You could almost imagine hachiroku above cruising side-by-side through Black Rain-era Ginza with its mid-engined brother from another mother. This AW11 MR2 with rare  SSR Takechi Project Super Mesh wheels was one of  our favorites from last year and returns with a bruised chin, a sad reminder that LA's roads are not as smooth as Japan's.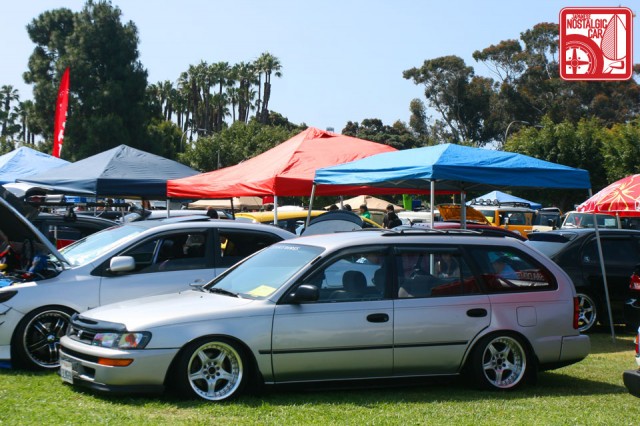 We'd never thought we'd see the day when an E100 Corolla wagon makes us all hazy-eyed with nostalgia. Easily overlooked when new, these 90s front-drivers are a striking reminder of how you can't really buy a small Japanese wagon any more.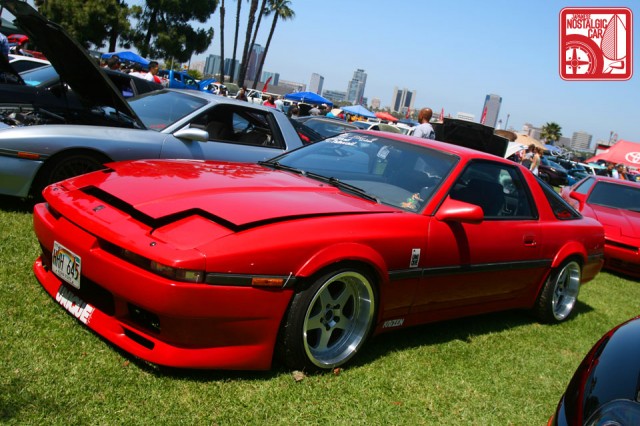 This year A70 Supras came out strong. There were many, but this blood red example stood out as a period-looking Wangan stormer.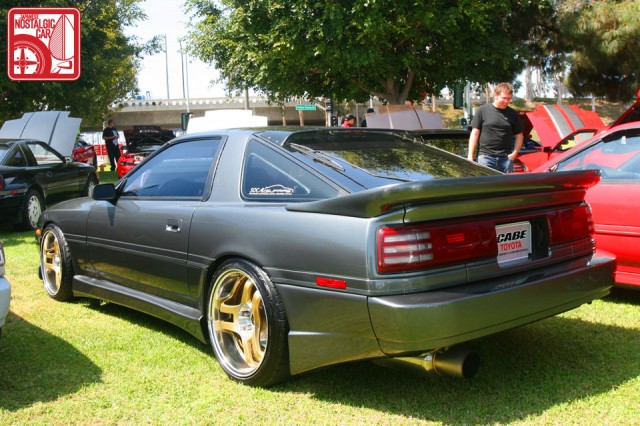 The style of Jeffrey Sin's MA71 comes a bit later chronologically, but we're suckers for SA3Rs.
Props to this Supra owner for rocking an original gimp mask bra! Surely this must be a very difficult to find accessory, and with cutouts for flip-up headlights and a multitude of vents, probably one of the most complex bras in ever woven.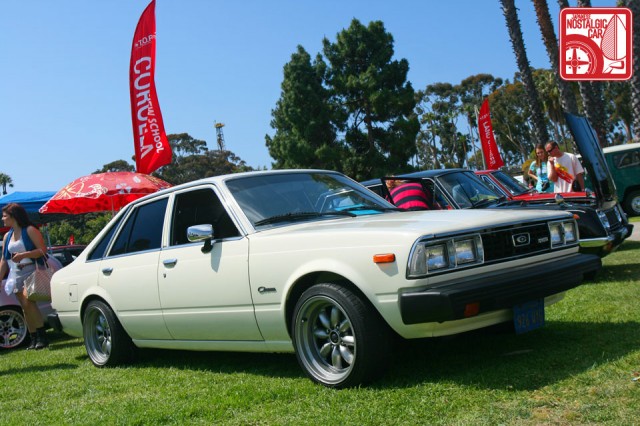 Nathan Benson's Corona is another fine example of how less is more. The T130 is not a particularly beloved platform, but it seats five in comfort, looks great with a slight drop, and is way cooler than the Camry that replaced it.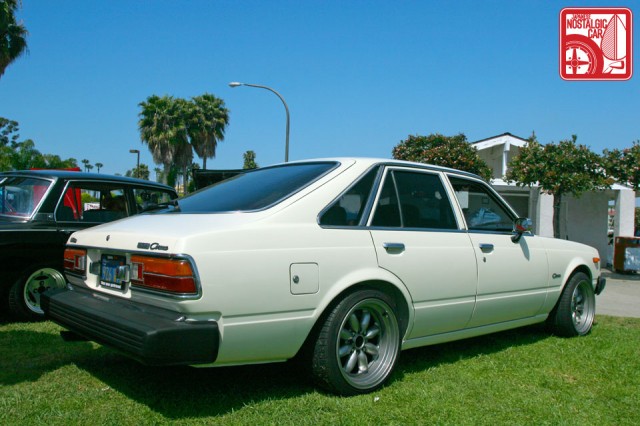 Though Nathan's Corona has a stock 20R underhood, he's upgraded it with 45mm side-draft carbs and 4-2-1 headers.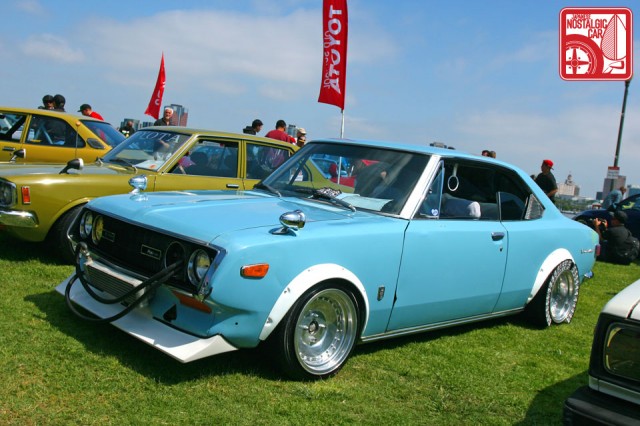 And now for something completely different: a Corona Mark II that's been completely zokusha'ed out. Not your typical bosozoku sled.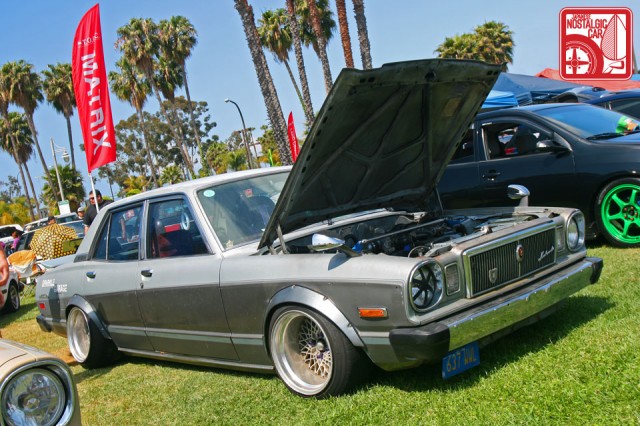 Its grandson, an X30 Cressida on awesome, massively deep 15 x 11 -25 SSRs and rockin' a VVT-i 2JZ. It is none other than Sparkle Garage.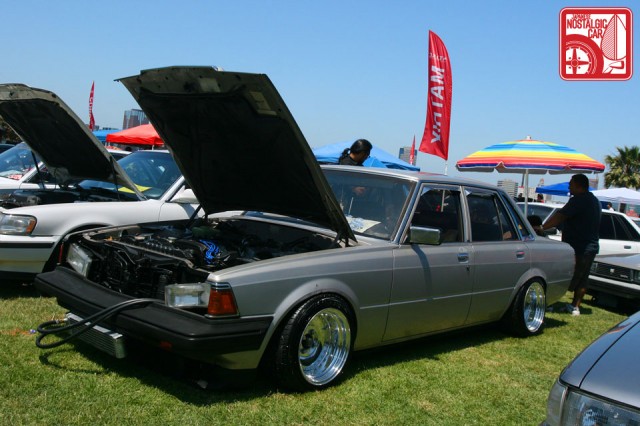 We first saw the Scalawags Crew Cressida at the AE86 Nights 5th Anniversary shindig. It makes us smile just knowing shakotan cars like these are driving around SoCal, keeping alive a culture that originated an ocean away.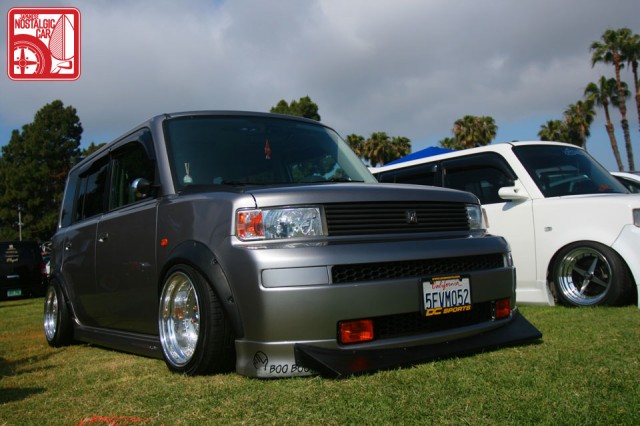 The zokusha style is so infectious that it even Scion fans have adopted it. Every Toyotafest there's at least one slammed xB flush with kaido trademarks.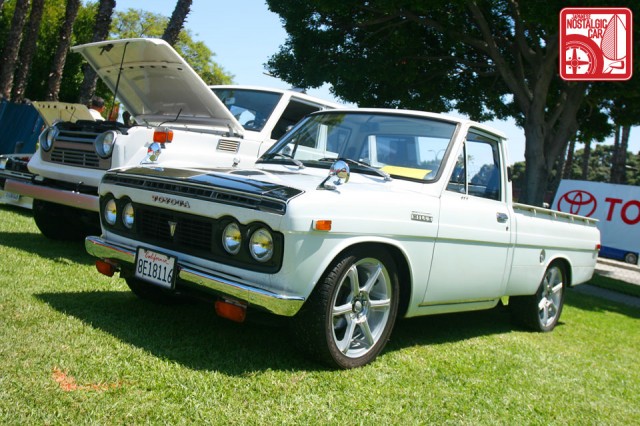 Before we go let's give truck fans something to drool about: Jon Montepiedra's mostly original 1971 Hilux and an "Iron Pig" FJ55 Land Cruiser towering behind it.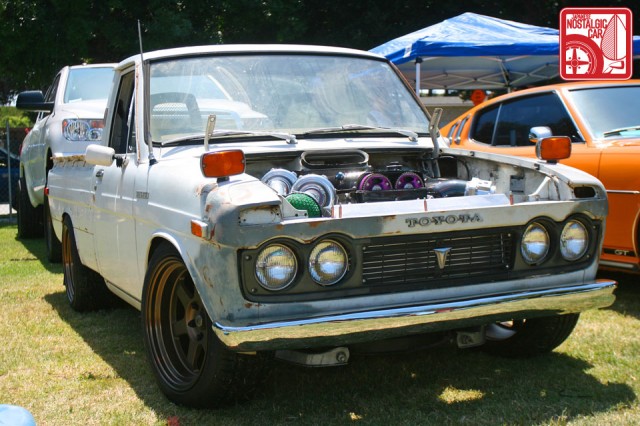 In contrast, Scott Kanemura's insane 2JZ-GTE powered Hilux could very well be that sleeper Audi R8 slayer we've been dreaming of. We wait with baited breath for its completion.
And last but not least, Paul Williamsen's 1973 FJ40V was recently purchased somewhere in the American midwest. The odometer reads 22,000 miles, but for all we know you might have to add 100,000 to that. It is, however, mostly original except for a dual battery conversion. Oddly enough, the gorgeous baby blue hue is not part of the 1973 Toyota color chart, but it is the original paint. But that's part of the charm of these old cars, right? There's always something more to discover!
There's more Toyotafest coming up, but in case you missed it, here's Part 01.
Photos by Martin Kim.