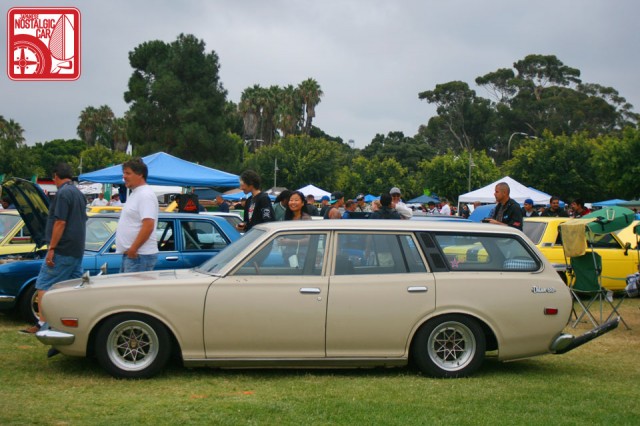 Our 2011 JCCS coverage continues onward as we look at classic haulin' machines, starting with a quasi-boso Datsun 610 wagon. There's nuttin' like an old school goon laid out on ninja stars.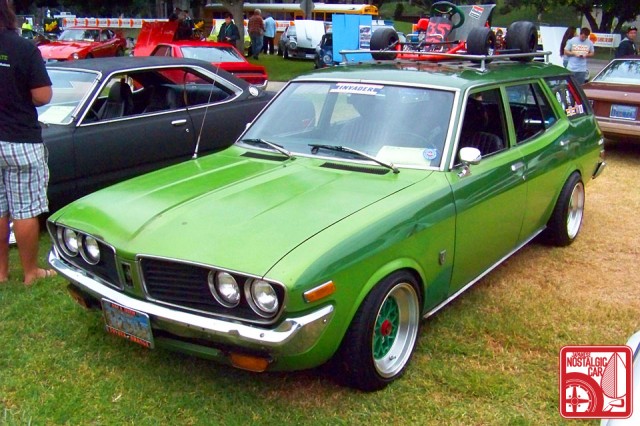 Robert Perez's mean green MX28 Toyota Corona Mark II wagon with the fearsome early snout.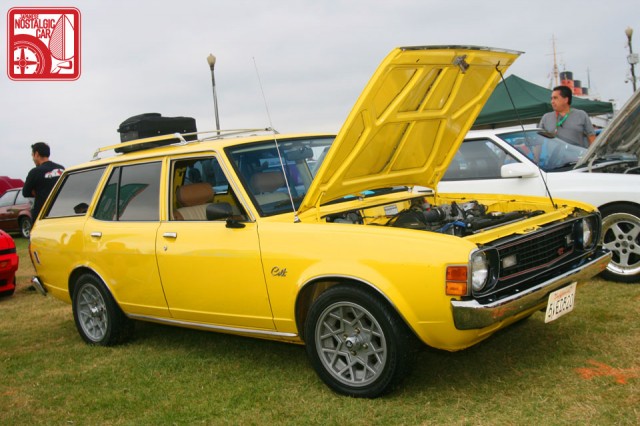 Triple Diamond fans, feast your eyes on this ultra-rare Dodge Colt (aka Mitsubishi Galant) wagon. Its Datsun 280ZX snowflake wheels had us scratching our noggins a bit but the car was whistle-clean.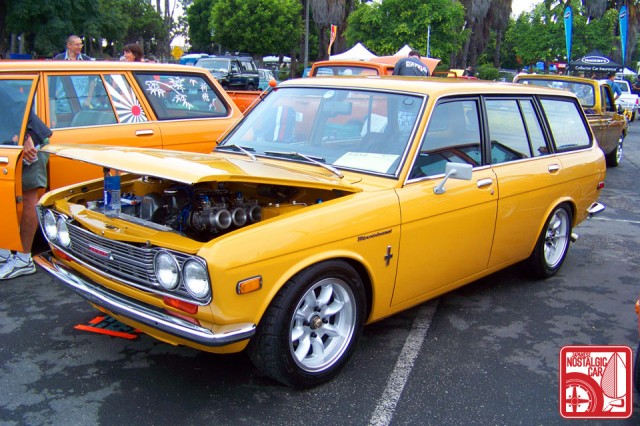 Washington's Garage Autohero brought this Datsun 510 wagon a long way but took home the Best Wagon award.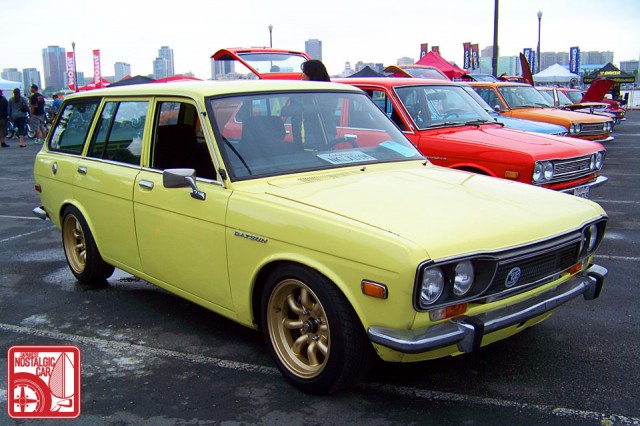 This yellow goon had a tough stance and a grille pilfered from a '73 JDM Bluebird Sedan. Not to mention it sported a 4-link live axle instead of the more pedestrian stock buggy springs out back.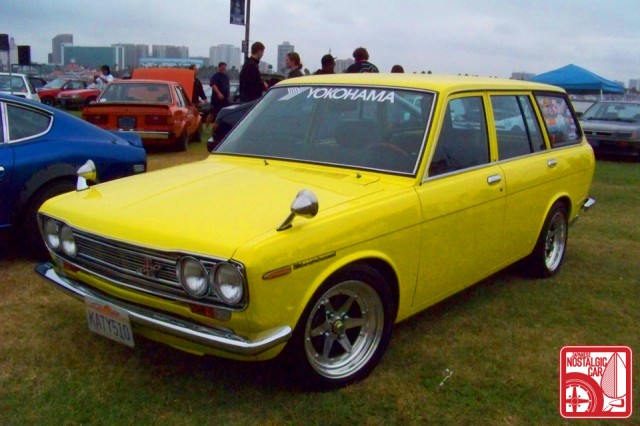 This 510 belongs to Koji and Terry Yamaguchi, the tireless JCCS organizers without whom this event would not be possible. Longchamps + 510 = Unbeatable combo.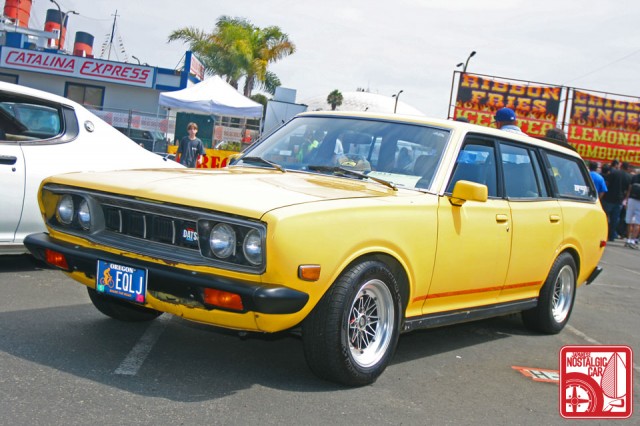 Another trekker from the Pacific Northwest, Rafael Mortin's de-chromed '73 Datto 610.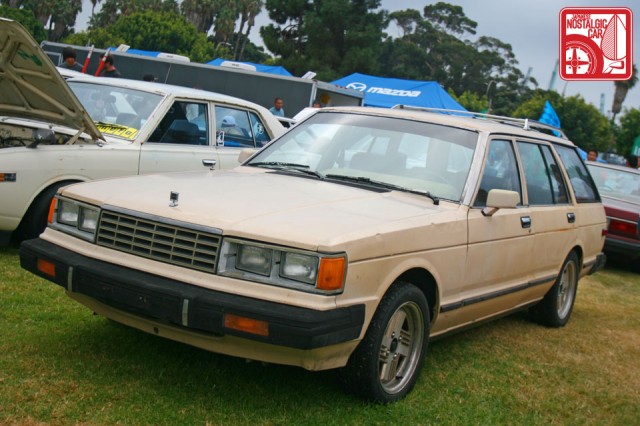 Bane of Cressidas, the Datsun 810, also known as the "Datsun by Nissan" Maxima during the identity crisis years.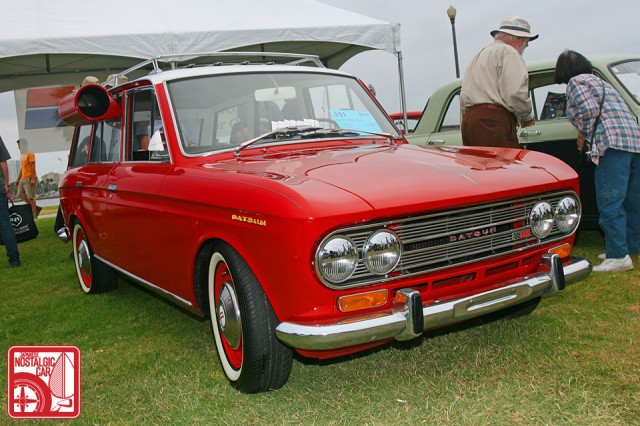 Greg Childs' American-style '67 Datsun 411 wagon. An Isky cam and Thermador swamp cooler add to the rodder aesthetic.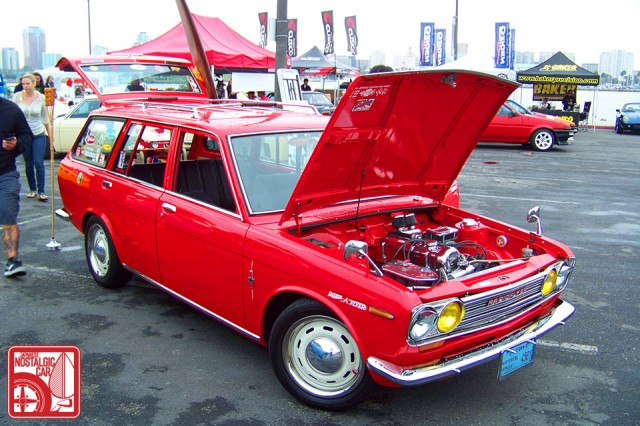 John Williams' 1971 "Radio Flyer" wagon steeped in (except for the fender mirrors) hot rod style. John always constructs a rich display, this time using a vintage wooden longboard as a prop.

Lastly, wagon-wise, is Scott Ngov's brilliantly stock 1979 Honda Civic wagon. Vintage Honda owners are really taking on all challengers when it comes to originality.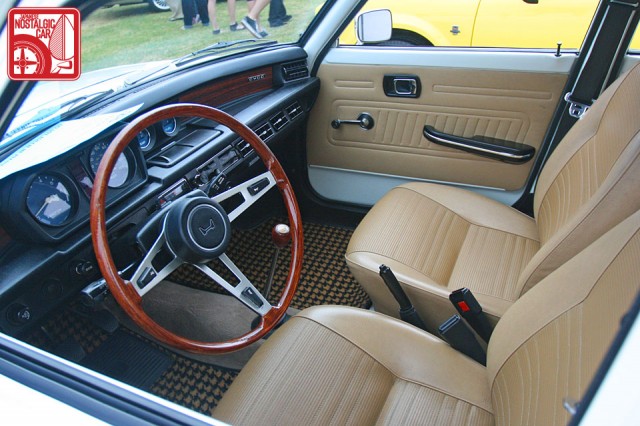 Peek inside this wormhole back to 1979. That thin-rimmed steering wheel looks mighty tasty and the vinyl seats might as well be untouched by butt.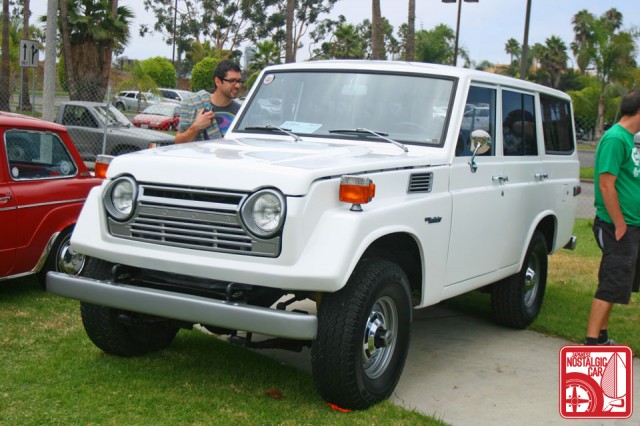 Technically speaking, this FJ55 Land Cruiser is a wagon, at least according to Toyota. These Iron Pigs may have the blank expression of a cute Japanese mascot but they are tough as nails.

Publica owner Steve Kopito also brought his 1985 70-series, a short-wheelbase Cruiser and thus not a wagon by Toyota's definition. This one's a JDM import with a rare (at least for us) four-cylinder turbo-diesel and less than 30,000 miles.

Moving onto the pickups, this slammed Toyota Hilux came all the way from Utah. We love it when the wheels are the shiniest thing on the whole vehicle.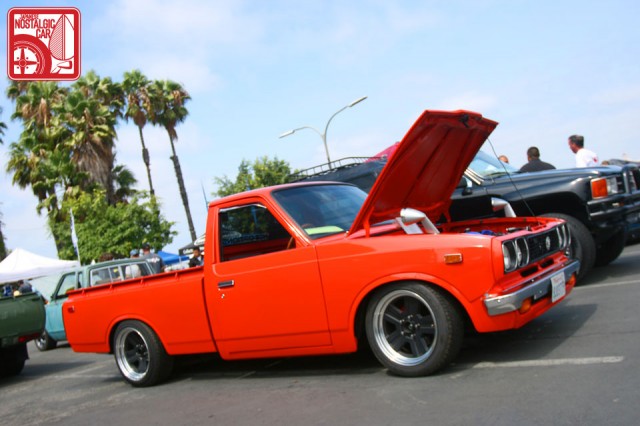 Bay Area tuner Performance Options brought their heavily modified Hilux, which has been converted to RHD and swapped to with a 22REC and W55 5-speed.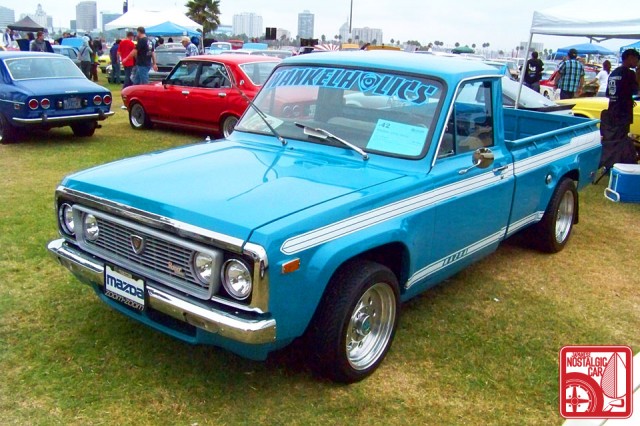 Like we said in Part 03, the Wankelholics crew have some of the nicest rotaries in SoCal. This Mazda REPU appears at a lot of SoCal events, but we never get tired of it. It's one of the best, bar none.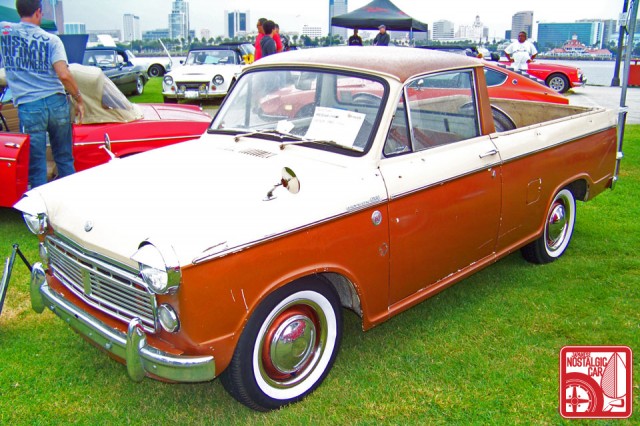 This Datsun NL320 may show some scratches, but we love the two-tone white and brown.

Unibody Datsun trucks are super rare, but there were two of them at JCCS, Tony Finetti's black plate beauty being the other.

Most 320s looked like Kenny Ueda's '63 L320 (a NL chassis code denotes the unibody) with a separate bed. Incidentally, this beautifully restored truck took home the third place trophy for Best in Show.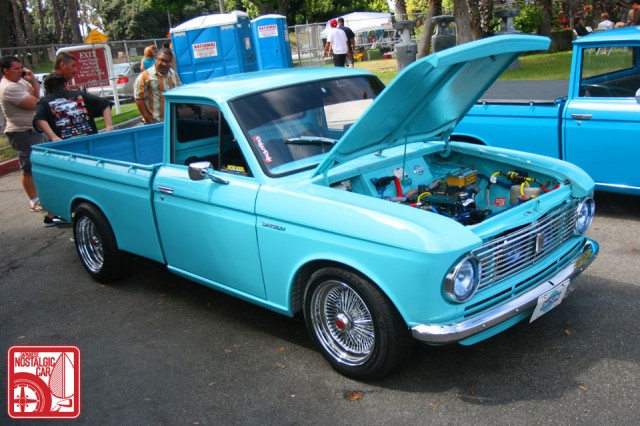 The two-headlight Datsun 520 is another rare breed. This one won Best Datsun Truck in 2010.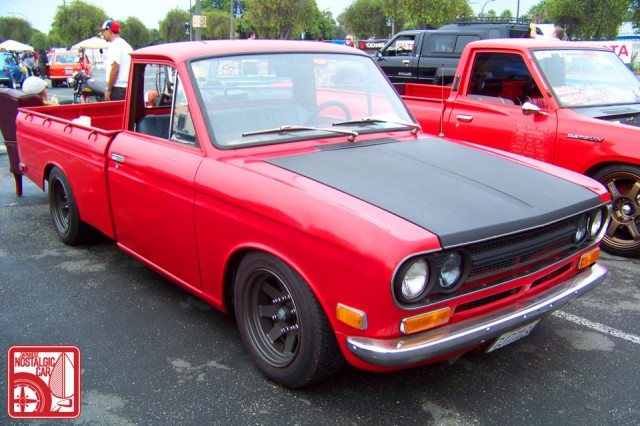 This Datsun 521 has the race truck look down pat, with flat black hood and black Diamond steelies. What's that in the bed?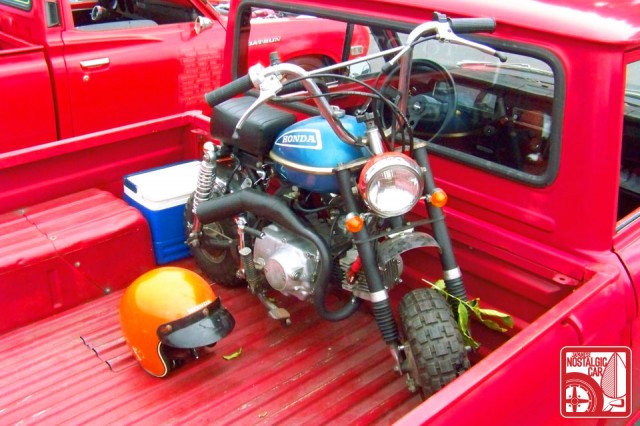 Get this Honda Monkey off my back.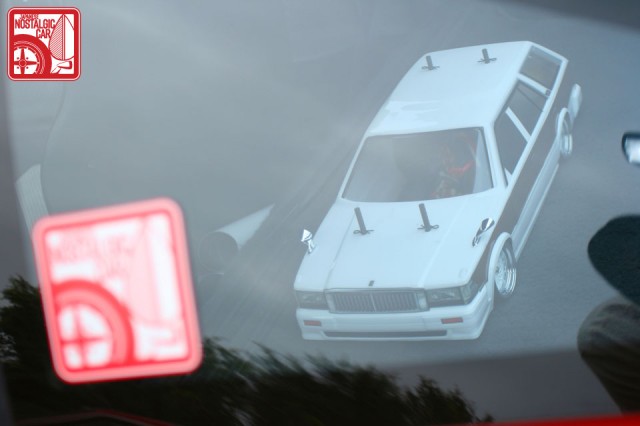 Oh, one more wagon before we go. A Nissan Cedric Y30 R/C car, complete with faux wood paneling(!), found in the glass dome hatch of a Mazda RX-7. Awesome.
More wagon and truck goodness can be found in the gallery below. There's still more to come, and in case you missed it here are Parts 01 – Best of the Best, 02 – Ganso VIP, 03 – Street Style and 04 – Rolling Stock.
Photos by Dan Hsu and John Roper.