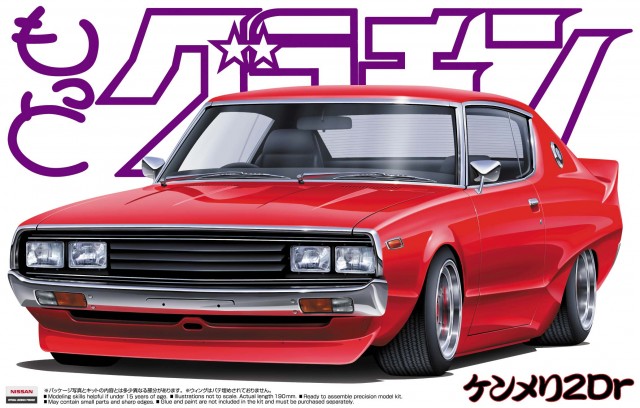 Step inside any Japanese hobby store and you're bound to be dazzled by both the beauty and abundance of Aoshima box art. Their highly detailed plastic model kits have been around for decades, and in many cases have done a better job at chronicling Japan's automotive tuning trends than most photo collections you can find on the web.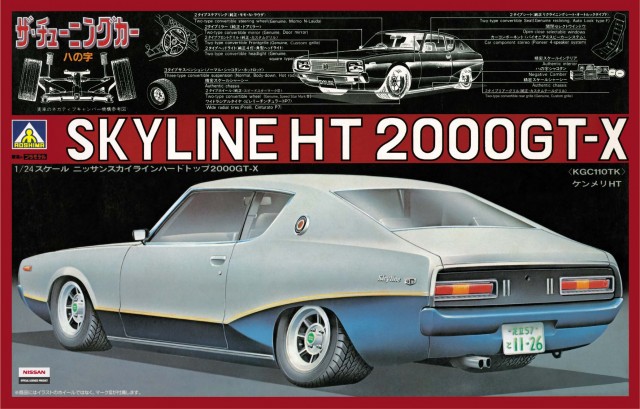 First, a bit of history, peppered with a selection of Aoshima's finest box art. Like great car companies such as Subaru and Prince, the story of Aoshima began in the skies. In 1923 Jiro Aoshima rode in an airplane — nothing to write home about today, but it was a big deal at the time.
He was so taken by the experience that he founded the Aoshima Airplane Research Institute the following year, 1924. The Institute's purpose was to study aviation and aerodynamics, and a big part of that research was building model airplanes.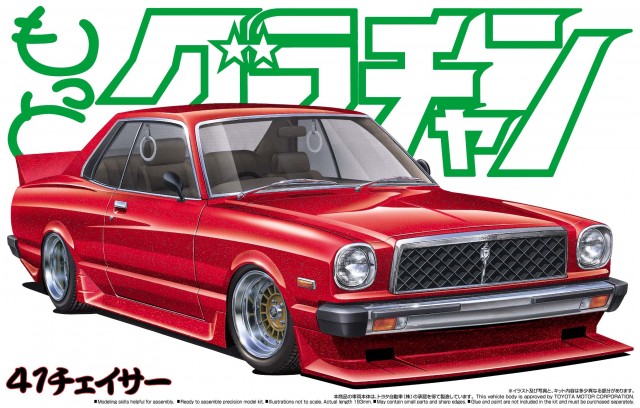 Throughout the 30s, 40s and 50s, these models were made of wood, real studies of aeronautic principles rather than toys. Aoshima's model planes were even incorporated into the school curriculum by Japan's Ministry of Education.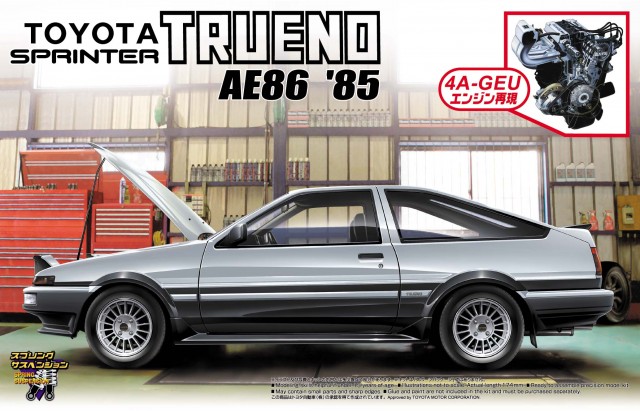 It wasn't until 1961 that Aoshima as we presently know it was formed and Jiro's son Ichiro Aoshima became CEO. Development of plastic model kits began in earnest and one of their first models was called the Bluebird. Calm down, Nissan fans. It was a futuristic jet-inspired speedboat, not a Datsun 310.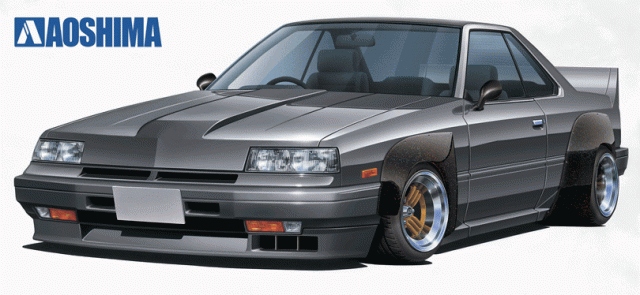 During the golden age of science fiction Aoshima kept up with the times with toys based on popular anime and manga, such as Astro Boy, Spectreman, and Super Robot Mach Baron. Aoshima touched upon science reality too, with a series of Apollo models after the 1969 moon landing (RIP, Neil Armstrong).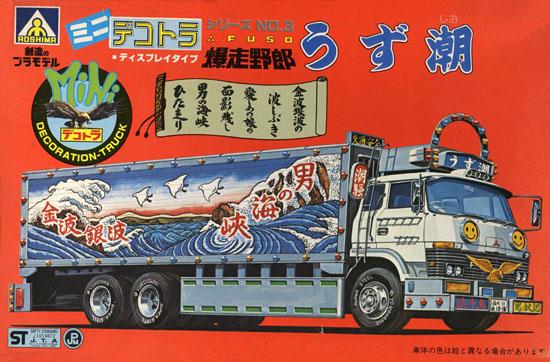 Aoshima's first automotive foray took place in 1976 with a line of dekotora, prompted by the popularity of the Torakku Yaro TV series. Okay, fine, so it's not really a car but it was a milestone nonetheless.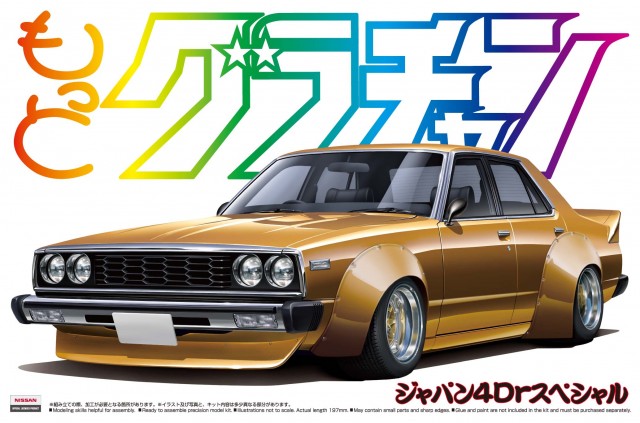 Aoshima's foray into the cars we know and love came around 1980 during the rise of the Super Silhouette racers. These 1:24 scale kits that resulted were — and still are — some of the most advanced plastic models ever made.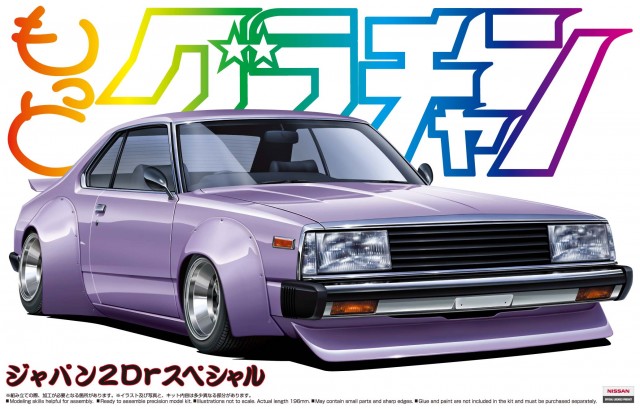 The groundbreaking series were the first kits to ever offer fully customizable suspensions that ranged anywhere from stock height to demon camber.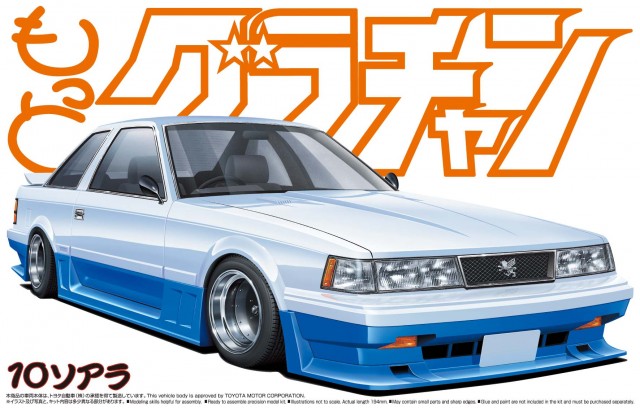 Whereas most other model kit manufacturers were serving up race cars with the racing mods molded into the bodies, Aoshima kits were of the three-in-one style. You could build the kit as bone stock, mild street fighter, or insane bosozoku chariot.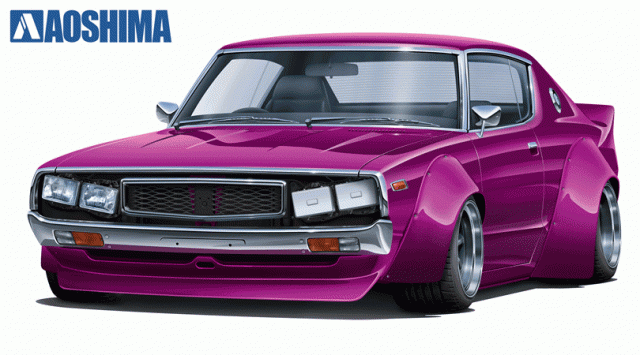 The kits would come with multiple sets of the key parts to make these changes. There'd be three sets of wheels, multiple grilles, and even varied headlights if you wanted to go for the zokusha cat's eye look. Aero items like spoilers, flares and air dams were separate pieces so you could customize the car exactly as if it was real.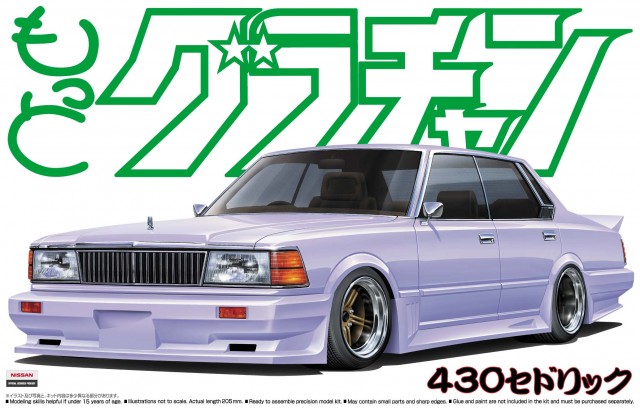 Most astoundingly, these kits were motorized! Unlike most motorized toys, the rear axles were two separate pieces to allow for excessive oni-kyan. Moreover, Aoshima's motorized kits featured full interiors rather than shallow floorpans to make space for the running gear.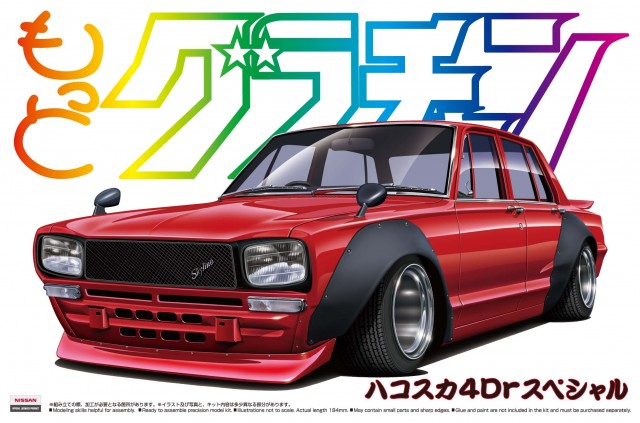 The original lineup of eight cars includes several of the most popular shakotan cars of the era — Skyline Japan, Celica Liftback, C130 Laurel, kenmeri two-door, kenmeri four-door, hakosuka sedan, 330 Cedric, and X40 Toyota Mark II two-door.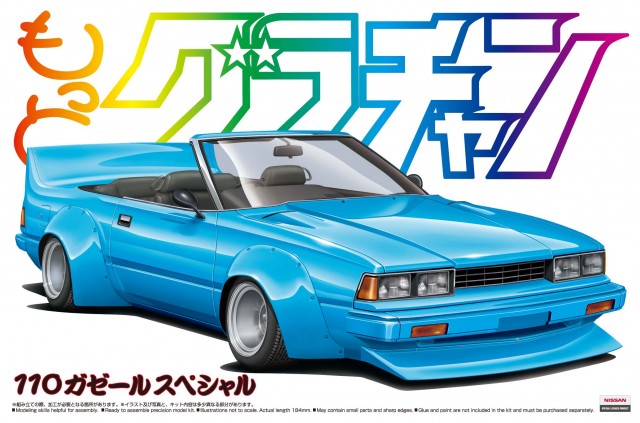 The original kits are rare today, but if you're jonesing for an Aoshima zokusha kit of your own you're in luck. In 2008 Aoshima began re-releasing many of these kits. New models were incorporated into this Gurachan series, and wouldn't you know it, you've been looking at the updated box art throughout this article.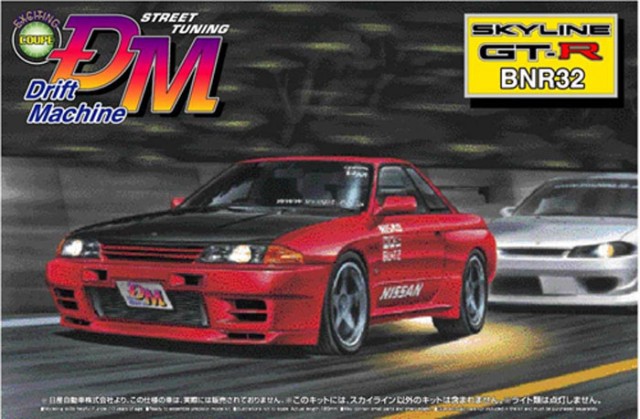 Since those orignal shakotan cars, Aoshima has expanded its scope to cover all manner of Japanese car culture — VIP sedans, drift machines, motorcycles, off-roaders, sports cars from Japan's 90s Renaissance, and even cars from Japanese TV shows like Seibu Keisatsu or Guerilla Group 8.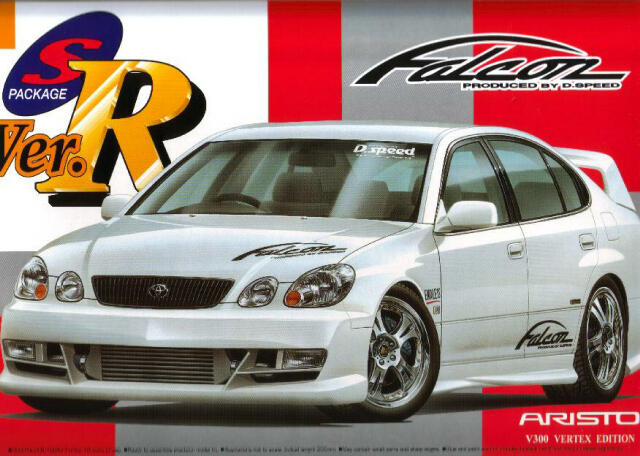 The detail on Aoshima's kits are second to none. Even the optional wheels, like SSR and RS-Watanabe, are real, and body kits from the most obscure tuners have been immortalized in 1:24 plastic. Not only are they fun to build, but Aoshima kits are like a history lesson for the dedicated aficionado of Japanese cars.
For more Aoshima box art, check out Aoshima's official Facebook page, their official website and the gallery below.