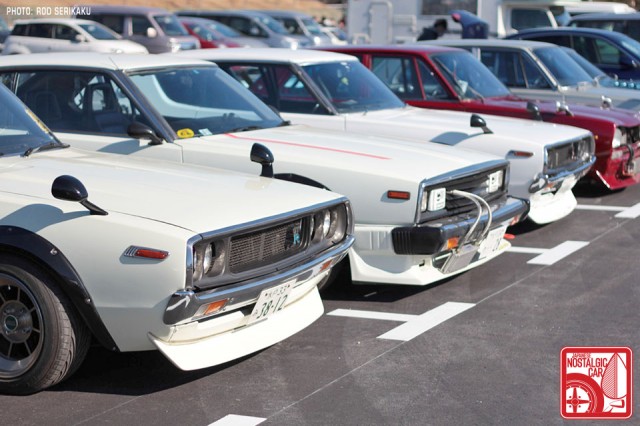 We sure feasted our eyes on beautiful examples of Nihon steel in Parts 01 and 02 of our 2013 New Year Meeting coverage. The real show, however, is in the spectator parking area, which is packed full of shakotan sleds and kaido racers too scandalous for the event itself.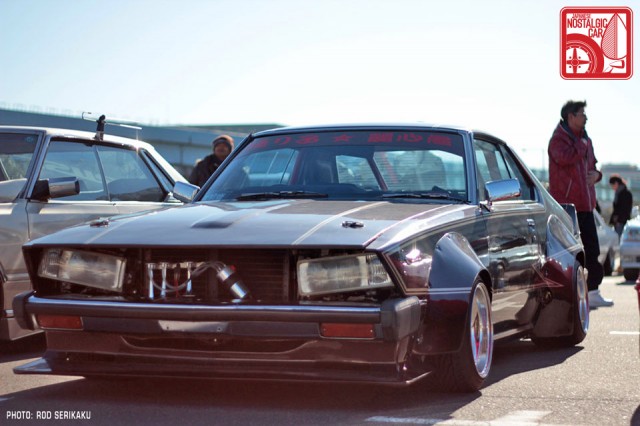 Like it or leave it, this is real Japan tuning, or at least a form of it. With its sharknose, nekome (cat's eyes) and ultra-deep barrels and this C210 Skyline may look extreme, but in terms of bosozoku style this is fairly mid-range.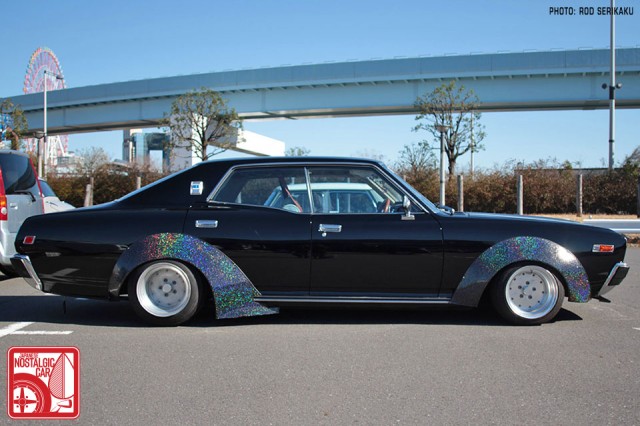 Bubble flares are a recurring theme, but they fit some cars better than others. A Gloria probably isn't the ideal candidate for them considering the rear doors will never open again without shattering all that gorgeous metal flake.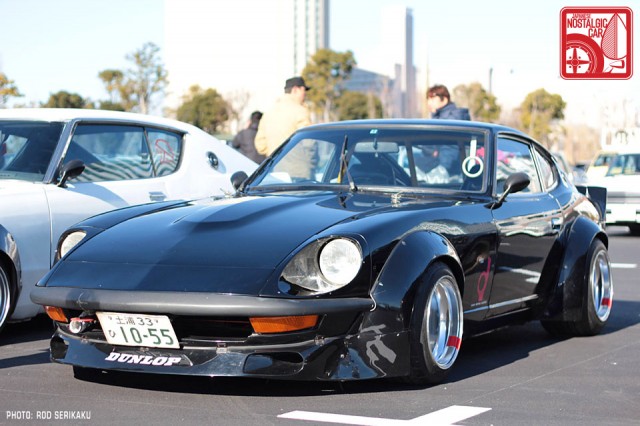 On the other hand, A jet black roadgoing tribute to Haruhito Yanagida's Fairlady 240ZG will strike sheer terror into the heart of poor souls who encounter it on the Wangan.  Seventies Japanese race cars served as the inspiration for most of the zokusha style.
This hakosuka sedan may sport similar flares to the Gloria sled above, but it exudes a racier feel overall thanks to its oil cooler, racing mirrors, and bumper delete.
Here's a nice, red, Eighties wedge. The squared-off flares found on US-market P-type Toyota Supras were not available on Japan-market Celica XXs No matter, just substitute your own.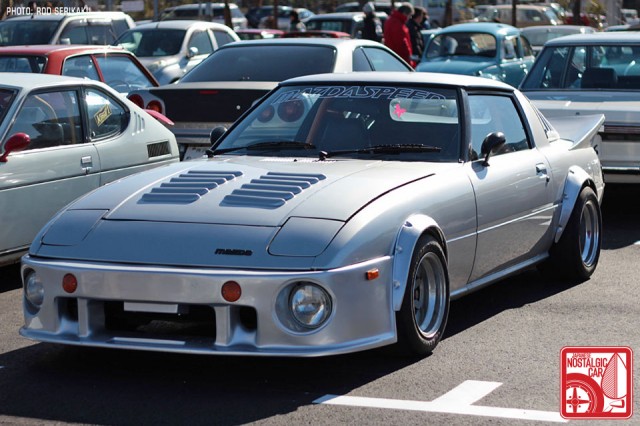 This may not be the prettiest Savanna we've ever seen, but it does exhibit some custom features unique to the RX-7 that would appear out of place on any other car: rows of hood louvers and a large wing inspired by IMSA SA22s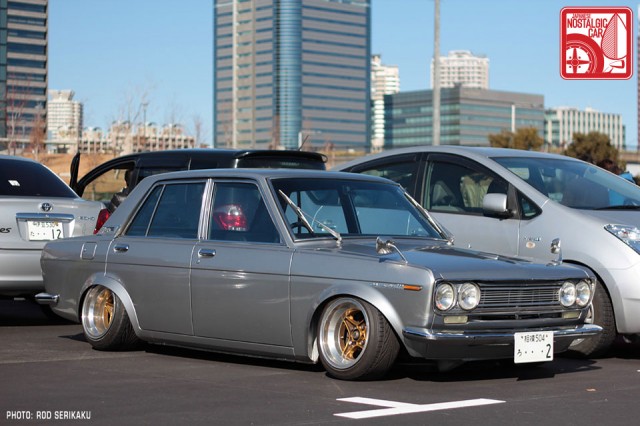 One does not need massive bolt-ons. A set of integrated bulges can still provide a too-aggressive fitment for a 510 Bluebird. What would Jay Leno think about this shakotan 510 and its shiny gold Racing Harts?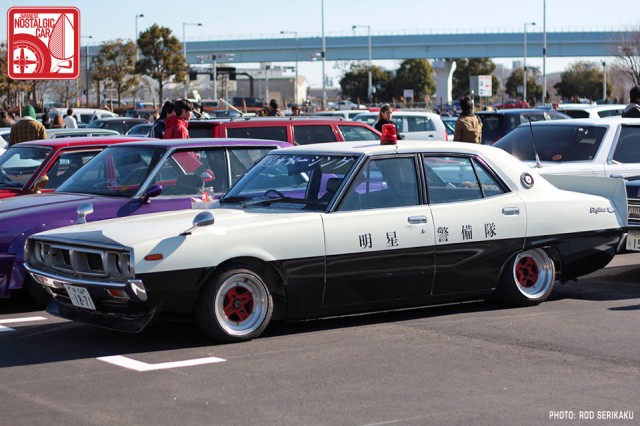 At first glance we thought this might be the Shakotan Police cruiser we saw last year, but upon closer inspection it lacks the flares and nekome, the spoiler is an integrated piece instead of the hakosuka wing, and it sports a single Seibu Keistatsu dome light instead of a light bar. That means Japan has at least two slammed yonmeri in patrol car guise. Which one would you rather get pulled over by?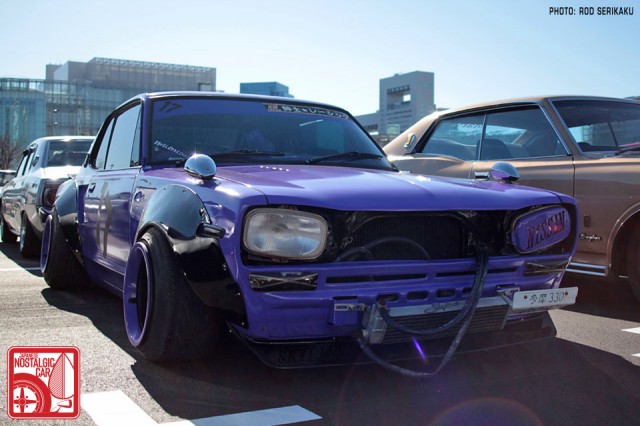 This people eater hako appears to be the same one we saw and loved nearly two years ago, except now the flares are black and the barrels are purple. Both are absolutely bonkers in the most glorious way possible, but the former look feels more old school.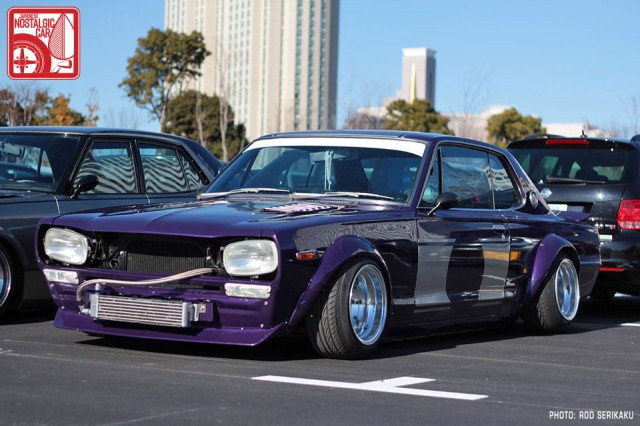 Like the cop car, one purple hako is simply not enough. Polished barrels rather than lavender painted ones make a world of difference when it comes to old versus new school look.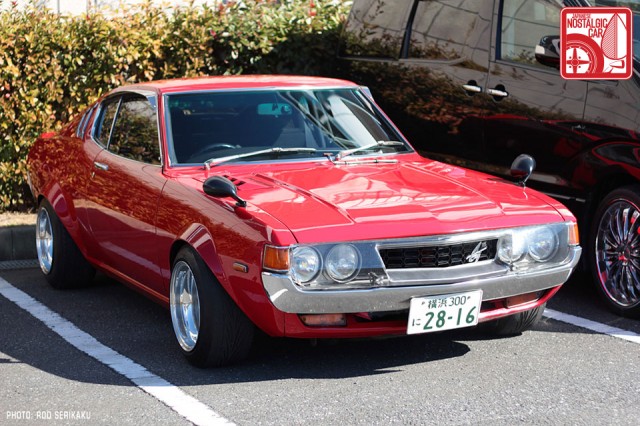 If all this talk of flares and slammedness have your head spinning, perhaps a mildly widened Celica Liftback will calm your nerves. It's a shame we were denied the smiley bumper version stateside.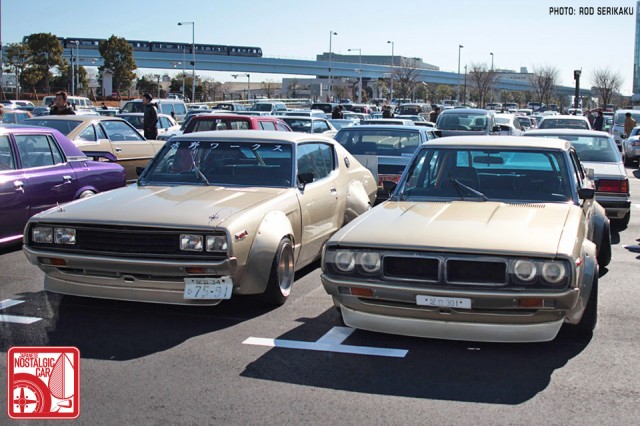 On the second day of Christmas my true love gave to me, two golden Skylines and a shako in a nashi tree.
It's cool to see team members rocking the same theme and paint job, but upon closer inspection there are still differences. We're not quite sure what to make of the hardtop, as its square headlights and bolt-on bubble don't quite lend themselves to the kenmeri's natural lines. Then again, that's probably the point.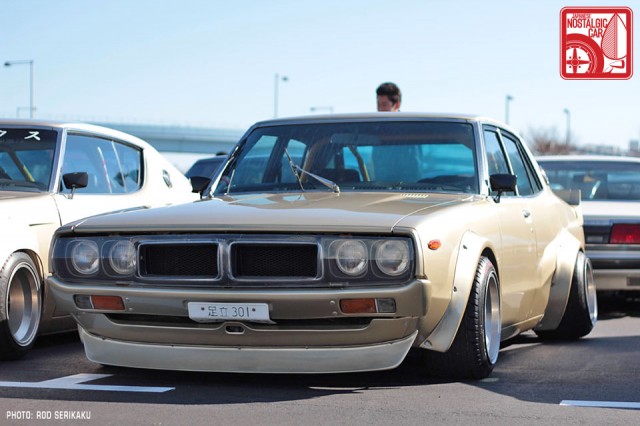 A closer look at the yonmeri reveals it's the more tame of the two. It would probably still look wildly modified at a show like the JCCS but after what we've seen today it seemed positively sedate.
Don't be mistaken. The average kyuusha in Japan does not in fact have flares that could double as a canoe. Plenty of straight up street machines exist, like this gamera-face Laurel sedan. However, we do think the more polarizing elements of zokusha style are coming to the west. Just wait and see.
We have more to come, but in case you missed it, here's Part 01 and 02 of JNC's New Year Meeting coverage.
Rod Serikaku is a photographer living in Japan and founder of AutoNGraphic. Skorj is a photographer living in Japan and is co-founder of Filmwasters.