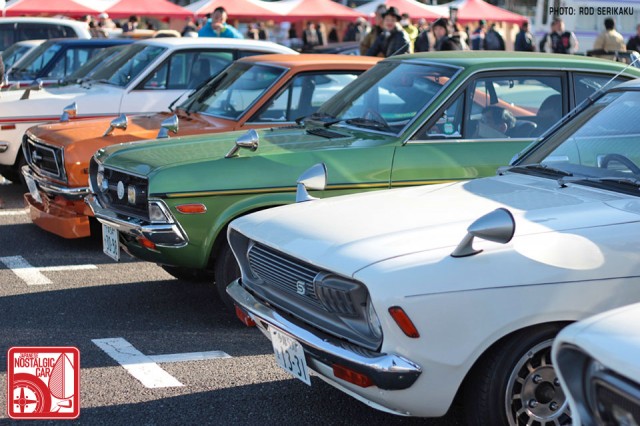 In Part 01 of our 2013 New Year Meeting coverage, our photogs arrived on the scene in Odaiba, Tokyo. Nihon steel was shot, the swap meets was perused, and legends of Japanese motoring were admired. We see no reason not to continue with formula, stat.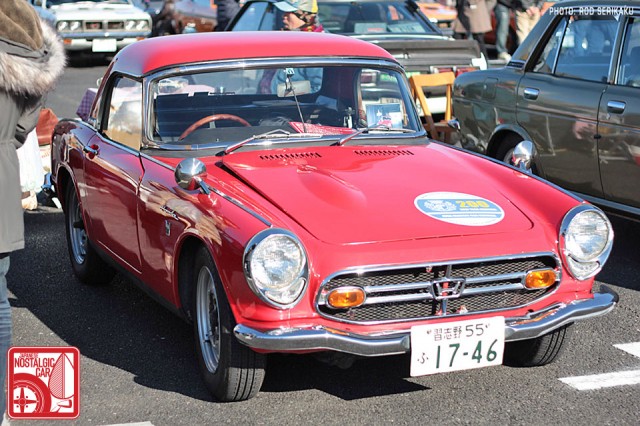 Let's begin with one of Japan's most impressive cars from the 1960s, the Honda S800. Sure, 2000GTs and Skylines are rocketing up in value, but collectors should not overlook Old Man Soichiro's engineering masterpiece. That optional hard top is a rare bit of kit too.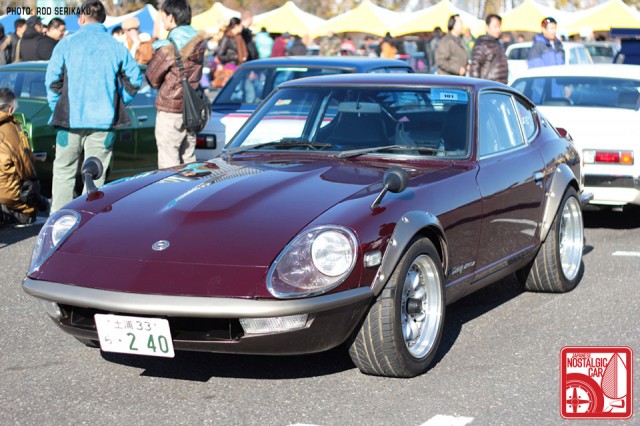 We're not completely sold on the big diameter Panasports on this G-nosed Fairlady Z, but the car itself, especially in Grand Prix Maroon, is undoubtedly gorgeous. Smaller wheels with lower profile tires would give it that truly shakotan look Japan is known for.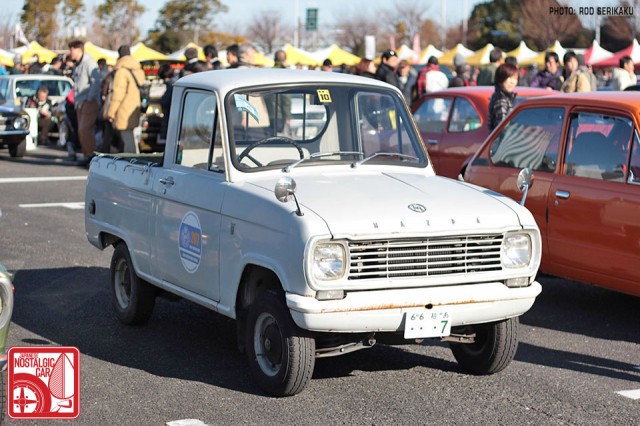 We're always pleased to see a workhorse pickup, especially of the kei variety, that's survived multiple decades. The Mazda Porter may not have a whole lot of zoom-zoom, but it's freakin' adorable.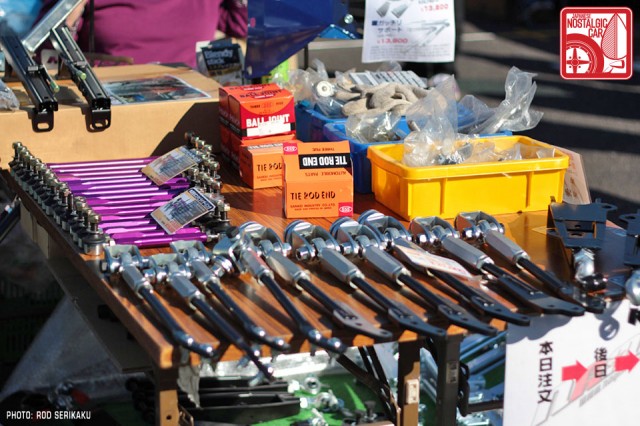 The swap meet revealed more Heim joint suspension bits for sale, alongside some NOS old school 555 brand tie rod ends.
The Toyota experts at Team Wizard always make a showing at the Meeting. We're not one for body-colored bumpers when you could have glorious chrome, but we wouldn't kick this one out of the garage, as it undoubtedly has a rare twin-cam beneath the bonnet.
Less is more when it comes to the Nissan Cedric Special Six. Its clean lines and tidy proportions can only be compared to the S50 Crowns of similar vintage, but Ceddys are far less common. We'd love to see Mooneyes put their trademark touch on a few of these, perhaps with RB power under the hood.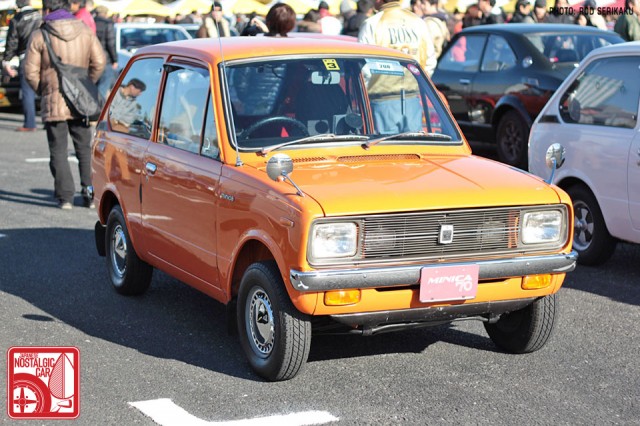 It's not every day you see a car named after its model year, but here's a Mitsubishi Minica 70, a hip kei jidosha for the new decade.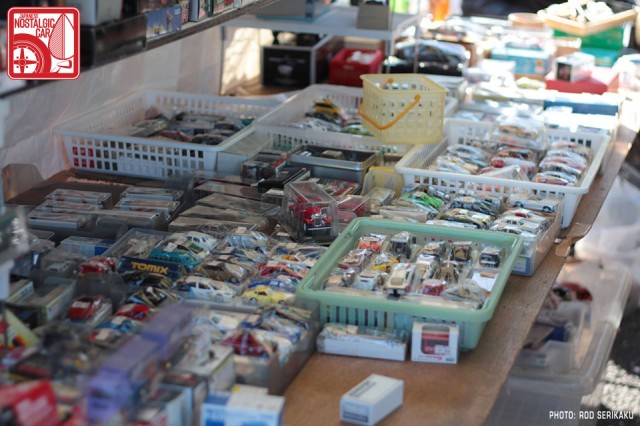 Minicas, however, are not to be confused with minicars, the Japanese word for automotive toys and collectibles, which, incidentally, can be found by the bucketload at the show's swap meet section. Warning: do not approach with full wallet.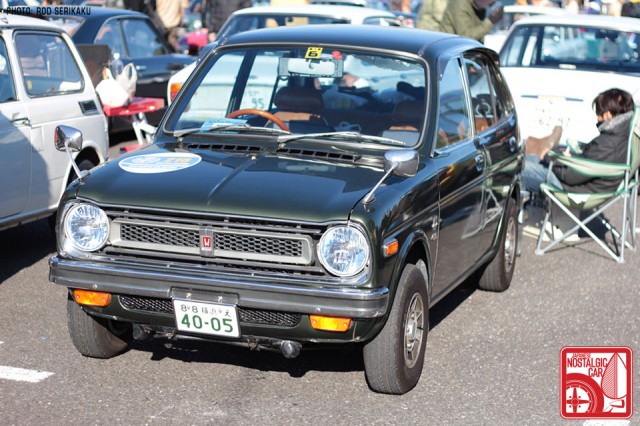 Automakers loved naming their kei cars after ideas that reflected Japan's optimism of the 60s and 70s. The Honda Life presumably allowed you to live yours to the fullest by giving you the freedom to go anywhere. Missed tagline opportunity: Get a Life!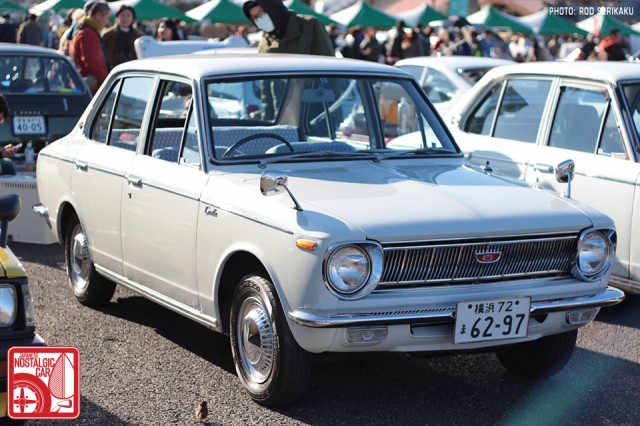 It's somehow reassuring to know that a plain-jane KE10 Corolla sedan exists out there, exactly as it was when it left the showroom floor. We have nothing against TE27s and AE86s, but the Corolla is still Toyota's bread and butter car, and this is where it all started.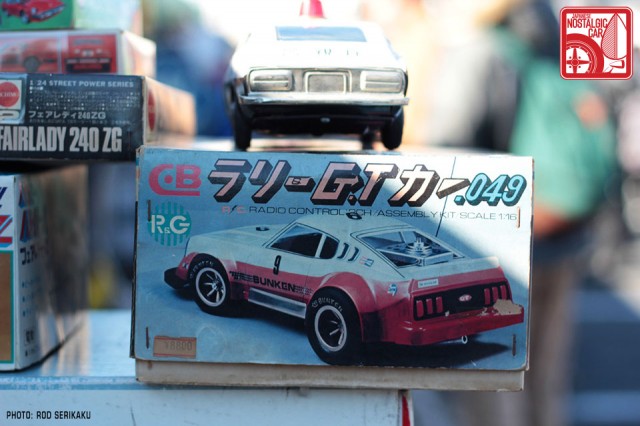 More toys from the swap meet include an R/C Toyota Celica Liftback and a tin S30 Fairlady Z police car. Japanese tin toys have been collectible long before actual Japanese cars, so this one is probably worth a least a couple hundred bucks.
There seem to be a lot of crazy Toyota Hilux builds going on these days. Remember Scott Kanemura's and Hugo Saaverdra's from JCCS?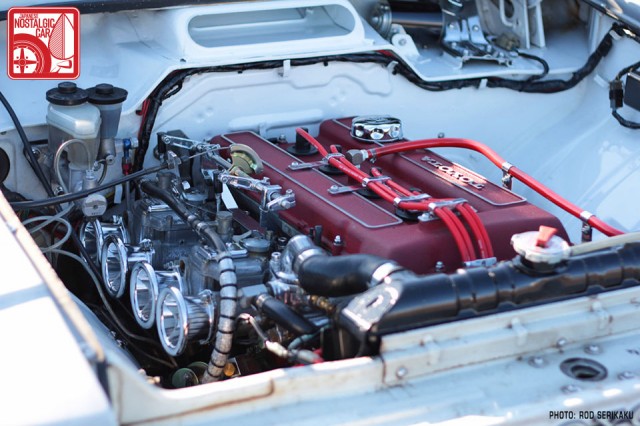 This particular warlord commuter special is powered by a beautiful 18R-G. The red wrinkle finish on the valve cover is a particularly nice touch, and we dig it when the engine is shinier than the body.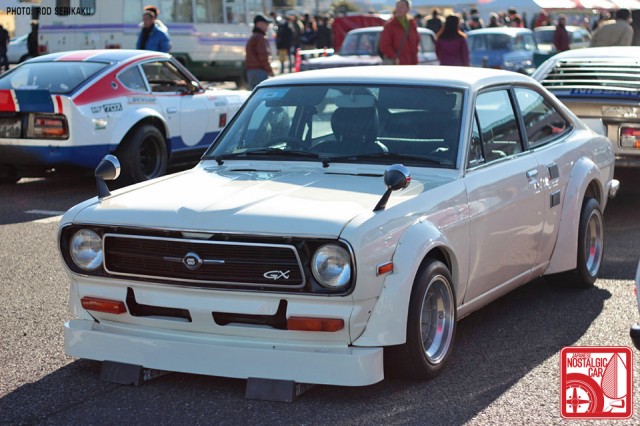 Classic TRD racing wheels are a popular mod for B110 Sunnys undergoing transformation into TS-Cup trim. This car looks almost too clean to be modified, but it looks like the work's already begun.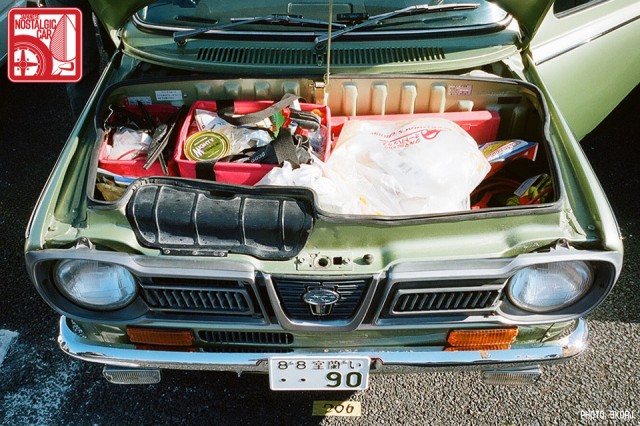 It's not often we get to peek under the "hood" of a Subaru R-2 kei car. No, that's not a storage compartment above a tiny flat four, but the trunk itself. The car is rear-engined like the Subaru 360.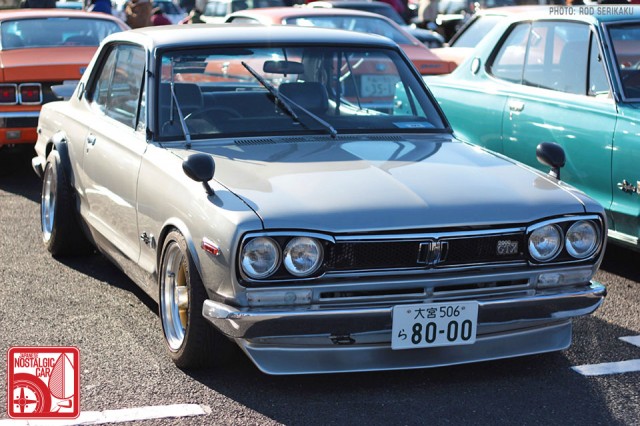 If you like hakosuka GT-R clones, any classic car show in Japan's got you covered. Most of them start out as lesser-spec cars, and we kind of miss seeing them. That's probably why this one, complete with original GT-X badges and grille, caught our eye.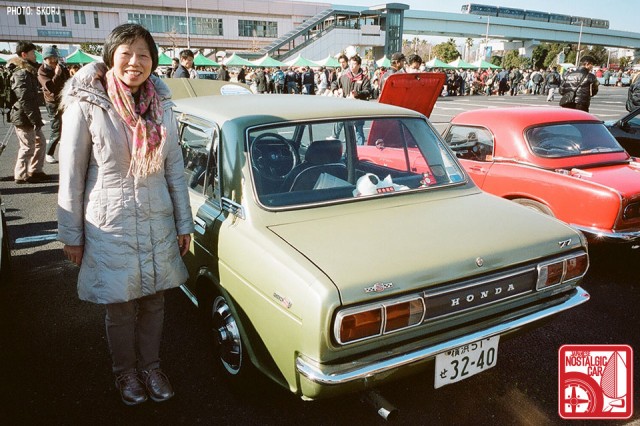 This happy lady is the original owner of this well kept Honda 1300 77S sedan. You have our respect for keeping the car for so long, ma'am!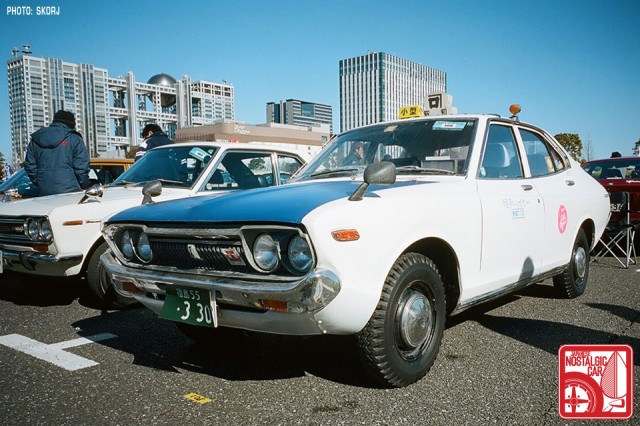 We love this well-worn taxi-spec Nissan Violet. Its knobby tires and business-related add-ons ooze nostalgia. The white-on-green license plate is correct for commercial vehicles, but the grille badge is from Sendai Railways, perhaps an inside joke we don't get.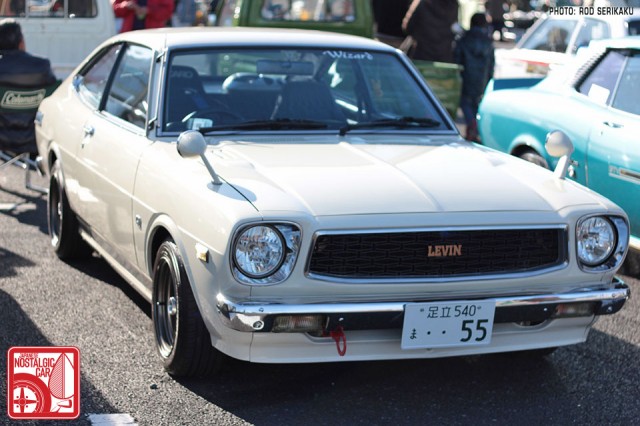 The Team Wizard TE55 was one of our favorites of the show. Even in Japan, Corolla Levins that are not TE27s or AE86s are not as common as one would think. Though we could have done without the painted mirrors, this example is the perfect shade of nostalgic off-white.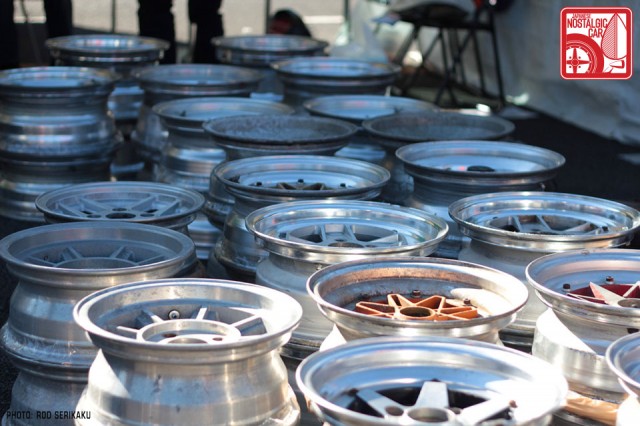 For wheel hoarders, this last image is straight up pornographic — a selection of vintage barrels from New Year Meeting swap meet.
We have much more to come, but in case you missed it, here's Part 01 of JNC's New Year Meeting coverage.
Rod Serikaku is a photographer and founder of AutoNGraphic. Skorj is a photographer and co-founder of Filmwasters.