Held in the historic Little Tokyo district of Los Angeles, Nisei Week is an annual festival for Japanese Americans dating back to 1934. The Nisei Showoff custom car show, launched during the height of the import tuning craze, is now a big part of that tradition.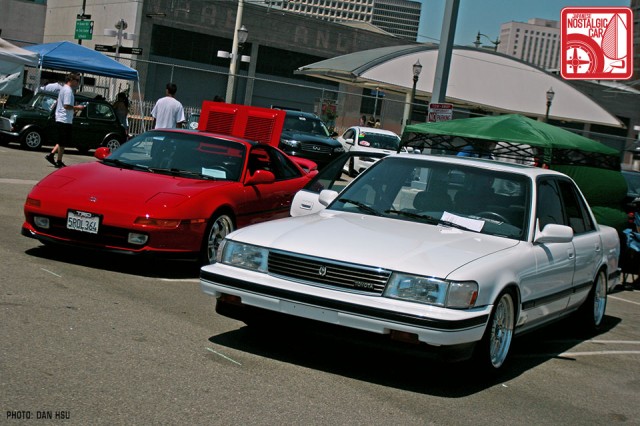 Nisei is Japanese for "second generation." That's second-generation people, not cars. Though nisei technically applies to those born in America to immigrant parents, in this case the word's an umbrella term comprising sansei, yonsei, and beyond. Derek Takeshita's mint MX83 Cressida was passed down to him by his grandfather. Now what was once "Your Father's Toyota" is a shakotan sled.
Back when Nisei Showoff began back in 2000, Janet Fujimoto and Duane Tomono's cherry 1993 MR2 Turbo was likely to be the kinds of car one would see at the event.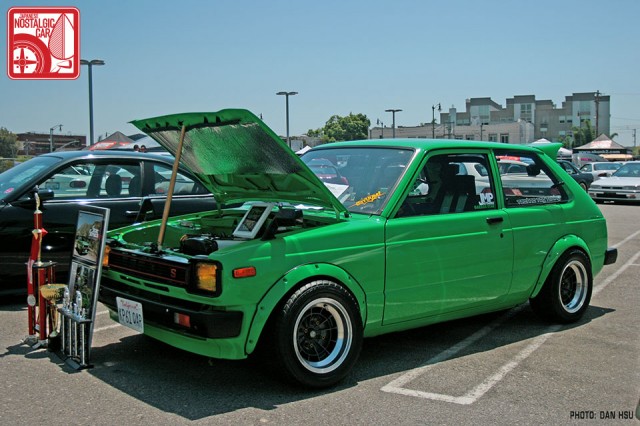 Now, ironically, even though it's 12 years later, there's more old school cars than ever. The show welcomes cars owned by anyone, Japanese American or not. With its wild color and TOSCO wheels Noriel Cruz's KP61 Starlet is more Filipino than nisei style.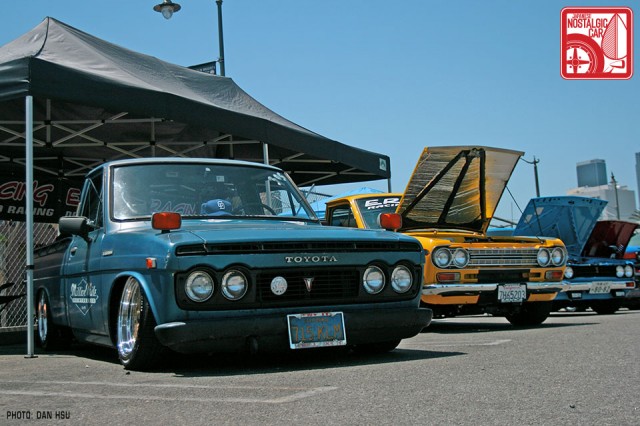 There's something about cars in the Japanese blood. Long before anyone in the US even knew Japan made cars, the 1953 Hirohata Merc kicked off the entire chopped lead sled craze. In the 60s a typical nisei petrolhead would be sporting a raked muscle car; in the 70s a V8 Vega. You can still see examples of Detroit Iron at Nisei Showoff, but once Datsuns, Toyotas and Mazdas came along the scene was forever changed.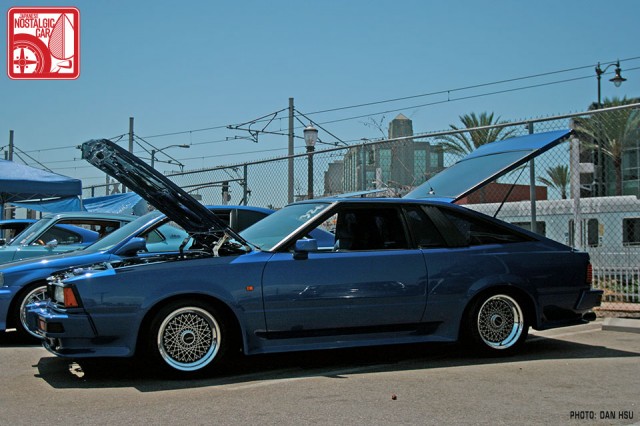 Michael Samehima's Datsun 200SX is the epitome of what a period-correct nisei ride looked like back in the day. The more exotic, ninja-star rims were simply not available in the pre-internet US, so a choice wheel would be an Epsilon mesh. Before the concept of JDM was invented, USDM bumpers, engine and mirrors were kept as is. The trim would be blacked out and a crankin' stereo installed in the trunk.
Nowadays, the nisei style cars have given way to more authentic JDM style cars. Or in the case of this 610 Bluebird, an actual RHD car from Japan, complete with fender mirrors, skinny bumpers and Wats.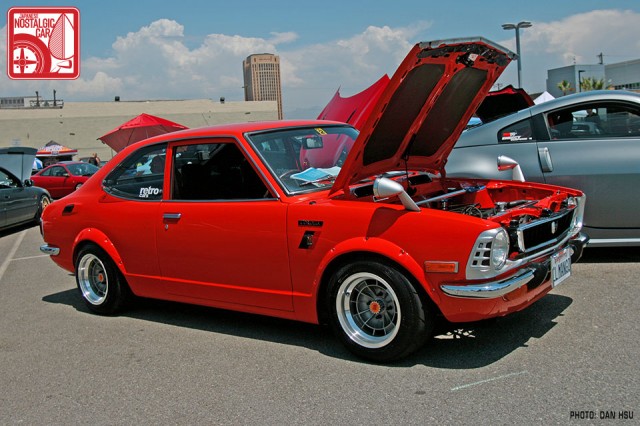 We saw Mike Muniz's TE27 earlier this year car at Toyotafest, it's looking much cleaner with its '69 Boss 302 Shinoda Stripes removed. Interesting side note: Larry Shinoda, father of the Boss Mustang, incidentally, was nisei.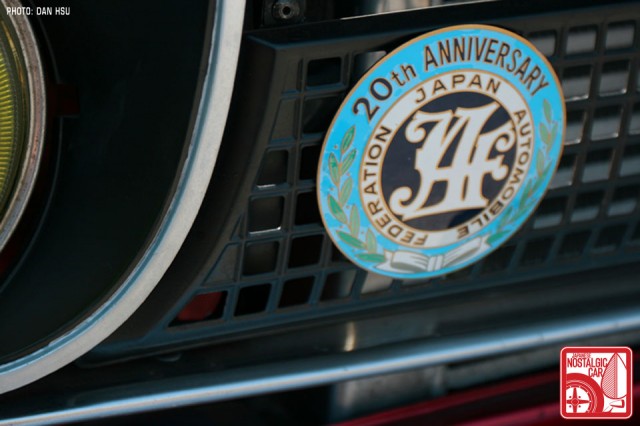 So early nisei cars actually looked more American than Japanese. It was really the 90s import movement that mainstreamed the idea of JDM. Then import fans began accumulating all sorts of cool Nihon goodies like this 20th Anniversary JAF badge.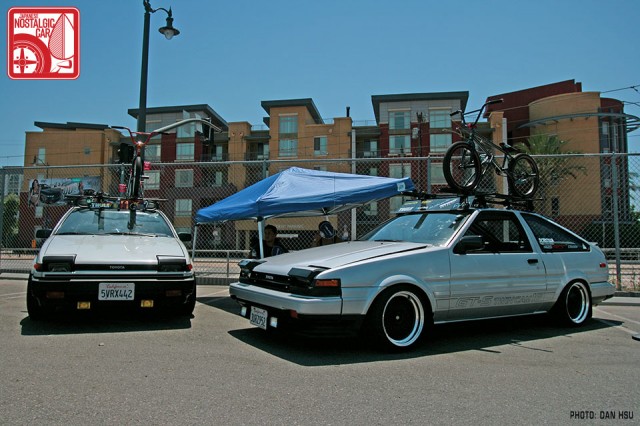 Nisei Week is all about family, and it was good to see a father-and-son team bring out a pair of matching hachiroku. Father Robert Rosales drives the zenki GT-S hatch while son Eric rocks a clean SR-5 automatic. Yes an automatic. But it's still cool.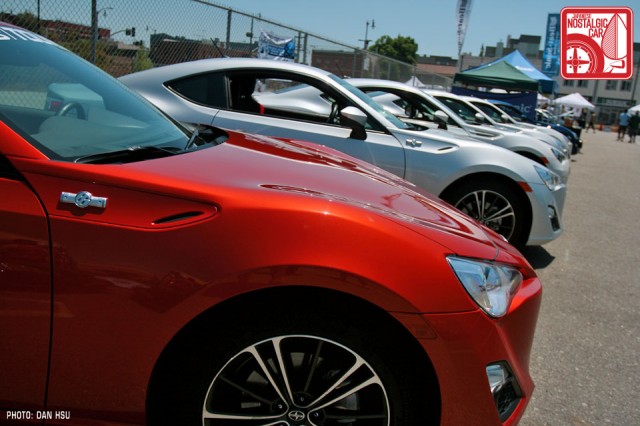 A strong showing of Scion FR-S and Subaru BRZ was expected, and it was good to see the next generation of Japanese sport coupes continue the tradition. What will the cars at Nisei Week 2024 look like?
For more photos from Nisei Week, peep the gallery below and stay tuned for Part 02.