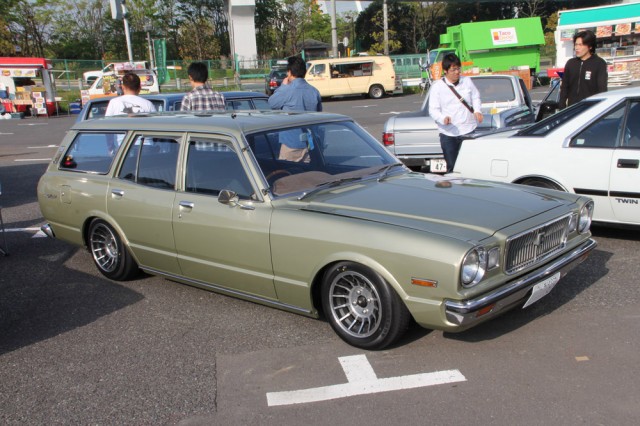 There's a special place in the Japanese heart for wagons. Sure, they're loved in America now, but over there in Japan they were always cool. At the Mooneyes Street Car Nationals, where sports cars and two-doors are the exception, not the rule, wagons are practically a way of life. We certainly could be happy with this Toyota Mark II (or a similar Cressida) as our only car for eternity, as long as it was also finished in metallic avocado. In no universe would Appliance Turbo-Vecs be our first wheel choice, but they somehow fit nicely on this goon.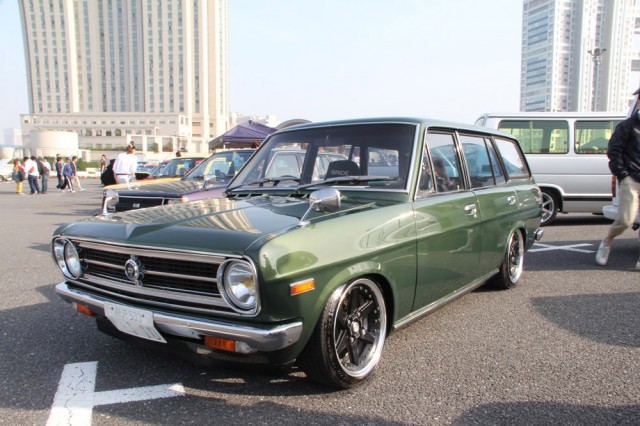 Any green this side of lime looks good on a chrome-bumpered machine, and small RWD wagons are an extinct breed nowadays. John would probably hand over anatomy for this B110 Sunny.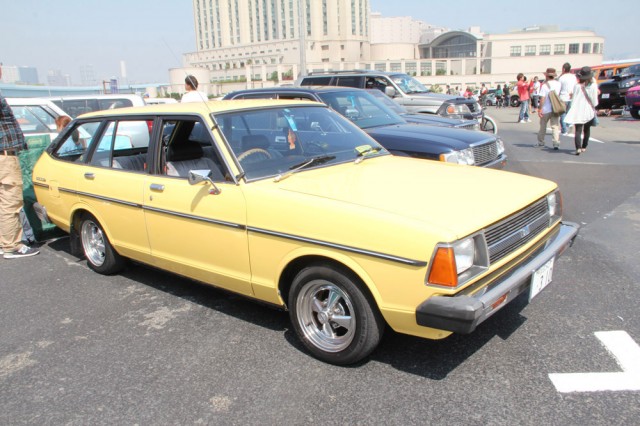 If you've been following our previous installments then you know that SCN goers have a penchant for Amesha style. Here's a 310 Sunny rocking what appears to be a four-spoke variation on the Cragar SS. Convert it to a California Shooting Brake and you could clean up the SCN award show.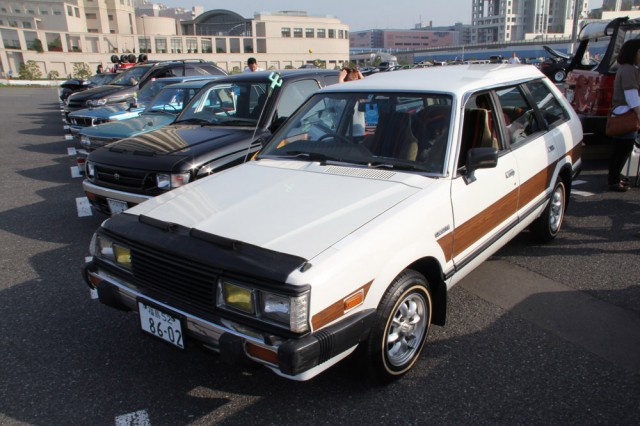 Students of amesha style believe faux wood-grain paneling is a distinctly American thing, and anything wearing it is instantly rendered cooler by a factor of 10. A Subaru Leone wagon's a rare sight already, but peep the high-roof bulge. A similar Subie was once the official car of the US Olympic ski team and would've looked right at home in Nagano.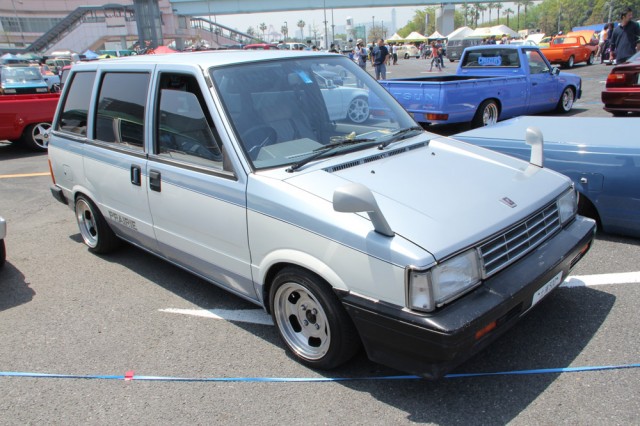 It's been a dream of ours to slam one of the most awkwardly top-heavy looking goons in automotive history. Americans may remember the M10 Prairie as the Nissan Stanza Wagon, or perhaps not at all. We can't recall the last time we saw one on the road. On a side note, Japanese designers always manage to come up with the best two-tone color combos.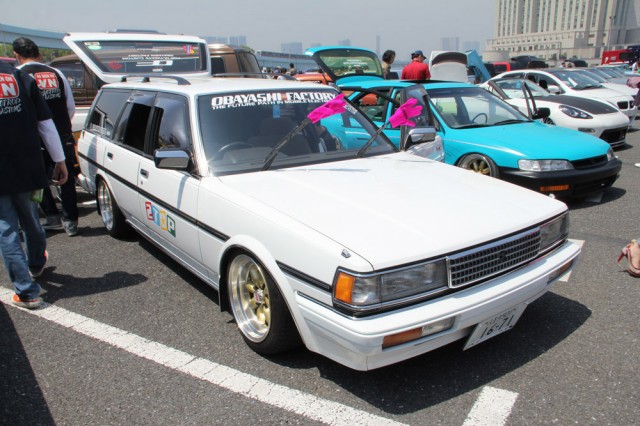 The ma-van (Mark II van) is a staple of Japanese motoring, serving every function from delivery vehicle to drag racer. Judging by the Obayashi Factory decals this one is probably a noise polluter; the vast rear cargo area can fit a pretty big subwoofer.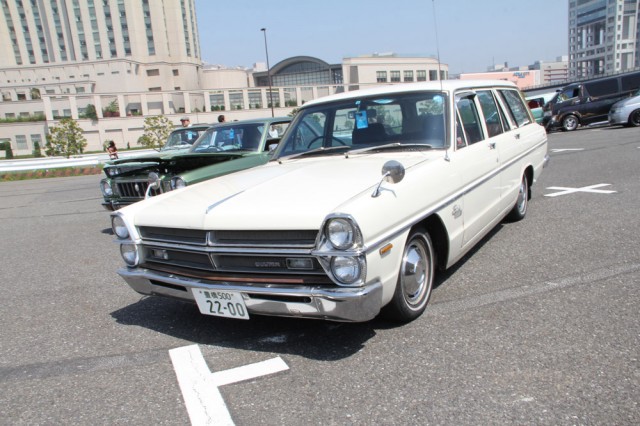 When shakotan'ed the angular lines and cross-hair grille of the tateguro look ultra-menacing. A Gloria goon means even more straight edges and sharp corners, and is quite possibly more menacing than its sedan counterpart.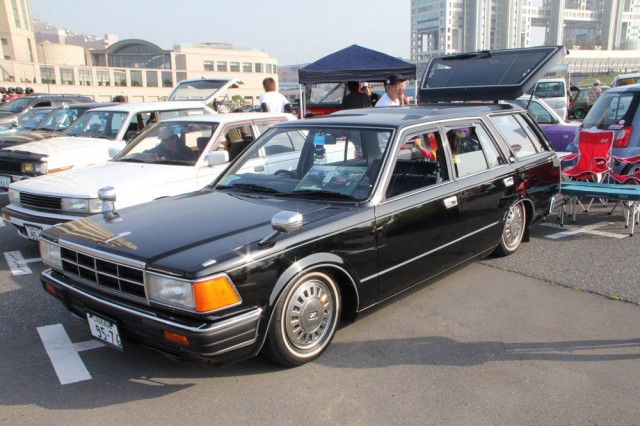 After the Prince–Nissan merger, the Gloria and Cedric were combined into a single lineup sold through two different Nissan dealer channels. The seventh-gen Y30 debuted in 1983, but after the hardtop and sedan were discontinued the wagon/van soldiered on in all its boxy glory until 1999 thanks to demand from delivery companies.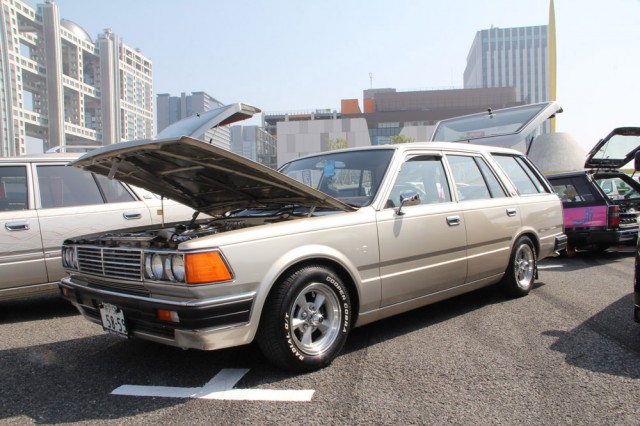 Its ubiquity combined with old looks made it a common platform for amesha hot rodders, despite the fact that it was never sold in the US. Naturally, to complete the look one must equip with American wheels and American tires — in this case Cooper Cobras (imported by Mooneyes) wrapped around Torq Thrusts.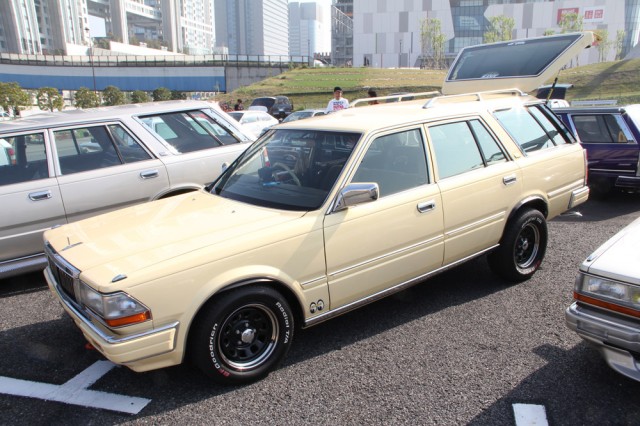 But what if BF Goodrich radials and Diamond Racing steelies aren't enough Americana? Additional cred can be garned by raking your ride, funny car style.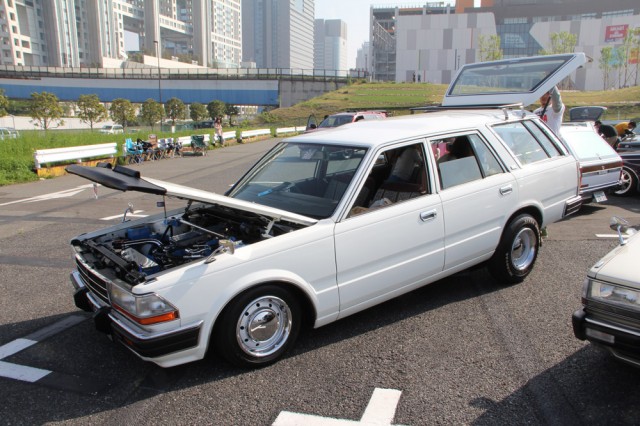 In fact, there's a whole subculture of massively raked cedoglos, influenced by Team Madonna, who makes these goons look positively subtle in comparison.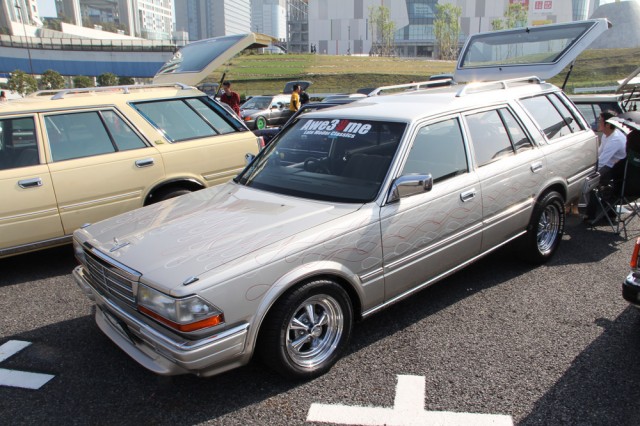 Tall sidewalls and strong rake are the antithesis of typical Japanese shakotan style, but strange things can happen when one views American culture seen from an ocean away.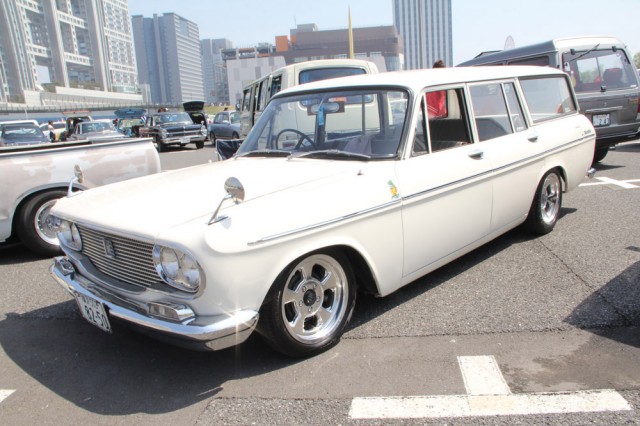 The Cedric/Gloria's natural enemy is the Toyota Crown, and there's certainly no shortage of those at any Mooneyes event. Crown Classics is an important segment of the Mooneyes empire, and has been responsible for saving a good number of these iconic Japanese sleds.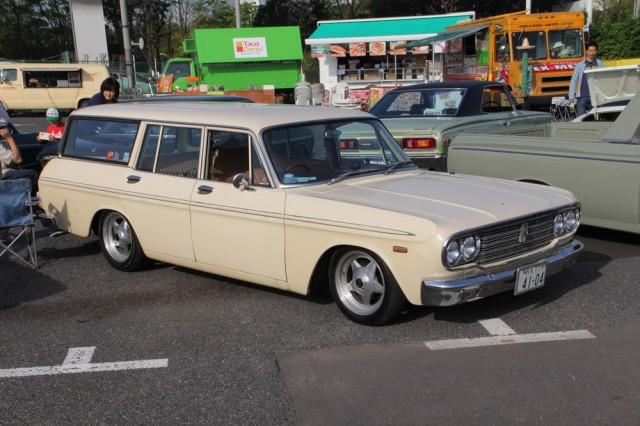 S40 wagons simply ooze style. Just a simple drop and you're ready to ride. Check the artful door handles, which sadly did not get passed on to subsequent generations.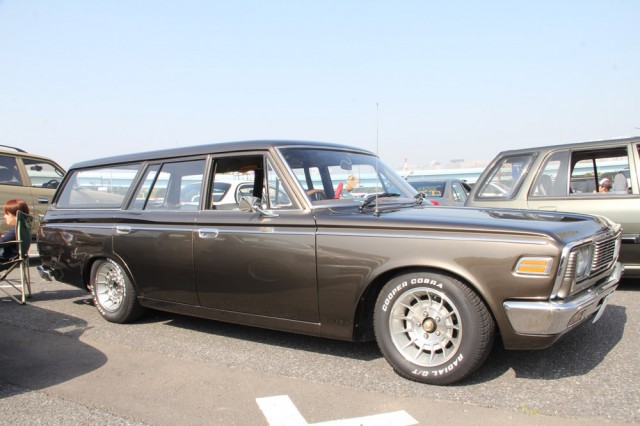 The S50 Crown was a bit more staid in the styling department, but a handsome longroof all the same. Beneath those Cooper Cobras are reproduction Enkei Bajas with fitment for Crowns, which Mooneyes commissioned a few years ago.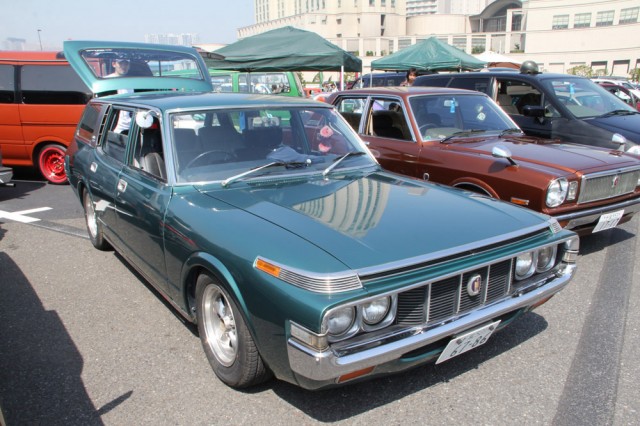 Crown styling really went off the deep end with the S60 kujira, a move that ceded the market to Nissan's Cedric and Gloria twins back in 1972. Today its space-age styling, especially the wagon's UFO rear end, seems charmingly retro-futuristic.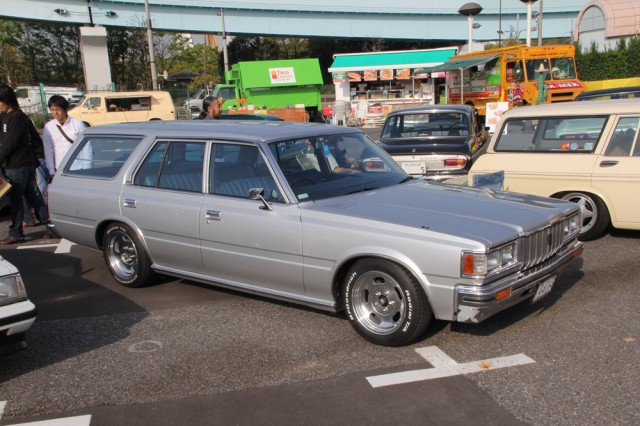 The S110 Crown is entirely too under-appreciated. It makes a strong argument for boxy being beautiful, especially zenki versions with their reverse waterfall grilles. Perhaps it's a good thing that these were never imported to the US, because we'd trade in our MX72 in a heartbeat.
Behold the glory of the vista roof! That feature alone makes the S120 Crown a lustworthy machine.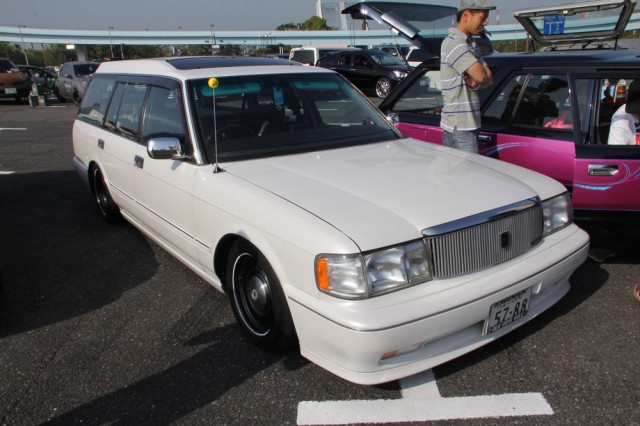 Seeing all these wagons fills us with uncalled-for amounts of joy, but in the end muscle car wheels and white-lettered tires don't really twist our knobs. That's why we dig this S130 Crown goon, because despite its 90s-era newness all you really need is a drop, hubcaps and all.
In fact, this Prince Skyline Van was our second favorite of the show. It might not be the slickest goon in the group, but in its faded service colors it's like a little slice of Japanese life preserved in the modern age.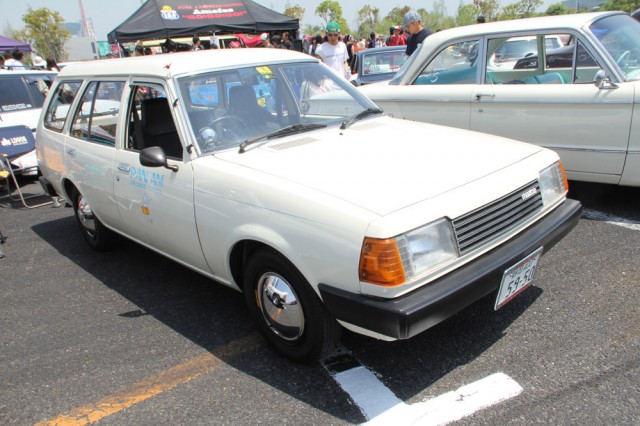 Our top pick, however, was this Mazda Familia once employed by the now-defunct Pan-Am Airlines. Just imagine seeing this little white workhorse trundling alongside the runways, your first glimpse of Japan as the 747 comes in for a landing at Narita. We don't know what inspired the owner to preserve this airline service van, but it pushes all the right nostalgia buttons.
There's more coverage of the 2012 Mooneyes Street Car Nationals to come so stay tuned, but in case you missed it here's the coupes, utes and sedans.
Photos courtesy of MQQNEYES.