Since it's Easter this weekend, let's talk about resurrection. It wasn't too long ago that Japanese cars were considered disposable and unworthy of restoration. In our opinion, that only makes you crazy JNCers even more heroic when you put your blood, sweat, tears and hard-earned money into a restoration knowing full well that mainstream auto enthusiasts will assign it less value than a '69 Camaro.
What's the most impressive JNC restoration job you've seen?
The photo on the above left was Patrick Ng's TE27 when he first acquired it from Antonio Alvendia of MotorMavens fame. It's now a SEMA show car and JCCS Best of Show winner. We know there are similarly jaw dropping builds out there.
What say you, dear reader? As always, the most entertaining or inspiring comment by next Monday will receive a toy. Click through to see the winner from last week's question, "If you could have one JNC as your only car, what would it be?"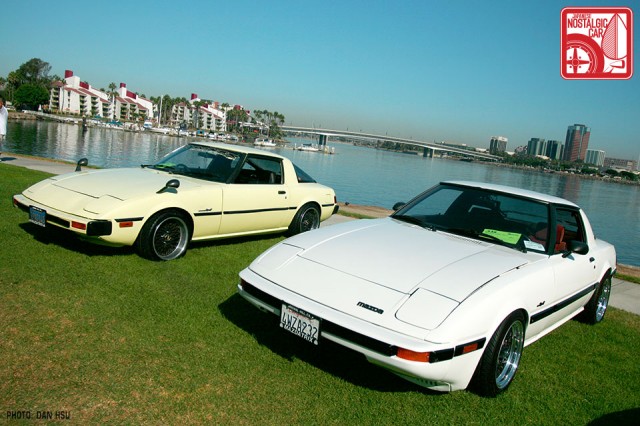 This week's winner was Danny, who declared the following manifesto in favor of the Mazda RX-7. If William Wallace had delivered this rousing speech while charging into battle in a rotary-powered Maz, King Edward I would have been the one lying on the quartering table at the end.
If I had to live with just one JNC, I'd move somewhere that doesn't use salt on the roads and continue to drive my FB RX-7. The OMP works sporadically at best so that I have to run premix, the header-back exhaust is noticeably loud with that unmistakable chainsaw 12A wail, and the Mikuni sidedraft (soon to be Weber IDA) is notoriously cold-blooded, but practicality is for suckers!

For every Camcord/Kia Sorrento/(insert uninspiring commuter here) there is me, holding a heat gun to my intake runners while cursing the weather, and ripping through second gear as the neighborhood receives an audio-assault of Hiroshima Screamer soundtrack.

As JNCers we provide a public service, an audio-visual reminder to other drivers that they don't have to shuffled around in high belt-line electrical nanny sitting rooms on wheels. So next time you're frustrated that this is the 3rd time this year you've had to synchronize the carburetors on your triple Mikuni setup, just smile, because your neighbor drives a Ford Fusion, and we should all be so lucky as you.
Omedetou! Your inspiring comment has earned you a Hot Wheels Super Speeders mystery pack Mazda RX-7!