Last week's QotW broke records for having the most answers since we started doing our weekly polls. JNCers had opinions both plentiful and strong about the absolute worst mods that could be foisted upon classic cars. Well okay then, smarty pantses, what about the flip side?
What's the best mod you can make to a classic car?
We aren't opposed to mods, but whatever they are we hope they are reversible. Therefore we're going to go with a simple "low down sus" and a set of proper vintage barrels. Not only will this enhance the typical Japanese car's innate handling prowess, it also looks fantastic. No cutting of wires, sheetmetal or upholstery required.
What say you, dear reader? As always, the most entertaining or inspiring comment by next Monday will receive a toy. Click through to see the winner from last week's question, "What's the worst mod you can make to a classic car?"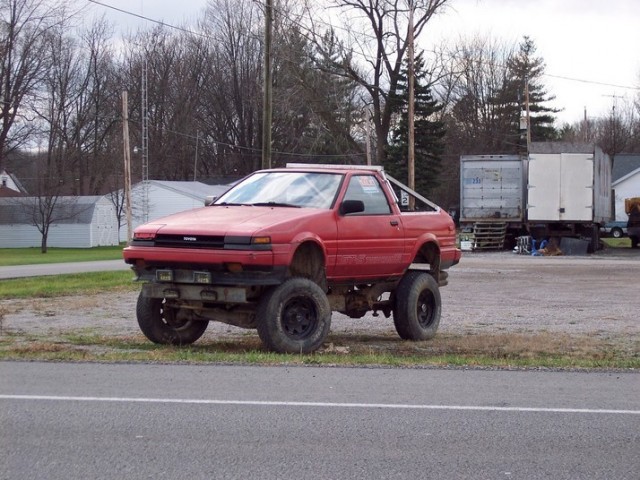 Though we had many decriers of irreversibility, sex-spec Aussie rotaries, or generally shoddy craftsmanship, this week's winner is Knoonz. Before you get your pitchforks out, the opinions expressed by the winner are do not necessarily reflect the opinions of the JNC staff blah blah blah you get the picture. We just really like the passion with which Knoonz spoke.
I'd have to say oversized wheels are close to the top of the list for me. There's no reason to put anything bigger than a 13/14/15″ wheel on a classic J car unless it won't clear the brakes. To me there's nothing cooler than fitting a set of 13s that are almost as wide as they are tall. After that it'd have to be swapping in modern engines. I get that people want reliable/powerful classics, but I feel like by ditching your carbed L24 for an SR20 you're really sucking the soul out of the car.
Omedetou! Your prize from the JNC gashapon is a Hot Wheels Super Speeders mystery pack Mazda RX-7!