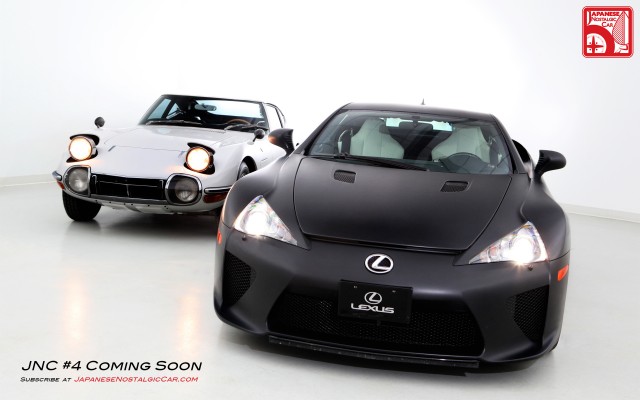 We got so much positive feedback from our behind-the-scenes teaser that we decided to treat you to a wallpaper while you wait for the full article in JNC #4. Seen here side-by-side for the first time, the 1967 Toyota 2000GT and 2010 Lexus LFA. Japan's true first supercar (despite what other car mags might tell you) and its earthshaking spiritual successor, separated by four and a half decades.
We knew the moment the LFA was announced that JNC readers would want to see it paired with a 2000GT. There was just one small problem. Only four highly sought-after LFAs existed in the entire world — one in Europe, two in Japan and this one, hidden away in Toyota's undisclosed and unmarked warehouse in Torrance.
But once we discovered at SEMA that we had a big JNC fan working at Lexus (apparently, standing around the LFA like idiots with a copy of JNC magazine has its rewards), we didn't hesitate to secure this epic photo shoot.
On the morning of, Toyota brought their prized 2000GT in an 18-wheel race trailer, even though its home at the Toyota USA Museum was just down the road. At the end of the day, however, both cars were hauled away. The LFA was headed for the auto show circuit, making this the only time all $700,000's worth of machinery would be together.
Enjoy the wallpaper!
widescreen 1920 x 1200
standard 1600 x 1200