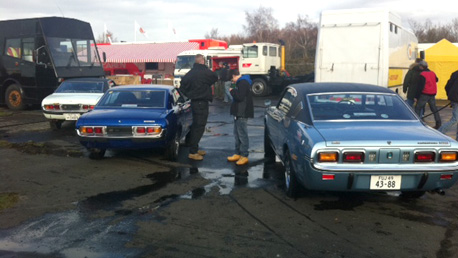 Hollywood doesn't exactly have a stellar track record when it comes to movies for the die hard car nut but hope looms on the horizon. Ron Howard's Rush, a biopic about the legendary rivalry between James Hunt and Niki Lauda during the 1976 Formula One season, is filming now and is due for release in early 2013.
The team behind the project is excellent — the director of Apollo 13 and Backdraft, the writer of Frost/Nixon and The Queen, and the producers of last year's Senna — but the real promise lies in the photo above, shot by Top Gear. 
That's right, it's an MS75 kujira Crown and a couple of daruma Celicas, on set because while the film's being shot in the UK the final race of the '76 season took place at Fuji Speedway. The producers are making sure that even the background cars are correct and apparently have gone through great lengths to locate not-exactly-common Japanese cars for the era. Someone's doing their homework!
Thanks to silverRA29 for the tip!