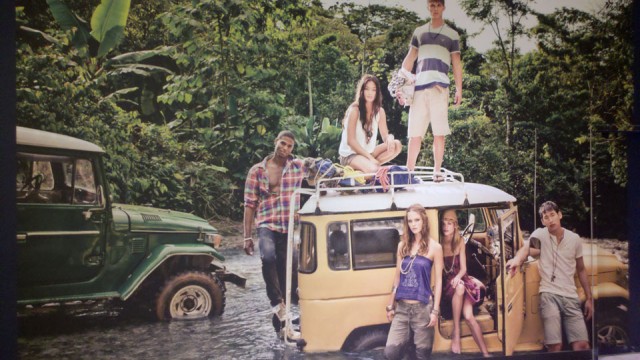 There's an adage that says once is a fluke, twice is a coincidence, three times is a trend. If that's the case, then old Toyota Land Cruisers are about to become fashion icons. Just in the last month alone, we've seen a trio of advertisements featuring vintage FJs.
In the case of the ad above, there are no less than two FJ40s trekking through the jungle, surrounded by models, which is a pretty good situation to be in actually. This life-sized mural festoons Montgomery Mall in Bethesda, Maryland, heralding the future home of an American Eagle Outfitters franchise. Fluke.

Four weeks later, we spotted the unmistakable grille-ensconced headlights and white cap of an FJ40 peeking out from behind a psychotically happy ginger. The poster adorned the clothing section of a SoCal Target. Coincidence?

Then today this commercial for bing.com was blared at us, in which more Beautiful People™ embark on a road trip in a tan FJ60. Ding ding ding, we have a trend! Have you seen any Cruisers (or nostalgics of any marque) lurking in ads recently?