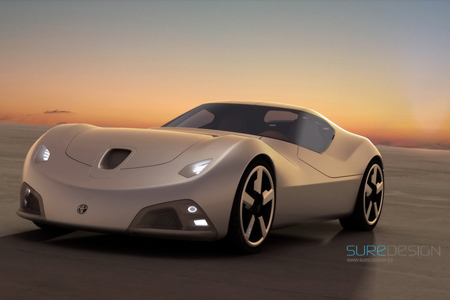 Over at Autoblog today, they have a post about Spanish design firm SURE's Toyota 2000SR Concept. They, and we, want to make it crystal Pepsi clear, this rendering is in no way connected to Toyota at all. Got it? Good. Moving on.
Clearly, the car is meant to evoke Toyota's legendary 1967 2000GT, and from certain angles, it does. The sharply creased fenders and haunches and "Chinese eye" side glass certainly do, but we're not quite sure about the rear 3/4 shot. Some things seem like they're of limited practical value, such as the minuscule rear window, lack of any apparent doors, and a raisable spoiler that will surely be the focal point of much derision.
Initially, we were jazzed about more 2000GT love, but a little snooping on SURE's website reveals that this is probably just a touched up version of their SR1 fantasy design. Check out the rest of the pics in Autoblog's gallery.