What's happening right now is the Geneva Motor Show, traditionally the unveiling venue for six-figure European exotics.  To stand out ToMoCo had to do something special, and we'd say a pair of gleaming white RWD GT coupes fits the bill. The neo-hachiroku's angle-of-departure tilt perfectly illustrates the spiritual succession of the GT86 from the 2000GT, and the booth's color scheme evokes Japan's old national racing colors found on cars like the Toyota 7.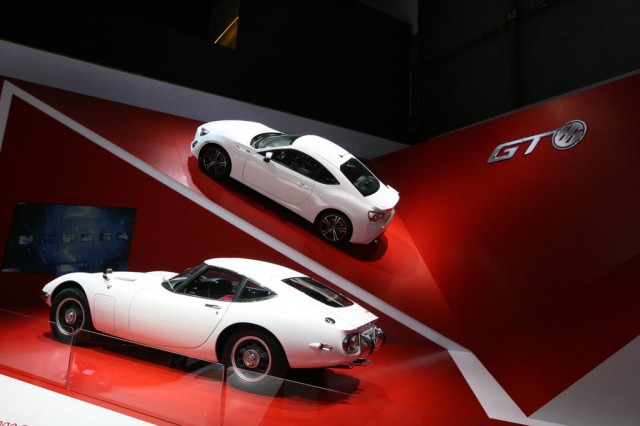 From this angle you can see a direct comparison of Nozaki arc (or if you prefer, the politically incorrect "Chinese eye") in the cars' C-pillars. The GT86 actually measures 2.5 inches longer, 6.9 inches wider and 4.9 inches taller than the 2000GT.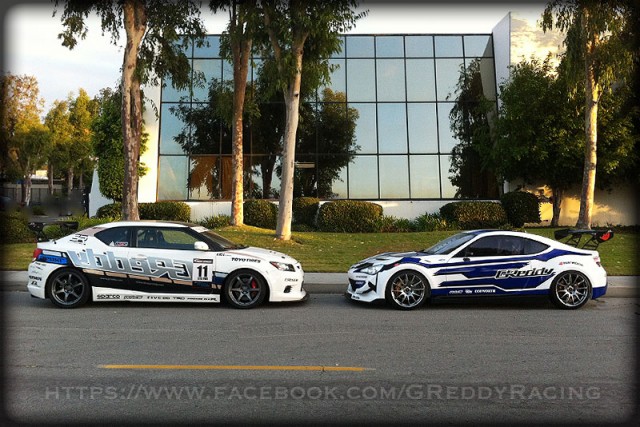 But obviously not everyone has seen a 2000GT down at the local Walmart parking lot, so for comparison's sake here's a photo taken by our friends down at GReddy USA. It pits their Scion tC against their new FR-S drift car, and although the tC is not known as a large car, it's still 7.1 inches longer and 5.1 inches taller than the 86! This is just one of the many reasons why we are so very excited about the neo-hachiroku.