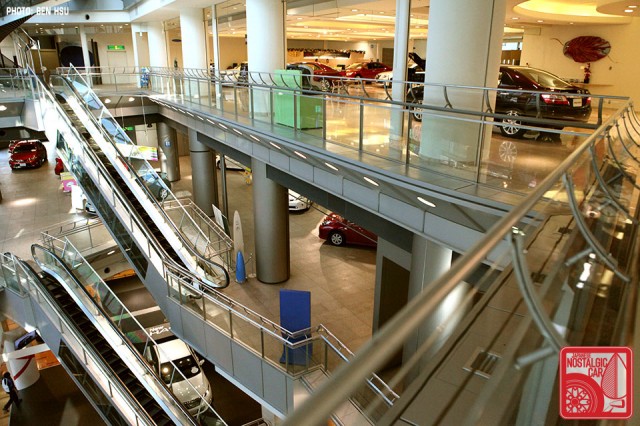 Today marks the end of a Tokyo institution. Toyota's Amlux showroom is closing after 23 years of operation. Most residents of Japan's constantly morphing metropolis probably didn't even notice, but for die-hard Toyotaku it's the end of an era.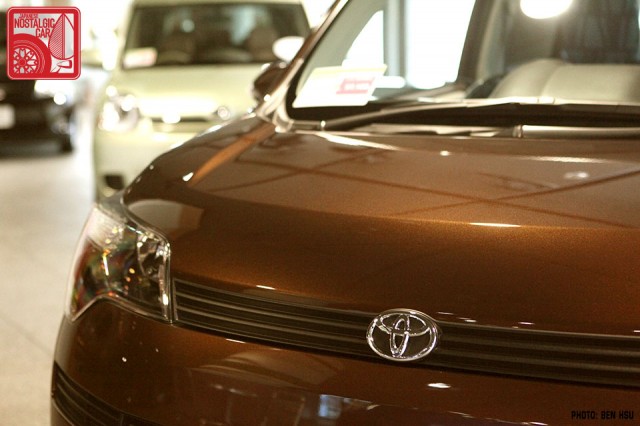 For gaijin Toyota enthusiasts, Amlux was Mecca. Every single JDM car sold by Toyota was gathered under one roof. You could kick the tires and set your butt on the upholstery of each one, from the bizarrely cute Japan-only Porte to the king-daddy of them all, the Toyota Century.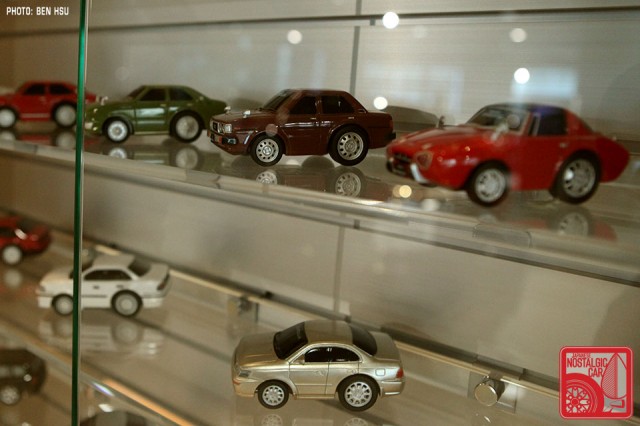 If you got tired you could take a break by sipping a drink at Amlux's cafe. Or, buy some minicars and car parts at the TRD store. Sometimes there were concerts or crafts events for kids. Best of all, you could accumulate a backbreaking stack of JDM brochures (except for the Century's) as you climbed five stories filled with Aichi steel.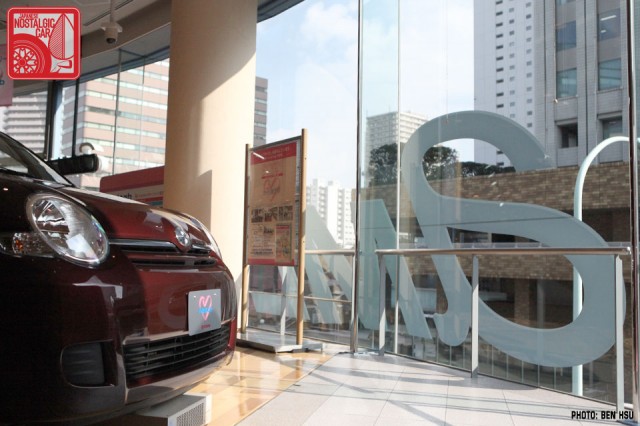 In fact, the only thing you can't do there is actually buy a car. Amlux is not a dealership. Its official name is Toyota Auto Salon Amlux, and it's wholly owned by the Toyota Motor Corporation.
Amlux opened in 1990, on the tail end of the Bubble Economy when it seemed like Japanese corporations, especially automakers, were unstoppable. It purpose was simply to grant residents of a crowded city easy access to Toyota's lineup and subtly remind them of its juggernaut omnipresence.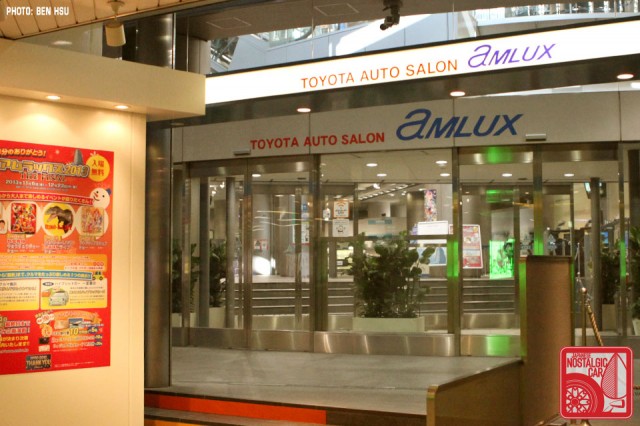 Toyota says it's closing Amlux to consolidate it with Megaweb, another, bigger showroom on the opposite end of Tokyo. It won't be the same though, as brochures are purchased there — like many Japanese products — via vending machines at ¥300 ($3) a pop when we last checked. At Amlux they're free.
Before Amlux closed for good, however, we took one last spin around this landmark. There are two entrances, one at street level and one in the basement. The lower one (shown here) connects to a large underground shopping mall (that, incidentally, contains a must-visit Toys R Us for minicar collectors).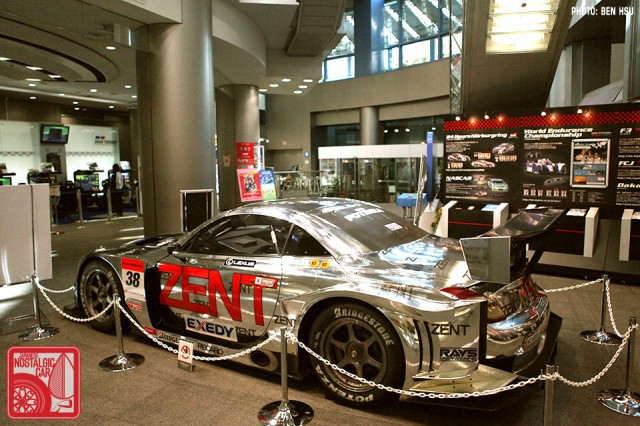 Entering through the basement takes you to a small stage and display area. There were also Gran Turismo arcade cabinets offering free games as long as you chose a Toyota . The only car on this level was the gleaming Zent Cerumo Lexus SC430 driven by Yuji Tachikawa and Kohei Hirote, champions of the 2013 Super GT season.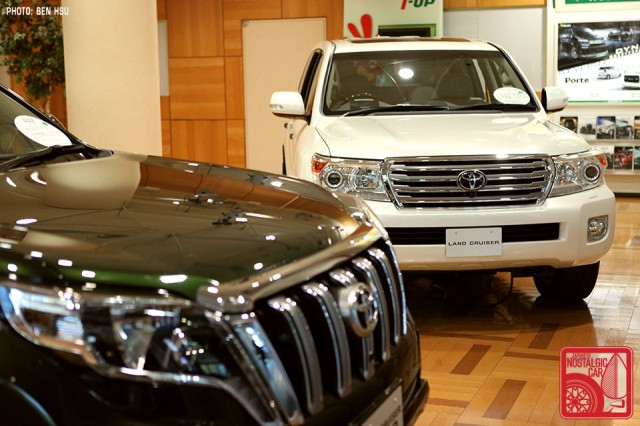 Each floor has a theme, and the second floor was reserved for Toyota SUVs (we'll circle back to ground level before leaving). Amazingly, as large as it is Amlux doesn't contain any Lexus vehicles, nor does it harbor any of Toyota's subsidiary brands like Hino or Daihatsu. In any case, Lexus Japan doesn't sell SUVs so there is no LX or GX. In fact, the Land Cruiser Prado's (foreground) grille is much nicer and more elegant than the US-market Lexus version's.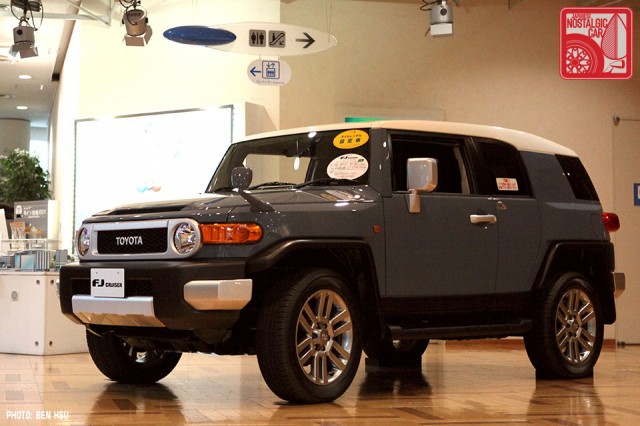 SUVs in Japan used to have, in addition to door mirrors, a fender mirror on the left (passenger) side. An array of electronic sensors have replaced them on high-end trucks, but rigs like the FJ Cruiser still have them.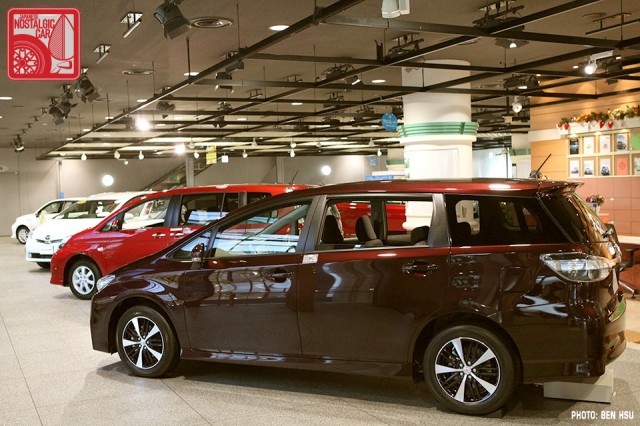 The third floor was comprised of "normal" cars that are neither luxury nor off-roader — compacts, sedans and minivans. There's a whole slew of wonderful wagons like the Toyota Wish (foreground) or Noah minivan (red) that we are denied in the US.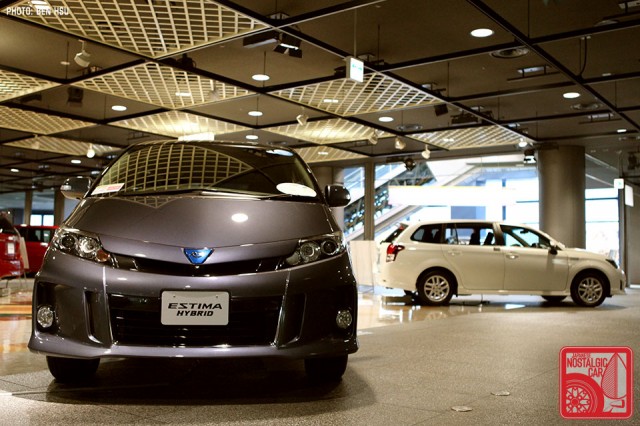 The Previa may have been a one-generation model in the States, but in Japan it's on its third sleek iteration and is offered as a hybrid to boot. Japan also has the Corolla Fielder, basically a fancy name for a Corolla wagon. Amlux's example isn't covered in denim like the one at the Tokyo Motor Show but even in plain white it's kind of cool, and is a body style not seen stateside since 1998.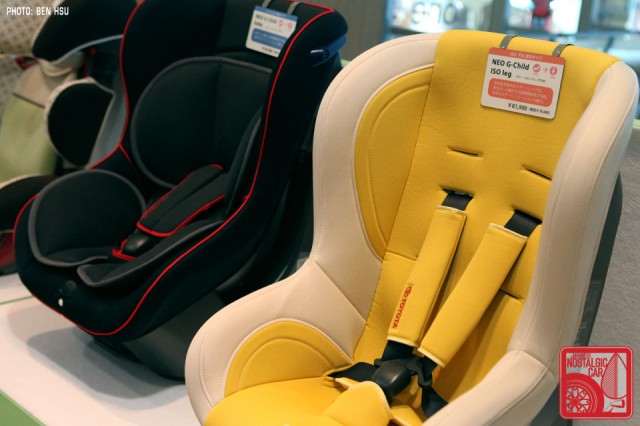 The Toyotaku with a family could spring for a Toyota child seat, offered in several different styles and colors.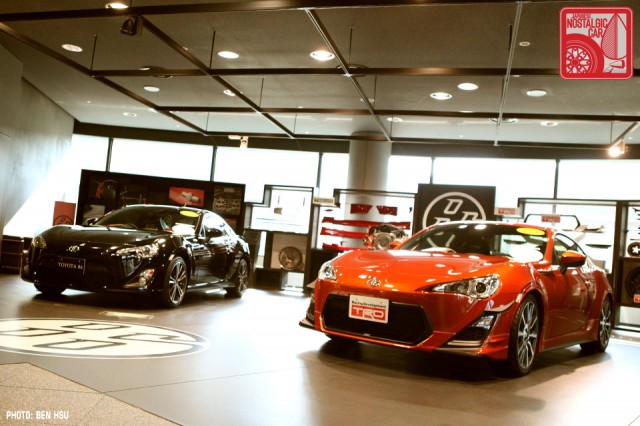 The third floor also housed a special section for the Toyota 86. The neo-hachiroku was displayed with an array of TRD parts and accessories, but they weren't for sale. When we first visited Amlux 10 years ago, this area was occupied by a TRD shop where all sorts of goods from apparel to keitai charms could be purchased.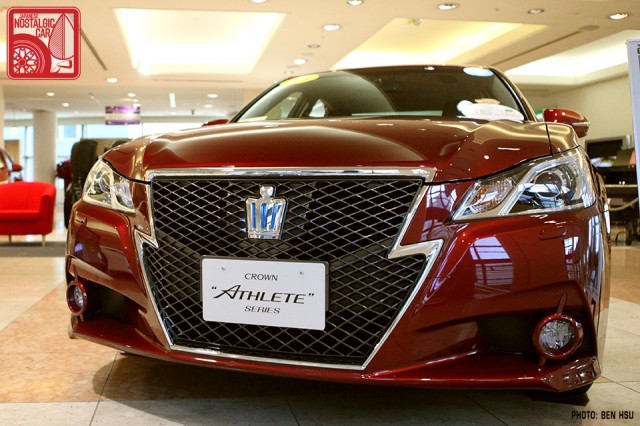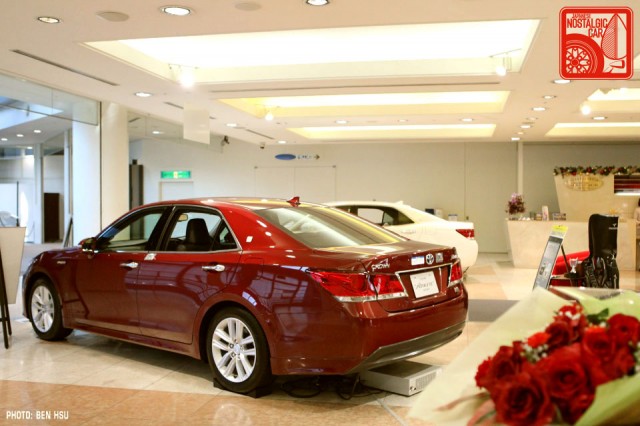 The fourth and top-most floor has always housed the luxury cars. The new Crown, which debuted last year in hot pink, was featured heavily. A bouquet of fresh roses sat atop a self-playing grand piano churning out classical music, just in case you weren't feeling sophisticated enough.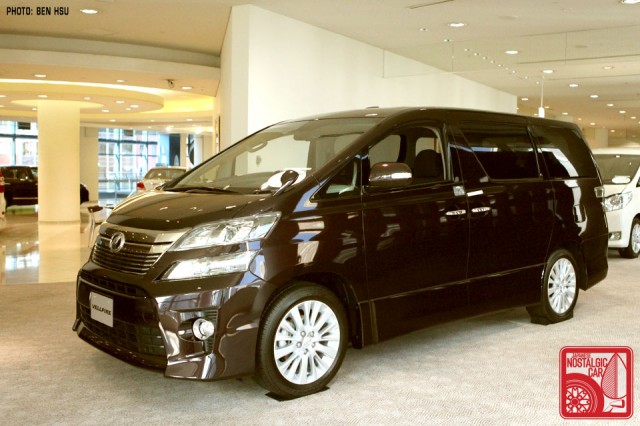 Behold the Toyota Vellfire, one of the grandest minivans money can buy. It can be fitted with recliner seats in the back, complete with footrest and pop-up ottoman. We got a lot of flak for our Toyota Sienna SE review but in Japan driving a van is nothing to be embarrassed about. Instead, Vellfires (and their Alphard twin) are often modded and slammed in VIP fashion.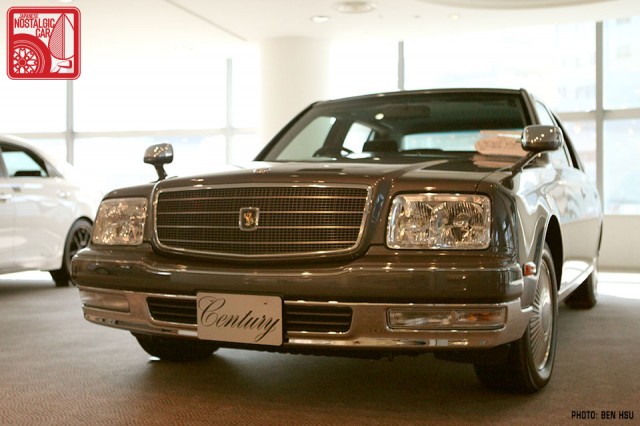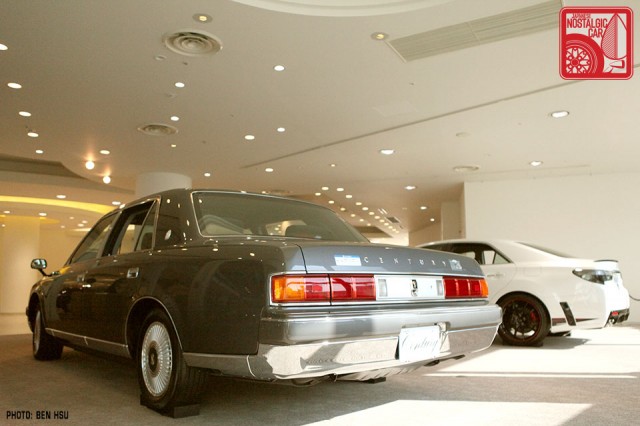 Of course, the top dog of them all is still the Toyota Century, the most understated signifier of status in the world. Not only must one be a true Very Important Person to buy the bespoke-V12 powered sedan, they won't even give normals like us a brochure.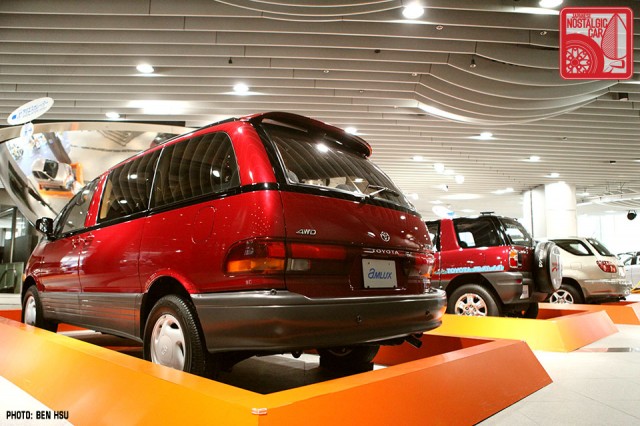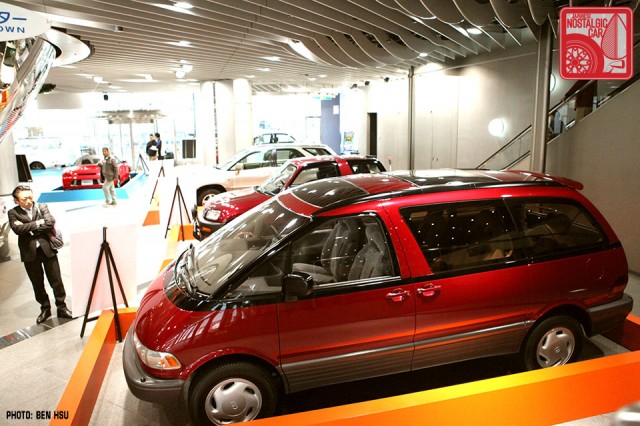 We started our tour in the basement but the first floor is really the main entrance. We wanted to save the best for last, and apparently so did Toyota. Amlux opened its doors on September 25, 1990, so what better way to end the show than with a special exhibition of Toyota's greatest hits from that decade?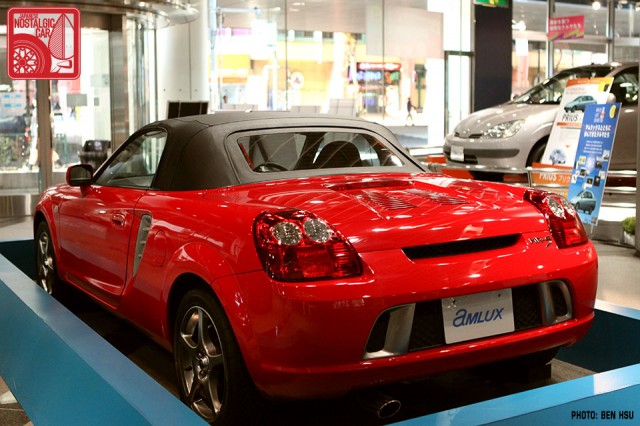 For Amlux's last hurrah, Toyota brought out a collection of mint 1990s cars. The MR-S (or MR2 Spyder as it was known in the US) was always overshadowed by the Miata but it was a fantastic roadster in its own right. For a while, it seemed as if it would be the last sports car Toyota would ever build.
The Toyota Progrés was a quasi-classical but stately design for a mid-sized, RWD sedan that featured direct-injection straight sixes from the legendary 1JZ and 2JZ family. Though it shared a platform with the Altezza (Lexus IS 300) and was roughly the same size, it was tuned for luxury and comfort rather than sport.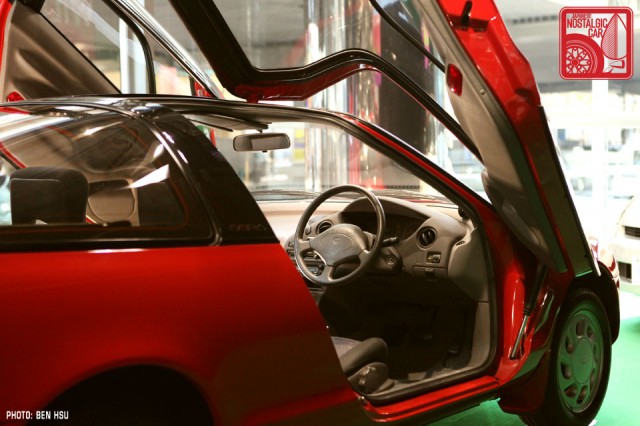 In the 90s Japanese automakers were still daring enough to produce bizarre models like the Toyota Sera. Noted for its striking design, featuring a large glass canopy and butterfly doors, it has a global cult following nowadays even though it was never sold overseas.
Our only gripe is that the red car displayed is not an Amlux special edition. Those came in a two-tone green with blue-tinted glass and the Amlux logo on the doors. Supposedly only 21 were built in late 1992 to commemorate what was then the world's largest single showroom.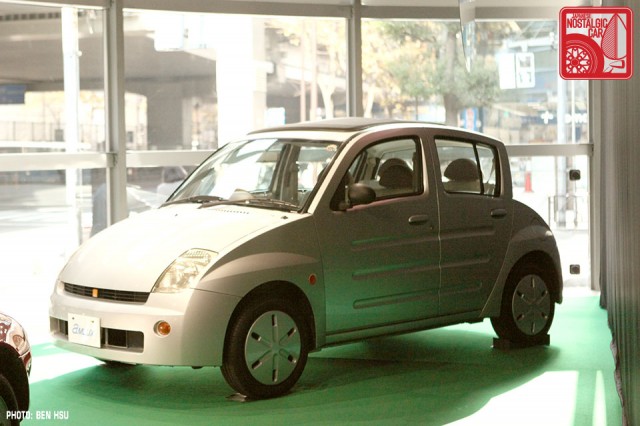 In the 90s Toyota also experimented with a sub-brand called WiLL. It teamed up with other Japanese companies ranging from Panasonic to Asahi Brewery to create a series of hip lifestyle stores. The idea was that you could go into a WiLL store and buy everything you need from Kokuyo stationery to cars like the WiLL Vi. The cars were somewhat popular but Japanese didn't really get the stores. The project was closed down in 2004.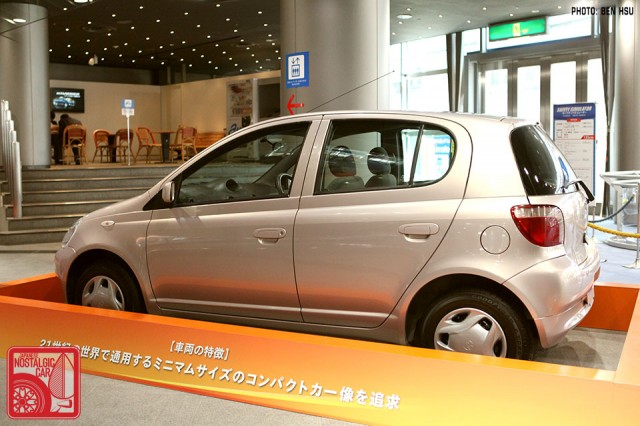 Before Yaris, there was the Vitz. Introduced as a successor to the Starlet, the first generation won both Japan and European Car of the Year awards, but was sadly never sold in the US until the second generation. Most Americans probably recognize this as an beginner's car in Gran Turismo.
Remember when Lexuses still had Toyota counterparts in Japan? The Aristo also hails from a time when it was perfectly acceptable for a luxury car to have 16-inch wheels. And let's not forget, it's what Jay-Z rocked in his early days.
If there was ever a car that defined Toyota in the 1990s it was the JZA80 Supra. In twin-turbo guise its performance was near supercar territory. Tragically, its incredible tuning capacity also made it a target for modders and put bone stock examples like this one on the endangered species list.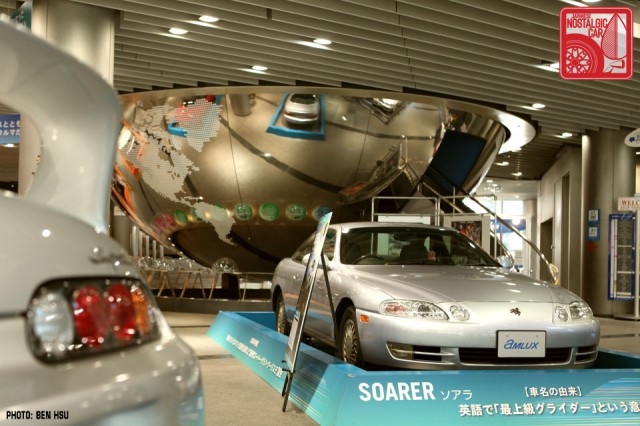 The Supra's platform twin, the Z30 Soarer, or Lexus SC, was a stunningly gorgeous design for its time. It was, and still might be, the most beautiful Lexus ever built. It made us nostalgic for a time when Japan's cars, with all their quirkiness, were transplanted directly to the US market for consumption. Nowadays the American lineup looks like its from completely a different company.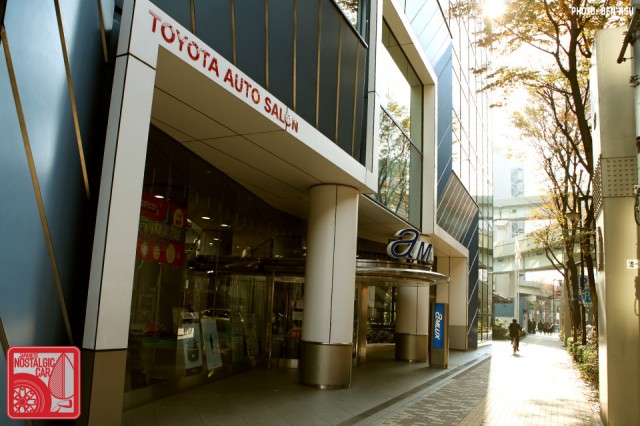 Toyota's plan to have Megaweb as their sole Tokyo showroom seems questionable, though. Tokyo has just won the bid for the 2020 Olympics, and Megaweb's Odaiba location is supposed to be re-developed before that takes place.
But that's Japan for you, ever changing. Seeing Toyota's 90s machines, in person and just as they were when new, served as a good reminder of that as we bid farewell to Amlux for the last time.