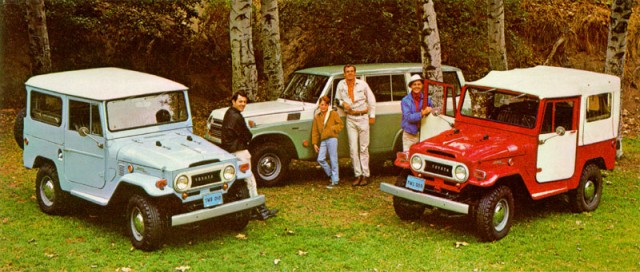 The weapon of choice for outdoorsmen and dictators alike, the Toyota Land Cruiser had its humble beginnings as a spartan military vehicle in 1951. The Toyota BJ was the first vehicle ever to scale Mt Fuji to its sixth station, over 8200 feet above sea level. Emergency response departments across Japan quickly adopted the tough utility vehicle, prompting Toyota to offer it with the larger F-type engine for fire engines, giving us iconic the FJ-series. In 1954 the truck was christened Land Cruiser, and it has proven to be one of the most capable SUVs on the planet with over 5 million sold in over 188 countries.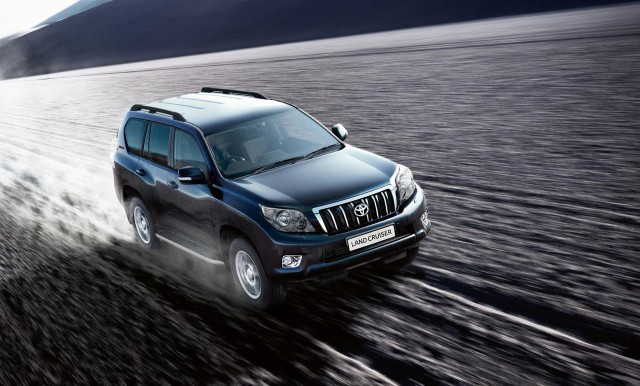 To celebrate this occasion, Toyota Europe has launched a 60th Anniversary edition Land Cruiser, based on the Land Cruiser Prado (sold as the Lexus GX in North America). Equipped with more chrome, leather and clear tallights than the top-of-the-line Land Cruisers, it comes in 3.0 diesel and petrol V8 engines. Read the full press release below.
SIXTY YEARS OF THE TOYOTA LAND CRUISER

Toyota's mighty 4×4 stronger than ever, 60 years on from original model launch
More powerful, Euro 5-compliant 3.0- D-4D engine for Land Cruiser
Introduction of new 60th Anniversary flagship models for Land Cruiser and Land Cruiser V8
60th Anniversary models, on sale now, priced £49,950 (3.0 D-4D) and £61,950 (V8)
Land Cruiser newly available in three-door version

The Toyota Land Cruiser clocks up 60 years this year, stronger and better than ever. Far from aging gracefully, the legendary 4×4 remains one of the toughest machines on four wheels: it's conquered the Arctic (and Antarctic) wastes, traversed deserts, ploughed its way through tropical rain forests and generally taken the worst the world can throw at it in its stride.

As Land Cruiser reaches this landmark, Toyota is launching new top-of-the-range 60th Anniversary versions of both its standard five-door Land Cruiser and the flagship Land Cruiser V8. They have the same robust construction and sophisticated array of driving and control systems for exceptional on and off-road performance as their established sister models, together with some extra style and equipment details.

There's more power and torque on tap, as well, as the 3.0-litre D-4D engine fitted to Land Cruiser has been re-engineered. As a result maximum output is up from 171 to 188bhp and maximum torque from 410 to 420Nm – performance gains achieved without harming fuel economy or emissions levels. With the benefit of a new diesel particulate filter (DPF), the engine meets the latest, Euro 5 emissions standards.

History
Land Cruiser's ancestry can be traced back to the Toyota BJ of 1951, a truck-derived model that was initially developed for military use. Within six months of its launch the BJ was hailed as a champion, becoming the first vehicle to be driven to the sixth hill station of Japan's Mount Fuji, 2,500 metres up. As a result of this feat, the BJ was added to the Japanese police fleet and the model's long-term success began. In 1954 the new Type 25 BJ was given a generic model name – Land Cruiser – which has been used ever since.

As Toyota began its programme of worldwide exports and growth during the 1950s and '60s, it found many established markets were already well-served by American and European car makers. This prompted the company to focus instead on emerging markets in Middle and Far East and South America, where Land Cruiser's tough performance made it a strong proposition.

The Land Cruiser concept was refined in the mid-1960s, as Toyota responded to an American trend for more refined four-wheel drive vehicles. The introduction in 1966 of the first Land Cruiser Station Wagon series – forerunner of today's Land Cruiser V8 – catered for this growing market, joining the range alongside its more rugged stablemate.

Further development of the Land Cruiser concept came in 1985, when Toyota recognised the potential for a model that could offer the manoeuvrability and uncompromised off-road strengths of the Heavy Duty series with the comfort and refinement of the Station Wagon. The result was the first Land Cruiser "Light Duty" series.

From this point Land Cruiser progressed through two further generations, in 1996 (known in the UK as the Land Cruiser Colorado) and 2002, before the launch of the current model in 2009. The larger Land Cruiser Amazon, also introduced in 1996, (replacing the Land Cruiser 80 series) was replaced with Land Cruiser V8 in February 2008.

To date more than five million Land Cruiser models have been sold in 188 different countries and regions worldwide.

60th Anniversary models
The new Land Cruiser 60th Anniversary takes its position at the top of the model range for 2011, adding selected extra features to the LC5 grade it replaces.

Key features include:-

Triple-zone climate control air conditioning
Rear privacy glass
18-inch alloys
Toyota Easy Flat rear seat system with third row seats (powered)
Leather upholstery
Electric, heated front seats
Rain-sensing wipers
Dusk-sensing headlights
Auto-dimming rear view mirror
Rear parking monitor
Front and rear parking sensors
HDD navigation system
JBL17-speaker premium audio
Rear seat entertainment system
Crawl Control
Adaptive Variable Suspension (AVS)/Active height control
Multi-terrain Monitor
Steering Angle Display
Multi-terrain Select system
60th Anniversary badging and carpet mats*
Chrome exhaust finisher*
Chrome front fog light surrounds*
Clear-finish rear light clusters*
(* additional to previous LC5 specification)

The Land Cruiser V8 60th Anniversary also delivers an impressive package of performance, comfort and premium quality features:-

Pre-Crash Safety system (PCS)
Multi-terrain ABS
4-Wheel Active Height Control and Adaptive Variable Suspension (4W AHC & AVS)
Crawl Control system
40Gb HDD full-map satellite navigation with Bluetooth
Rear view monitor with park assist system
Front and rear parking sensors
Four-zone climate control air conditioning
14-speaker JBL audio system with iPod integration, USB and Auxiliary connection
Premium ICE with twin DVD player/monitor tablets*
Six-disc DVD autochanger
Digital tuner
20in Alloy wheels
Full black leather upholstery*
Chrome exhaust finisher*
Chrome side trims*
60th Anniversary badging*
(* additional to regular Land Cruiser V8 specification)

Both models are available now, the Land Cruiser 60th Anniversary priced £49,950 and the Land Cruiser V8 60th Anniversary £61,950.

Three-door Land Cruiser
Toyota has reintroduced a three-door version of Land Cruiser. Available exclusively in LC3 trim with manual transmission only, five seats, it comes equipped with 17-inch alloy wheels, vehicle stability control (VSC) with active traction control (A-TRC), climate control, smart entry and start system, Bluetooth, six-speaker audio system and front fog lamps.

The Land Cruiser three-door is on sale now, priced £30,395 on the road.