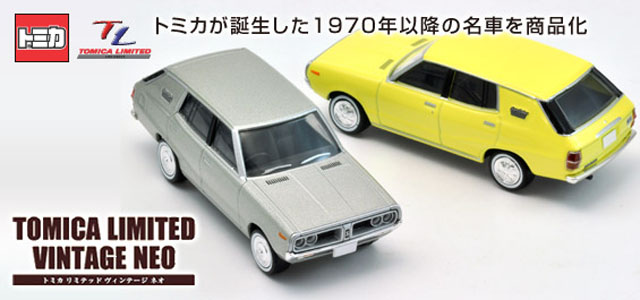 American toymakers are doing their part to enrich the lives of diecast collectors. What about Japan? Anyone's who been to the seizure-inducing overstimulation of a Japanese toy store is familiar with Tomica toy cars, but did you know the had a upscale collector range dedicated to nostalgic cars? 
We've briefly touched upon Tomica Limited Vintage cars before, but the most recent offering in the Tomica Limited Vintage Neo lineup is something we wagon hounds love too much not to share — a C110 Skyline Van. As far as we know this is the only 1:64 model of this car available, and these kenmeri goons are just gorgeous.
At about ¥1470 each they're not cheap, but the TLV line is highly detailed. Each model has proper wheels true to the original, with real rubber tires. They hold true to 1:64 scale so a Subaru 360 is going to be much smaller than a Hino Bus, for example.
The Nissan Skyline Van 1600DX in yellow and Skyline Wagon 1800 Sporty GL will be available in Japanese toy stores in August.
[Tomy]