They say that the goose-step, ridiculous and inefficient as it may seem, became the march of choice for dictatorships around the world specifically because of its silly appearance. After all, only a terrifying madman could force thousands of able-bodied soldiers to walk that absurdly in precise formation. It's a method of instilling both awe and fear simultaneously.
That pretty much sums up the feeling we get when we see this horde of bosozoku cars. Cantilevered lip spoilers, double-wide fender flares and yard-long exhaust pipes look insane when parked, no doubt. But get caught in a swarm of them wreaking havoc on the expressway and suddenly it all begins to make sense, even when a dude dressed head-to-toe in a tiger costume rides a convertible's door sill as his mohawked associate maniacally twirls a baseball bat in the air. It makes one wonder, are they're launching a siege on Bartertown or something? It's probably best not to ask questions and just get the hell out of their way.
One more completely deranged pic after the jump.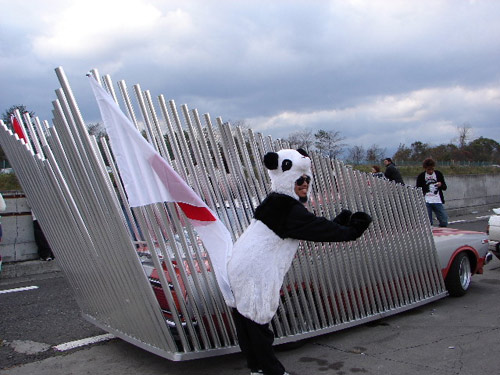 Check out more at Retro Rides Forum.
[RetroSceneMag]