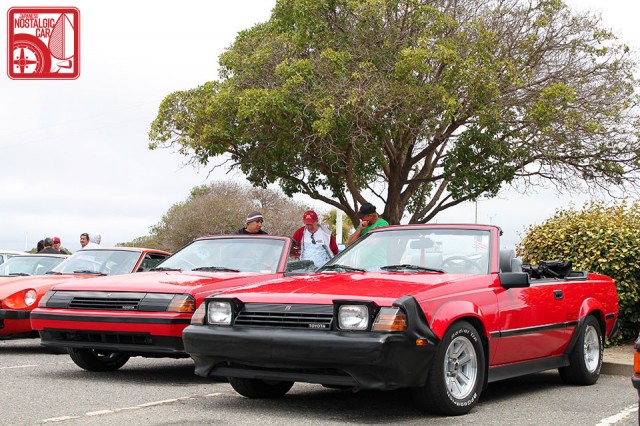 We begin Part 03 of our Bayline Gathering coverage with a pair of matching '85 A60 Celica 'verts. San Francisco's hills form one of the most beautiful urban landscapes in America and navigating them with an open top must make for a pretty bitchin' drive.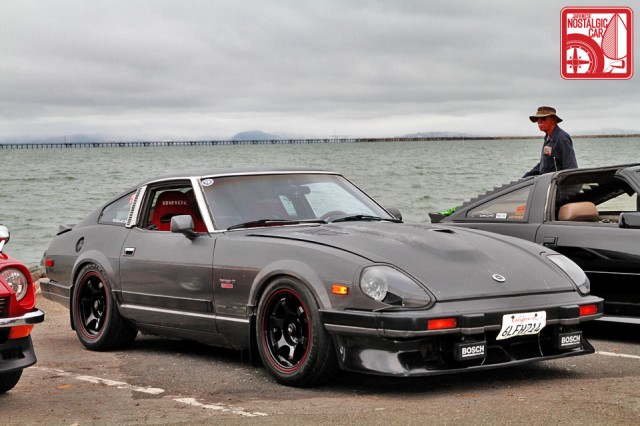 San Francisco Bay is gorgeous but the San Leandro marina, with its mammoth concrete edifices, could be a stand in for the edge of Tokyo Bay. That's particularly true when there's a brutish S130 parked at water's edge.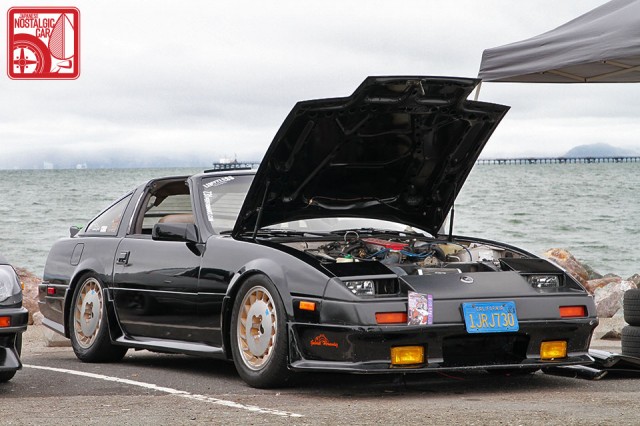 Beside the 280ZX was its successor, a Z31 300ZX, stanced out on the factory gold wheels of a 1984 50th Anniversary Turbo. Extreme Z31 love or a flaunting of the blingy wheel trend? Either way, rad concept.
The only problem with being situated by a wide body of water is that it's rather windy.  Marilyn Monroe would have had gawkers lined up all day. We at the JNC booth had them too, but it was probably due to Patrick Ng's gorgeous TE27 Corolla SR-5.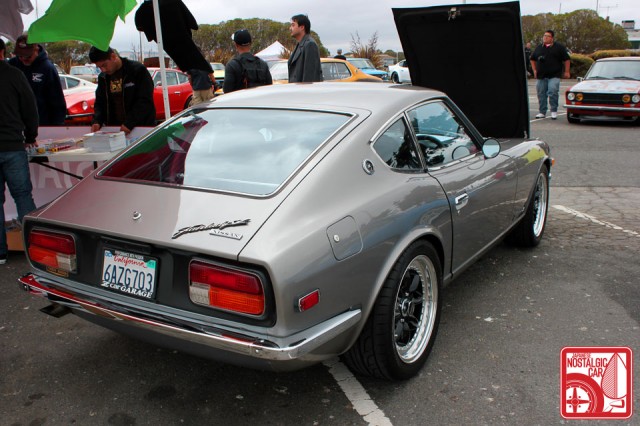 Of course, we had to show a little Nissan love too, so flanking our booth from the other side was NorCal native Lou S.'s beautiful gray RHD Fairlady Z. It sits on a full Arizona Z-Car suspension and some exclusive custom-offset Panasport Japan 17-inch barrels.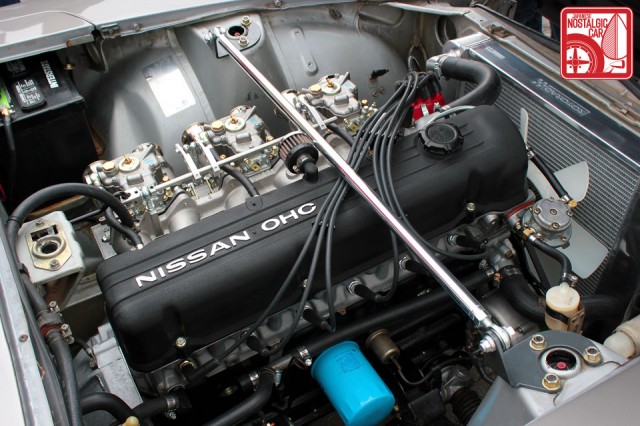 L28 power! The lickably flawless engine bay was the work of Rob Fuller, owner of one of the Bay Area's top Z tuners, San Jose's Z Car Garage, who specialize in the big brake upgrades those 17s are sized for.  You can read more about the build here on Rob's Z-car blog and check out the gallery below for more photos.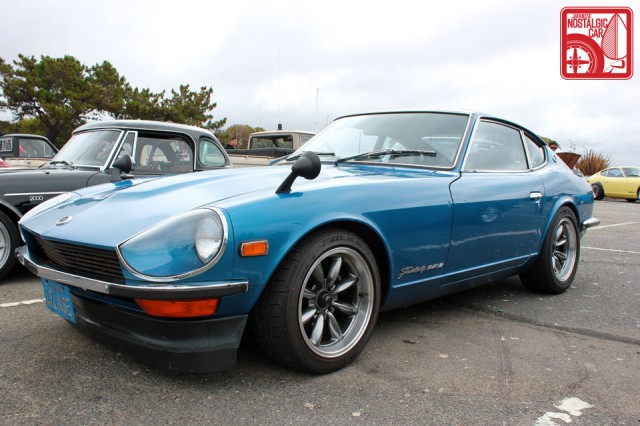 Perhaps feeling outdone by the plethora of JDM Skylines at the show the Z contingent had a second right-hand-drive S30 present, what looks like a JDM Fairlady 240Z-L.
Just gaze upon the purity of that cockpit — the cross-stitched console, the vintage racing seats, the simple wooden-y shifter. Everything you need, nothing you don't. It's about driving, kids.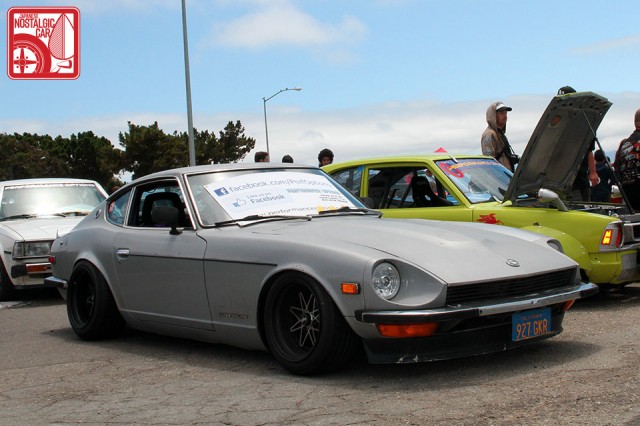 Sunny Liang's slick 1973 240Z and its Star Road style Work Equip 03s was hanging with the crew from Oak-town's Performance Options. Sunny won Reader's Choice for Car of the Year on Speedhunters last year. You can read more about his car here.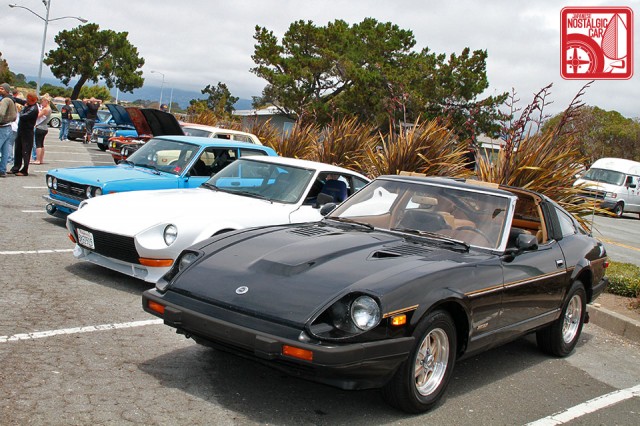 Lest you think all Zs at the show were modified, here's a bone stock 1983 280ZX T-top. Apparently Nissan had some Turbo hoods that needed using for the final model year, because even non-turbos such as this one had the NACA duct on the hood.
A friend from Japan once said, "Gather 100 Mark II owners and you'll have 100 different styles of Mark II." Well here's two. Technically the zokusha'ed-out one is a Corona Mark II, but by the X60 generation it had dropped the "Corona." Of course we Americans know it as the Cressida and this MX63, resplendent in Apricot Metallic, is one of the cleanest we've seen. All it needs is a rear bumper and some period barrels and it'll be cruisin' in high style.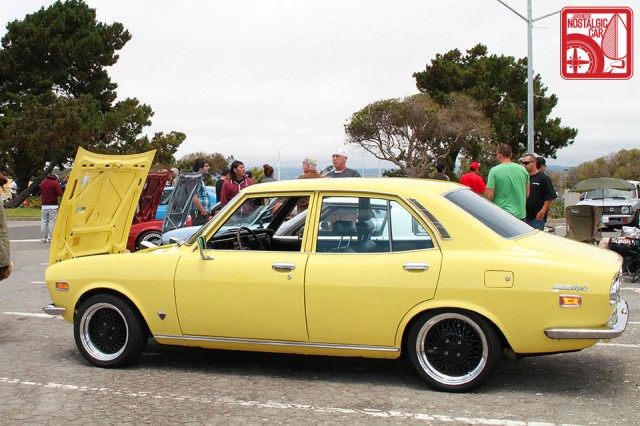 SoCal might have the numbers when it comes to rotaries, but Bay Area Wankels exude a subtler style. Somewhere tucked away in the hills of NorCal are brilliant specimens of Mazda like this banana yellow RX-2 sedan on period correct Enkei 92s.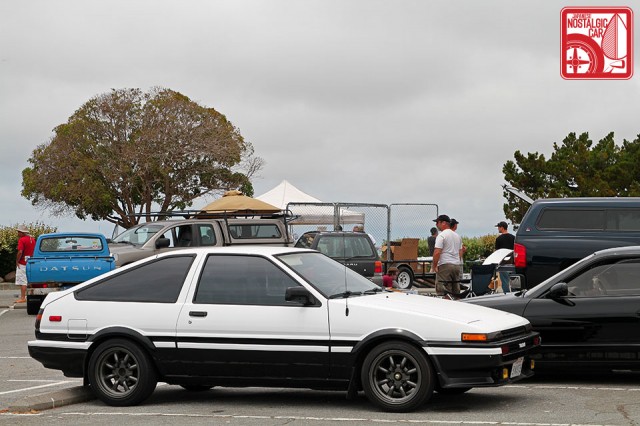 Roaming through the parking area we noticed this panda-perfect AE86. With gunmetal Wats it was a shoe-in for the star of a certain anime about drifting through the mountains of Japan.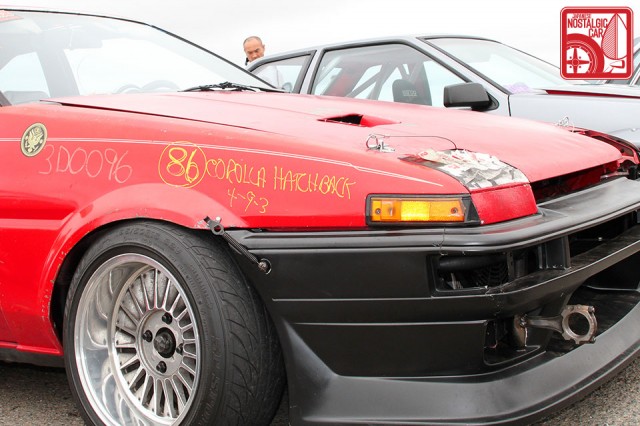 Elsewhere at the gathering, a slightly less pristine hachiroku exhibited clever drift rat touches like a fender still wearing junkyard paint pen markings, a sticker where the radio antenna should be, and a connecting rod turned tow hook.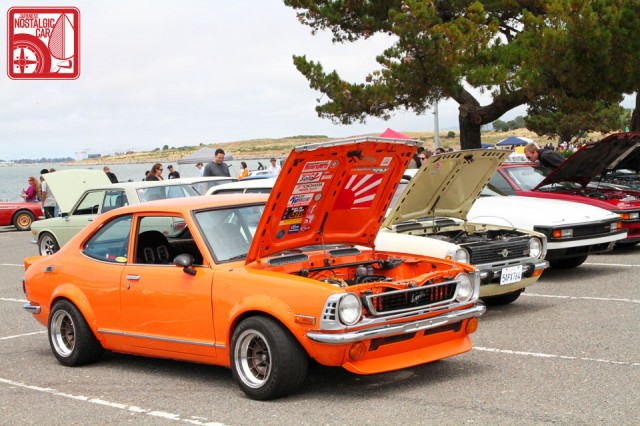 Speaking of hachis, Jojo Collantes' TE27 might look like a mango on the outside, but underneath the daily driven Corolla has a complete AE86 suspension and drivetrain. For those who remember the Bay Area autocrossing scene, Jojo drove an N2-fendered Starlet sponsored by Ling Nam Chinese-Filipino Noodle House, a cornerstone of NorCal dining.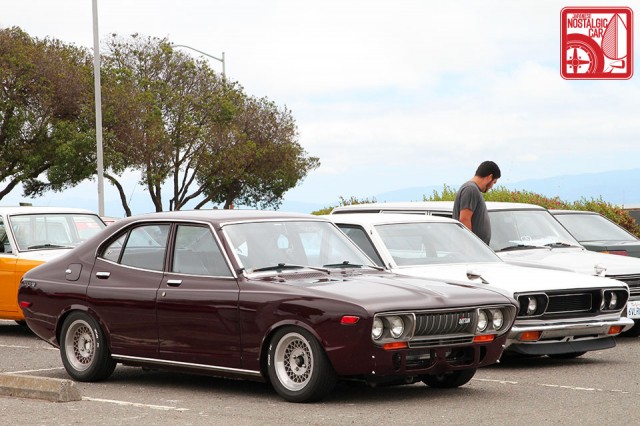 We saw a stock-height Datsun 710 sedan in Part 02; here's its polar opposite. What are they, growing on trees in NorCal? It's got quite the shakotan street racer thing going on. You can almost imagine it tearing through the streets of 1970s Tokyo.
This installment wouldn't be complete without at least one killer wagon, and this is it. A slammed army green TE72 on SSR MkIIs and a roll bar? Total sex machine.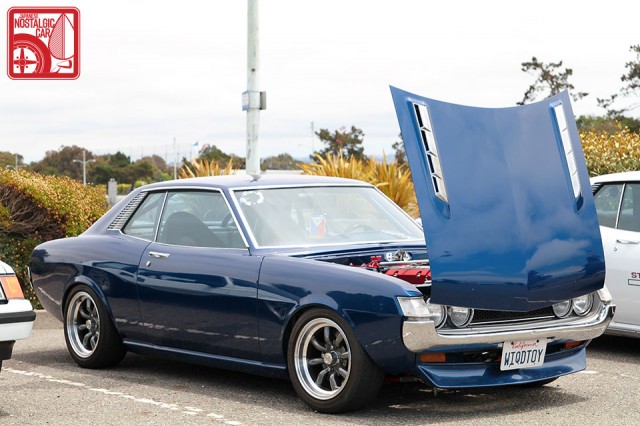 We've heard the clamoring for daruma love, so here's Ray Santos' WiqdToy, a 1971 Celica powered by a Honda S2000 motor. Before purists start pounding their keyboards, the F20C has already been long established by Roper's Rule of Three as one of a trio of engines that is okay to swap into any car.
More photos await in the gallery below, and we have more Bayline Gathering coming up so stay tuned. In the meantime, in case you missed them check out Part 01 and Part 02.
Photos by Ben Hsu, Ricky Silverio, and Justin Principe.