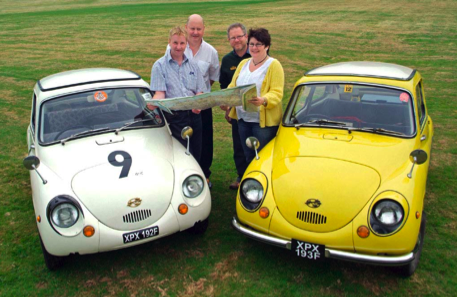 Two UK-based teams have taken first and second place in the Spirit 425cc Class of the Liége-Brescia-Liége microcar rally. Covering 2000 miles through Belgium, Germany, Austria, Italy and Slovenia, these little kei cars even conquered the Stelvio (not Kev's dream car, the Alpine road) and Gavia Passes of Italy, some of Europe's most grueling terrain.
Regulars know that this year marks Subaru's 50th anniversary, but 2008 is also the 50th anniversary of the Liége-Brescia-Liége. It was started in 1958 during the Suez Canal Crisis, which threatened to cut Europe off from its oil supply in the Middle East. In response, rally organizers wanted to prove that small, fuel-efficient cars could perform just as well as their gas-guzzling counterparts over Europe's most demanding roads (making it all the more disappointing that we're still grappling with the same oil issues today). The original allowed only cars 500cc or under, and the intense schedule meant almost three non-stop days of driving. The modern rally is a bit more leisurely – 10 days, and cars up to 1000cc are allowed.
Congratulations to Jane Puttock, James Ewing, Vic Sayer and Craig Lawson!