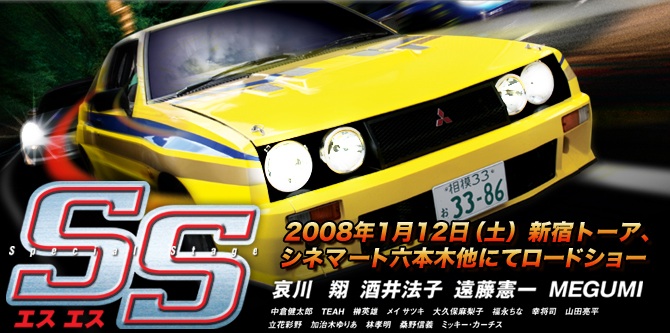 Our Aussie friends at grandJDM bring us news of a new movie about rallying coming out in Japan.  SS, an abbreviation for Special Stage, is based on a manga of the same title, and while Sho Aikawa is the leading name on the credits, we all know the real stars are the cars.
The protago-mobile will be an AWD Mitsubishi Starion, and according to the official website, supporting roles will include a GDB Subaru Impreza WRX STi, R32 Nissan Skyline GT-R, Techart Porsche Cayman, Ford Focus RS (that would be a hotted-up European Focus, not the Hertz fleet darling we get here), and the manga-biquitous Toyota AE86.
The trailer promises all manner of nighttime mountain racing and what appears to be the requisite underdog story. Check out the an English article here.  The film opens January 12, 2008.  We eagerly await the inevitable Tomica versions.
[grandJDM]