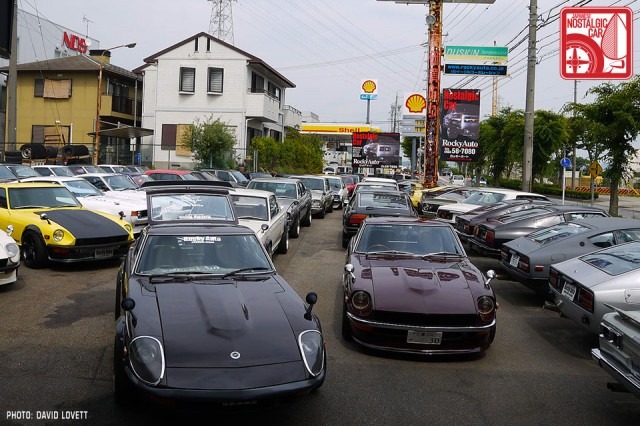 Today's guest writer is David Lovett of Classic Car Nagoya, who recently went on a little field trip to Rocky Auto. The famous tuning shop's founder, Yoshiya Watanabe, will make a rare American appearance at Vintage Auto Salon this weekend so come by and meet him. —Ben
Rocky Auto is one of Japan's most famous, not to mention most outrageous, Nissan tuners, known for swapping completely modern Nissan RBs and Lexus V8s into Japan's iconic nostalgic cars. Some might call the creations blasphemous, others might say they're wickedly cool. No one can deny, however, that founder Yoshiya Watanabe has made a huge impact in the nostalgic car scene in Japan. Recently, I had the opportunity to visit the shop in person.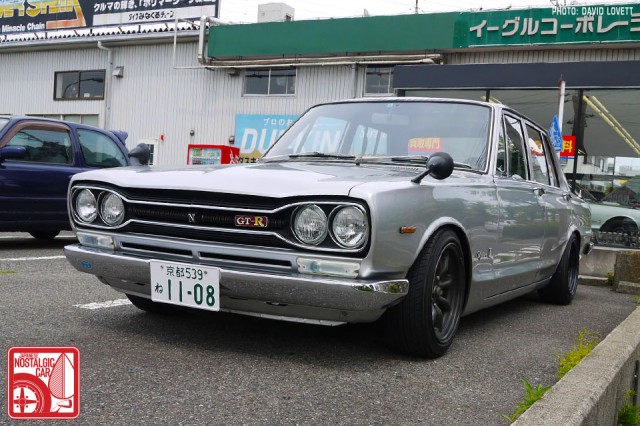 Rocky Auto has been featured in numerous magazines, and videos, including the Retro Car Kings documentary.
As we pulled into Rocky Auto's parking lot, we were stopped dead in our tracks by a genuine hakosuka GT-R sedan. Remember, the GT-R started out as a four-door, and the hardtop coupe we're more used to seeing came later. It was likely a customer's car, but it's often that you see a real PGC10 just chillin' in a parking lot.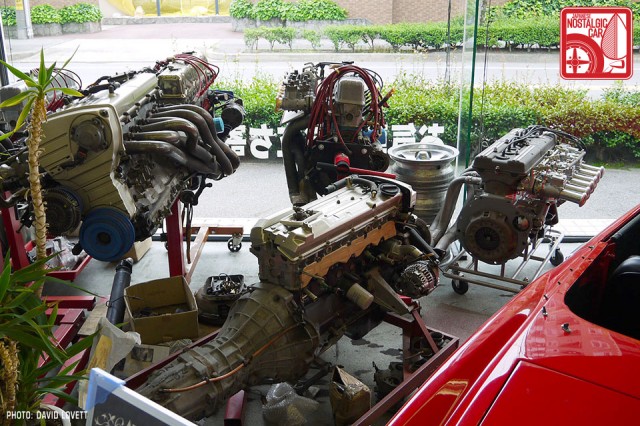 We took a step inside to introduce ourselves to Watanabe-san and, being the engine lover that I am, I was immediately drawn to a collection of engines on stands. In the group were three RBs, three L-series, and one genuine S20, the motor that powered the hakosuka and kenmeri GT-R and Fairlady Z 432.
Of course, the engines were a bit overshadowed by the two genuine hakosuka GT-R hardtops and one of 197 kenmeri GT-Rs ever built. I do believe that between the main shop and his three other facilities (which unfortunately aren't open to the public), Watanabe-san has the largest collection of Nissan Skylines and Zs in the entire country of Japan.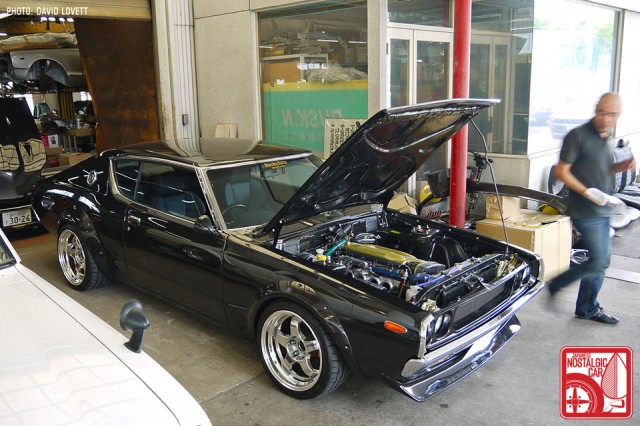 However, Rocky Auto is mostly known for its insane resto-mods, where classic bodies are thoroughly modernized in all aspects — engine, suspension, wheels and interior. To that end, their black kenmeri is the perfect example of what the shop specializes in.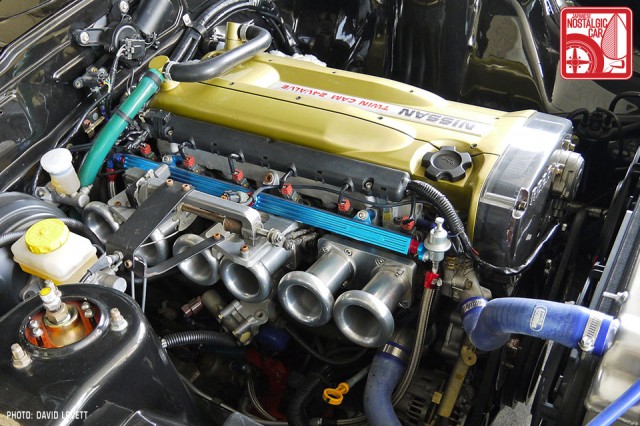 The first thing you notice is its beautiful engine, an RB30 with an RB26 head and a row of six individual throttle bodies. Its throttle response was absolutely insane. The sound it emanates as it revs to the moon and those six trumpets pull air has to be heard to be believed.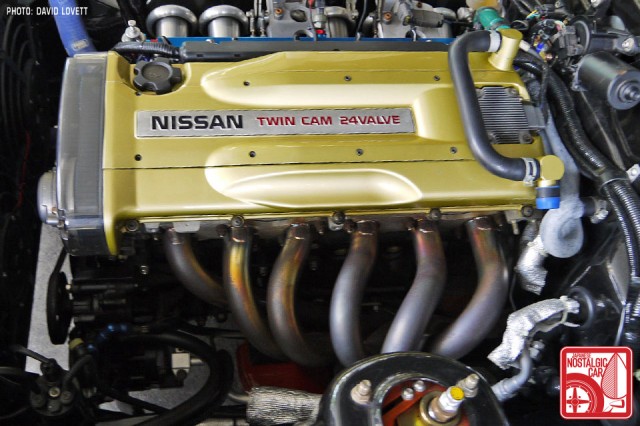 Helping the engine breathe is a set of wonderfully subtle, equal length headers. There's also a set of camber-caster plates for the coilover suspension and an aluminum radiator used to keep everything cool.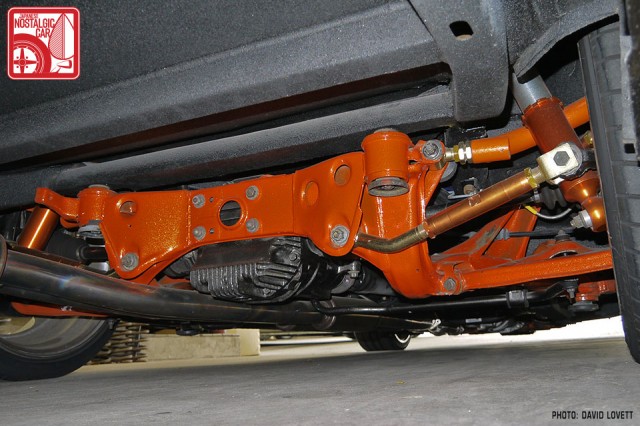 Its entire rear suspension, which is usually a semi-trailing arm setup, was replaced with a full multi-link setup out of something much, much newer. This was one of Watanabe-san's favorite cars because of how well it handled.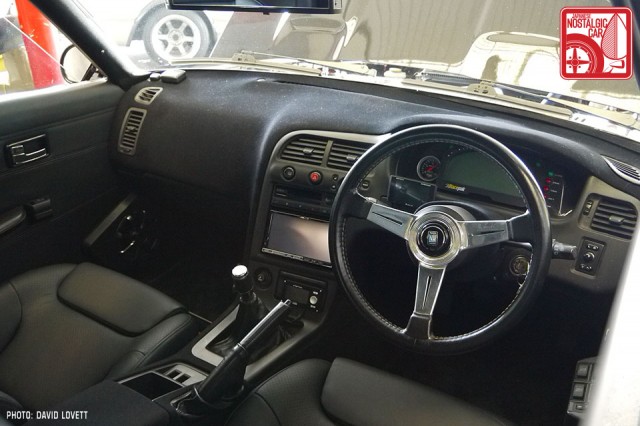 Inside you're greeted with a very different view. I'm not particularly a fan of the R33 dash, which was fitted with a full digital race instrument cluster, but there's no denying that it's expertly installed and the fit and finish is without a doubt, OEM quality.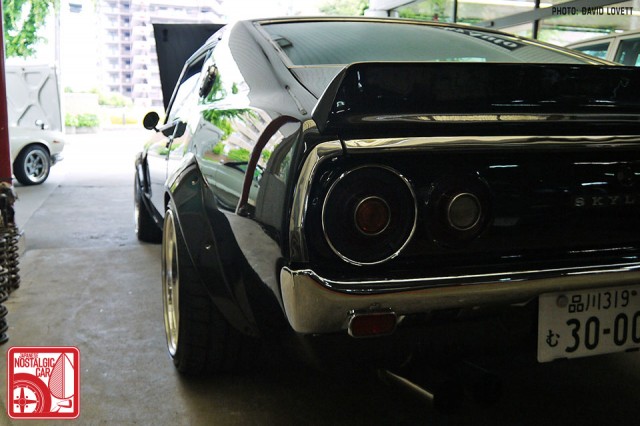 He was busy tinkering with it and trying to get some final adjustments hammered out so I never got a chance to grab a picture with the hood down. Regardless, aside from the beautiful black paint, the best part about this car is what's under the skin.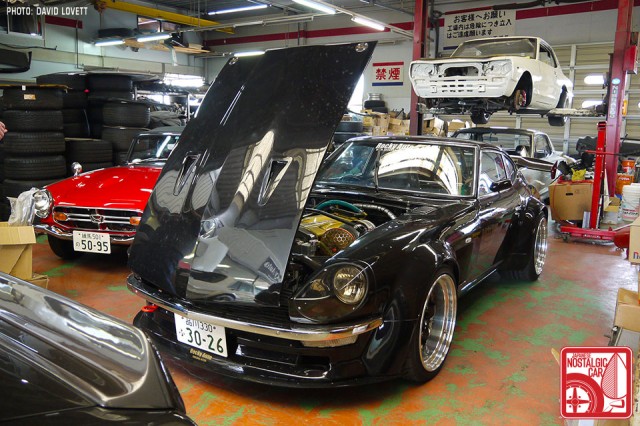 Behind the kenmeri was this absolutely wild S30 Z, rocking a T04Z ball-bearing turbo on an RB26 with big cams and a very trick manifold. It's a kyuusha-turned-wangan brute, and it put down a surprisingly usable and torquey 600 horsepower.
The madness didn't stop at the engine either, the suspension had been completely reworked, there were enough bars in the roll cage that it could pass for a jungle gym, and the tires were so wide that you could turn them in homes for small animals. The interior even got the full works with a dizzying array of instruments, a flocked dash and full carpeting.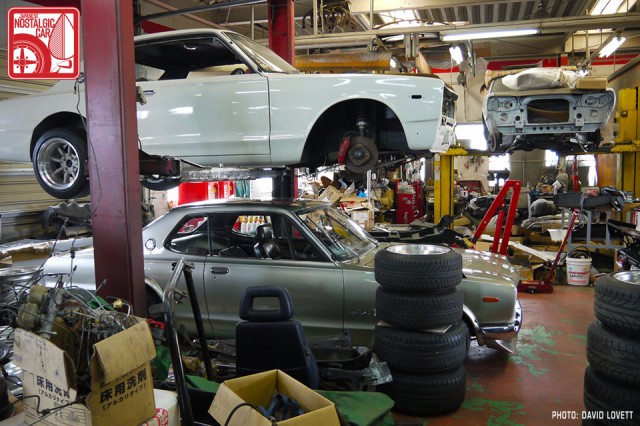 Aside from a trio of Skylines and parts like you would not believe, it seemed that all the excitement was, oddly, outside of the shop. So we headed back out into the daylight to wade our way through the field of cars.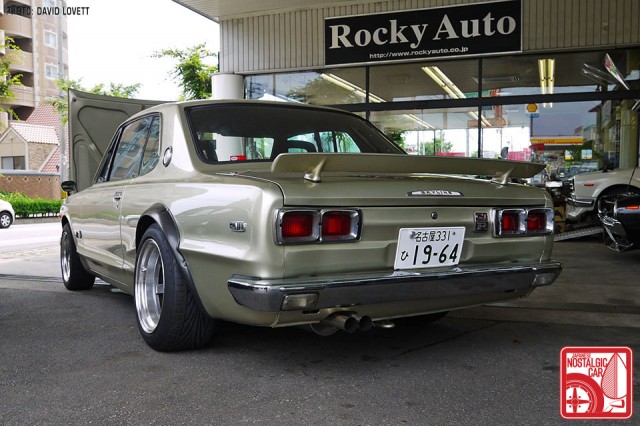 We stopped to take a look at this Skyline, which from the outside appears to be a normal, lowered hakosuka.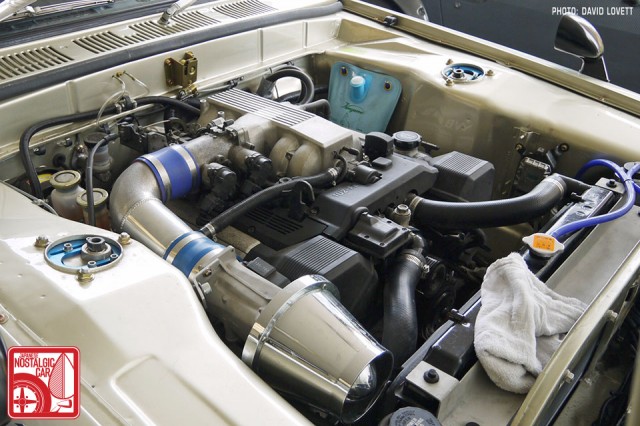 But peek under the hood and you'll discover it's none other than the V8 hakosuka that made such a big splash at Nostalgic 2 Days. We actually had the pleasure of hearing this Lexus 1UZ-powered Frankenstein run for a bit and it sounds like God bellowing with laughter.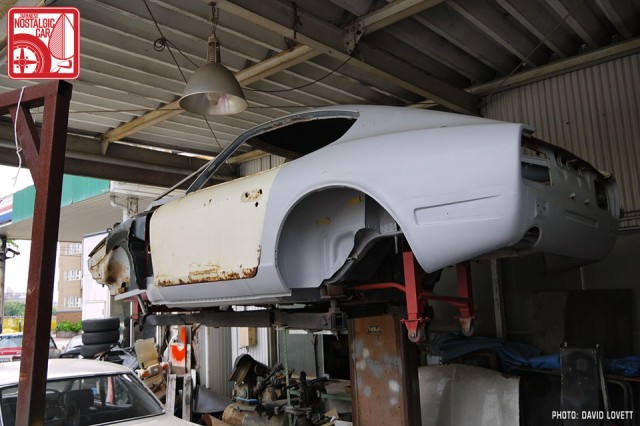 Hidden around the corner of the lot was a sad looking S30 Fairlady Z. You can see that rust had taken its toll and that the car is in the process of getting new panels, it has apparently taken a back seat to some more pressing projects.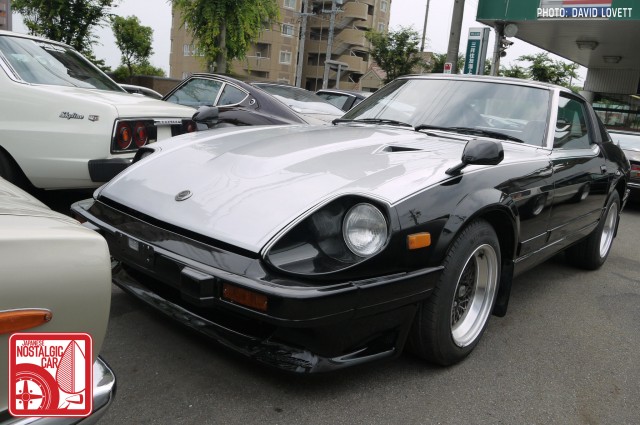 Elsewhere on the lot, I found a beautiful and rare 2-seater S130 Fairlady Z. What made this one unusual was that it did not have T-tops. It had obviously been restored, and whoever worked on it did a great job, I might add. I was never a huge fan of S130s, but this car, for some reason, is ranking very high on my want list.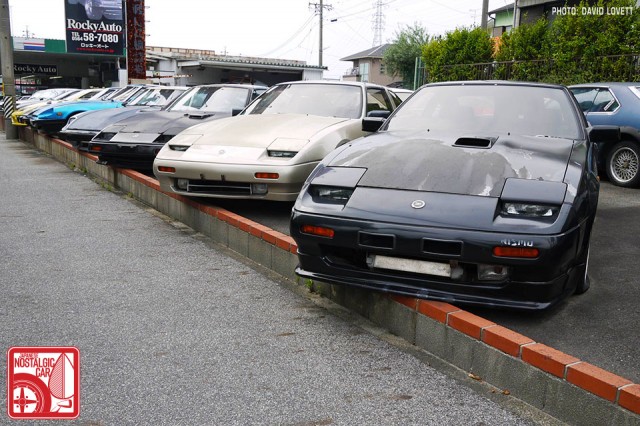 The massive lot also housed a row of  Z31 300ZXs, many in fairly sad shape. I desperately wanted to save them because there's a very special place in my heart for Z31s.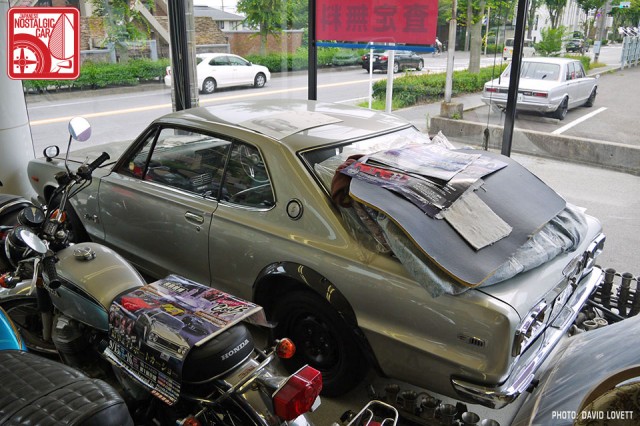 As we ventured back in to say goodbye, I noticed that one of the genuine GT-Rs in the back was under quite a lot of stuff. I asked Watanabe-san about it and he told me to go take a photo of the license plate. Who was I to refuse?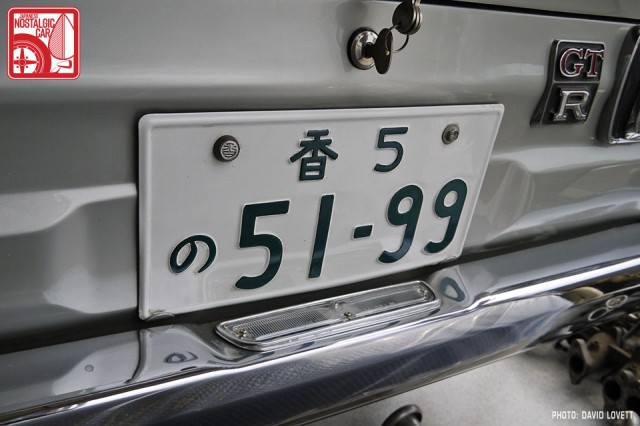 To most, this picture means nothing, but the license plate is actually something quite special. In Japan, whenever a car changes owners or is de-registered its plates are sent in to the rikuunkyoku, or vehicle registration center, and subsequently destroyed, whereupon new plates are made and re-issued. This plate, however, was the original plate, with only one digit on top rather than three, from when the car was brand new. That means that this KPGC10 GT-R is a one owner car!
After drooling over the S20 engine on the stand one last time I had to ask about its price. As it turns out, it needs a rebuild, but if you buy as-is, it can be yours for the easy price of ¥3,000,000 ($30,000 USD)! Not exactly cheap, but considering its rarity and place in history, it's not that bad either. Sadly, I had to decline and politely said goodbye to Watanabe-san.
However, American fans of Rocky Auto will be able to meet the legend himself this weekend at the Vintage Auto Salon in San Leandro. He'll be signing autographs for fans, so be sure to come by and say hello!