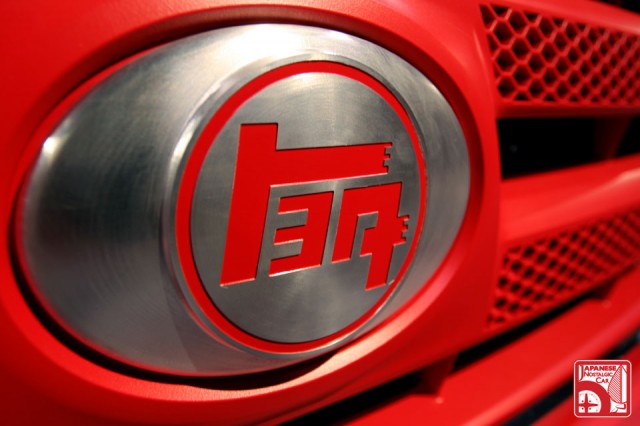 Yesterday we showed you some genuine nostalgics from Subaru and Honda. Toyota has been known to bring old school cars to SEMA in the past, but this year they cooked up a bunch of new cars with old school flavor.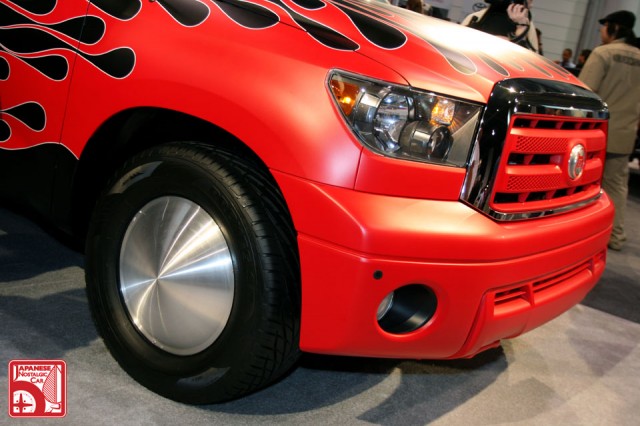 This is what Toyota is calling the Hot Rod Tundra, an attempt to prove that a "work truck could be made into an American-styled hot rod." Why you would want to prove this, no one knows.
The Tundra may include Bonneville Moon hubcaps, a fully tucked and rolled interior, and Cherry Bomb exhaust, but we thought the concept of a hot rod Toyota truck was better executed by the FJ40 Land Cruiser Low-Boy from 2006.
The Tundra did, however, have a bitchin' custom-milled katakana Toyota logo about the size of a football lodged in its grille. Raise your hands if you think Toyota should go back to this logo on all their cars.
With a towing capacity of 10,400 pounds when equipped with a 5.7L V8, we always thought the Tundra would make a great rescue vehicle for craigslist finds.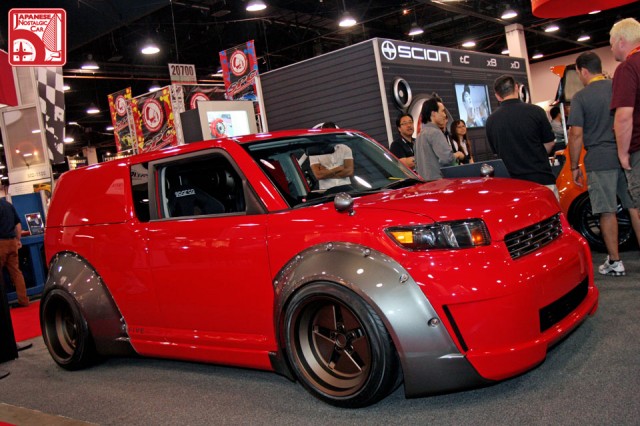 American-styled hot rods are fine and dandy, but why not some Japanese-styled ones? Over at the Scion booth, 5 Axis Design did just that, with a massively bubble flared Scion xB, complete with gray-painted Mooneyes bullet fender mirrors.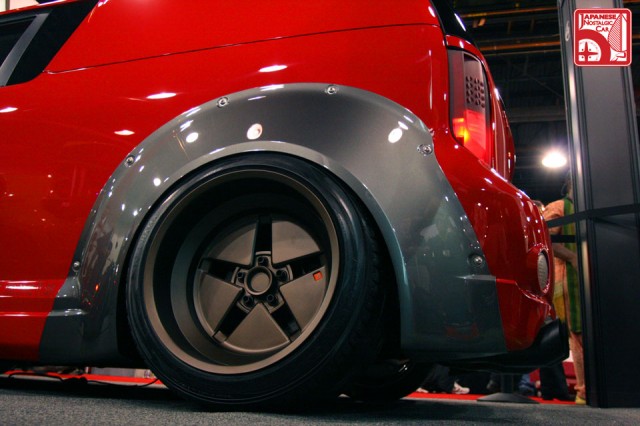 According to 5 Axis head honcho Troy Sumitomo, the one-off 18×10 and 18×12 custom wheels were inspired by vintage Hoshinos and Work Equip 02s. We think they look killer without being a blatant copy and hope 5 Axis puts them into production. We'd love to see these on, say, a Z31 Nissan 300ZX.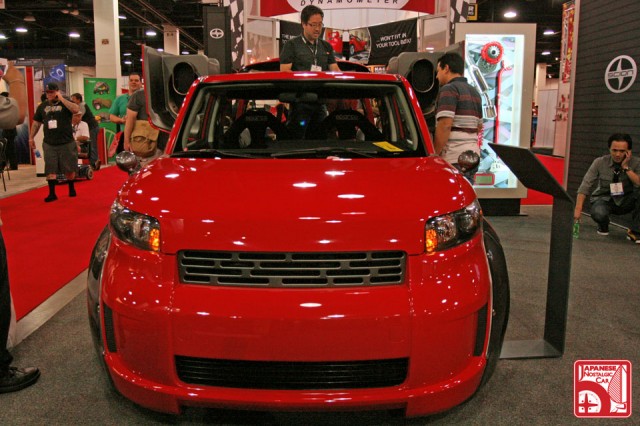 The panel van design was appropriately retro, but it served another purpose: to hide the DJ booth that folds out of the back. Most attendees will focus on the wild Transformer aspect, but we went gaga over the nostalgic touches.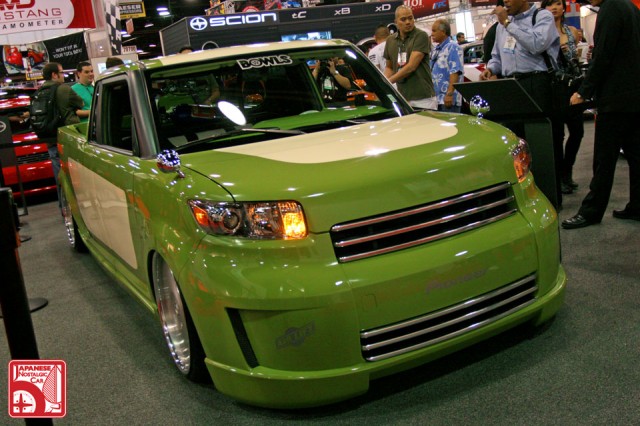 Mooneyes fender mirrors also found their way to Brandon Leung's retro Scion xB pickup. Are fender mirrors the next big thing among Scionistas?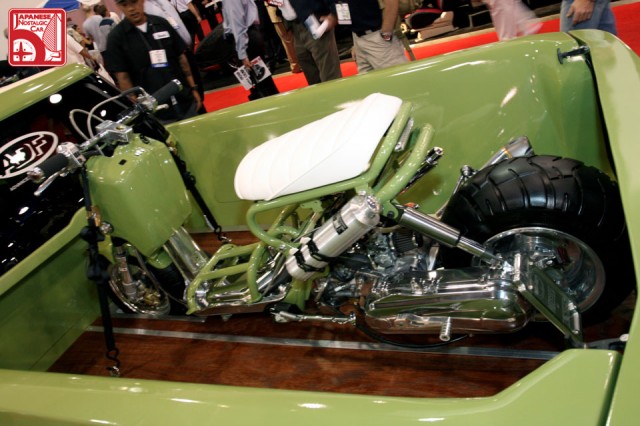 A matching Honda Ruckus by Bowls sat in the back, ready to be dispatched in an emergency like KITT in Knight Rider.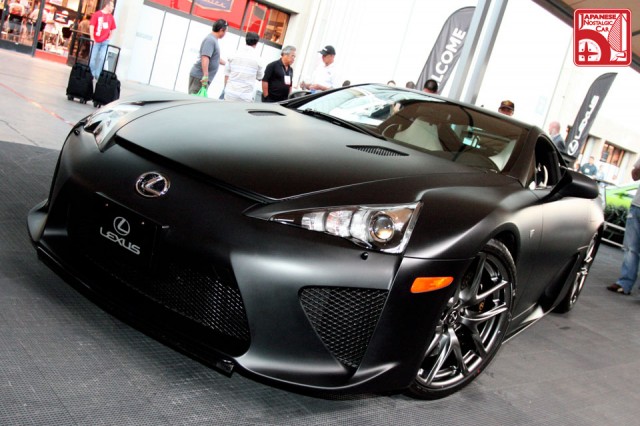 Now let's take a journey to the opposite end of the Toyota spectrum. After nonstop drooling over Lexus LFA photos since the Tokyo Motor Show, we finally got to see it in person. And let us tell you, it is every bit as majestic in real life.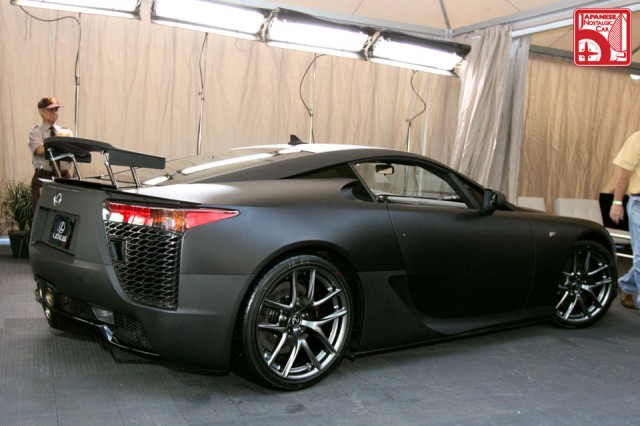 Looking sinister in matte black, the car eerily drew all spectators to it like the gravitational pull of a black hole. Lexus employed a full-time security guard to keep an eyeball on it all day.
Like the Toyota 2000GT, the LFA's surface belied a blend of complex curves and creases that were only visible in certain lighting.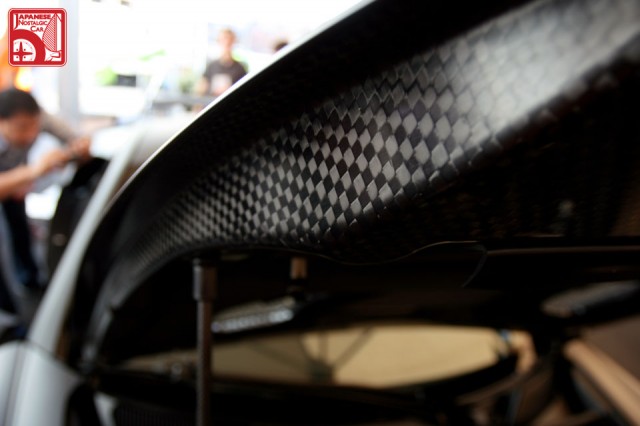 Dan got to lift the hood and reported that it he could have held it with his pinky fingernail. But if that fails, the hood prop is made of carbon fiber.
The monstrous hood covered the even more monstrous V10. It doesn't look big, sitting far back behind the front wheels like that in a front midship layout, but that gives you an idea of just how large the car is.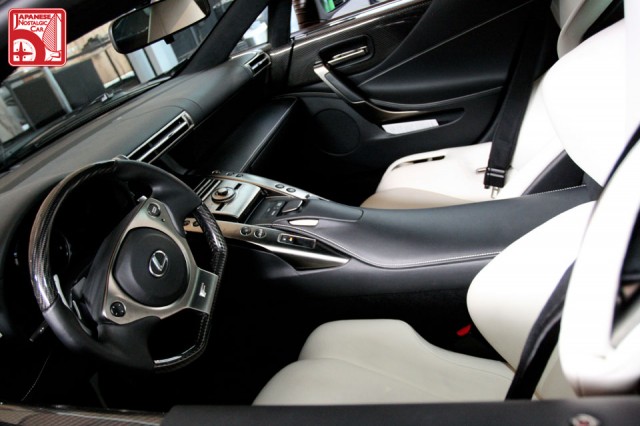 Exotic materials swathed the interior. The top half of the steering wheel was composed of carbon fiber while the bottom half was aluminum. This was for a more sold on-center feel. The only person allowed to sit in it was the spokesmodel, whom I immediately proposed to (and was rejected by).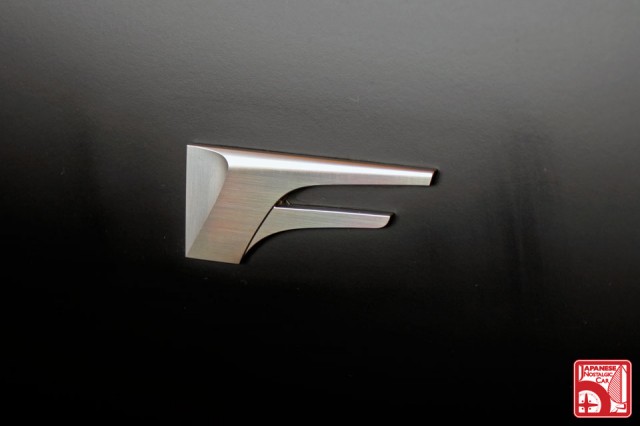 This was a pre-production model, and tape lines around the badges were still evident around the F badges. Was this a camouflaged test mule? Were carcasses of German mosquitoes still lodged in its massive, rear-mounted radiators?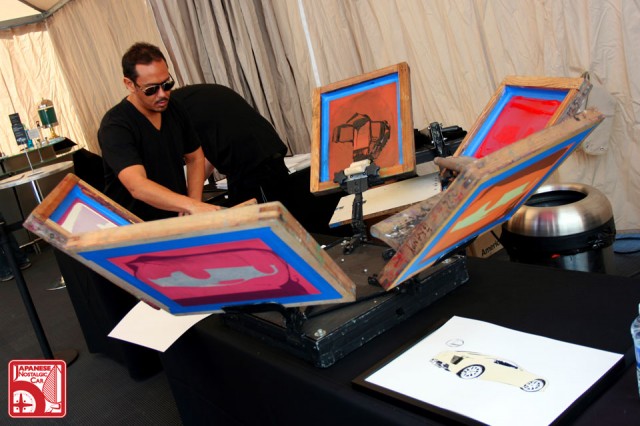 Like the LFA itself, of which only 500 will be produced, Lexus was trying to keep even the LFA T-shirts exclusive, limited to something like 150.
Here's a parting shot to haunt your dreams until tomorrow's coverage. Sadly, Toyota announced on the same morning that the are quitting F1.