Last December a car surfaced in Russia, one that the owner claimed to be a long-lost Toyoda AA. This was Toyota's first production automobile, first built in 1936, and is so rare that the Toyota Automobile Museum in Japan doesn't even own one. They had to construct a replica for display, and while records show that only 1404 Toyoda AAs were built, Russia claims not one, but two AAs. Now, one of them has been purchased by the Louwman Museum in The Netherlands.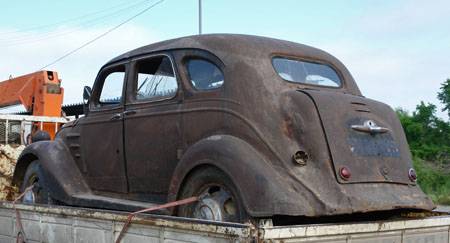 The Louwman Museum website is calling it an AA, so we assume that they have performed some kind of verification. However, that is only an assumption. The only thing that seems certain is that this AA did come from Russia and was originally posted on drom.ru (Note the broken rear window).
The AA's rear was flush, but if the other Russian AA is any indication, these cars were modified extensively to suit the owner's needs, with entire sections of the body cut out (and possibly re-grafted with sections from other cars).
The Louwman Museum says that this car came from Vladivostok and was owned by a Siberian farmer since WWII. It was used in the countryside and thus has been modified. They purchased it from the grandson of the owner and it took seven months to get it out of Russia.
The following is a translation of the Louwman website from Dutch thanks to Toyotageek.
Almost no one had expected that somewhere in the world has an original copy of the first car model of Toyota are the AA. The Toyota factory museum in Japan even has a replica be produced. Around 2008 the AA, however, arises in the Russian Vladivostok. He had since World War II owned a Siberian farmer and is likely to come to Russia as war booty. The car has always driven the country and has been heavily modified. The examination of the history is still ongoing.
Toyota is the Museum Louwman taken directly from the grandson of the
original owner. It has taken seven months to get the car in the Netherlands. Including the Russian Ministry of Culture was authorized to allow the car to be exported, because more than fifty years old. The car is by train from Vladivostok to Moscow and then driven by truck to the Netherlands.
Except the oldest, this is also the only known war for Toyota in the world.
So is it a real AA? Perhaps a Dutch JNC reader can visit the museum and do some detective work. As for the full debate on whether these are history in the making of a clever dupe, see this thread in the JNC forum.
[Image: Skitmeister's Flickr] Hat tip to Toyotageek.