Despite a flagging global economy that's hit Japan particularly hard and reports of the world's auto manufacturers bailing on this year's Tokyo Motor Show left and right this year, there are now some surprising rumors surfacing. If true, the 41st Tokyo Motor Show may be a retro revival of sorts.
The most recent speculation is that of a possible Mazda RX-7 concept, powered by a 1.6L rotary. Many Mazdafarians failed to fully embrace the RX-8, and this would be a return to the two-door formula of past RX-7s. But with only one report and Mazda's dire financial shape, we'd have to say this seems highly unlikely.
Slightly less unlikely is the unveiling of Project 086a, the Subaru-Toyota lightweight AE86 successor. It may even be called the Celica, marking the first time the Celica nameplate would be used on a RWD platform since the end of the A60 in 1986.
Other rumors say this entry-level sports coupe will be accompanied by a Supra successor, possibly a hybrid. And yet more scuttlebutt claims Toyota will unleash a sports car trifecta because the production Lexus LF-A V10 supercar, of which there will only be 500 made, is also coming to the party.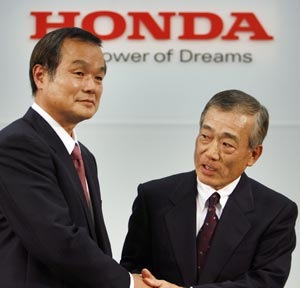 If we had to guess, which we are, we'd say no to the Supra and yes to the LF-A and 086a/Celica. Those have had numerous reports with the name of new prez Akio Toyoda attached, and perhaps he's just enough of a car nut to make it happen. It would do well to back up his claims of "emotional" products coming from a company that seems to have lost its way with sports cars.
And it looks like Honda is following on Toyota's heels by making Takanobu Ito, the chassis engineer for the NSX, its new president. Here's another company that once made brilliant sports cars but has turned its back on them for mass-market sedans and crossover SUVs in recent years. Talk of "recapturing the spirit of the past" poured forth from Ito-san.
So either we're on the verge of another JDM renaissance or we'll all be sorely disappointed come October. Sounds about right.