Models come and go, and some generations are better than others. However, once in a lifetime, maybe twice, cosmic forces just align and an automaker knocks it out of the park like the 1996 Chicago Bulls. Wrong metaphor? I don't know sports. Anyway, take Toyota in 1985, for instance. They had everything from a mid-engined sports car to a go-anywhere SUV, each and every one a winner. You could cold walk into a showroom and have your pick of the A-dub MR2, AE86, X70 Cressida, A60 Celica or Supra, solid axle Hilux, detachable top 4Runner, or FJ60 Land Cruiser. Thirty years later, all are highly sought after. But, like Levar Burton says, you don't have to take our word for it.
Which Japanese automaker had the best single-year lineup?
What say you, dear reader? As always, the most entertaining comment by next Monday will receive a prize. Scroll down to see the winner of last week's QotW, "How do you prepare your JNC for winter?" 
Oh you smug Aussies. Our friends in the lower hemisphere have it good. Brett simply looks out for poisonous animals, Stuart Kayrooz puts on a slightly thicker T-shirt, while Andrij Mishalow actually drives more. Meanwhile, those closer to the poles take a different approach. D bitterly hunkers down at home, Ryan starts spraying bedliner everywhere and DADZSUN parks a snowblower in front of his 510. This week our sympathies go out to OneDirtyS30, who reacts like he's in The Walking Dead:
Salt state… Massive amounts of snow annually… JNC..?

Around here winter proofing isn't a chore, its a matter of survival! Not only is it damn near impossible to find a healthy surviving example of a 40+ year old JNC around here, but keeping it in good shape damn near requires life support!

As the snow piles up and the hoarde of dreaded salt trucks roam mindlessly from street to street, starved for fresh metal to devour, My preparations are already well underway.

Anyone not familiar with how to protect their beloved classics from harsh Midwest winters can take que's from any post-apocolyptic/zombie survival movie or TV show. Start by barricading and sealing off the garage doors, Stockpile all the supplies and tools you'll need for a worst case scenario, including a few bags of sand to grit the driveway.

Then you wait…likely for the next 6 months… Good preparation, hope, and the occasional prayer will help ensure you dont get stuck cutting out those floor pans next spring! :p
Omedetou, your comment has earned you a set of decals from the JNC Shop!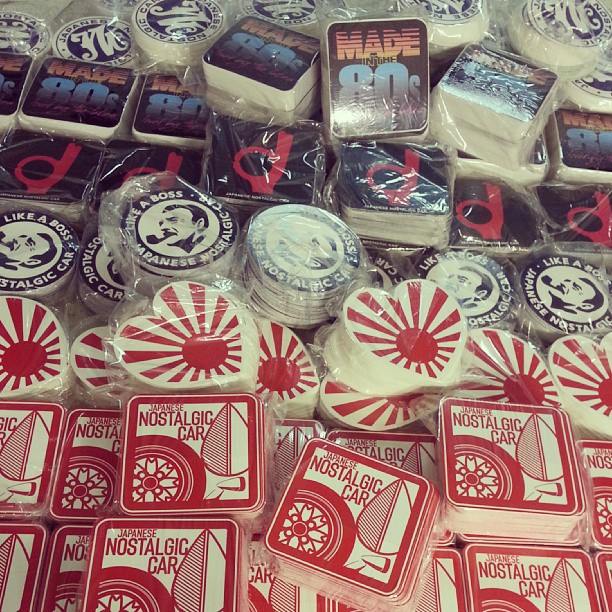 Image: 北海道の守護神