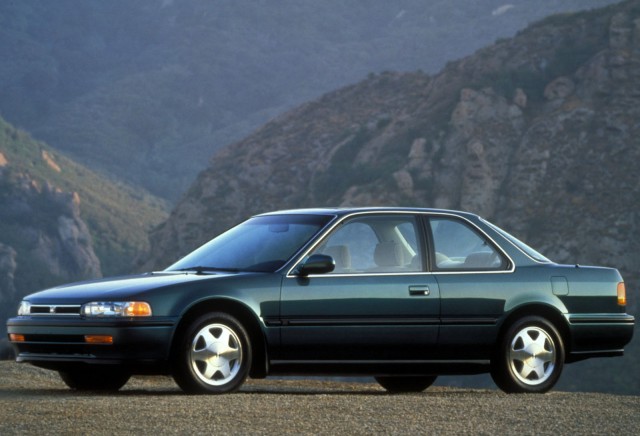 There was a time when a '57 Chevy Bel Air was just a plain ol' car that wasn't even as spectacular as a Buick. Now it's a emblematic of its era and a bona-fide classic.
Which completely inconspicuous car will be a JNC of the future?
One could make a compelling argument that the CB7 Honda Accord was the pinnacle of the model. It looked good, handled well, and had an interior that far surpassed its competition. It was also everywhere, one of the best selling cars in America. Now, if you take away the beaters with one Pep Boys Altezza light and sagging suspension, how many examples are left? One day people will be nostalgic for these bread and butter specimens from Honda's heyday, and they'll be gone.
What say you, dear reader? As always, the most entertaining comment by next Monday will receive a toy. Click through to see the winner of the last QotW, "What's the cutest JNC you ever did see?"
It was a tough decision this week, what with nominations for the recent Mazda happy-face cars, Suzuki Cervo, Toyota Sports 800 and multiple calls for the Nissan Figaro. But we could pick only one answer, and the one put a smile on our face, much like the cars in question, was nihontekko's pick of the Mazda R360.
I think the wee little 1960 Mazda R360 is the cutest car I ever did see. The stubby little body, bubble top, shiny domed hubcaps and little round headlights that say "harōwārudo!" just make me want to smile when I see one. A dinky 16 hp engine tops it off to give it just enough speed and a cute puffing exhaust sound as it chugs along the back roads of Nihon.
Omedetou, Your comment has earned you a rare Hot Wheels x JNC Super Speeders mystery pack Mazda RX-7!