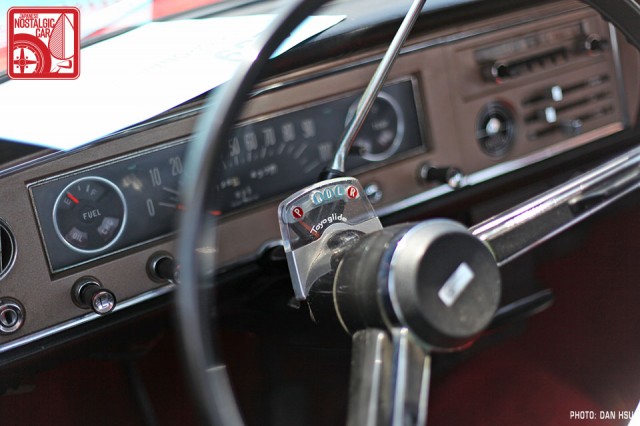 When considering what new cars will be future classics, JNC's Law of Transmission Selection for Future Collectability states: if it's sold with a stick, you must buy it in stick. Yes, fancy new gearboxes can shift faster than a human being, many supercars aren't even offered in MT, and the law is often in direct conflict with our Law of Engine Selection for Future Collectability: you must buy it with the most powerful engine option offered.
But in the old days, every car was offered with a manual, from the lowliest Subaru 360 to the grandest Toyota Crown. Plus, those old slushboxes were power-leeching whirlpools that needed at least one — more likely two — extra speeds to make you feel comfortable about highway driving.
When is it okay to buy an automatic transmission?
What say you, dear reader? As always, the most entertaining or inspiring comment by next Monday will receive a toy. Click through to see the winner of the last QotW, "What's the greatest JNC barn find story?"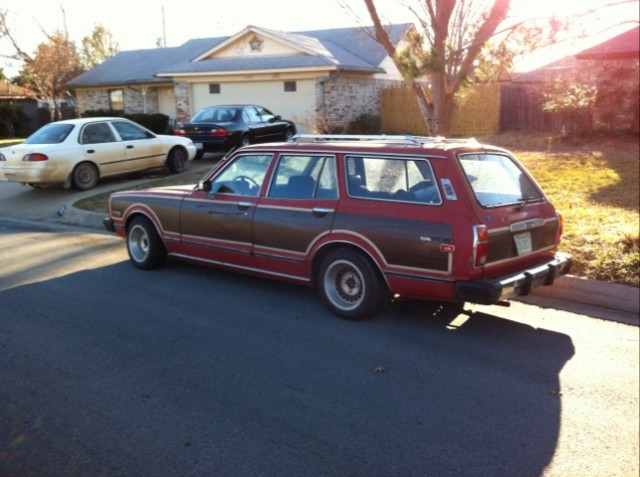 We received some really great stories about JNCers going through great lengths to acquire the car of their dreams. From Otso's discovery of a Skyline Japan in Finland to Josh's relic-to-SEMA-show-car Fairlady Z, you would think these guys were after the holy grail. The winner by a slim margin though, is dickie's tale of his epic quest to fetch a Cressida wagon from deep within meth country, USA.
I wish my '79 Cressida wagon had been barn-stored.

I got a call out of the blue from a friend notifying me an old Cressida in Tulsa, OK. Attempts to contact the seller resulted in mass emails from different addresses, one claiming to be the current owner and one an acquaintance trying to help her sell the thing. I was able to piece a solid account of the car together and get some pictures of the necessities. The asking price was high and I had no intention of paying for the car with a bill of sale only – no title – and arranging for transport to my home some 312 miles. Especially sight unseen.

The car was apparently still available weeks later. Its presence was a constant bug in the back of my head. At the time, there were only a couple first generation Cressidas that I could find using Google: Lloyd's and another wagon that belonged to someone in WA who had slammed it on Enkei 92′s. I found myself with some extra cash and literally nothing better to do, so I made plans for an impromptu road trip to check it out. I loaded my new girlfriend into my Miata and set off on the 8 hour drive Northbound.

I'm just going to throw this out there for those of you looking for free relationship advice: if you can drag a girl across a state spending 8 hours in a small, cramped car with no air conditioning and 110db in cabin exhaust volume and she stays with you – KEEP HER!

So we made pretty good time on the way there, mostly highway driving with light traffic and no law enforcement. As we approached our destination, Google maps started pointing me toward sketchier backroads and dirt turnoffs in what could best be described as Meth country. But I had traveled too far to abort the mission, so we pushed on. I was working with an address that I had pulled from exif data in the pictures the seller had emailed me. That's right, I had no idea the car would even BE there when we arrived because the seller and her accomplice had dropped out of communication just before I decided that I had to see the car in person. Google did its best to route me to the location, but roads that it indicated simply did not exist. I had to resort to finding my way to the dot on the map 20 minutes from civilization in any direction.

After driving in circles looking for a route, we came to a small house right off the gravel road. There, parked under a shade tree and looking forlorn in the overgrowth was the car. A weathered and sun baked piece that nobody would have looked at twice if they didn't know exactly what it was. If I didn't rescue it, odds are it would have continued to sit untouched for another two decades until it finally succumbed to weather or scrap haulers eventually turning their attention to the more remote locales.

There was an immediate problem: nobody seemed to be around. I don't just mean the house – there was literally not another soul to be seen or heard for miles. I walked up and down the fence line at the edge of the property, stretching my legs and trying to get as good of a look as I possibly could from the 30 feet or so that separated me from my prize. The car looked relatively complete, some missing trim was apparent around the faux-wood vinyl and the driver side window had been smashed out and replaced with a black garbage bag. I couldn't tell whether the car had sunk into the ground or the tires had simply gone flat. The back of the cabin was full of junk and the roof and hood were covered in maybe a decade's worth of tree poop. Most troubling was the fist-sized oxidation encrusted hole just behind the passenger side rear wheel.

Needless to say, my company wasn't impressed. I believe her exact words were, "we drove all that way for this?" I was seriously in deep shit if I didn't make good on our trip soon. I began to feel helpless, attempts to call the friend of the seller proved fruitless – the number reported that it had been disconnected, obviously relatively recently as I had only spoken to less than a week prior to our trip. I kicked gravel and weighed my options. It was a rough car, and I'd come with a bottom dollar offer in mind. I estimated a 50/50 shot at driving away with the car, but if I couldn't even pitch my case what good was it?

I summoned the courage to see about unlatching the gate – a risky proposition considering the lay of the land. As if I had tripped some sort of delayed invisible trip wire, a farm truck came barreling up the road in a cloud of dust. I affected my best impression of an innocent city boy out of his element and walked to the open window. I was greeted by the wary gaze of a guy about my age, sizing me up as either harmless or trouble. He was apparently the son or grandson (it could have been both?) of the seller, and he granted me access to take a closer look, although he seemed amused that anyone would even want the "piece of shit foreign" car that had been discarded so long ago that he couldn't remember. He drove off after obtaining my promise to shut the gate before I left but provided no clues as to who I could talk to about buying the wagon.

Close-up, the car didn't look much worse – or better – than it had from ten yards. The paint was probably not saveable. It had originally been bright red but thousands of days exposed to the elements had given it a faded and weathered patina. The remnants of the window were scattered across the interior, which had probably played home to at least a few generations of critters over the years. The tires were dry rotted, there was a dent in the hood that might have come from an unlucky pedestrian and there was evidence of a valve cover gasket leak and some sort of homebrew electrical goings-on under the hood. Strangely enough, I wasn't deterred in the slightest. In fact, my head was already swimming in visions of busted knuckles and grease-stained t-shirts. I had to have this car.

I walked back to the Miata with a grin on my face and packed up my girlfriend for the return trip. We made it home just after dusk and went to bed totally exhausted from the trip. Instead of sleeping, I worked through plans and contingencies to make sure that the wagon ended up in my driveway somehow, some way.

I finally heard back from the seller weeks later – the car was still for sale and I was going to meet her on a Saturday to pick it up. This time I brought a more willing and capable companion in the form of my dad, and we made the trip in his truck. I was certain I could tow-strap the car back to Texas if I absolutely had to, but being an optimist I brought jumper cables and a battery with me. We stopped at the last auto parts chain on the way to our destination and picked up and filled a 2 gallon gas can, a jug of oil, a jug of coolant, starting fluid and a can of fix-a-flat.

We found the house much quicker the second time around. This time the seller was waiting for us, an elderly woman shadowed by a shy little mutt. She gave me some history on the car, let me know it had been parked at least 10 years ago and that it ran and drove up to that time. They bought the car from the dealer new and it was "top of the line" in its day. Since then it had served as the family's primary mode of transportation, then had a brief second life as a utility vehicle on their land before being passed down to a son who needed something to get him to and from the bar. The smashed window and the shady electrical work had been his doing. Probably the human sized dent in the hood, too. There was no title, but she could provide a notarized bill of sale. My dad and I looked it over more thoroughly this time, opening the doors and assessing the wear with grim faces to mask my enthusiasm any time I caught the old lady looking.

Finally I told her I'd like to try and drive it before I handed over any money. She agreed but said she couldn't vouch for it's ability to start up, much less make a trip of any length greater than the ruts in the dirt that it occupied. I checked the oil, black but full to the top of the mark. The radiator was bone dry, so we filled it up. I hooked up our battery and checked the car for power. We emptied the gas can into the tank and hit the carb with a couple blasts of starting fluid. I gave the gas pedal 2 pumps and turned the key… and the car fired up and settled to a steady idle on the third crank. I kicked the tires, walking around as i watched for leaks and listened for anything signaling some catastrophic mechanical failure from the years of neglect, but I was pleasantly surprised to find nothing immediately wrong and nothing burst into flames!

The car shifted into Drive and worked its way out of the ruts slowly, then made it out onto the street with little effort. I had it chugging up to 45mph on the nearest pavement I could find, shifting seemed to be okay, tires held air and the brakes stopped the car reasonably well despite squealing in protest. I had the keys and bill of sale in my hand and I was on the road no less than half an hour later. I made the 8 hour trip back home through the reservations and their awesome natural scenery, and on the way spotted a used car lot with an MX62 Cressida wagon and an old Medium Blue pickup with an impressive offroading stance.

The only hiccup came when I tried to turn on the headlights as dusk approached only to find out there were none. So with my dad's truck running blocker on my tailgate, we raced sunset to make it back to my driveway. The feeling of the return trip with the AM radio playing through the single dash-mounted speaker and all of the windows down was something I'll never forget. I felt like the wagon was happy to be back on the highway doing what it was built for, and the fact that all it needed to make the long trip home was some fluids topped-off and a fresh battery is a testament to the "unkillable" Toyota legend.
Omedetou, Your comment has earned you a rare Hot Wheels Super Speeders mystery pack Mazda RX-7!