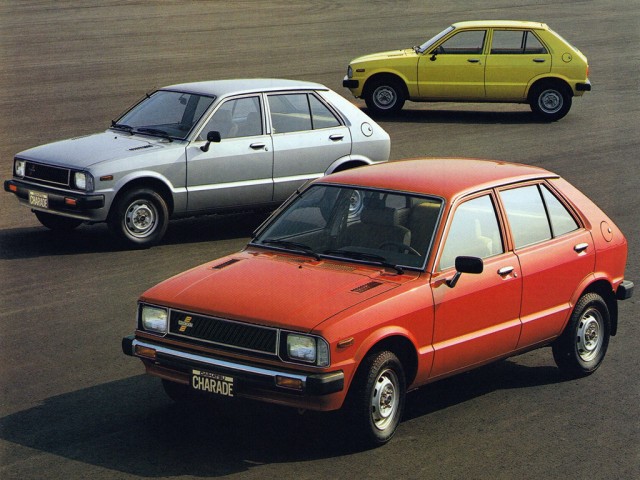 A few weeks ago we asked JNCers what the best model name was. Well here's the flipside. Sometimes the best and worst are one in the same but in any case we put the question to you.
What's the worst model name?
According to Oxford a Charade is "an absurd pretense intended to create a pleasant or respectable appearance." Why Daihatsu's marketing team did not see this as a Bad Thing will always be one of the world's great mysteries.
What say you, dear reader? As always, the most entertaining, well-written, or inspiring comment by next Monday will receive a random JDM toy. Click through to see the winner from last week's question, "What's the best Japanese car commercial from the West?" 
There were so many to choose from. In the pantheon of American ads it's hard to beat Nissan's 1990s streak that included such classics as Ridley Scott's Turbo Z spot, Mr K's Dream Garage, GI Joe and Barbie in a 300ZX (and its Pathfinder followup), and my personal fave, "If I had a Z."
However, Honda UK seems unable to do any wrong, given adverts like Impossible Dream, Hate Something/Change Something and the ad contained in this week's most inspiring comment by Aly.
For me, it'll have to be Honda's "Cog" from the UK.
http://www.youtube.com/watch?v=_ve4M4UsJQo

As a car advert, it's probably the most antithetical of what a car advert should be. No burning rubber, no open roads, even no driver. But the entire concept of the ad – calculated, precise, and done in real life without any trickery – reflects what Honda is (or rather should be) all about: persistence, precision and the desire to keep trying until all the elements just work.

I think Wieden+Kennedy embraced Soichiro Honda's spirit in an amazingly artistic way, and for this I consider it to be "the best Japanese car commercial from the West".
Omedetou, madam! Your prize from the JNC gashapon is a Tomica Honda City Turbo II!