The world of nostalgics is filled with bold colors, perfectly paired two-tones and the whitest whites this side of heaven. Go to any gathering of vintage Japanese cars and it's a feast for your retinas, a refreshing break from the seas of blandness at your local mall parking lots. So we ask:
What's the most beautiful OEM color?
We've theorized before about why the Japanese love white cars so much. Tires must be black, taillights must be red. Add a canvas of white and you've got the three traditional colors of Japanese art. But Honda's Championship White isn't just any white. It's got hints of tan and yellow that make it look stunning on cars both vintage and modern. Plus it was reserved for only the highest spec models and had the provenance of the 1965 Mexican Grand Prix-winning Honda RA272 F1 car.
What say you, dear reader? As always, the most entertaining, well-written, or inspiring comment by next Monday will receive a random toy. Click through to see the winner  from last week's question, "What's the coolest kei car?" 
We received many great comments touting everything from the Honda Life Step Van, to the Mazda Autozam AZ-1. However, there can be only one winner, and this week that champion is Rds, who sayeth:
Other than the always-cool Cappucino/AZ-1/Beat collection of happiness, I'm going to have to give a shout-out to the CA72V Suzuki Alto Works RS-X (and to a slightly lesser extent, the RS-R).

It has a turbo intercooled DOHC 3-cyl. It has a 12,000rpm tacho. It weighs 600kg. It has pink seats, a bonnet scoop, and the rear spoiler that almost borders the entire rear window. It has more stickers outside than paint, and if the name isn't long enough it has a full paragraph of text on the door.

It's a whole cars' worth of interesting, compressed into a tiny bonneted square. I want one.
Omedetou, sir! Your prize from the JNC gashapon is an HO scale Suzuki SJ140! For more photos of the Alto Works RS-X, check out TeamMightyBoy.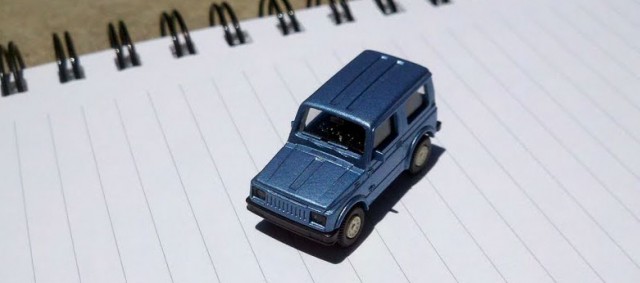 [Images: Honda, TeamMightyBoy]