Today is Soichiro Honda's birthday. Though Honda-san passed away in 1991, many of the last cars he saw go into production are quickly passing the 25-year threshold into classic-dom. We can't think of a more appropriate time to ask:
What's the greatest nostalgic Honda?
The easy answer is probably the Honda S800. It was the top-spec version of Old Man Honda's first born, the S-Series. Sure, the T360 beat it to market, but that was a concession to his business partner Takeo Fujisawa, the more rational of the two. Many of Japan's great race car drivers got their start on Honda S-cars, and it would serve as the inspiration for one of the greatest sports car in modern times, the S2000.
What say you, dear reader? As always, the most entertaining comment by next Monday will receive a prize. Scroll down to see the winner of last week's QotW, "What's the greatest Japanese nostalgic wagon?" 
There were a tremendous number of great answers this week. If any of you need a good laugh this Monday morning, we highly recommend you read through the whole thread started by last week's winner Chris.
We thoroughly enjoyed PDXBryan's dissertation on the Datsun 510, Spudenater's missive on the TE72 Corolla, dsh4's ode to the RS46 Crown, kyushakai 's confession for the TE28 2-door wagon, Kevin advocacy for the kenmeri Skyline van, or cesariojpn's paean to the Toyota Tercel 4WD. In the end, it was Jim-Bob's tribute to the 1980 Datsun Maxima wagon that won our hearts:
While my normal choice would be the Nissan Staega (available with R33 GTR mechanicals!), it's a little too new to be a nostalgic. Thus, I will nominate the 1980 Datsun Maxima wagon. It's the only rear wheel drive car to bear the Maxima badge and underneath most of it is just early Z car mechanicals. Plus, it was available as a mechanical fuel injection diesel meaning that it can be run off of used cooking oil during a zombie apocalypse. It also has a voice module in it that is purely analog! Yes, Nissan…err Datsun's engineers designed a miniature record player that would tell you when the door was open. Not even a Rolls Royce could brag about that sort of technology!
Omedetou, your comment has earned you a set of decals from the JNC Shop!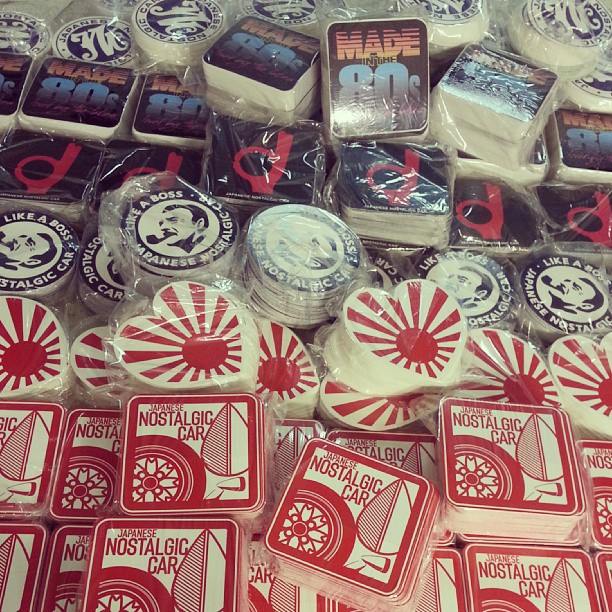 Photo by Skorj, who resides in Japan and is co-founder of Filmwasters.com