Now that the SuperBowl is over, it might be time to ask what was the greatest ever contest of wills involving at least one classic Japanese marque. There have been many throughout the ages. Datsun vs Alfa Romeo in SCCA Trans-Am 2.5. Subaru vs Mitsubishi in rallying. AE86 vs Silvia in drifting. Toyota vs Nissan in sales.
What's the greatest JNC rivalry?
As usual, we'll go for the easy pickings, that of the Mazda RX-3 and Nissan Skyline GT-R. In the early 70s the hakosuka GT-R was absolutely dominant in Japanese touring car racing and had a fan following that would make the Seattle Seahawks jealous. Nissan was so confident that it would win a 50th victory in December 1971 that it preemptively took out ads in Japan's major newspapers telling race fans to watch them clinch the deal at the upcoming Fuji Tourist Trophy. Then along came Mazda with a fleet of RX-2s and the newly developed RX-3 and, after a nail-biting battle, denied Nissan their much hyped win. Of course, Nissan did go on to claim that 50th win and more, but it was a surprising upset for fans and a stark reminder not to count your chickens before they're hatched.
What say you, dear reader? As always, the most entertaining comment by next Monday will receive a toy. Click through to see the winner of the last QotW, "What's the coolest factory decal package?" 
Though we were greatly entertained by Walter's nomination of the Suzuki Alto Works RS-R's entire curriculum vitae scrawled upon its kei-sized flanks and Dutch 1960's inspiring tale of the Mazda RX-3 SP's SCCA history, the winner this week is Bob, for his touching tale of fixing up a mid-80s Toyota pickup.
The strobe stripes down the side of mid '80s Toyota 4x4s. They're so of-the-era, and yet so subtle… I don't think the trucks look right without them. And they're tied to a vivid memory for me.

About a decade ago, I had befriended a guy on a local car forum who lived an hour away in the hinterlands by himself, and had been a Toyota tech in the mid 90s. He was too busy traveling around and working to fix any of his 15 cars, and he was preparing to move out of the house and closer to the city. He paid me to come on weekends and do random repairs to the cars, often with me learning as I went along. Replacing springs and a water pump on an Econoline, putting a fuel pump in a MK3 Supra, etc.

The biggest job he had for me was prepping and painting a very rough '87 Toyota X-tra cab truck in his garage he wanted to sell. Every body panel was off a different truck, and it was still built from rusty panels, poorly welded on plates of steel for the rockers and floors, etc. It was my job to make it one cohesive color. The doors had the remnants of the strobe stripes… the doors were tan, the stripes brown. I loved them. I worked on other parts of the truck as long as I could to avoid removing them, admiring them while taking breaks as the dust flew around the garage, hotter than hell in mid summer.

When it finally came to getting them off, I had decided to take a torch to them, and as I lit the propane, in 90 degree heat in an enclosed garage, New Edition came on the radio.
I felt like I'd travelled back in time as I held this pea green with woodgrain applique propane torch against the tan sides of the X-tra cab, watching the brown strobes melt one by one to "COOOOOL IT DOOOOOWN, oooOOOOOOOOOH WATCH OUT, YOU'RE GONNA LOSE CONTROL!"

I don't know why, but I wanted to live in that moment forever. There's magic in that Aichi vinyl right to the end.
Omedetou, your comment has earned you a set of decals from the JNC Shop!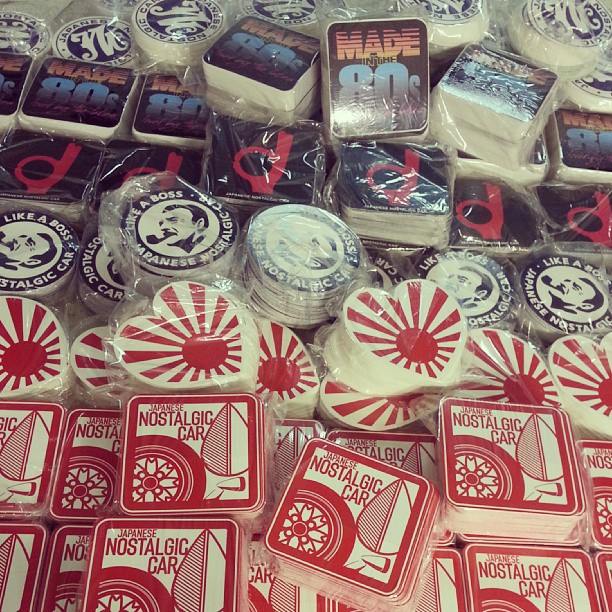 Photo courtesy nkazmers.