Seeing various AE86s, Celicas Cressidas at Toyotafest got our brain gears turning. We've asked you before about the coolest vintage barrel because Japanese racing alloys are an indelible part of the JNC culture. But not everyone can afford or find a set of wheels that can rival the cost of the car itself. So what about stock?
What's the coolest OEM wheel?
Toyotaku have already discovered Toyota 14×7 Supra iron crosses and have been slapping them on every RWD Aichi sled known to man. It's simple — the 4×114.3 bolt pattern is universal among old FR Yotas and they're relatively easy to find. Plus, they've got that sharp, ninja star look straight from the factory. Just be careful to score them from the P-Types and not the lesser L-Types or JDM Soarers, which look the same but are only six inches wide.
What say you, dear reader? As always, the most entertaining or inspiring comment by next Monday will receive a toy. Click through to see the winner the last QotW, "What's the greatest JNC of the 1980s?"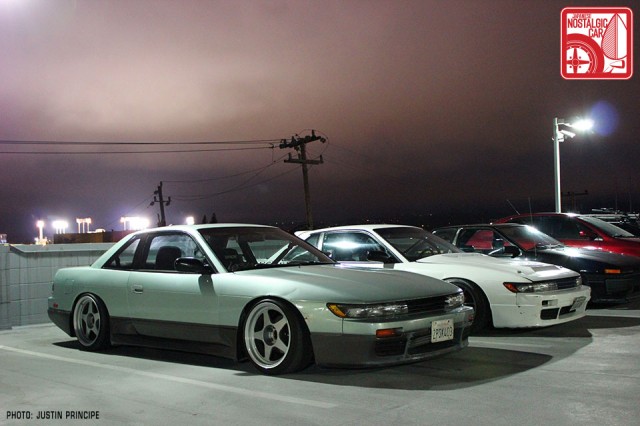 We got a lot of great responses, but one rises up, straight to the top, up to the challenge of its rivals. Tom Westmacott, you're the eye of the tiger!
Nissan Silvia S13, March 1988

This car took the boxy styling that formed the signature of the Eighties, and refined it beautifully with smoothly chamfered edges that kept the overall boxy stance, just with an added sense of visual heft and grace through the slightly softened edges. Under the bonnet, the ultimate CA-series twin-cam turbo intercooled 1809cc engine – modern power in a traditional rear-drive layout. This being the tech-tastic eighties, the options list included choices such as a head-up display projected on the windscreen, rear wheel steering (HICAS), and a chilled glovebox for cold drinks. With it's oh-so-eighties signature two-tone paint (the lime green two tone launch colour is still remembered in Japan today), it was the perfect car for young Japanese men both to attract the opposite sex and, of course, to attack the touge.

The Silvia went on to become the Mustang of bubble and post-bubble Japan, with huge numbers being sold, modified, and driven hard from Okinawa to Hokkaido. Unlike other eighties cars, the basic chassis was so good that it lasted until 2002, when the S15 model was 'retired' to avoid stealing sales from the brand new 350Z.
Omedetou! Your comment has earned you a rare Hot Wheels Super Speeders mystery pack Mazda RX-7!